Memphis, with its scenic beauty and warm climate, offers a plethora of outdoor wedding venues that allow couples to exchange vows amidst nature's splendor.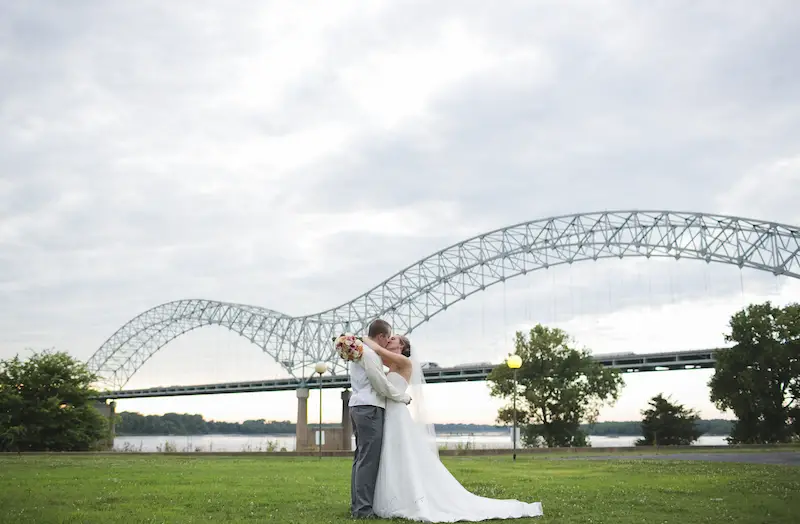 Photo: Kelly Ginn Photography
If you're envisioning an enchanting outdoor wedding in Memphis, this guide will help you discover the perfect venue to create unforgettable memories.
From charming gardens to historic estates, let's explore some of the most stunning outdoor wedding venues Memphis has to offer.
Beautiful Gardens for an Idyllic Celebration
Want to get married outside in Memphis surrounded by beautiful blooms?
These gardens are the ideal wedding venues.
Dixon Gallery and Gardens: Nestled in the heart of Memphis, the Dixon Gallery and Gardens is a haven of beauty and tranquility. Exchange vows amidst colorful blooms in the formal rose garden or opt for an intimate ceremony in the Japanese garden.
Memphis Botanic Garden: With its diverse range of outdoor spaces, the Memphis Botanic Garden provides endless possibilities for your dream wedding. Choose from picturesque settings like the Rose Garden, the Japanese Garden, or the serene Woodland Garden.
Historic Estates with Timeless Charm
Many historic estates and mansions in Memphis have been preserved as event venues.
These options provide both indoor and outdoor options for weddings.
Annesdale Mansion: Step back in time at Annesdale Mansion, a historic venue featuring elegant gardens and majestic oak trees. Exchange vows in the enchanting outdoor ceremony space and continue the celebration under a tent on the expansive grounds.
The Woodruff-Fontaine House: Step into the Victorian era at The Woodruff-Fontaine House, a historic estate in Memphis. This beautifully preserved mansion offers an exquisite outdoor setting for your wedding. Exchange vows in the meticulously manicured gardens or host an elegant reception on the expansive lawn surrounded by ornate architecture.
Rustic Barns for a Touch of Southern Charm
Wanting to have a more rustic outdoor wedding?
These rustic farm & barn wedding venues near Memphis are perfect for you.
Cedar Hall: Located just outside Memphis, Cedar Hall offers a rustic yet elegant setting for outdoor weddings. The picturesque barn, surrounded by rolling hills and beautiful gardens, creates a warm and inviting atmosphere for your special day.
Heartwood Hall: Embrace the rustic charm of Heartwood Hall, an idyllic venue with a picturesque barn, a tranquil lake, and sprawling lawns. The enchanting outdoor ceremony site, nestled under towering trees, is perfect for nature-loving couples.
Majestic Waterfront Locations for a Scenic Celebration
Maybe you want a stunning river view to go along with your outdoor ceremony or reception.
These waterfront wedding venues can help you celebrate on the river.
The Metal Museum: Situated on the banks of the Mississippi River, the Metal Museum offers a unique and picturesque outdoor wedding venue. Say your vows on the riverfront terrace with breathtaking views of the water, creating a memorable backdrop for your special day.
River Inn Courtyard: Imagine exchanging vows overlooking the river at the River Inn of Harbor Town. This open-air venue is an outdoor courtyard that provides a stunning backdrop with panoramic views of the Mississippi River and the Memphis skyline, adding a touch of romance and charm to your wedding. The outside courtyard accommodates 120 for a seated event and up to 200 for a reception.
Tips for Planning an Outdoor Wedding in Memphis
If you're planning an outdoor wedding in Memphis you need to be careful. There are many things to consider so your event is a success.
Please, please don't ignore the weather considerations and run on the idea that your event will be uniquely special.
Consider the weather: Memphis can have hot and humid summers, so it's essential to plan accordingly. Provide shade, fans, or misting stations for your guests, and choose a venue with indoor options in case of inclement weather.
Decorate to complement nature: Let the natural surroundings shine by using décor elements that enhance rather than compete with the outdoor beauty. Incorporate local flowers, greenery, and natural textures into your ceremony and reception decorations.
Have a backup plan: While outdoor weddings are enchanting, it's wise to have a backup plan in case of unexpected weather changes. Opt for a venue with indoor spaces or arrange for tents that can provide cover without sacrificing the outdoor ambiance.
Inform your guests: Make sure your guests are aware that your wedding will be outdoors. Include relevant information, such as appropriate footwear suggestions or a reminder to bring sunscreen, on your wedding website or invitation inserts.
Whether you choose a charming garden, a historic estate, or a rustic barn, these venues provide the perfect backdrop for creating lifelong memories.
With careful planning and consideration for the weather, you can ensure a magical outdoor wedding experience in Memphis that you and your guests will cherish forever.
Getting Married In Memphis
Memphis offers a wide range of outdoor wedding venues that allow couples to celebrate their special day amidst the region's natural beauty.
There are lots of ways to celebrate getting married in Memphis. Here are a few ideas to consider incorporating:
Not sure an outdoor venue is right for you? Check out all the other Memphis wedding venues here.