Lush outdoor surroundings and well-appointed facilities make the Memphis Botanic Garden a perfect wedding venue in Memphis.
The Memphis Botanic Garden's unique specialty gardens and sweeping natural vistas create the perfect backdrop for your wedding ceremony. From outdoor ceremonies to gorgeous formal receptions, this venue can do it all.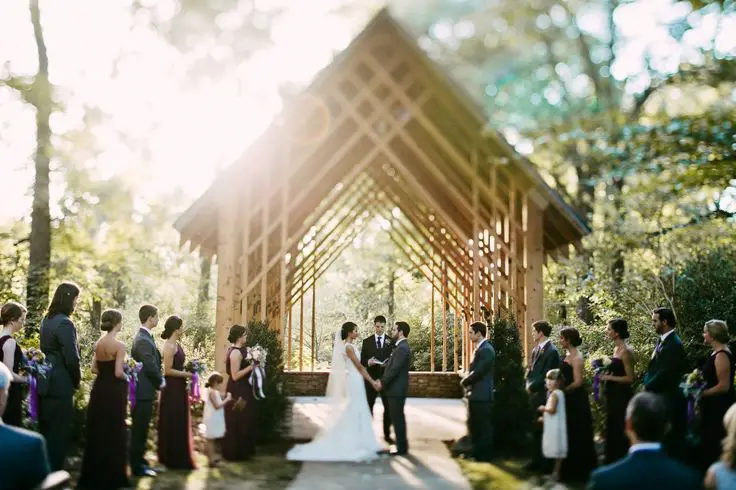 Photo: Kelly Ginn Photography
About Memphis Botanic Gardens
The Memphis Botanic Garden exists as a not-for-profit 501(c) (3) organization dedicated to being an exemplary center for horticulture and environmental enrichment.
Hosting over 225,000 visitors each year, Memphis Botanic Garden connects people with nature, increasing awareness and appreciation of our environment.
The Garden has 96 acres of garden spaces and multiple indoor event spaces, both large and small. They can accommodate groups of any size from 2 to 600. 
Whether you are planning an intimate wedding ceremony or an over-the-top reception, Memphis Botanic Garden has the perfect space for you.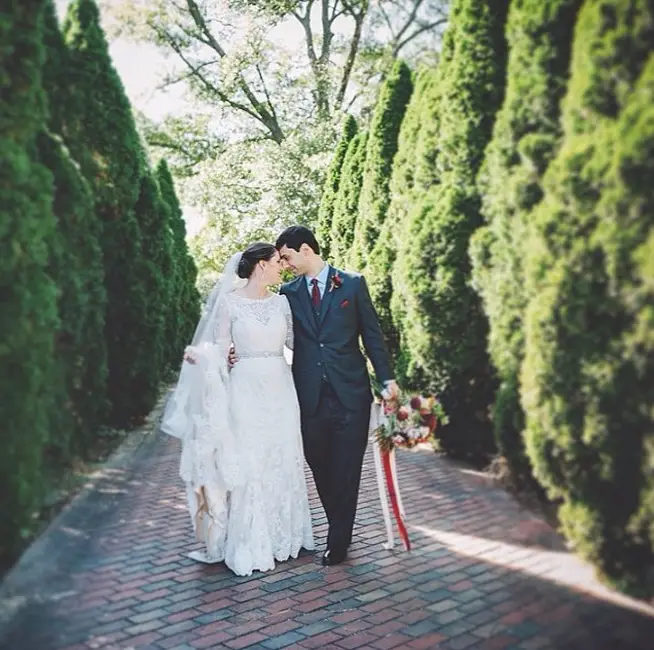 Photo: Thankfully Taken
Wedding Venue Locations
There are multiple spaces at the gardens that work for wedding ceremonies and receptions.
Hardin Hall
Wonderfully versatile, this space will accommodate up to 350 guests for seated dinners and 600 for conference or seminars.
Should your event flow out to the terrace and adjacent fFountain area, this space is perfect for larger events. Hardin Hall may also be reconfigured for smaller gatherings.
Goldsmith Room
The Goldsmith Room is part of the Goldsmith Civic Garden Center. Originally constructed through a generous gift from the Goldsmith family for the people of the City of Memphis in 1964.
This 3,400-square-foot room will accommodate up to 150 guests. It is ideal for luncheons, wedding receptions, holiday parties, and more. The Goldsmith Room may also be reconfigured for smaller gatherings.
Sara's Place
Sara's Place is a beautiful, modern building in the heart of the garden. This building is perfect for intimate dinner parties, wedding receptions, seminars, fundraising galas, birthday parties, and reunions.
With 2750 square feet of event space, Sara's Place accommodates up to 100 people for seated dinners or 150 for cocktail receptions. Should your event flow to the adjoining terrace, or into the Garden, even more guests can be accommodated.
Water Garden Room
This elegant room offers a relaxing view of the Water Garden and accommodates up to 25 people. This is a popular venue for bridal showers and smaller events.
Guest House At My Big Backyard
Looking for some true Southern hospitality? My Big Backyard's Guest House is not just for children!
From the old-fashioned rockers on the wrap-around porch to the outdoor patio and access to My Big Backyard family garden, this special space is available for event rentals after regular Garden hours.
Rental of The Guest House includes access to My Big Backyard and is perfect for cocktail mixers, small seated dinners, receptions, even whimsical weddings! Creative event ideas are limited only by your imagination!
Blecken Pavilion
In honor of donors Ann and Robert Blecken, the Blecken Pavilion was built in the spring of 2010 and serves as a beautiful destination for many springtime weddings.
Constructed amid the 142-plant Hydrangea Garden, this Pavilion set on a hill is a rustic structure with a striking view of the Garden and the perfect backdrop for a special event. This area also features a restroom/dressing room building.
Lakefront Pavilion
This rustic retreat overlooks Audubon Lake and offers an ideal spot for casual gatherings, company picnics, family or class reunions, and other informal get-togethers. The Pavilion will accommodate up to 800 guests, and it's a great place for the finish line of a charity walk.
Outdoor Events
With 96 acres of specialty gardens and sweeping vistas, the Garden offers nearly limitless options for outdoor weddings, company picnics, family or class reunions, and more.
Location & Contact Information
To contact this venue:
Visit: Memphis Botanic Garden, 750 Cherry Rd, Memphis, TN 38117
Call:  901-636-4100
You can visit them online here: