DIY touches can elevate your wedding without adding a lot to your wedding budget. One of my favorite ways to add color, flair, and personality to your wedding is by making DIY paper wedding flowers.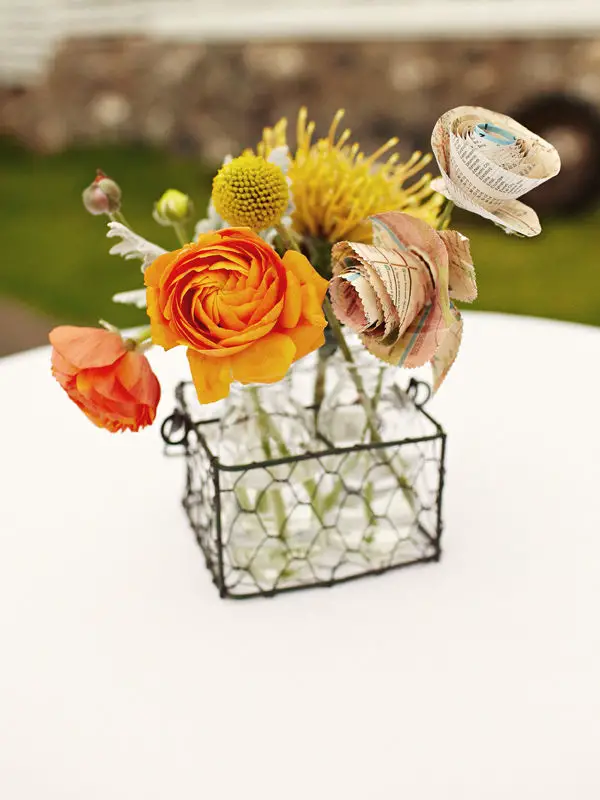 These paper flowers showcase creativity and are an easy DIY project you can complete with friends, family, or the wedding party.
It's not a traditional way to decorate your wedding but it's definitely a fun and unique touch!
DIY Wedding Paper Flower Tutorials
Want to learn how to make paper flowers? These tutorials can help!
In addition to the video tutorials above, there are many guides on our site:
Wedding Paper Flower Inspiration
I've created paper flowers for several weddings and events and they are always a hit. The following photos show some of the ways paper flowers can be used in a wedding.
There are many different ways to use paper flowers in a wedding!
Paper Flower Centerpieces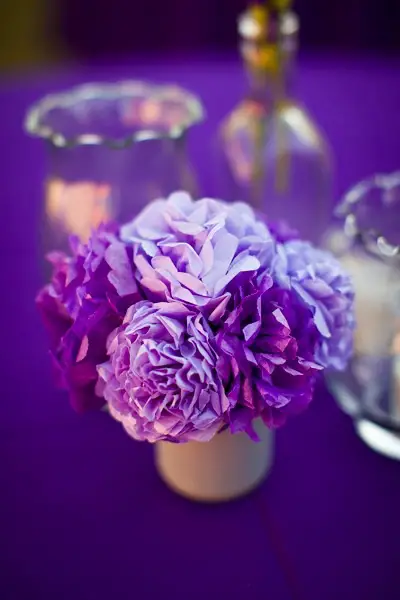 Create tissue paper flowers and bunch them together in vases for a colorful wedding centerpiece like the ones shown above.
Paper Flower Backdrops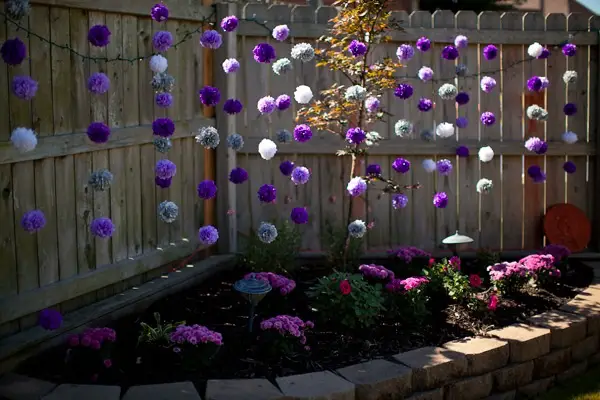 You can attach tissue paper flowers to fishing line to string along as a backdrop. These paper flower backdrops can be used for the wedding ceremony, photo booth, or dancing area.
Want to create these on your own? Try our DIY hanging tissue paper flower tutorial.
Paper Flower Bouquets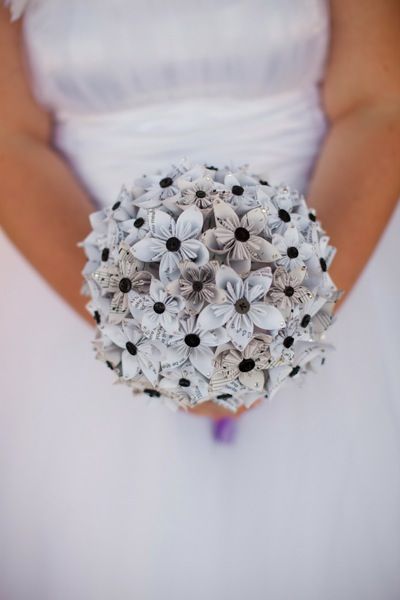 Creating origami style kusudama paper flowers to bunch together makes a unique bridal bouquet. You can use paper that is unique to the couple to give the bouquet a special touch.
These kusudama paper flowers might look complicated, but they are quite easy with our DIY kusudama paper flowers tutorial.
Use colorful papers to create paper wedding flower bouquets for your bridesmaids to match the paper flowers used elsewhere.
With paper flowers the possibilities are endless. You can create realistic looking flowers, funky flowers, colorful flowers, and more.
Don't have the crafty touch but love the style? Plenty of etsy sellers create paper flower wedding bouquets for interested brides! Just search for paper wedding flowers or paper wedding bouquets and you'll find a ton of ready made options available for sale.
Want a little more inspiration? Check out these amazing ideas:
Learn To Make Paper Wedding Flowers
You can easily make your own DIY paper flowers for your wedding by following paper flower tutorials. You can find these paper flower tutorials online or in the following books:
Paper to Petal: 75 Whimsical Paper Flowers to Craft by Hand
This book allows you to learn how to make luscious bouquets and sophisticated floral centerpiece ideas. It teaches the easy basics of transforming simple materials into a vibrant display of flowers.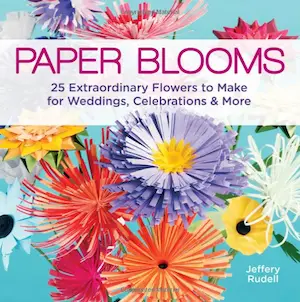 Paper Blooms: 25 Extraordinary Flowers to Make for Weddings, Celebrations & More
Paper Blooms has more than 24 different paper flower patterns. It has step by step photos that guide you in how to cut, fold, and crumple paper to make gorgeous flowers with a variety of paper materials.
Ready Made Paper Flower Options
If you want to take the easiest route you can also buy DIY paper flower kits. These DIY kits come with everything you need along with instructions.
These kits have all the supplies needed to make tissue paper flowers. They also allow you to make other pretty paper flowers.
If you want to take some of the work out of DIY paper wedding flowers you can purchase one of those kits. It will save you time and you can make gorgeous flowers the easy way.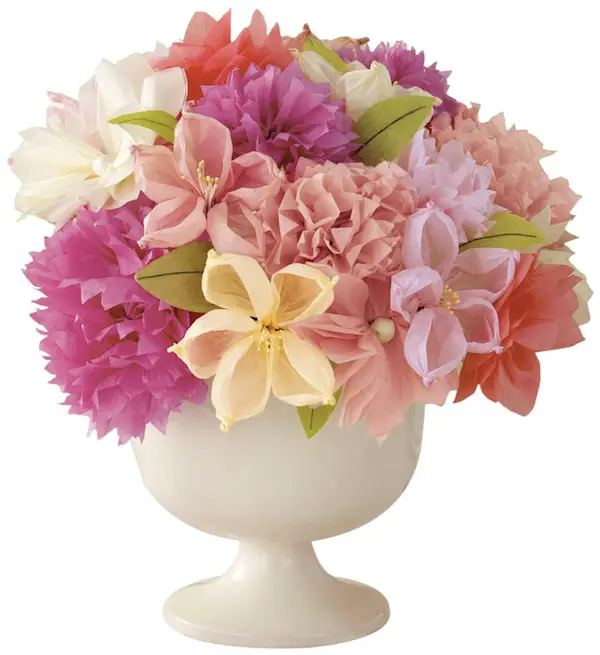 Martha Stewart Crafts Vintage Girl Tissue Paper Flowers
This paper flower kit has everything you need to create a centerpiece bouquet.
The supplies make it easy to recreate the tissue paper bouquet shown in the image above.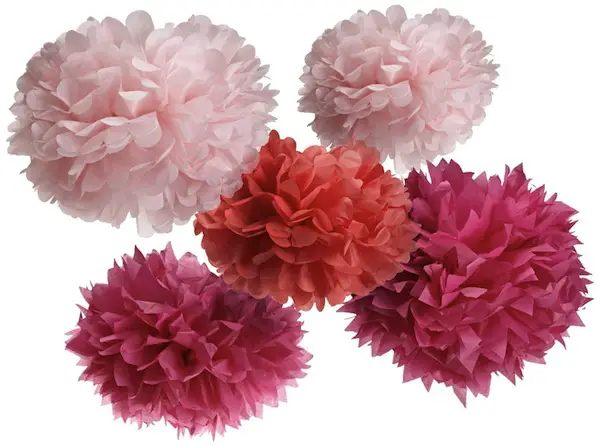 Martha Stewart Crafts Pom Poms 
This kit has easy to assemble pom pom tissue paper flowers you can make from pre-cut pieces.
It saves you a lot of steps in the process. You won't have to measure and cut, you can just fluff and hang!
It's an easier way to accomplish the same type of look in case you are short on time. Each kit from Martha Stewart makes 5 pom poms and can coordinate color wise with your wedding or party colors.
Whether you decide to use a kit, a tutorial, or create something from your own imagination, paper flowers are a great way to add something special to your wedding!