You know we're big fans of paper flowers and have shared various tutorials in the past. Today we're sharing a quick and easy paper flower tutorial that can be used for bridal events, wedding bouquets, or even upcoming Valentine's day decor.
Rolled Paper Roses Supplies
(affiliate links):
Circle/lid to trace
Pencil or pen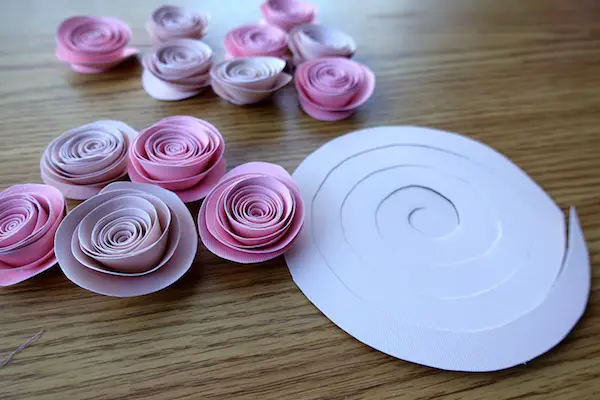 Rolled Paper Roses Instructions
The video above shows you how to make these rolled paper roses in an easy step by step fashion.
First, trace a circle onto your colored paper.
Cut out the circle.
Cut a spiral shape into the circle.
Starting on the outside, roll the edge of the spiral inward.
Roll the spiral until you reach the end.
Let the rolled paper unspiral a bit until you get your desired shape.
Secure the bottom with hot glue.
Make many, many more so you can have a bunch! These look best in groupings of multiple.
The instructions are more clear while watching the video so make sure you check that out. These really are very simple to make once you get started. It's a great project to have kids help with or to do while watching something fun on Netflix.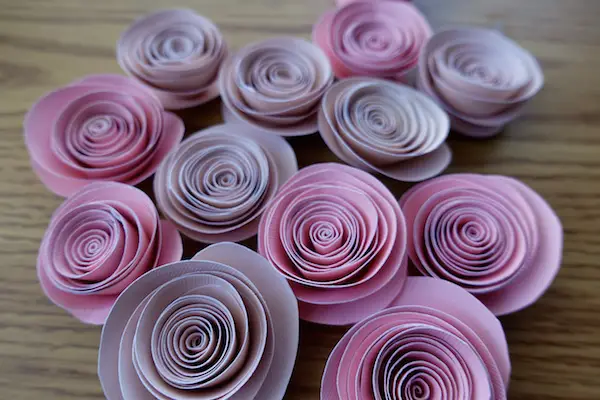 Ways To Use Rolled Paper Roses
There are a ton of different ways you could use use these adorable little paper flowers once you've made them.
To make a bouquet full of rolled paper roses.
Mixed in with other paper flowers for a mixed bouquet.
Scattered around tables for decor and color.
Attached to presents as a little something extra instead of a bow.
As decor in your home for extra color and texture.
Those are just a few ways to get you started but of course there are no limits once you get creative.
If you loved this paper flower tutorial, subscribe to our YouTube channel for future videos and check out our other paper flower tutorial posts.