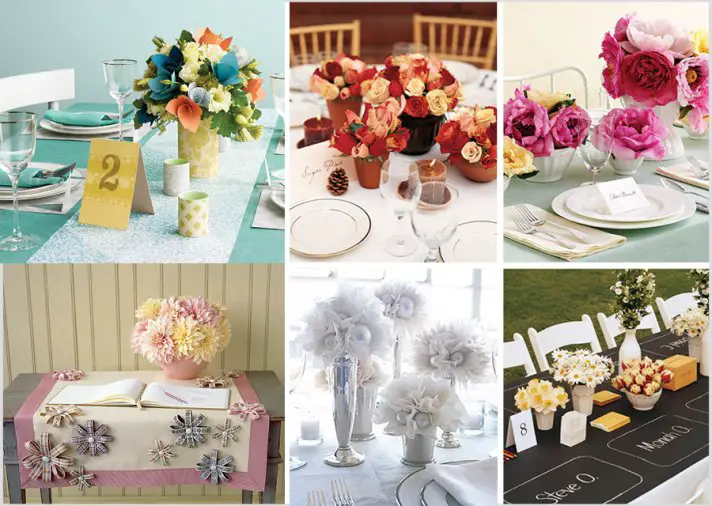 These paper wedding flower centerpieces from Martha Stewart show there are many ways to incorporate paper flowers into your wedding for an unique look. One such way is to create centerpieces using paper flowers. You can create very details centerpieces that can be kept for use in the home or given away as gifts after the wedding. Enjoy the following paper flower centerpiece ideas!
Paper Flower Centerpiece Idea: Paper Flower Peonies
These beautiful and delicate paper flower peonies make a gorgeous centerpiece when surrounded by candlelight.
Paper Flower Centerpiece Idea: Mini Paper Roses

By: Kamipapa
A large selection of these mini paper roses sold on Etsy can make a beautiful wedding centerpiece. You can create a lot of different centerpiece options from these paper roses and you can keep them for a while after!
Paper Flower Centerpiece Idea: Large Tablescapes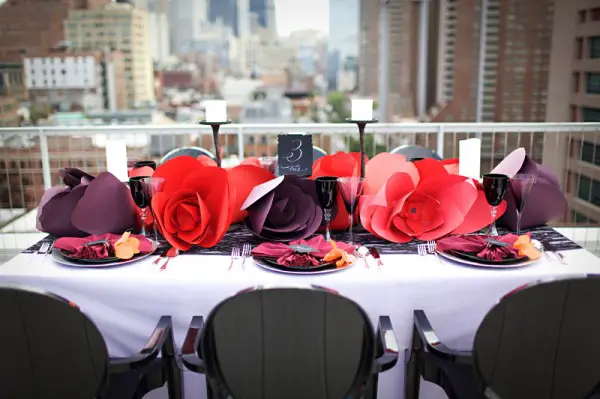 Large paper flowers can make dramatic and stunning tablescapes when you use them as a wedding centerpiece as seen in this photo via Lauren Gabrielle Photography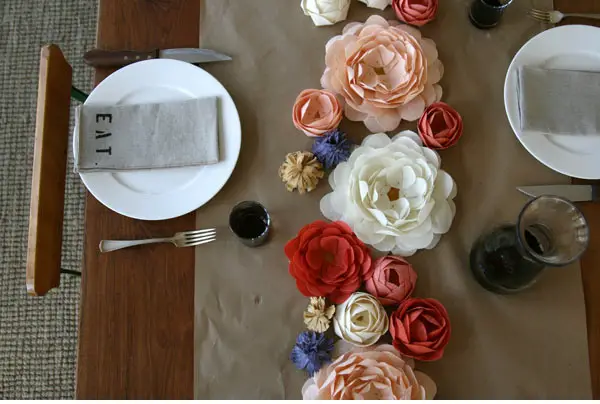 They can also create a colorful but subtle table when the hues are toned down. These paper flowers are a variety of sizes and styles and colors which creates a very interesting table in the photo via Lauren Gabrielle Photography
Paper Flower Centerpiece Idea: Rolled Flowers With Branches
This paper flower tutorial might be perfect for centerpieces or other decorations at the reception. The rolled paper flowers and branches create an unique look with pops of color.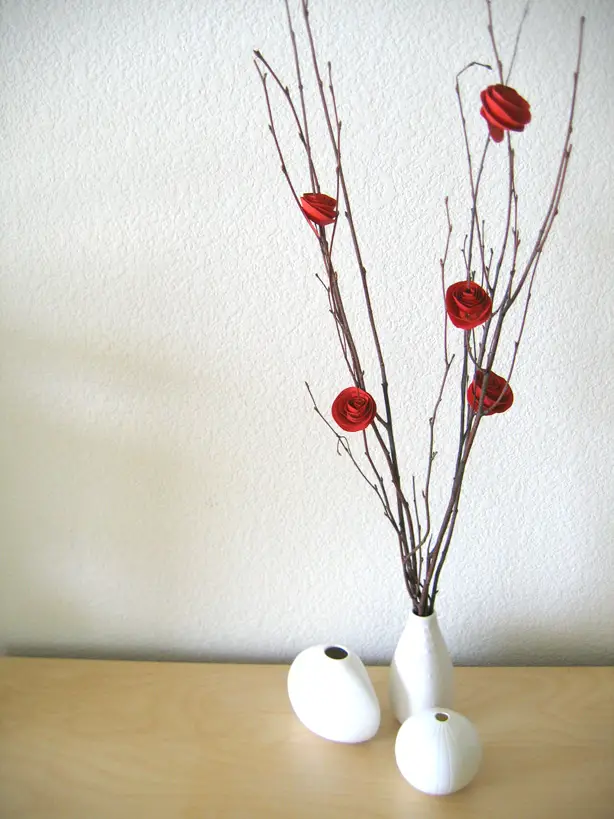 This site uses yellow flowers in the same way but bunched everything closer together for a look that is more like a flower bouquet.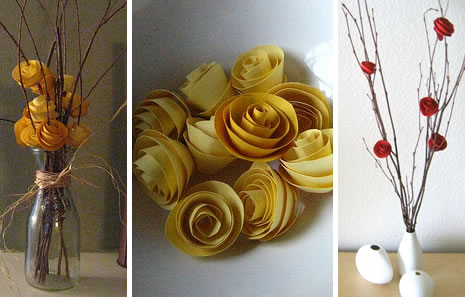 You can accomplish these paper flower centerpiece idea with any color of paper. Below you can see the branch and rolled paper flower centerpiece idea with purple flowers.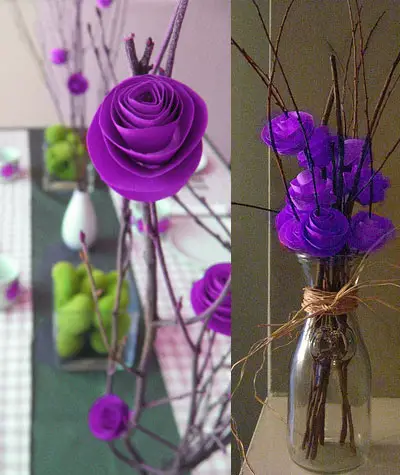 So, so pretty! And easy.
Paper Flower Centerpiece Idea: Mixed Paper Flower Bouquet
There is also a super simple idea of mixing various kinds of paper flowers together to create a mixed bouquet. Without the branches it still has a lot of interest and variety thanks to the different kinds of flowers.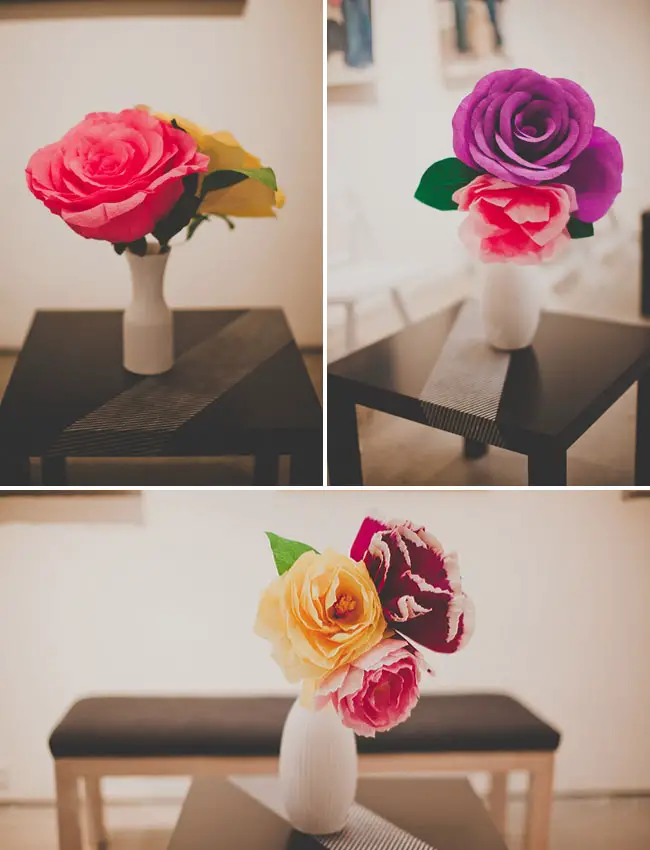 A colorful couple of flowers makes a beautiful small centerpiece as seen in this wedding shot by  Studio Castillero on Green Wedding Shoes.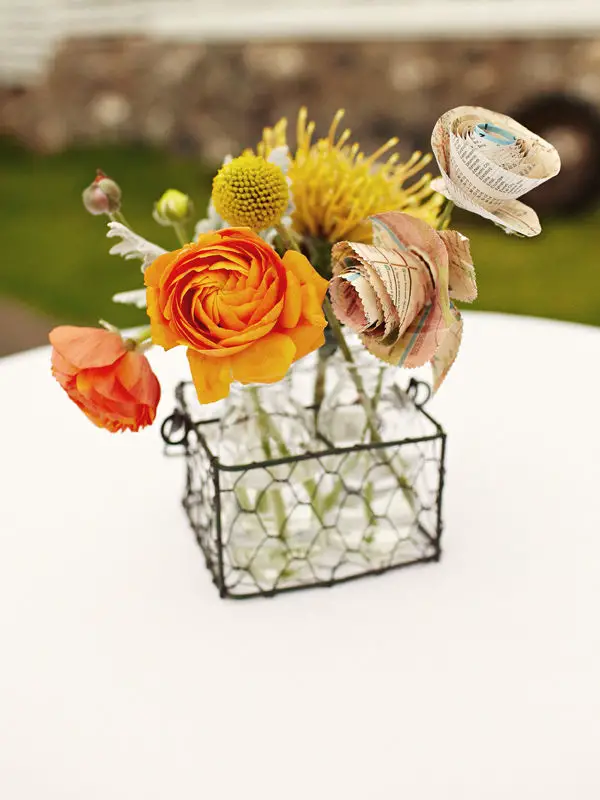 You can also utilized paper flowers to mix in with real flowers for interesting and eclectic centerpieces as seen in this photo by Sarah Rhoads Photographers via Style Me Pretty.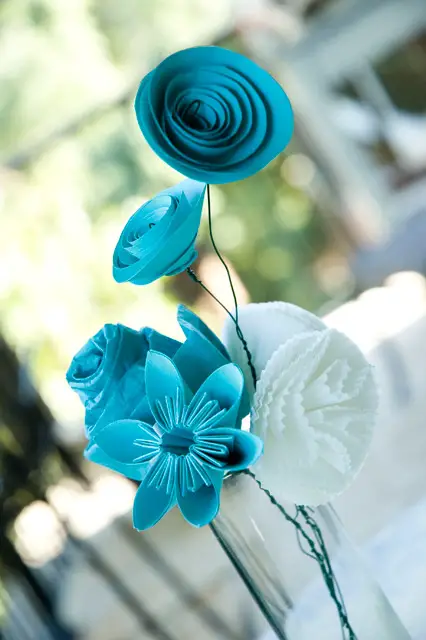 This style can be tied together by using similar colors or incorporating all the colors of the wedding.
Paper Flower Centerpiece Idea: Tissue Paper Flowers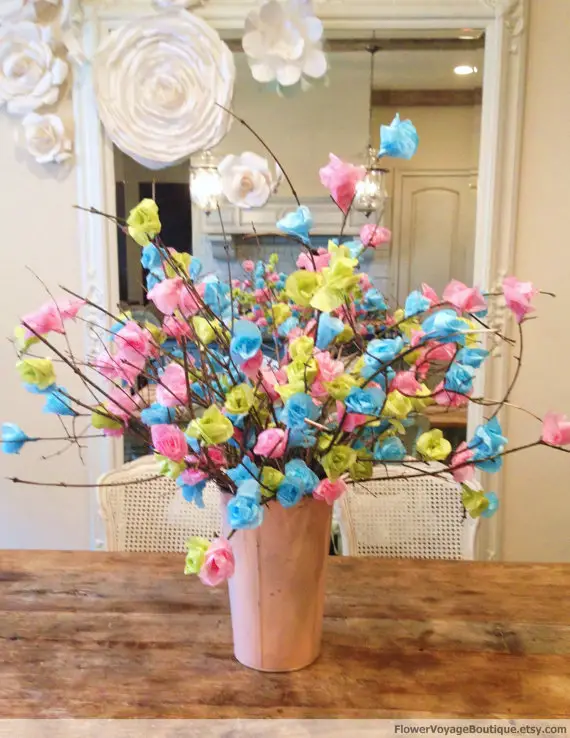 These tissue paper flowers by Flower Voyage Boutique offer a very rustic but colorful approach to paper flowers.
There is also a similar idea using tissue paper flowers from Once Wed: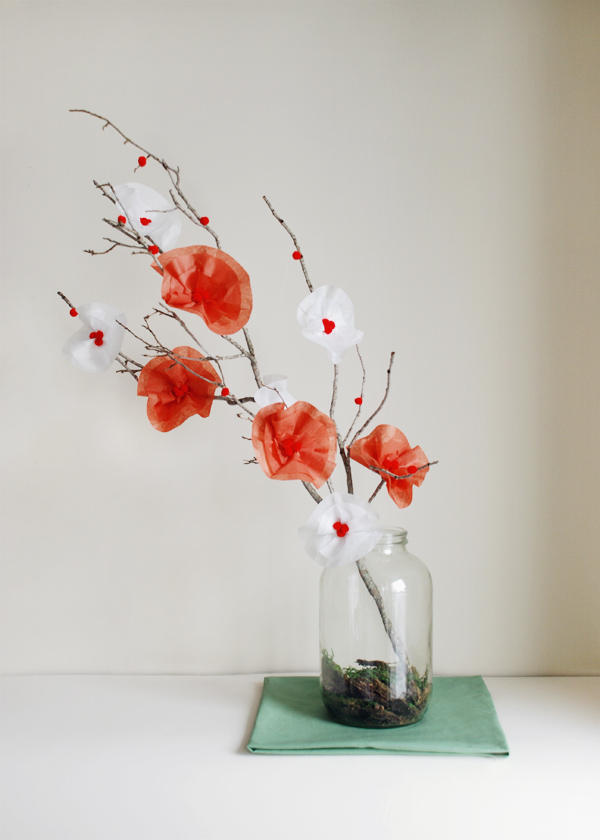 This style can be accomplish even faster using an easy to create tissue paper flower style.
Benefits of Using Paper Flower Centerpieces 
Can be a fun DIY project before the wedding
Can be created and stored long before the wedding to save on last minute to-do items

You can keep them forever instead of using fresh flowers that will get thrown out immediately after the wedding

Can be given as gifts and thank yous to special people after the wedding
DIY Paper Flower Centerpiece Kit
Martha Stewart sells paper flower kits with all the supplies needed to make tissue paper flowers and other paper flowers perfect for a paper flower centerpiece. If you want to take some of the work out of DIY paper wedding flowers you can purchase one of those kits to make a paper flower centerpiece like the one seen below.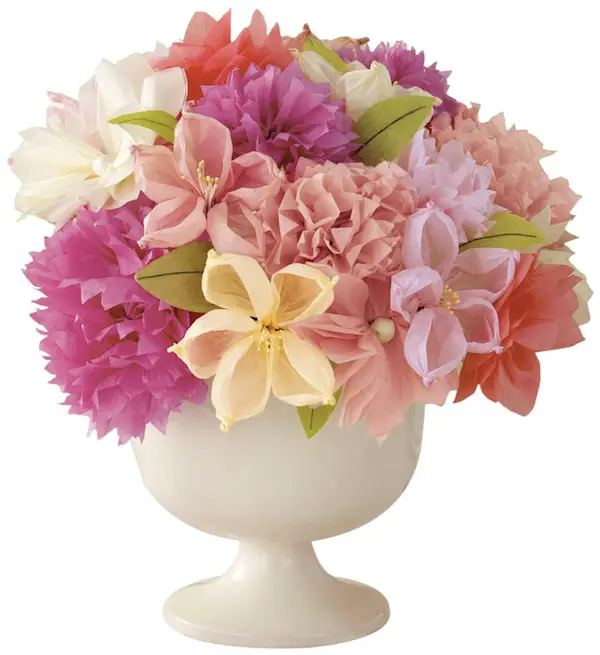 Martha Stewart Crafts Vintage Girl Tissue Paper Flowers
You can create your own centerpiece bouquet with these Vintage Girl Tissue Paper Flowers from Martha Stewart Crafts. Kit includes 24 sets of tissue paper, 24 twelve-inch wires, 24 four-inch wires; 9 leaves, 72 stamens, 1 large polystyrene ball, 2 small polystyrene balls, and florist's tape.
Learn How To Make Paper Flower Centerpieces
You can easily learn how to make your own paper flower centerpieces with good instructions and lots of practice. We recommend the following books to help you learn how to craft beautiful paper flowers of your own.
Paper to Petal: 75 Whimsical Paper Flowers to Craft by Hand
Make playful party decorations, luscious bouquets, and sophisticated floral centerpieces with inexpensive tissue and crepe paper. Paper to Petal walks you through the easy basics of transforming simple materials into a vibrant display of fanciful handmade blooms suitable for every occasion.
Design experts Rebecca Thuss and Patrick Farrell inspire you to get creative with their time-tested techniques. Customize every petal, leaf or stem to go dramatic or delicate; mimic nature or fashion your blossoms in any color you can imagine to make something uniquely personal. You'll be amazed how easy it is to produce these gorgeous flower projects. These exquisite blooms never wilt, are always in style, and are endlessly fun to create, share, and give to everyone you love.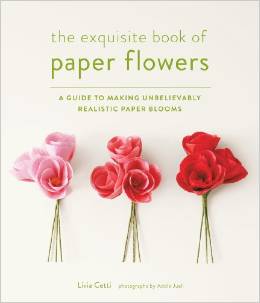 The Exquisite Book of Paper Flowers: A Guide to Making Unbelievably Realistic Paper Blooms
The country's premiere paper-flower artist, Livia Cetti is known for her high-style, gorgeous tissue and crepe-paper flowers—many of which are often mistaken for real flowers. The Exquisite Book of Paper Flowers is Cetti's comprehensive how-to manual showcasing her until-now secret techniques for creating 27 popular blooms, including peonies, poppies, roses, and hibiscus. Clear instructions and stunning step-by-step photographs show crafters of all levels how to make individual flowers as well as how to combine blooms to form 20 exquisite garlands, centerpieces, wreaths, corsages, and boutonnieres.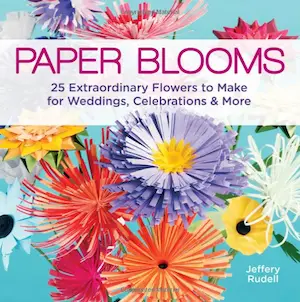 Paper Blooms: 25 Extraordinary Flowers to Make for Weddings, Celebrations & More
Make a garden of paper flowers bloom with more than 25 sophisticated patterns designed by Jeffery Rudell, whose work has appeared everywhere from Tiffany & Co. and The New York Botanical Garden to Good Housekeeping magazine. Just follow the gorgeous step-by-step photos and simply cut, fold, and crumple to create these extraordinary blossoms, which feature a variety of papers such as tissue, vellum, and glassine. Pretty and modern, these easy-to-do projects are perfect for weddings, holidays, and other celebrations, and make great centerpieces, garlands, bouquets, card decorations, and more.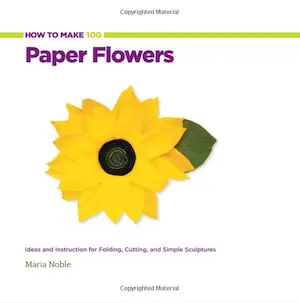 How to Make 100 Paper Flowers: Ideas and Instruction for Folding, Cutting, and Simple Sculptures
Learn how to make 100 beautiful flowers, from lifelike to fanciful, with How to Make 100 Paper Flowers! These creations are perfect for weddings and other celebrations, and this comprehensive guide brings you a wide variety of techniques and styles. Step-by-step instructions are accompanied by color photos and diagrams; techniques include general crafting (cut, shape, and glue), origami, and quilling. All patterns are included! Color your world and satisfy your craft cravings with delightful, handmade, paper flowers.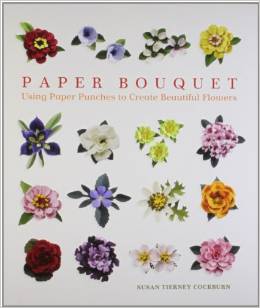 Paper Bouquet: Using Paper Punches to Create Beautiful Flowers
Cherry blossoms, forsythia, marigolds, and petunias: Who would have imagined you could recreate such gorgeous blooms with just paper and craft punches? You can—and this accessible new craft will appeal to anyone with a creative bent. Using her own original, unique techniques, Susan Tierney Cockburn offers 40 beloved flowers to make for decorating gifts and home décor. She teaches the simple basics, including paper manipulation, gluing, and coloring, and presents her flowers as colorfully as they're found in nature. From A (Amaryllis) to Z (Zinnia), there's a bountiful bouquet of blooms to choose from! Photographs document every step, and a visual template of the punches accompanies each flower. A dozen sample projects range from picture frames to wreaths.
Hope you enjoyed these paper flower centerpiece ideas!