Many brides to be want to learn how to get started with modern calligraphy so they can address envelopes and create beautiful wedding decor. The popularity of modern calligraphy and brush lettering for use with wedding items has made learning calligraphy a popular hobby.
There are many ways to get started with calligraphy and many sources to learn calligraphy. If you want to learn calligraphy for yourself you can find ample resources to get started. Below we've rounded up some of our favorite sources for learning calligraphy.
Laura Hooper Calligraphy offers an amazing Calligraphy Starter Kit.
The kit comes with an online video instructions, pen, nib, ink, and more and is made especially for beginners who have not done calligraphy before. This calligraphy starter kit stands above the rest since it comes with detailed instructions from a professional calligrapher who has taught more than 2500 students how to start in modern, pointed-pen calligraphy. You'll learn the basics of calligraphy from the mechanics of creating strokes, patterns, and the upper and lower alphabet.
Laura Hooper also teaches classes in person across the country. She's been through Memphis and probably will be near your city soon! Check her site for info on how to learn calligraphy in person.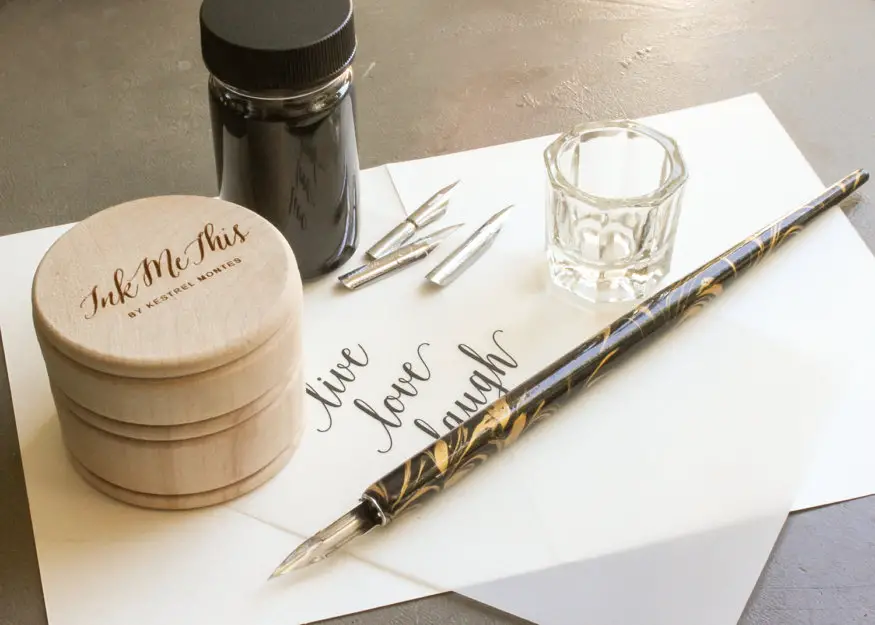 InkMeThis pulls together this Calligraphy Start Kit by Kestrel Montes.
The kit includes everything needed to start with calligraphy including 1 straight calligraphy pen, 1 glass inkwell, 3 nibs, 1 nib box, and 1 bottle of black ink.
While this kit doesn't come with as many instructions, it's great it you plan to use multiple educational resources like calligraphy books or YouTube videos showing calligraphy techniques.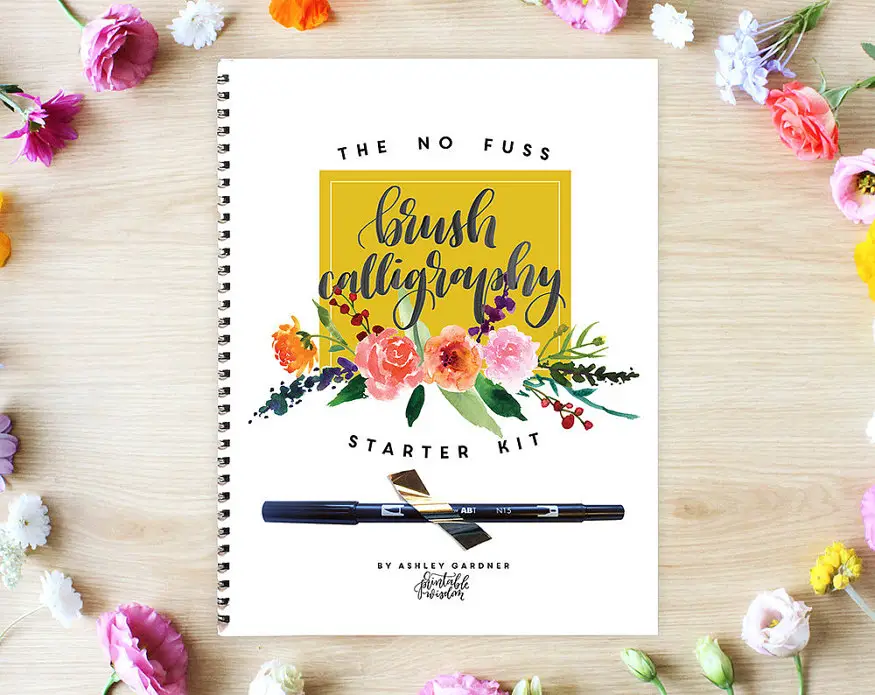 Printable Wisdom creates beautiful hand lettered decors and gifts and also offers a Brush Calligraphy Starter Kit.
This kit created to get you started with brush calligraphy features a flexible brush calligraphy pen and a detailed instructional book. The brush calligraphy starter kit is design with beginners in mind and offers a different style of calligraphy that many people prefer to use. The instructional book will teach you the letters and how to connect them as well as how to compose quotes and create a cohesive look. It also offers some guided projects to start you off.
If you are looking to learn brush calligraphy then the Brush Calligraphy Starter Kit might be the perfect way to start!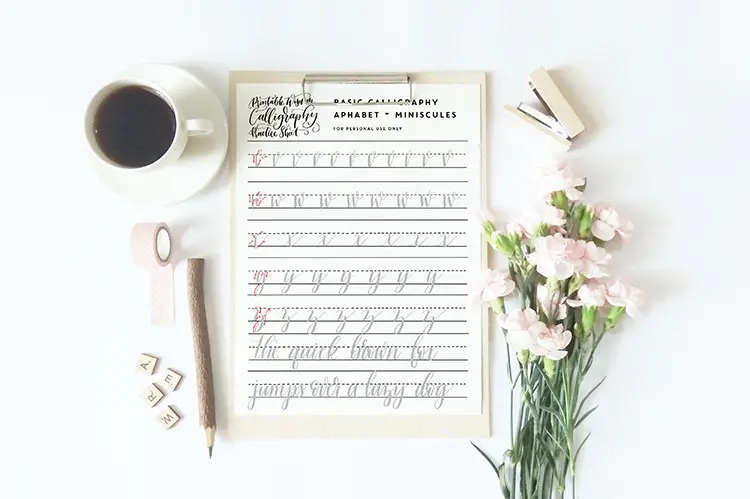 Printable Wisdom also offers calligraphy practice sheets in their Etsy shop. These helpful practice sheets are perfecting for honing new calligraphy skills. After all, practice is what helps you learn calligraphy the best! Practicing your letters and words using this basic modern calligraphy alphabet will help you learn the alphabet more quickly. The grey letters are just made for tracing practice and you can use the traditional nibs, brush pens, markers or anything else!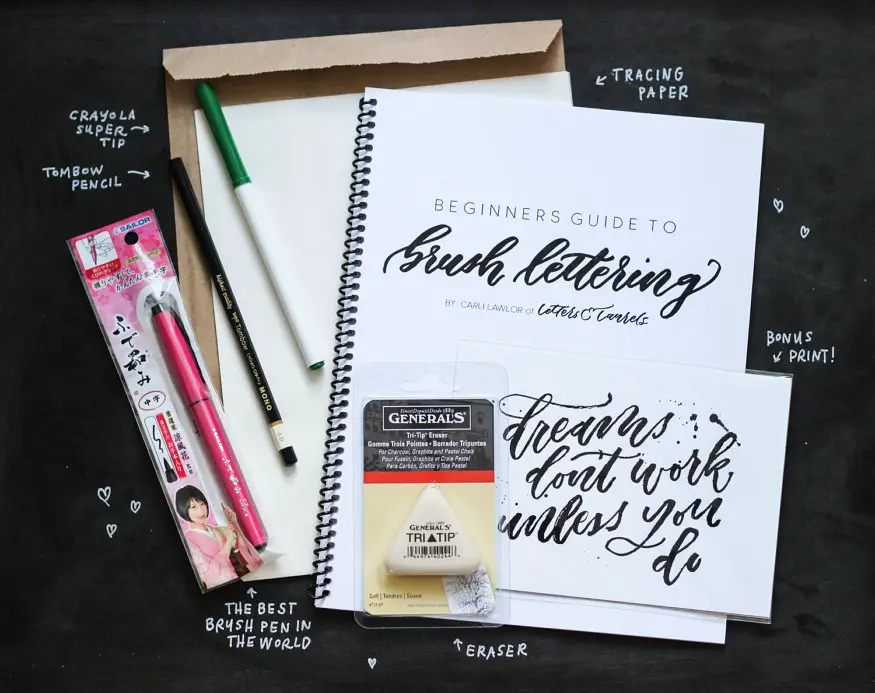 Letters and Laurels offers another great Brush Lettering Starter Kit.
This kit offers all the supplies you need to begin with brush lettering including a Black Sailor Brush Pen, Crayola Super Tip marker, Tombow pencil, Tri-tip eraser, 10 sheets of tracing paper, and a"Dreams don't work unless you do" print from the seller.
It also includes a handy beginner guide to brush lettering that includes an alphabet guide, instructional pages, flourish reference sheets, and more.
More Beginner Calligraphy Resources
Above are just a few beginner calligraphy starter kits you might want to consider to get started learning calligraphy.
There are dozens of helpful calligraphy guide books. Here are a few you might consider when learning:
Learn Calligraphy: The Complete Book of Lettering and Design
Calligraphy & Hand Lettering Notepad: Over 100 Lined Practice Pages for Free Form Calligraphy & Hand Lettering
Calligraphy for Beginners: Practical Guide for Beginners – Easy Way to Start Your Elegant Handwriting
Adventures in Lettering: 40 exercises to improve your lettering skills
Script and Cursive Alphabets: 100 Complete Fonts
There are also hundreds of helpful calligraphy YouTube videos. Here are a few to get started:
Hopefully these resources get you started with calligraphy! Whether you need to address your own wedding invitations with calligraphy or hope to become a wedding vendors offering the service, we all start somewhere when learning calligraphy. Remember what you really needs is to practice, practice, practice!