If you're throwing a sweet shabby chic or rustic style bridal shower or wedding you may want to consider using doily garland strands for decor. This light bunting style invokes feelings of whimsy while referencing vintage styles. This doily style garland can be used in many ways from decorating a shower to adding a little extra to your wedding cake table.
Below we are sharing some of our favorite options available for doily garlands you can use as decorative bunting at your wedding or bridal shower.
Some of the links in this post are affiliate links, meaning, at no additional cost to you, we will earn a commission if you choose to make a purchase. Thank you for helping Mid-South Bride continue to run!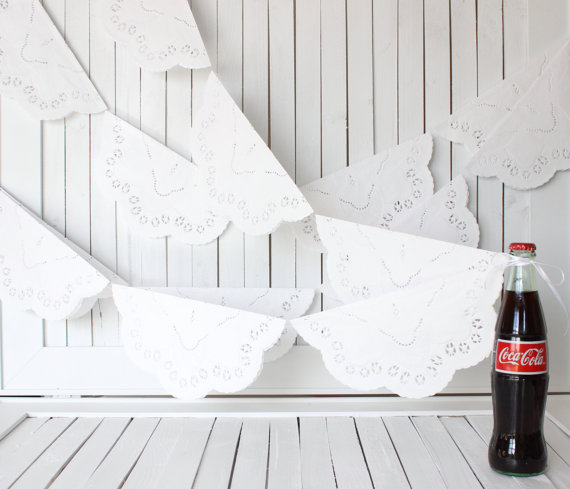 10 Inch White Doily Banner Shabby Chic by Shopfluff
This paper doily garland measures 10 feet long with 12 doilies that are 10 inches wide, hung by white satin ribbon. You can use this chic doily banner to hang anywhere since it's double sided. We love the idea of using it as a photo prop for thank you cards for your wedding thank you notes.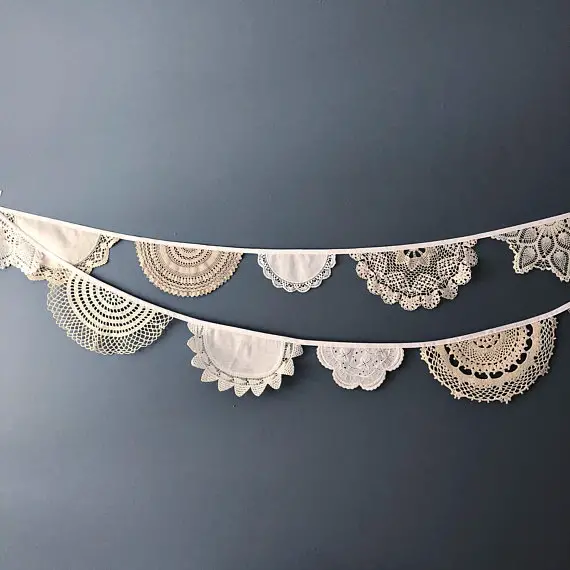 Vintage Crocheted Doily Garland Farmhouse Style by The Bunting Place
This lovely lacy doily bunting is the perfect soft and feminine addition to your wedding decor! It's perfect for vintage themed bridal showers, bridal teas, or weddings. This doily garland is made of vintage handmade doilies in shades of white, cream and ecru and is sewn together to form a 12 foot strand.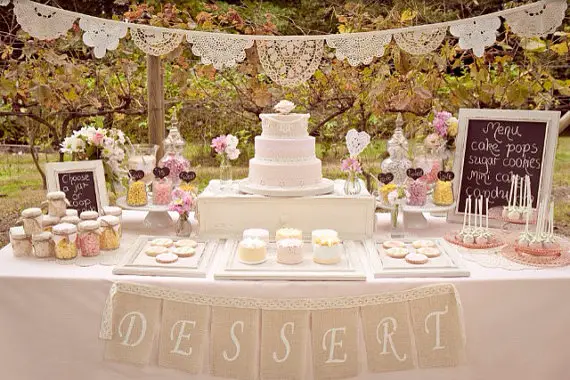 Vintage Lace Doilies Bunting Garland by Rochelles Vintage Love
Handmade using vintage doilies, this lace doily bunting is perfect for a wedding, baby shower or any special occasion. Made from vintage doilies you'll be sure to have a vintage piece you can admire long after the wedding. We love how it's displayed above the wedding cake table in this photo the seller shared!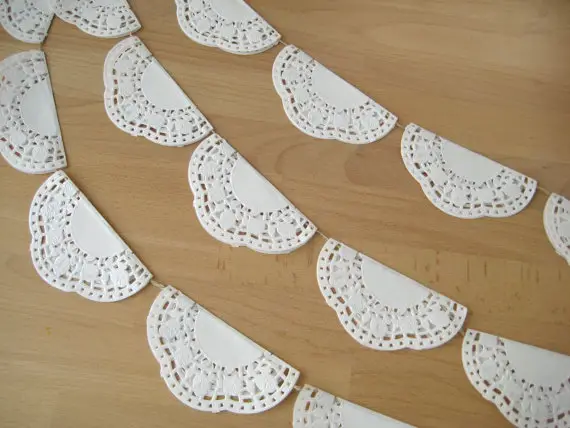 Wedding Doily Paper Lace Garland by Bright Bride
Paper doily garlands offer a soft and gentle garland perfect for decorations. This particular doily garland is made of 25 paper doilies folded in half over a natural hemp string. The uniform look of this paper paper garland could make fantastic photo backdrop or decor statement at your wedding.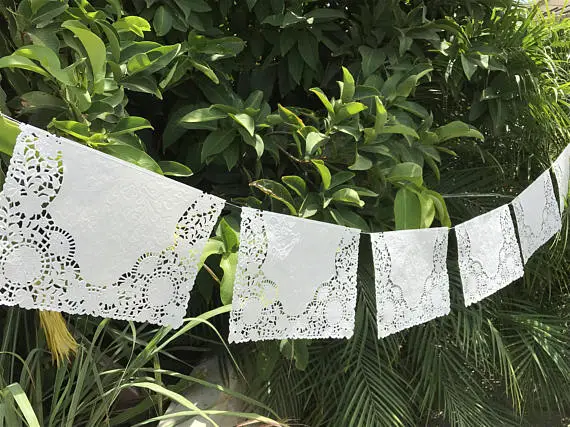 Shabby Chic Doily Bunting White Papel Picado by Casita Magdalena  
For a little something different, this papel picado bunting is a gorgeous Mexican folk art inspired garland. The beautiful and elaborate designs of these paper doilies would be perfect for any shabby chic party or wedding. You could use it in so many ways, from a wedding banner to a photo prop to decor for your cake table.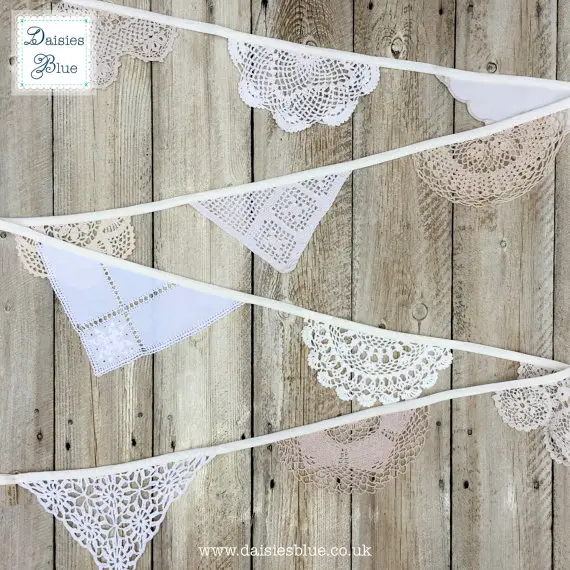 Vintage Cream Doily Bunting Decor by DaisiesBlueShop
Did you know doily bunting can be made from crocheted doilies? Well this vintage crochet doily bunting is the perfect example! Handmade in subtle shades of cream it would be the perfect addition to a vintage inspired tea party or wedding. Each doily garland strand will be unique since all the doilies are different sizes and shapes!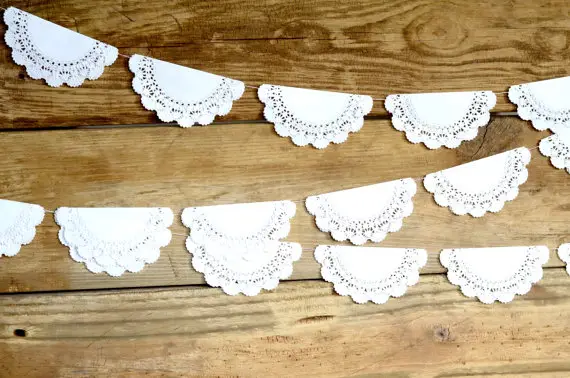 Paper Lace Doily Garland by The Path Less Traveled
This garland made of white paper lace doilies would be gorgeous in any setting! Delicate and fluttery, this paper doily garland comes in options from 10 feet to 15 feet to even 60 feet! The paper doilies here are the style that old-time diners put under coffee mugs and compiled into a garland they create a romantic and whimsical look.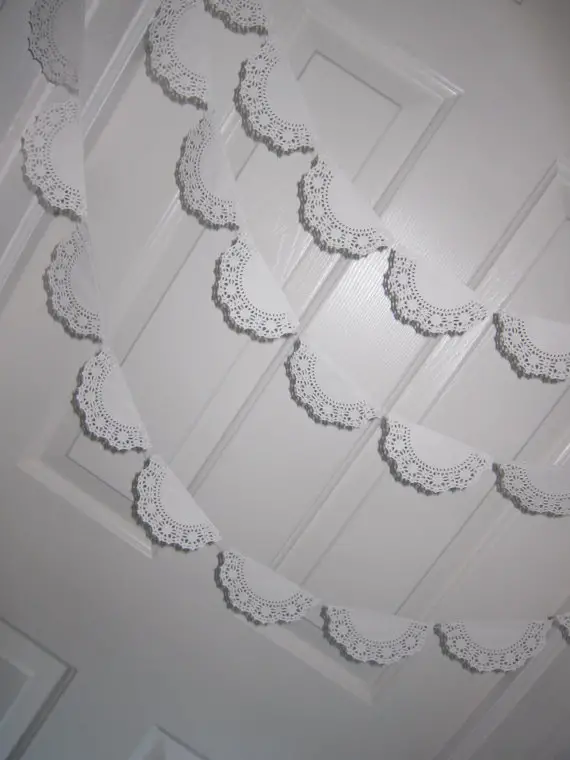 Doily Garland Decorations by Suzy Is An Artist on Etsy
This delicate and beautiful doily garlands is made of paper doilies that are cut in half and then sewn together from the top. The flexible garland is designed for multiple hanging positions so you can use it in various ways during your wedding events and even use it afterwards for other decor purposes.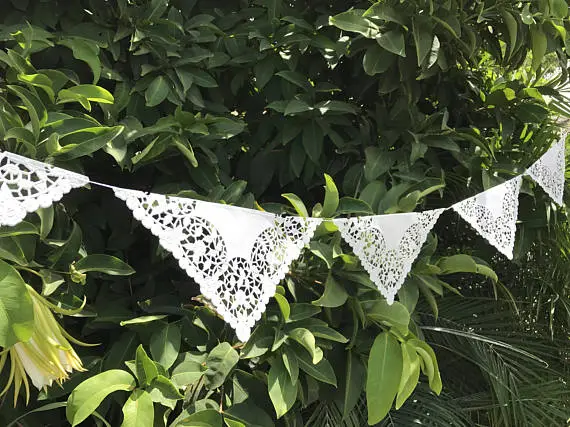 Doily Bunting Shabby Chic Banner by Casita Magdalena
If you're feeling a fiesta or shabby chic themed celebration then this triangle shaped doily bunting is the perfect choice! It's versatile enough to be used for showers or weddings or any other party you might want to plan. These 10 foot long doily banners are made from fourteen 8 inch triangular paper doilies sewn together.
Don't love any of the examples we've shared so far? You can make your own paper doily garland with this easy to follow DIY!
Whether you purchase a pre-made doily garland or make your own, you'll be sure to love how it looks once it is hanging. Enjoy your doily bunting!