Remember that lovely Memphis farmer's market wedding we shared months ago? The one that made us all ooh and ahh over how lovely the wedding venue was? The one that looked like it was perfectly put together by the Memphis bride?
The one with the amazing Memphis wedding venue? The one that sparkled and shined in the wedding photos? The one that looked like the couple spent thousands of dollars to rent the venue for the wedding?
The one with so many lights it sparkled?
Well the wonderful DIY bride recently went to Reddit to share the details of this Memphis wedding venue. She showed in just a few images how she created the venue from a simple empty parking lot. The transformation was truly stunning as the wedding venue went from blank canvas to gorgeous venue.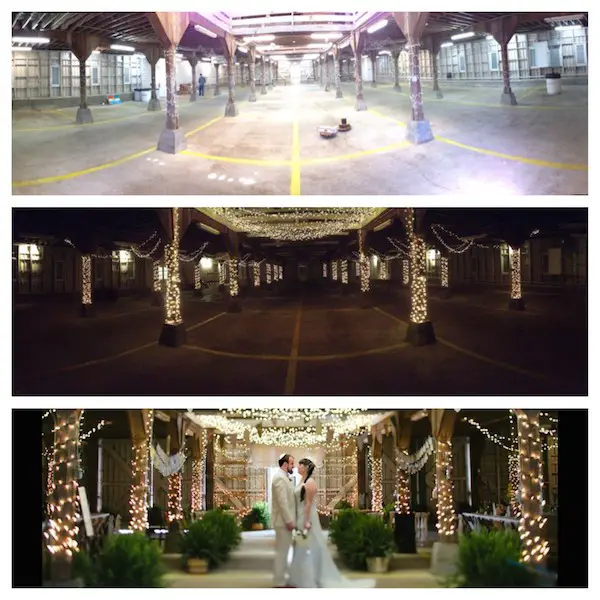 Would you have guessed from the wedding pictures that the venue started as a parking lot? We certainly didn't when we originally shared the wedding. We thought it looked just like many of the rustic wedding venues in Memphis!
This parking lot at the Agricenter is normally a farmer's market during the spring and summer months. It is unoccupied from November to May during the colder weather months. This allowed the bride and groom to rent the space for their April wedding and transform it into something magical with a bit of work and lots of lights.
Where did this awesome DIY bride get 11,000 lights for transforming the venue? She planned ahead and bought them all at Home Depot on Black Friday. The cost for the lights was only $300 thanks to good planning and smart shopping. Spending just $300 to make your wedding venue look like it cost $3,000? That's a great idea!
Via: Reddit, Photos: Kelly Ginn Photography