Picking your wedding bouquets for a winter wedding comes with a lot of challenges since many flowers aren't in season. You might be working with a florist or checking pinterest for ideas with many questions and concerns in mind. Today we're sharing several options for winter wedding bouquets that take away the stress of selecting fresh flowers.
These winter wedding bouquets are made out of various materials from wood to feathers to paper. They evoke feelings of traditional winter wedding flower bouquets while also giving you something beautiful to keep forever. The ideas below are all from highly rated Etsy sellers and include affiliate links that help support Mid-South Bride.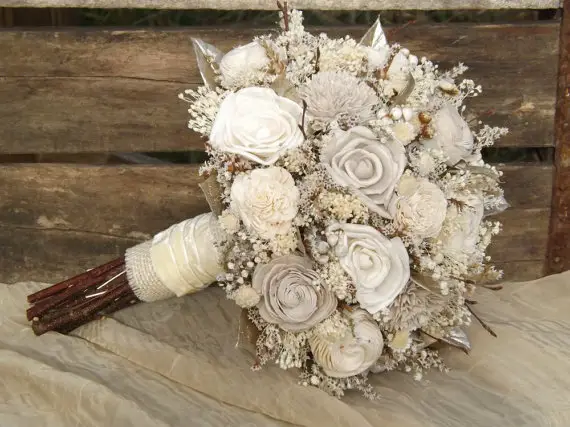 Rustic Woodland Sola Flower Bride Bouquet Champagne Accents by Treasured Florals
This beautiful rustic bouquet features grey and cream sola flowers with faux champagne leaves. The rustic twigs keep the bouquet looking rustic with an elegant winter feel. Sola flowers are made from tapioca wood and hand dyed to create the perfect shades for a winter bouquet that will last for many seasons and many years after your wedding.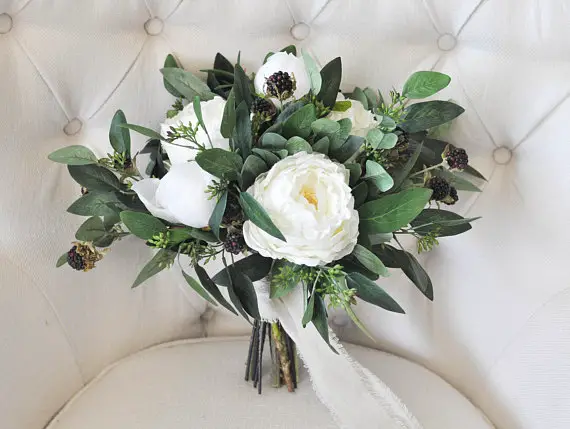 Ivory Silk Winter Wedding Bouquet by Hannah's Blooms
The lush combo of wintery white silk flowers and lush green accents makes this a perfect choice for any winter wedding. It's light thanks to the silk flowers but durable enough to last for a long time past your wedding day. This medium sized bouquet looks lush and full, perfect for either a formal or casual wedding.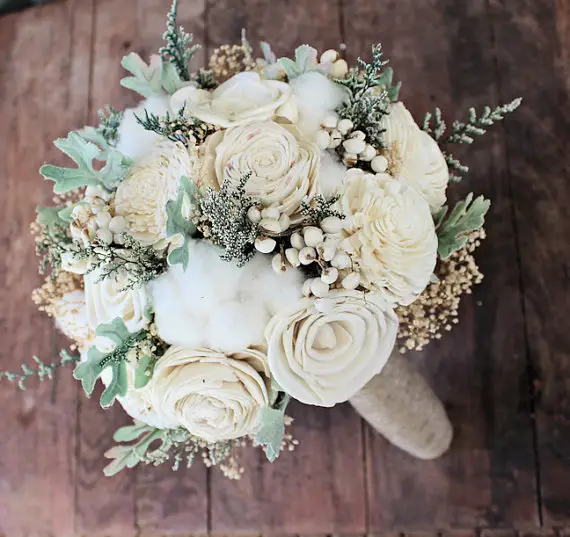 Luxe Collection Medium Ivory Keepsake Sola Bouquet by CuriousFloral
Made from ivory sola flowers, this luxurious wood keepsake bouquet makes a huge statement on your wedding day and will provide beauty for years after. The light ivory cream flowers and floral accents create a beautiful winter themed bouquet but the bouquet can be customized to change details and accents to fit your style!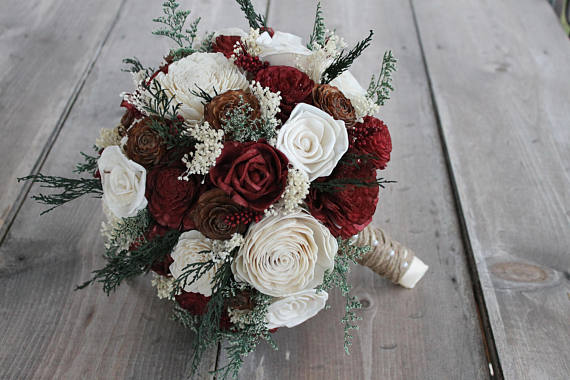 Burgundy & Ivory Winter Wedding Sola Bouquet by Hey Bouquet
This beautiful sola flower bouquet crafted with natural cream & burgundy sola flowers, cedar roses, artificial berries, and preserves is perfect for any winter theme wedding. Finished with a burlap wrapped stem and pearl accents this wooden bouquet would be a beautiful keepsake from your wedding that can be used again every holiday season.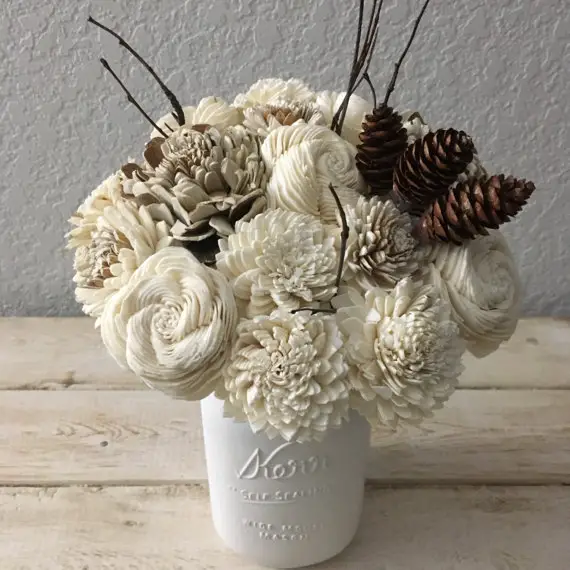 Winter Wooden Flower Bouquet by Novel Expressions
A wood bouquet is a great option during the winter when many real flowers are either unavailable or costly. The ivory sola wooden flowers create the base for this gorgeous winter bouquet with additional pine cones and twigs for interest and flair.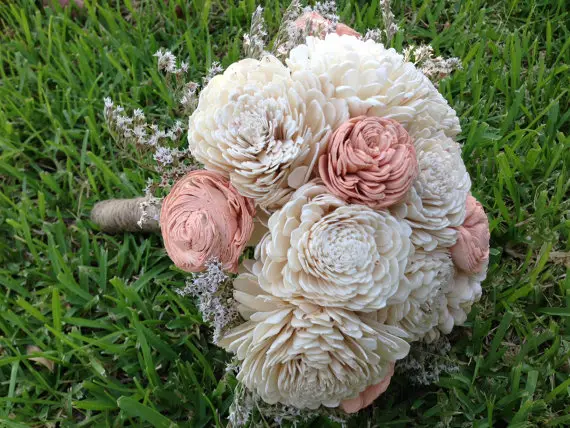 Handmade Natural Balsa Wood Flower Wedding Bouquet by Reflect Glamour
For a softer look you can add in delicate colors like soft pinks and peaches that still evoke a sense of winter wonder. This bouquet of large ivory balsa wood flowers and small peach balsa flowers with accents of dried German statice is handmade to order for your wedding. These flowers are carved from wood and look like real flowers but will never wilt or die.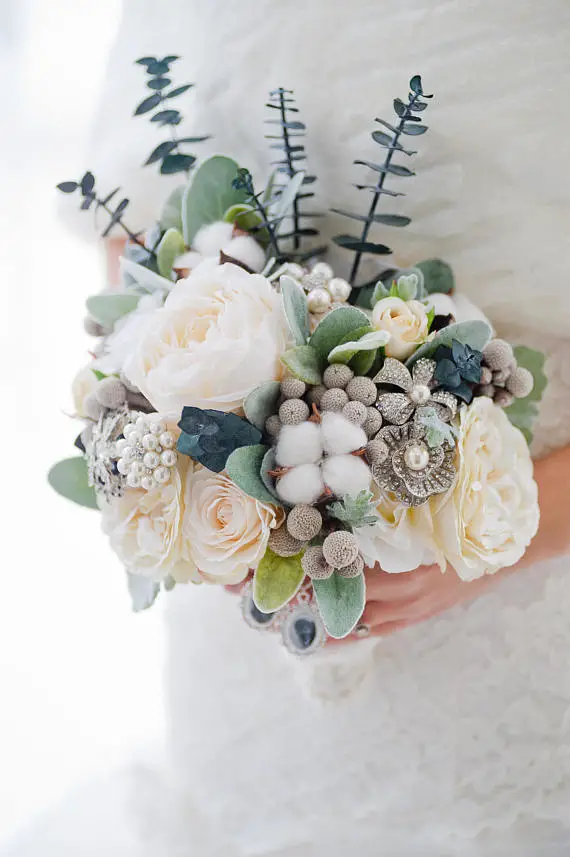 Silk Flower & Brooch Winter Bouquet by Mademoiselle Artsy 
Custom artificial bouquets these days can be stunning, just like this bouquet of artificial roses, garden roses, cotton flower, brunia, dusty miller,lamb ears and eucalyptus. The addition of silver brooches, crystals, and pearls added to the flowers sparkle to make the bouquet both elegant and exciting. Completing the handle with ivory silk ribbon, lace and a delicate white faux fur make this chic piece a wonderful keepsake bouquet.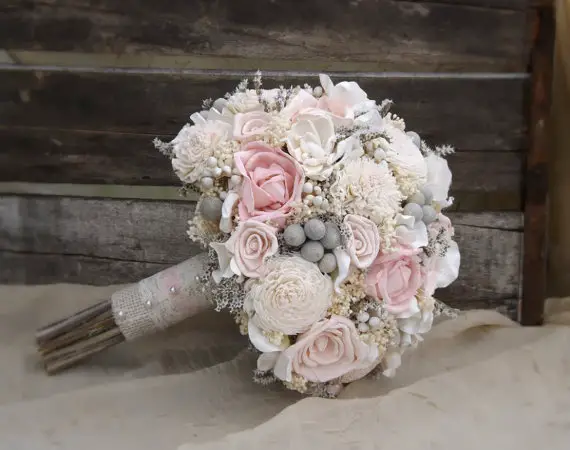 Sola Bouquet Pink Roses Blush Pink with Dried Flowers by Treasured Florals
A soft wedding palette works very well for winter wedding bouquets. These pink and blush rose wood sola flowers bouquet with silver brunia and tallow berries is romantic and light, perfect for a country wedding or soft wedding palette. The wood flowers in this bouquet come in pink, blush and ivory with beautiful paper flowers rounding out the bouquet.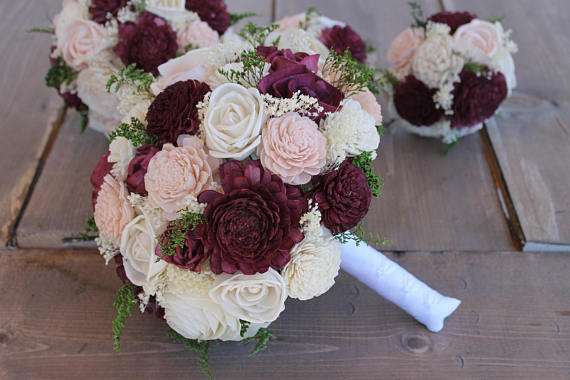 Wine, Blush Pink, & Cream Winter Wedding Bouquet by Hey Bouquet
Hey Bouquet offers several winter wedding bouquets including this gorgeous option crafted with cream, wine, and blue pink colored sola wood flowers. The colors can work well with a winter wedding theme and can be created to feature more of one color or another to match your color scheme.
Selecting a winter wedding bouquet made of long lasting materials is an easy way to create an extra keepsake from your wedding. You can use your winter wedding bouquet in the future as home decor or in many different ways. The possibilities are endless when you know the flowers aren't going to die in just a few days!