In the South mason jars are popular for many occasions including weddings. Mason jar wedding ideas are popular and also great for budget weddings.
Over the last few years mason jars have made an appearance at weddings of every size and style. It's a throwback to Southern culture and an adorable way to serve drinks or give out favors.
Here are a few ways you can use mason jars at your wedding:
Mason Jars for Flowers

Photo: Bride Finds
Mason jars are great for using them as flower vases. These mason jars filled with peonies show how great mason jars look filled with flowers!
It's a cheap way to decorate and use more flowers for decorations without spending a lot of extra money.
Related: Questions to Ask Before Hiring Wedding Florists
Mason Jars as Drinking Glasses
Mason jars are designed to hold food and drink so using them as drinking glasses at your wedding is a smart idea. You can use the mason jars to serve your signature cocktails or other drinks.
Related: Memphis Signature Drinks For Your Wedding
Mason Jars for Photo Displays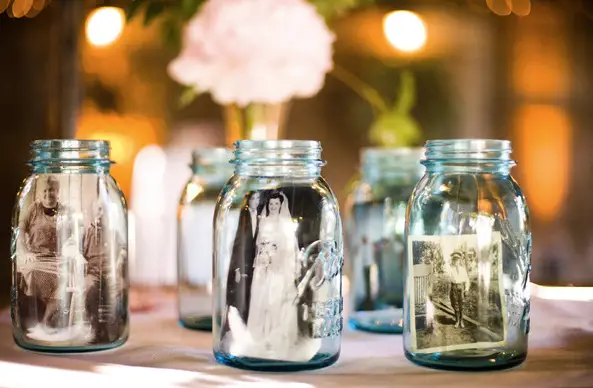 Photo by Jessamyn Harris and Oh Lovely Day
If you're having a wedding outside you could place all your important photos in mason jars.
This will display them for guests but also keep them safe and secure. It's also a nice nod to any vintage photos you use!
Engraved Mason Jars for Drinking Glasses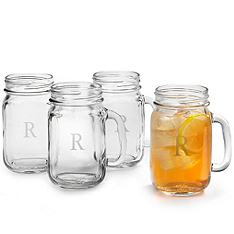 Mason jars are a versatile way to decorate your reception tables and serve drinks at your reception.
These engraved mason jars with initials feature comfy handles perfect for serving drinks to your guests.
You can personalize the mason jars with your new initial in an elegant garamond font and serve guests their drinks at a casual summer or outdoor garden wedding for the perfect bit of character and personalization.
Personalized Mason Jars for Drinking Glasses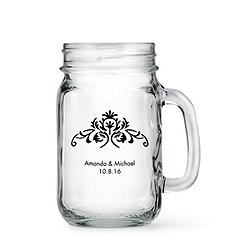 Similar to above, these personalized mason jars are perfect for drinking glasses at a casual wedding. If you plan on having a casual reception or a backyard wedding then these mason jar inspired drinking glasses are ideal. You can personalize these beyond just an intiail with up to 70 designs to fit the style and theme of your wedding. Fill them with lemonade, sweet tea, or sangria and let the celebration begin!
Related: Mason Jar Wedding Ideas
Mini Glass Mason Jar Favor Holders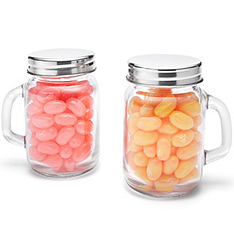 Mason jars are great for drinking but they are even better for holding! These mini mason jar favor holders are ideal for handing out favors to guest. If you plan on having a foodie favor or want to give your guests candy these old-fashioned mason jar favor holders are perfect. Just 3 inches tall with a handle and removable screw-on silver metal cap these favor holders blend into any theme fitting for a Southern wedding.
Personalized Mini Glass Mason Jar Favor Holders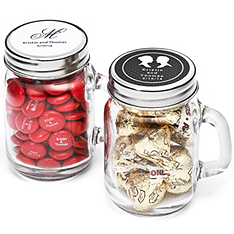 You can take the mason jar favor holders a step further by personalizing them for your wedding. Give guests a foodie favor and a lovely mini mason jar to remember your wedding. You can personalize these mini mason jar favor holders from The Knot with over 75 different designs and fill them with Dinstuhl's candy or a BBQ spice rub – perfect for your Memphis wedding!
Related: Phillip Ashley Chocolates Wedding Favors
Where to Buy Mason Jars
You can buy mason jars online for less expensive prices and have them shipped to you. Amazon has several different size and color options you can browse.
You can also scour yard sales, thrift stores, and grocery store sales for mason jars on sale.
Whether you plan to use your mason jars for decorations, drinking, or favors they are sure to add to the character of your wedding!
View more rustic wedding ideas.