A good floral designer will do much more than simply provide bouquets for your wedding. They help create the look and feel of your wedding which will inspire the mood of the whole event. Florists create the bouquets, centerpieces, table decorations, flower crowns, boutonnieres, wedding party florals, floral cake finishes and more.

Photo: Katie Norrid, Flowers: BettsMade
Before your decide to hire a wedding florist you should always have your date and venues booked. This gives you the opportunity to discuss specifics of your wedding floral decor with a potential florist.
To start finding wedding florists, visit local florist wedding vendors websites and shops. Make a short list of potential vendors for your wedding so you can do further research and interview the florist in person. The questions below can give you a jumping off point to create your own list of questions to ask before hiring your potential florist.
The Basic Questions
Is my date available?
Are you familiar with my venue and have you done events at the location before?
How long have you been in the wedding flowers business?
How many weddings have you done as a florist?
How many weddings do you do on an average weekend?
What design styles do you generally work with?
Will you perform more than one event on the day?
What other wedding services can you provide like event design?
Do you belong to any professional organizations for wedding florists?
Do you have brides I can contact as references?
Can we review a portfolio of your work?
Will you be the florist at our wedding or will you send someone else or a team?
How can I communicate with you the day of the wedding?
How long will flower setup take the day of the wedding?
How easy is it to get in touch with you before the wedding?
What is your refund policy if I need to cancel my order?
Will we meet with you again before the wedding to confirm the floral design?
What makes you better than your florist competitors?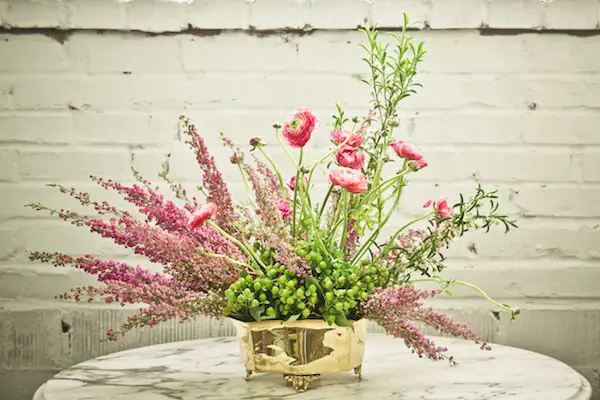 Flowers: Holly & Ivy
Business Details
How much do your florist services cost?
Do you require a minimum order?
Can you work with my specific budget?
Do you charge a delivery fee?
How far in advance do I need to book you for my wedding?
What is your deposit requirement for wedding flowers?
When is the final payment due?
Does your pricing include setup and breakdown in both ceremony and reception venues?
What do you charge if we need extra flowers the day of the wedding?
Are there any additional fees that might happen that I haven't thought of already?
Do you have liability insurance?
When would I expected to receive a contract from you?
What is your refund/cancellation policy?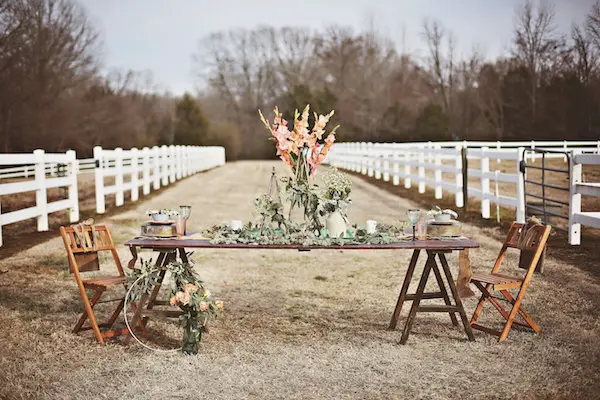 Photo: Katie Norrid, Flowers: BettsMade
Wedding Flowers Questions
Which flowers are in season for my wedding date?
What flowers do you recommend based on my budget and color scheme?
How do prices vary based on one type of flower vs mixed arrangements and bouquets?
Do you offer organic or sustainably grown flower varieties?
What kind of bouquet wraps can you do for my bouquet?
What other wedding decor can you provide like arches, trees, mirrors, etc.?
If I have a picture of a bouquet I love, can you recreate it?
Do you have pictures of your floral designs in the style I want for my wedding?
Do you do mockups of the arrangements I want and does that cost more?
Do you work with cake designers to add flowers to my cake if I want that?
How far in advance of the wedding do you create bouquets and arrangements? How do you store them?
Can you help me preserve my bouquet after the wedding? Or recommend someone?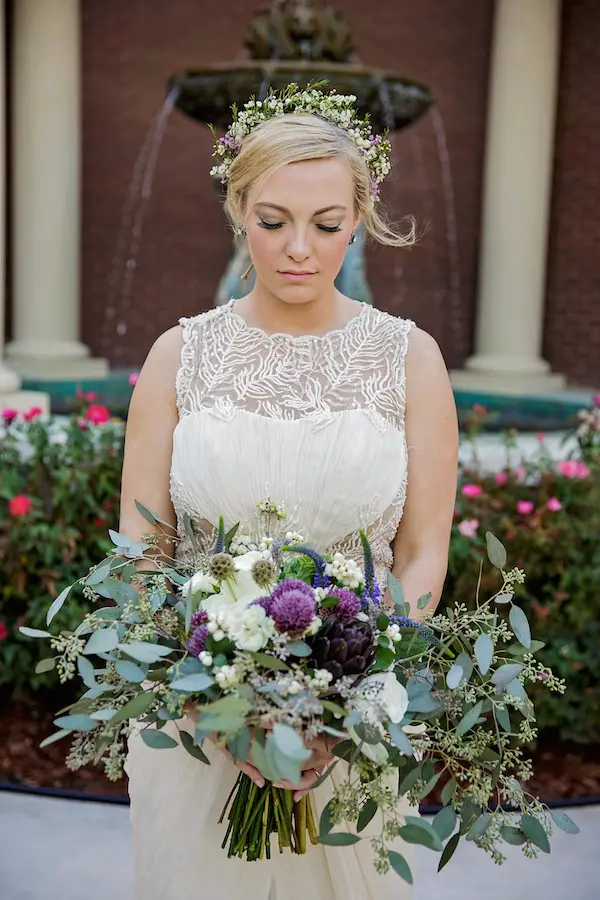 Photo: Crystal Brisco Photography, Flowers: Holly & Ivy
More Tips For Hiring A Wedding Floral Designer
Create your vision before the meeting. Before you meeting with a potential wedding florist to discuss details you should have a vision. While it might change as you work together you should have a general idea of flowers you like, colors for your wedding, and some examples of bouquets and floral design that appeals to you.
Make your big choices first. Flowers are a complement to the wedding design choices you've already made. Make sure your venue is booked before you decide on additional floral decorations. Similarly, don't design your wedding bouquets with a florist until you've ordered your wedding dress and bridesmaid dresses. Your dress style can influence the style of bouquet you want so wait until you've made that big decision to decide on bouquet design.
Review the florist meetings. Before deciding on a potential florist you should meet with at least two. Ask yourself after the meetings if the florist in question understood your vision and really listened to you. Decide if you are comfortable with the florist and if you can see them working with you to create your wedding vision.
Hopefully those questions and tips will make your initial wedding florist interview go smoothly and set you on your way to finding the right floral designer for your wedding!