Burlap is a versatile fabric with a gorgeous texture that makes it ideal for featuring in a rustic country chic wedding. With it's natural organic appeal it's a great textile to feature for a natural style wedding.
Burlap, also known as hessian, gives weddings a charming rustic look and provides a beautiful neutral pallette for you to add coordinating pops of color that will really stand out. We love burlap because it's easy to DIY and it's inexpensive for brides watching the budget.
If you're planning a rustic country wedding with burlap details, this post will help you find inspiration as well as burlap wedding items to buy. All the items below are stylish ways to use the popular burlap fabric and they are available to buy online, making your planning even easier!
Burlap Wedding Invitations 
To start your burlap wedding theme you can send out wedding invitations featuring burlap. These two customizable burlap wedding invitations use the burlap texture as a backdrop to beautiful colors and fonts.
Burlap Bouquet Wedding Invitations
Burlap Bliss Wedding Invitations
Burlap Wedding Ceremony Decorations
Burlap is a beautiful fabric to use throughout your wedding ceremony decorations as a way to tie everything together and provide a charming rustic backdrop for exciting pops of color.
The natural coarse loop of burlap can be used in various areas throughout the wedding ceremony space, starting with the aisle!
This pew bow can be used at the end of the pew to decorate the aisle for the bride.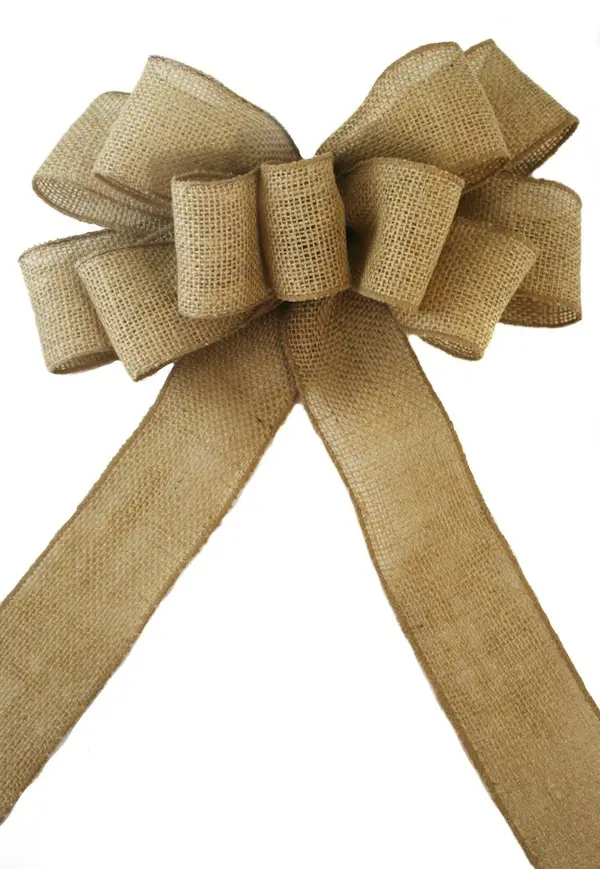 Pew Bows Burlap – Set of 4 Premium Burlap Bows – Wedding Decoration
Burlap also makes a fabulous aisle runner for a wedding ceremony in any location. This is an excellent place to use your DIY skills. A roll of natural burlap can be cut to fit the space and you can add special details like lace on the edges or a print of your wedding monogram or wedding date.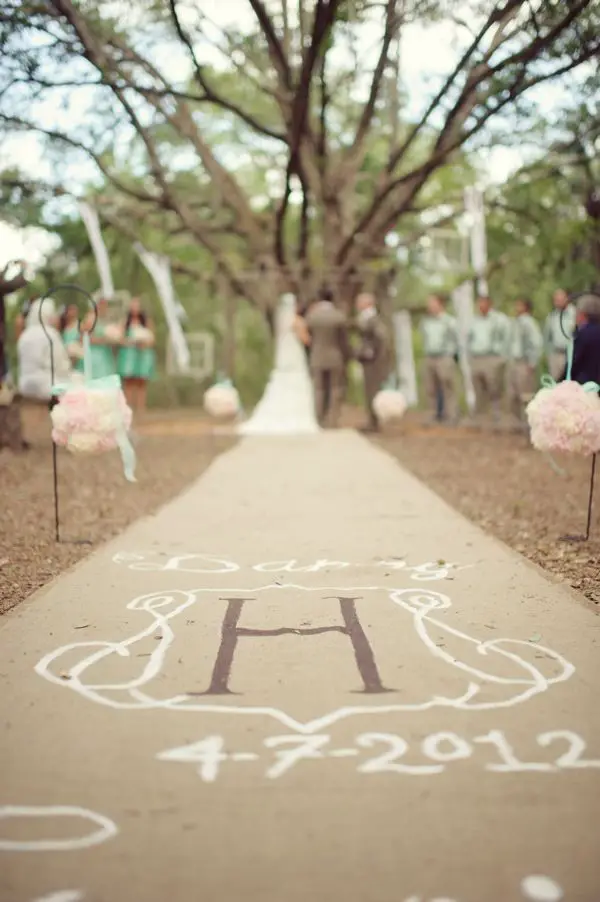 Burlap Natural 40 Inches Wide x 5 Yards Long
Carry on the theme with burlap touches for your ring bearer, who can carry this adorable burlap ring pillow.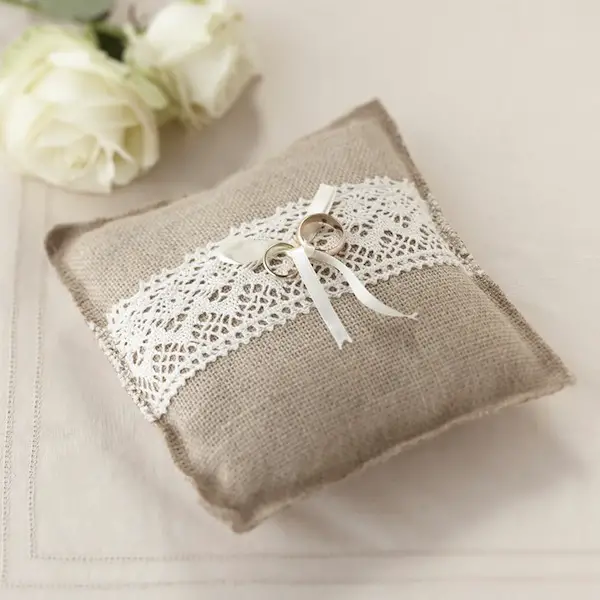 Vintage / Rustic Hessian Wedding Ring Cushion
Coordinate the flower girl with her own burlap basket for flower petals!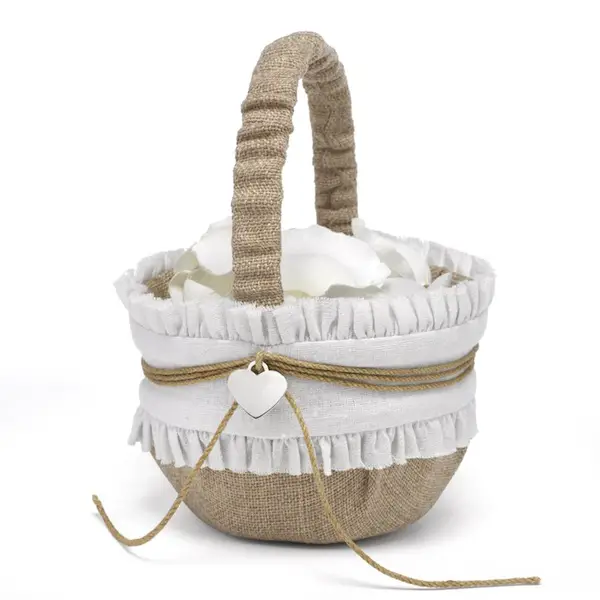 Rustic Romance Wedding Flower Basket
Use the burlap touches in your ceremony as accents and prioritize a color or two to keep things lively and elegant.
Burlap Wedding Reception Decorations
The wedding reception is a great place for burlap details!
Wedding banners  in burlap will give your wedding a lovely whimsical touch and look great in photos. You can create your own burlap wedding banners or purchase them online like the ones below.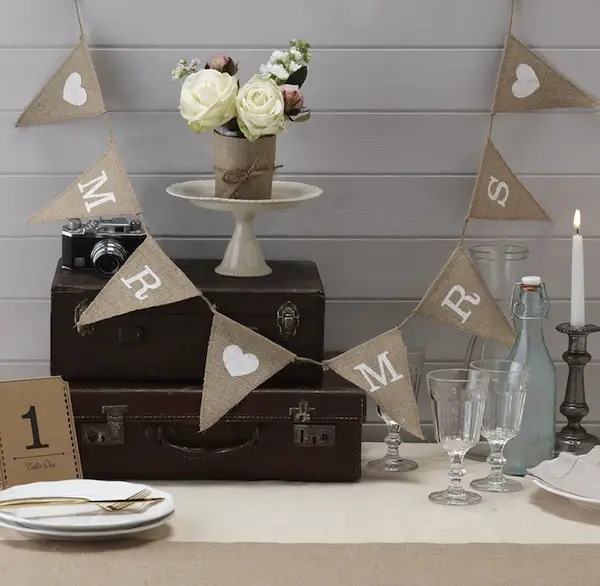 Mr & Mrs Hessian Burlap Bunting – Wedding or Party Decoration Banner
These burlap Bride & Groom chair sashes set aside the couple's chair.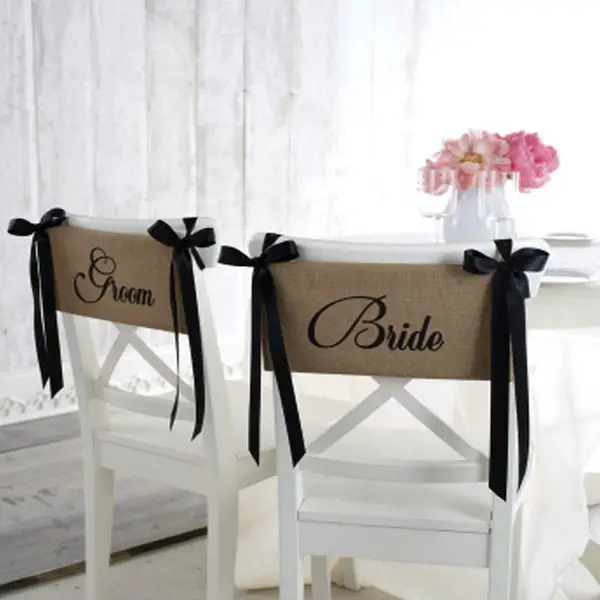 Mud Pie Bride and Groom Chair Sash Set
This burlap wedding banner shouts "Just Married" to the world and gives you a gorgeous backdrop for photos.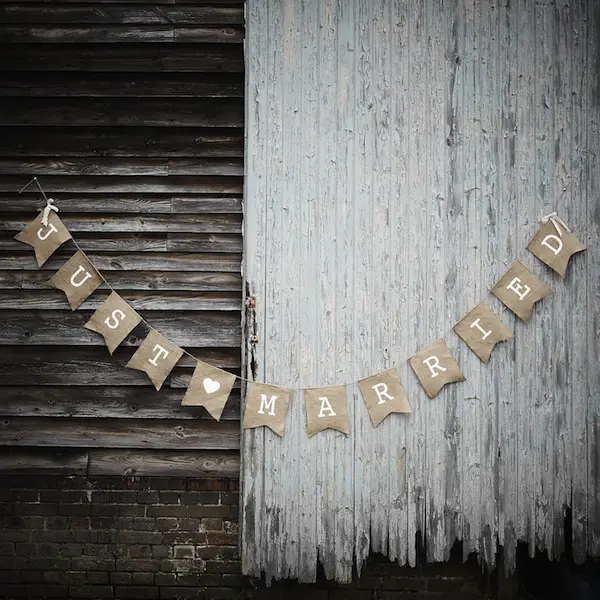 Hessian Vintage Burlap Just Married Rustic Wedding Bunting
Tie in the rest of the wedding ceremony space with rustic burlap chair bows.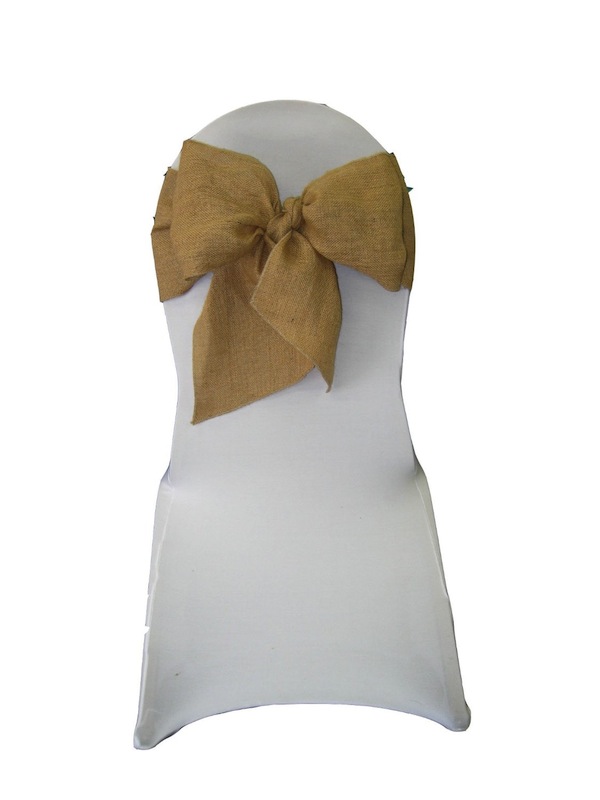 Natural Burlap Sashes Chair Bows – Made in the USA
Or use a burlap table runner to lay the foundation for your wedding table! The burlap table runner will give your wedding table a lovely textural element without compromising on style. It also sets a great stable to layer upon – add lace elements for a soft vintage feel or clean items for a modern minimalist tablescape.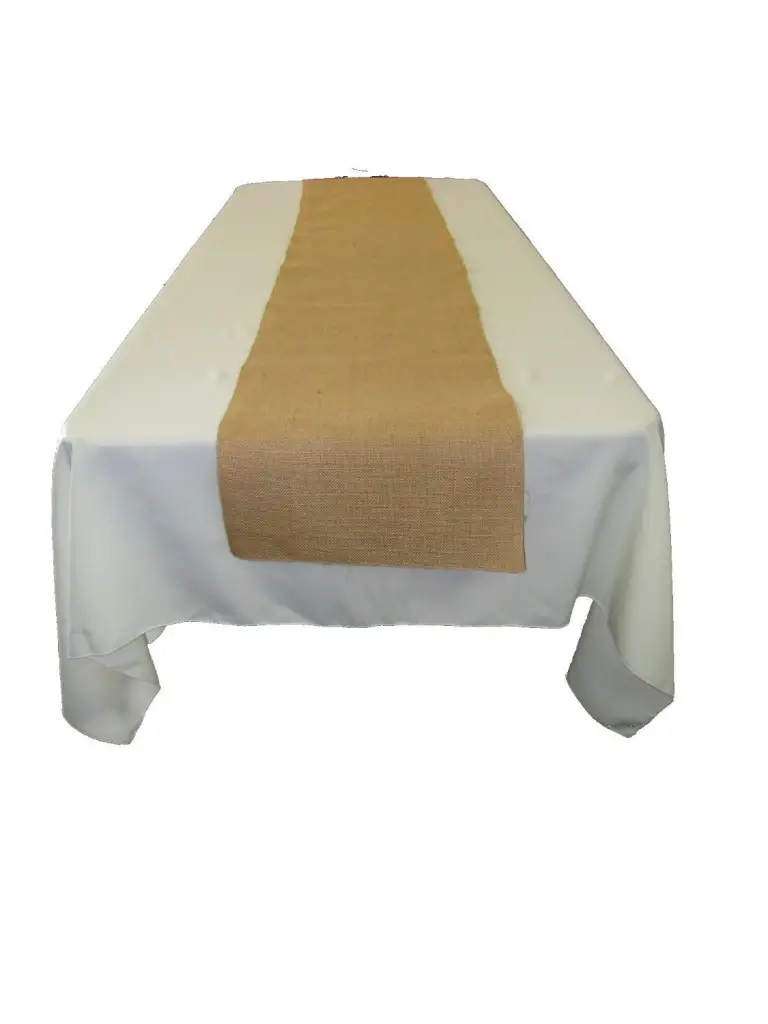 Burlap Natural Cotton Fringed Runner
Give yourself a burlap guestbook to remember the burlap wedding details you featured.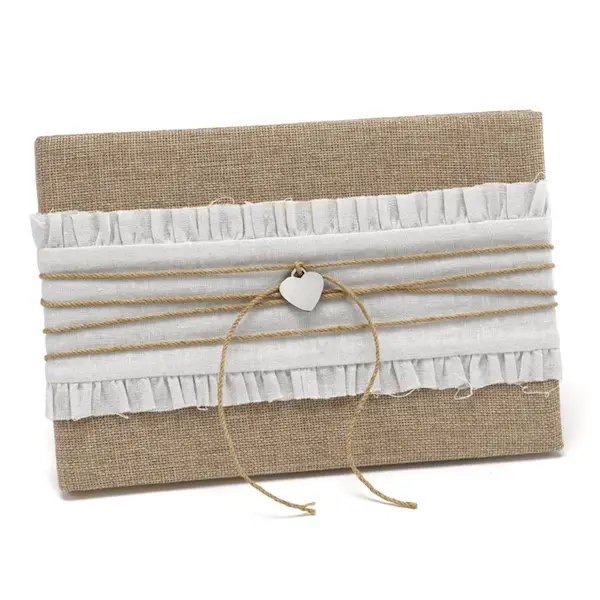 Rustic Romance Wedding Guest Book
Accent the wedding guest book table with a burlap decorated base and wedding pen.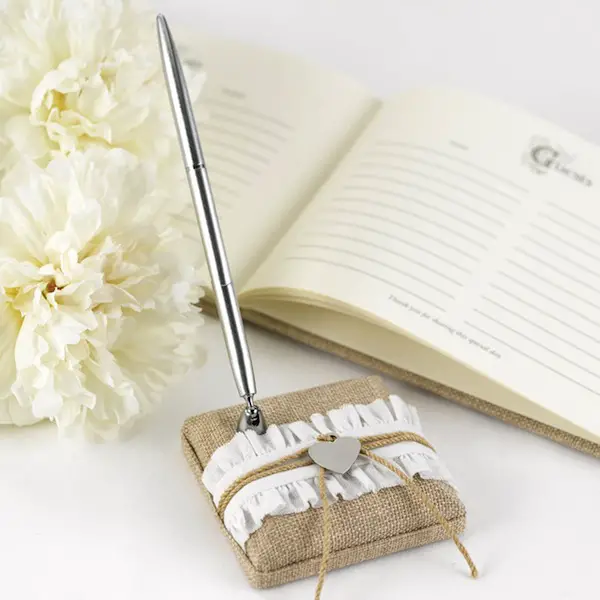 Rustic Romance Wedding Pen Set
More Burlap Wedding Details
There are so many ways to integrate burlap into your wedding decorations and details. 
You don't only have to use it as a decoration, you can add unexpected twists like a garter that features burlap!
For a softer look using burlap, try adding these burlap flower picks throughout the wedding ceremony and reception. Add a touch of natural charm with these burlap flower picks, perfect for adding to decorations, floral arrangements, cakes, and more.
David Tutera Burlap Flower Picks 
Similarly, these burlap flower decorations are stickers that can be added throughout the wedding ceremony and reception for a soft touch.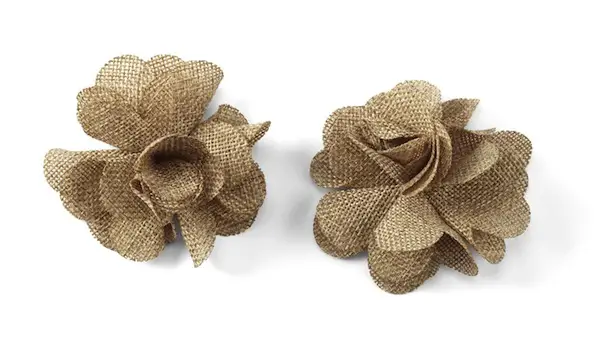 Dimensional Stickers, Natural Burlap Flower
You can also use additional burlap bows to decorate the reception space or even the area outside to lead guests in.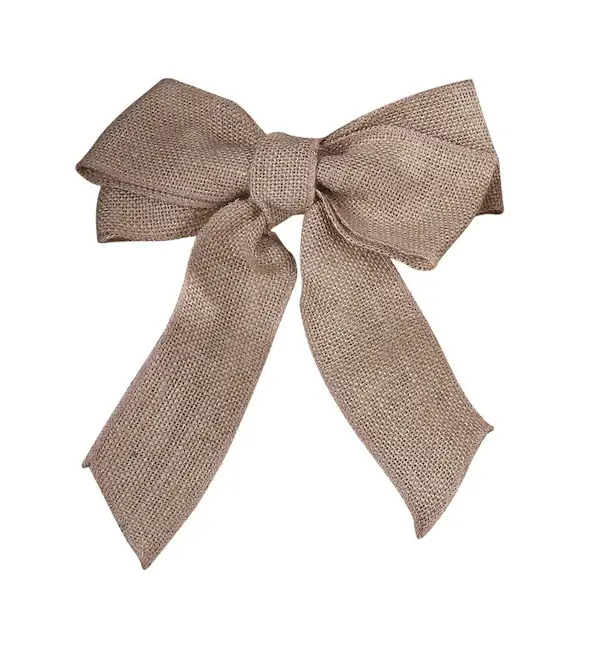 Napco Natural Burlap Bow Decoration
You can use burlap ribbon in tons of places throughout your wedding decorations so it's great to have some on hand for tie-backs, wrapping bouquets, and more. If you plan on doing DIY projects for your wedding, this burlap ribbon is perfect to have in your wedding decoration toolkit!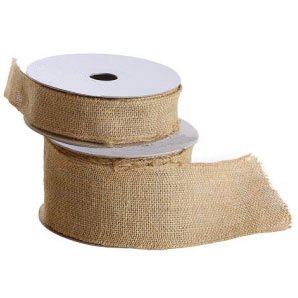 1.5 Inches Wide Burlap Ribbon on Spool
If you don't feel like mixing and matching your burlap wedding details, one company offers everything in a neatly coordinated package.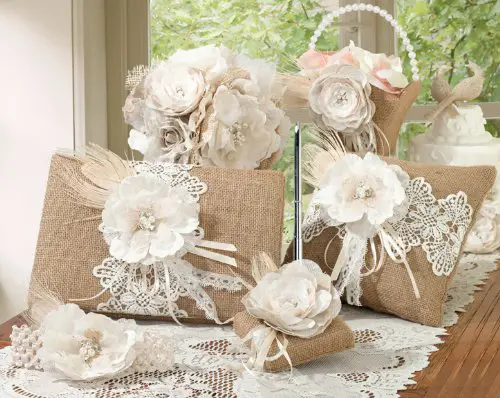 Prepacked Coordinated Burlap Wedding Details Package
Planning Your Wedding With Burlap Details
Remember that adding burlap will give you a great effect, but it should be used carefully. Don't overdo it and include ALL these ideas, but pick and choose and implement in areas. Create a successful wedding style by using the natural raw texture of burlap with a well thought out color scheme – like soft pinks with pops of mint green or earthy tones with crisp white. Enjoy the burlap mixed with interesting touches – sparking crystals, glimmering jewels, shiny metals.
Using the touches of burlap mixed with elegant decor details will create a rustic country chic wedding that wows your guests!