When looking at how to cut alcohol costs at your wedding we were inspired by the idea of choosing a signature cocktail. In this post we share some themed Memphis signature drinks you can feature at your wedding.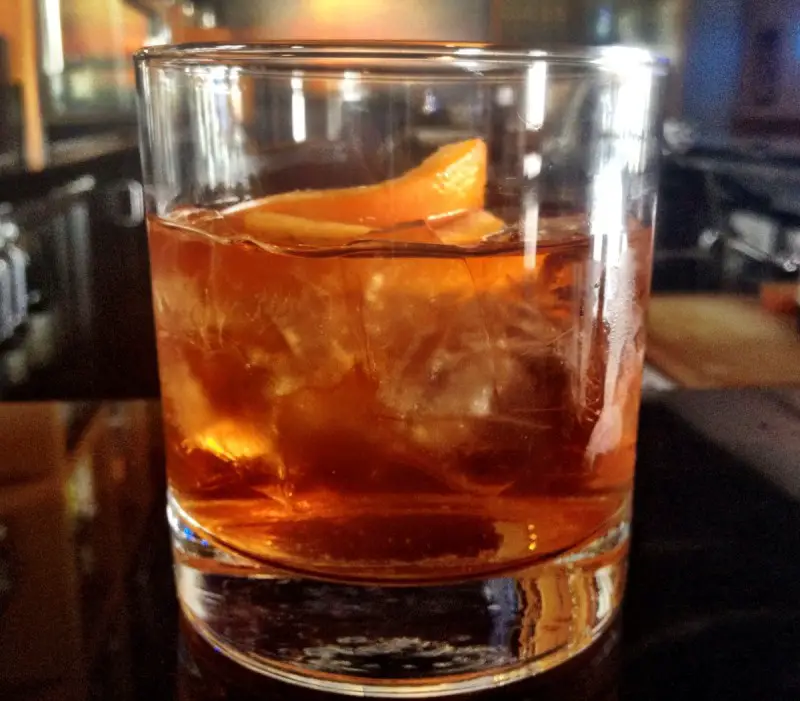 Memphis Signature Cocktails
Since some wedding guests look forward to the food and drink options as much as hearing the vows, you'll want to make an impression with your choices.
These Memphis signature cocktails are sure to wow your guests long after the wedding. Most of the recipes are also rather easy, so if you wanted to test them out tonight…. we wouldn't blame you.
Memphis Cup Signature Cocktail
Delta Magazine featured the signature cocktail from bar eighty3, the awesome restaurant located inside of the Madison Hotel in downtown Memphis.
Of all the Memphis signature drinks, this is one of the lighter options. This cocktail is a light mix of cucumber-infused gin and fresh lime juice.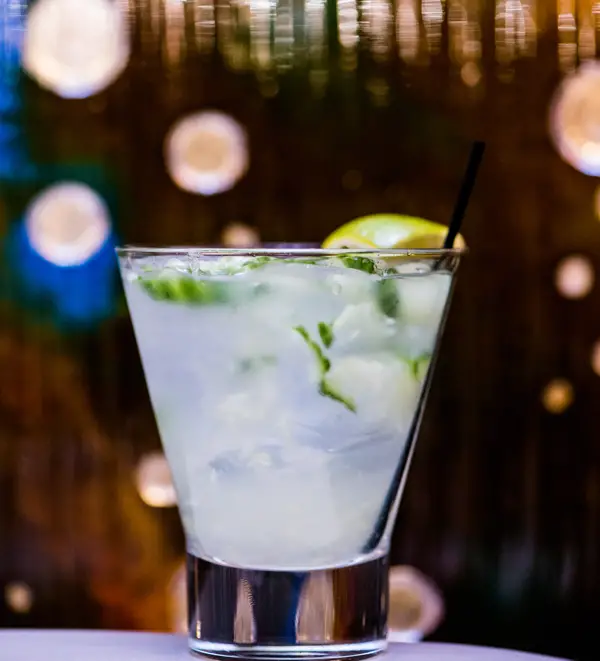 Memphis Cup Cocktail Ingredients:
English cucumber slices
2 ounces Hendricks gin
1 ounce fresh lime juice (about 1 lime)
3/4 ounce simple syrup
Sea salt for garnish
Memphis Cup Cocktail Directions:
In a mixing pint glass, muddle 5 cucumber slices (Persian or English cucumber are sweeter and have less prominent seeds). Pour simple syrup into glass and add fresh lime juice and gin.
Fill a rocks glass with ice. Pour into mixing glass, vigorously shake, and pour drink back into rocks glass. Garnish with 3 slices of cucumber and sea salt.
Negroni Cocktail from Interim
Cocktails with so few ingredients might seem simple, but the Negroni from Interim will wow with few ingredients. Michael Lucky at Interim concocted this drink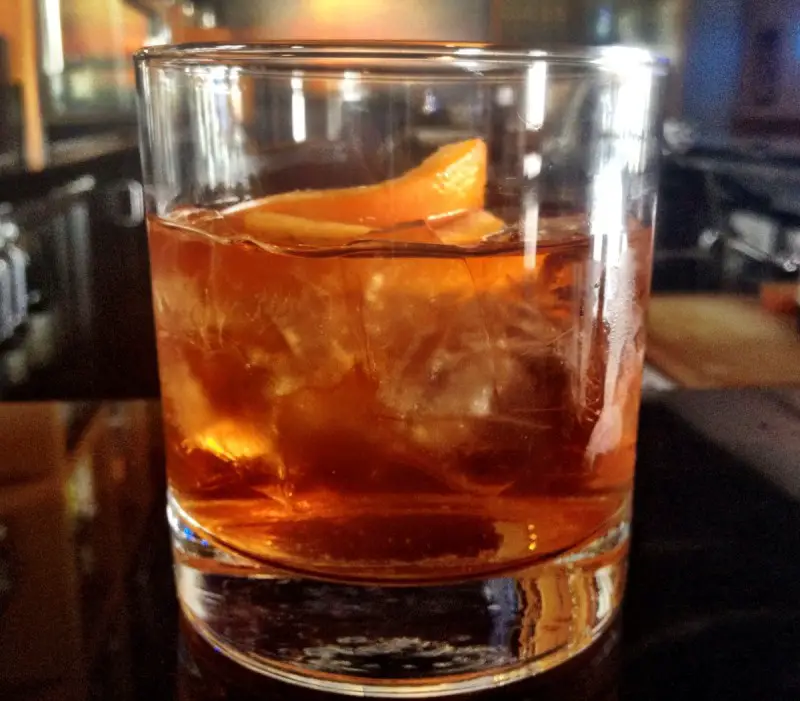 Interim Negroni Cocktail Ingredients:
3/4 ounce Aperol
3/4 ounce Boodles Gin
3/4 ounce Dolin Vermouth
orange peel
Interim Negroni Cocktail Directions:
Combine all three ingredients.
Garnish with orange peel.
Photo and drink recipe by Interim.
Rhett Butler Cocktail
Southern Bride Magazine did a Gone With the Wind inspired photo shoot with a couple great cocktail recipe ideas. The signature cocktails they shared perfectly capture Southern charm which makes them a great fit for a Memphis wedding.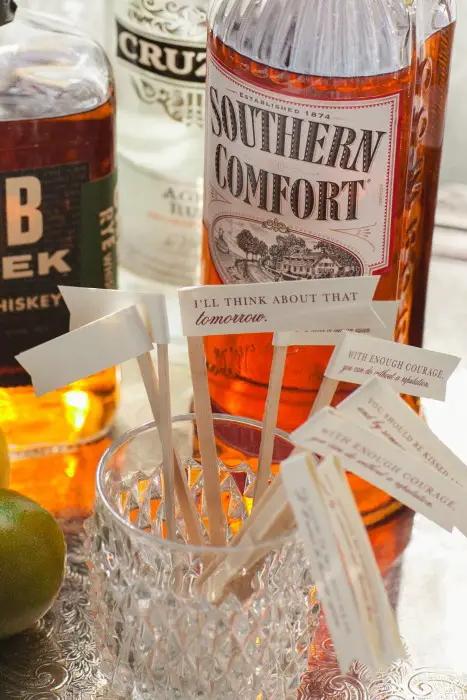 Rhett Butler Cocktail Ingredients:
2 oz Southern Comfort
1/2 oz fresh lime juice
1/2 oz fresh lemon juice
1/2 oz orange curacao
Optional: lemon twist for garnish
Rhett Butler Cocktail Directions:
Pour the ingredients into a cocktail shaker filled with ice and shake well.
Strain into a chilled cocktail glass.
Garnish with a lemon twist.
Enjoy this cocktail via Southern Bride, with drink signs and stirrers by Zerilla Design and drinks prepared by Nottoway Plantation.
Tennessee Berry Mule Cocktail
In the Mix shared a Memphis cocktail on their signature drink tour of the USA.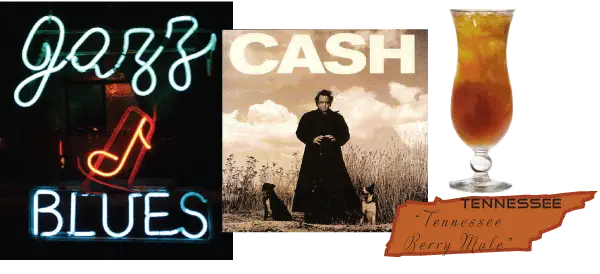 Tennessee Berry Mule Ingredients: 
8 fresh Raspberries
1½ shots Tennessee whiskey
1 shot Luxardo Amaretto di Saschira
1½ shots cranberry juice
½ shot Freshly squeezed lime juice
Top up with Ginger beer
Tennessee Berry Mule Directions: 
MUDDLE raspberries in base of shaker.
Add next 4 ingredients, SHAKE with ice and strain into ice-filled glass.
TOP with ginger beer, lightly stir.
Peabody Memphis Blues Martini
Call me PMC shared directions for making The Peabody's Memphis Blue Martini. This bright blue drink shows off the color of Memphis and adds a bit of color and fun to any event.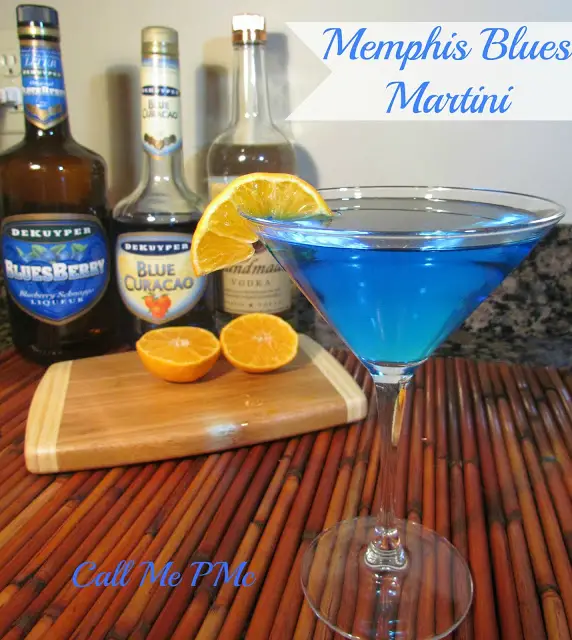 Memphis Blues Martini Ingredients:
1½ oz Vodka
1½ oz Blue Curacao
1½ oz Blueberry Shnapps
orange slice for garnish
Memphis Blues Martini Directions:
Place ice in a shaker.
Add vodka, blue Curacao and Blueberry Shnapps and shake vigorously 30 seconds.
Strain into a martini glass and garnish with a slice of orange.
Folk's Folly Brandy Freeze
Style Blueprint shared Folk's Folly's Brandy Freeze holiday cocktail recipe, which would be perfect to make for a summer event where you want to cool down your guests.
Folk's Folly Brandy Freeze Cocktail Ingredients:
6 ounces vanilla ice cream
½ ounce of brandy
nutmeg
Folk's Folly Brandy Freeze Cocktail Directions:
Place ice cream in the blender and blend until smooth.
Add the brandy.
Garnish with a sprinkling of nutmeg.
Tips for making this drink if you plan on freezing: add more brandy! That keeps the consistency slushy and pourable, even after being in the freezer.
Peach Beer Cocktail
The idea of beer cocktails was featured in a profile on Jack Magoo's Sports Bar in an issue of Memphis magazine, where this unique Memphis signature drink was shared.
It's unusual but fun and something that will be a hit at a summer Memphis wedding.
Peach Beer Cocktail Ingredients:
Wheach peach beer
peach schnapps
orange juice
fresh orange
The combination of beer in liquor in one drink isn't as common here in Memphis as it is in other cities, but beer cocktails might catch on soon when they sound this delicious!
More Memphis Drinks & Wedding Ideas
Which of these Memphis signature drinks will you be making? All of these cocktails sound amazing!
None of these great Memphis cocktail recipes working for you? Head out to one of the many amazing bars in town and try out some new flavors!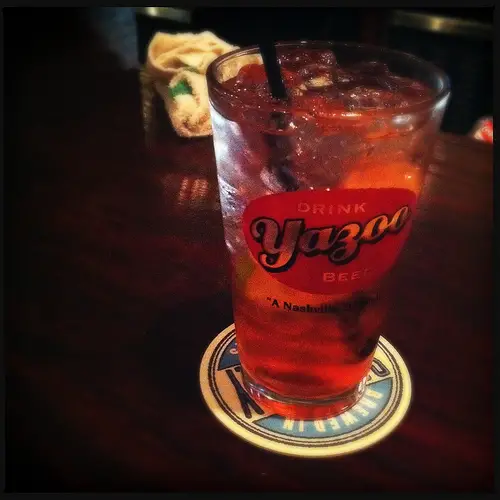 Holly at I Love Memphis Blog shared her guide to summer cocktail drinks in Memphis.
Signature cocktails are a great way to specialize your drink menu (and keep it affordable). Aren't you ready to drink?
If you are planning your own wedding, grab yourself a nice cocktail from this list and check out our other useful Memphis wedding ideas: