Justus & Britany's military Mississippi wedding will have you tearing up after you read their story. From starting their relationship long distance to finally tying the knot, this special couple made things work.
Before we get to the wedding between these two awesome people, can we just take a second to admire this beautiful bride? The bridal session Andrea King sent over made us so excited to see images from the wedding. She's gorgeous!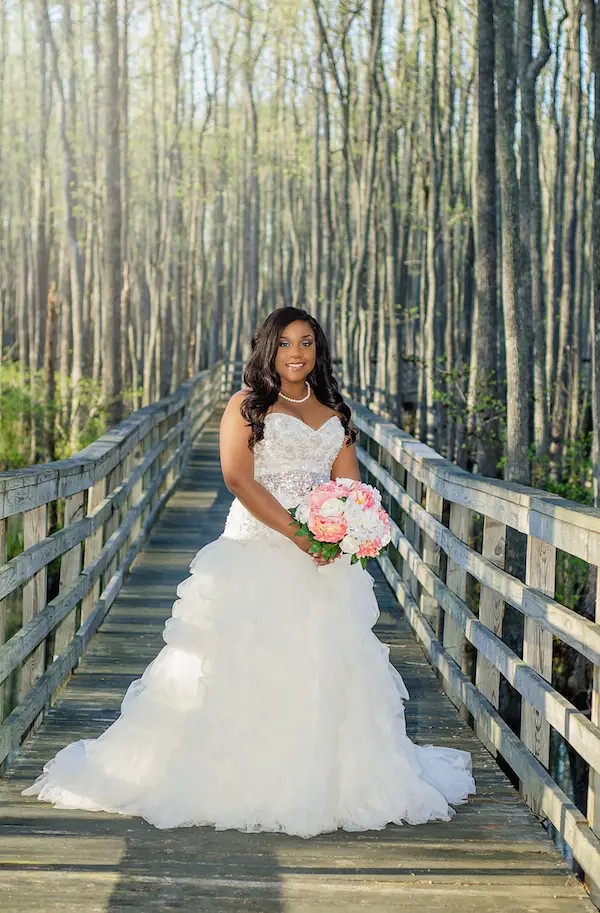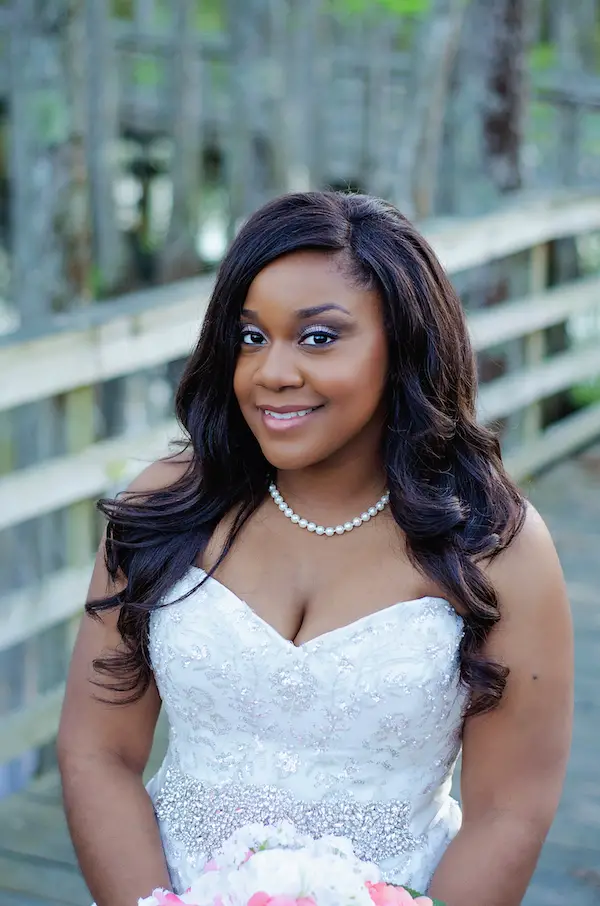 Brittany and Justus started their story in a different way – they didn't even meet in person for months! Yet years later they were married in a lovely Memorial Day military wedding in Horn Lake, MS.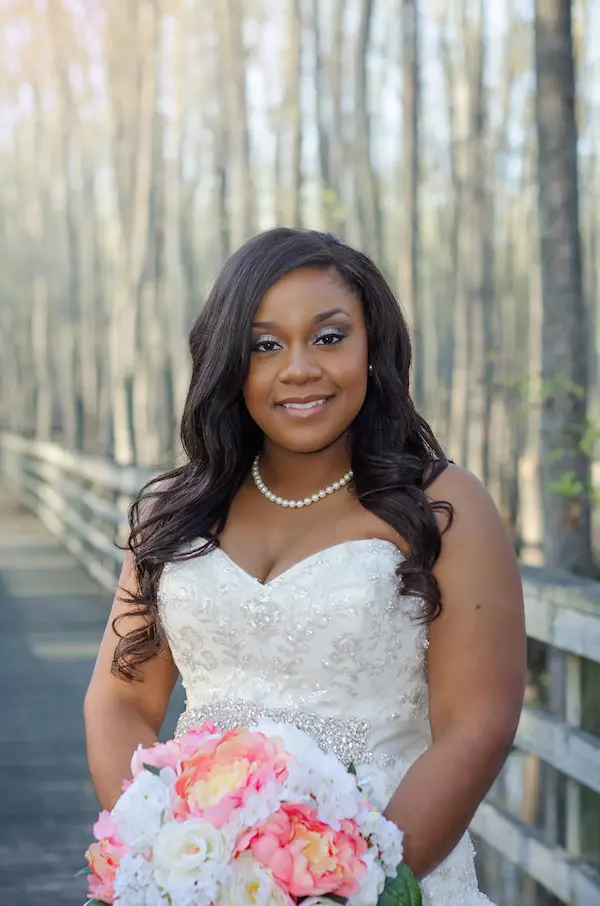 Love Story
Justus and Brittany met on Facebook. She shared her love of bowling and he contacted her privately to ask for the opportunity to beat her at bowling.
Despite reservations over talking to a stranger she sent a message back. That conversation led to an exchange of email addresses. Brittany finally emailed Justus after a month of being busy with her nursing school work. She found herself surprised with an instant reply to her late night email.
It turned out that Justus was in the military and deployed in Afghanistan at the time!
They emailed back and forth for three months without ever talking on the phone. They bonded via words and jokes and an understanding of family since Brittany had a child who came first.
Finally after months of anticipation Brittany received a phone call at 4 am from a strange number. Justus had finally called and properly introduced himself.
They were both so excited to hear each other's voice and get the opportunity to talk in real time. A few weeks later he came home on leave and they went out on their first date – bowling!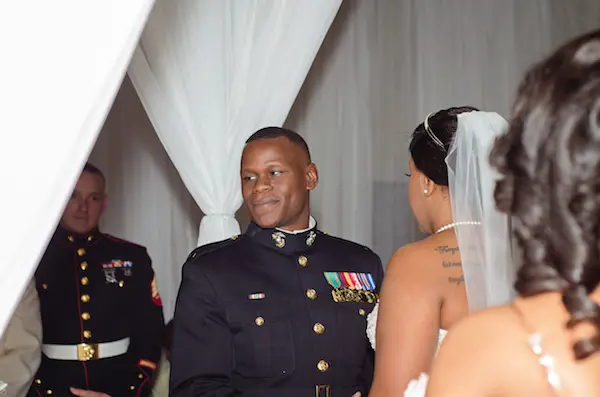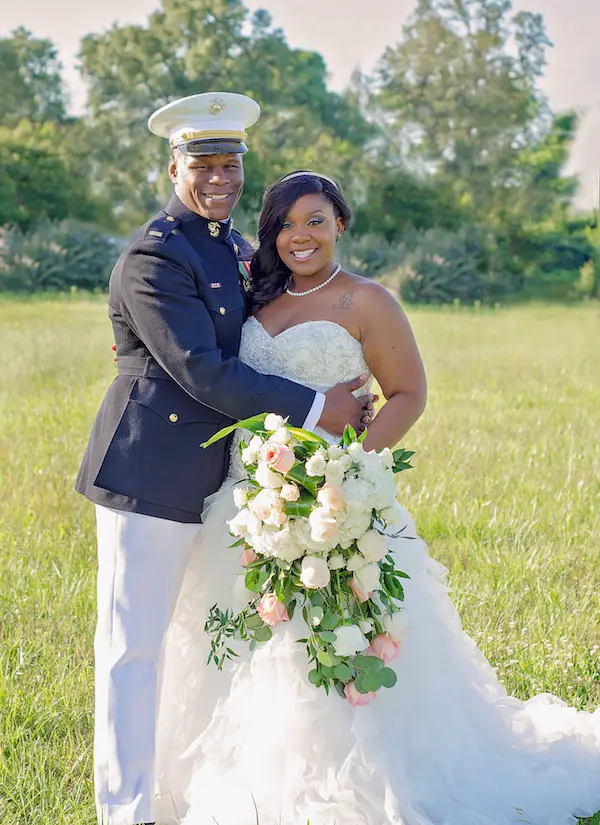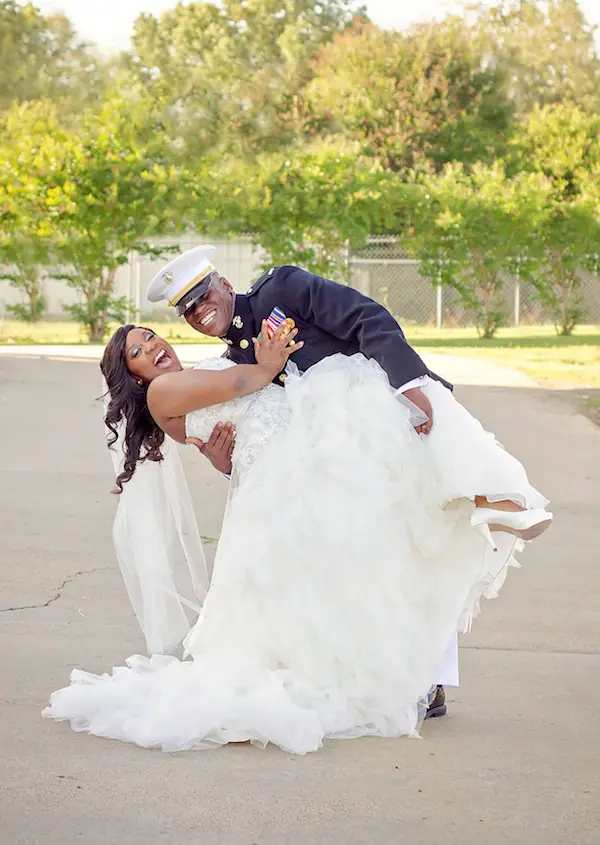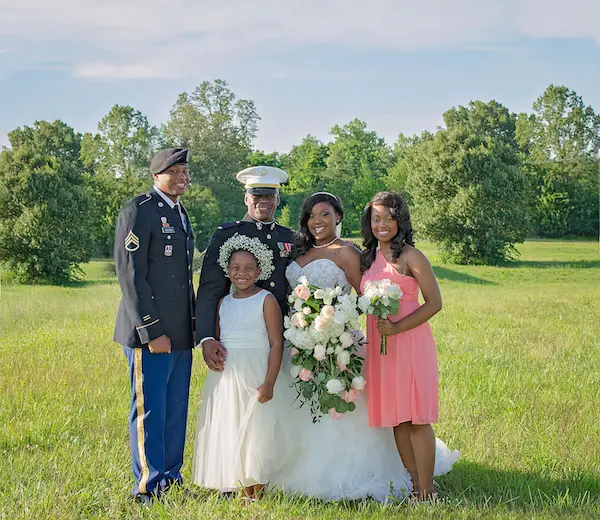 Military Mississippi Wedding Details
What was your vision for the wedding and what ended up being your favorite part of the day?
Brittany's wedding vision was simple and classic. She wanted something simple, just like her solitaire princess cut ring. She combined sage, coral, and ivory with a touch of gold for sparkle into a chic wedding color palette.
Brittany also incorporated small details based on her relationship with Justus. For example, her garter had the Marine Corps insignia which Justus loved.
For something new she wore a brand new dress, for something borrowed she used her parent's wedding wine glasses, for something borrowed she used her mother's buttons from her wedding dress, and for something blue she included hints of blue in her bouquet with a small blue bow.
She did everything for the wedding on a budget including her sand ceremony vase, which she bought at Joann's and had monogrammed at Things Remembered. She used mixing and matching her purchases to get exactly what she wanted for the wedding at a lower price point.
When we asked Brittany what her favorite part of the day was she said, "My favorite part in the wedding was during the reception when the DJ announced us and we ran through the Anderson Banner!!!"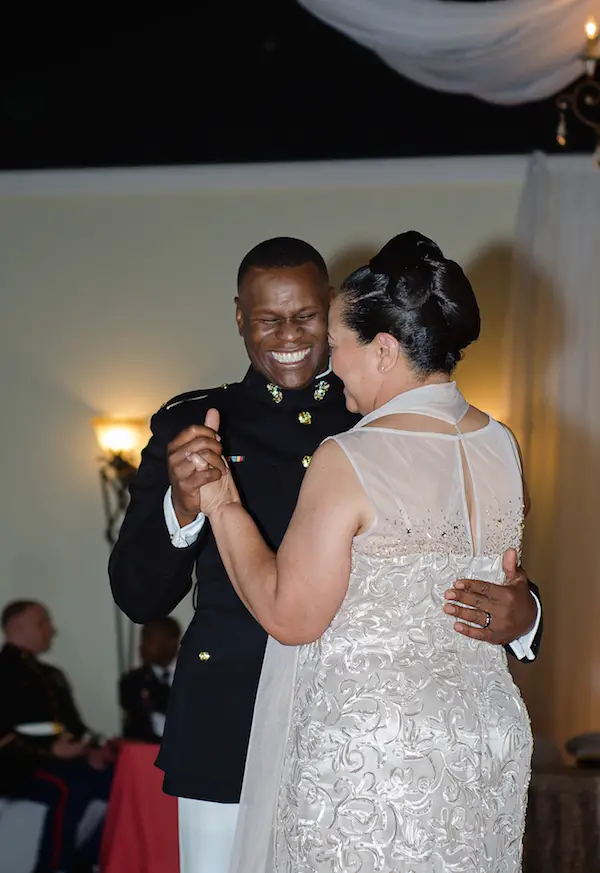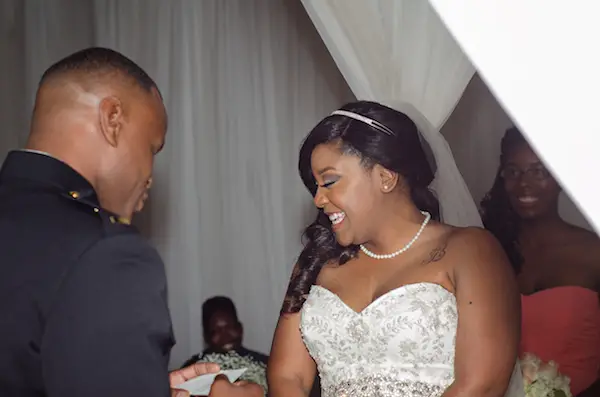 You can tell how happy Brittany and Justus are by all those huge smiles you can see in the photos!
Memphis Wedding Vendors
Photographer: Andrea King Photography
Venue: First Choice Catering and Banquet hall
Liquor: DeVine wine and spirit
Makeup: TeAnna Shantese
Hair: Shayla Collins
Photobooth: Pic Strip Photobooth
Catering: First Choice Catering and Banquet hall
Wedding Cake: Brown Baggett Bakery
Coordinator: Crystal Cawthorn
Flowers: Dorothy K's flowers
DJ: DJ HOMA
Browse more Mississippi real weddings and engagements:
Or check out these helpful posts: