While barbecue might not be the fanciest of foods, it is always a wedding crowd pleaser. Once you've settled on serving BBQ then you'll likely want to come up with some class BBQ wedding reception ideas.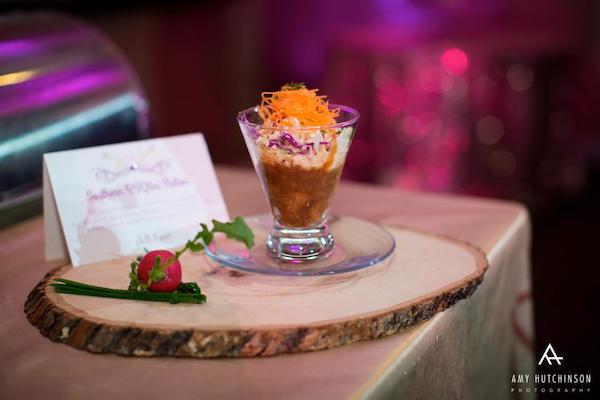 Our team runs a Memphis wedding blog so naturally we love all things BBQ! Memphis is known for it's BBQ. After all, we host the World Championship BBQ festival every year in May.
It's very possible to take this humble food and elevate it to fit a gorgeous wedding event. If you want to serve BBQ at your wedding there are plenty of classy BBQ wedding reception ideas.
Below we share some of our favorite ways to serve BBQ and tips for including it at your own wedding.
Class BBQ Wedding Ideas
Serving BBQ can be as refined or as casual as you want it to be at your wedding.
Here are a few unique ideas to inject barbecue into your wedding menu, whether it's with a passed appetizer or a full BBQ station!
BBQ-tini Appetizers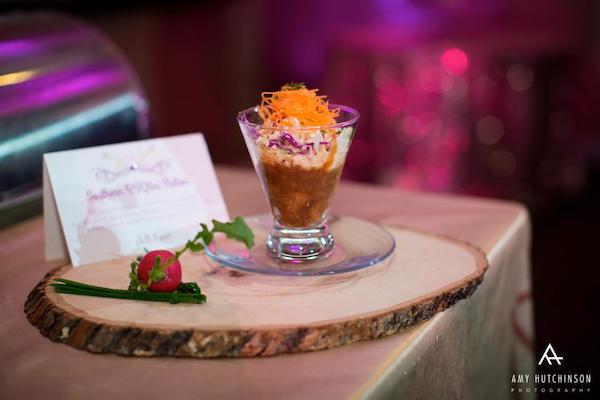 Food: Simply Delicious Caterings, Photo: Amy Hutchinson Photography
Barbecue-tini appetizer stations can be a great way to include barbecue during your cocktail hour. These appetizers are a classy and unique way to serve BBQ during your cocktail hour. These tiny apps are a beautifully formal way to serve up bbq, coleslaw, and other toppings in just a few bites.
Pulled Pork Sliders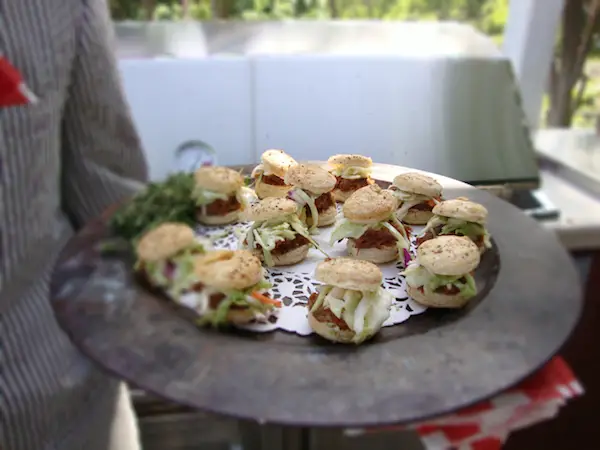 Food: Trumpet Vine Catering
Pulled pork sliders include the tastiness of pork barbecue without the messiness of a regular pulled pork sandwich. These two-bite treats passed around by servers are a neater option that still hits the spot. You can also combine these tasty treats with other appetizers or stations for variety.
BBQ Egg Rolls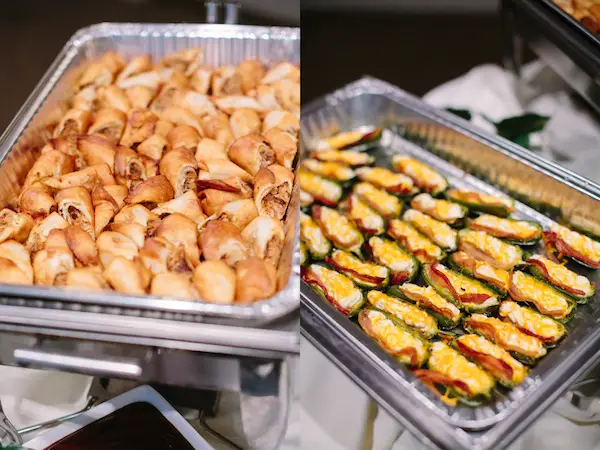 Food: Draper's Catering, Photo: Finch Photography
BBQ egg rolls from Draper's Catering are an intreating and unexpected way to serve BBQ up at a wedding. These egg rolls include the best parts of Memphis barbecue in a different format. Draper's describes them as pulled pork, slaw, and sauce rolled up in a tortilla and fried until crispy. Sounds delicious!
Mini BBQ Pizzas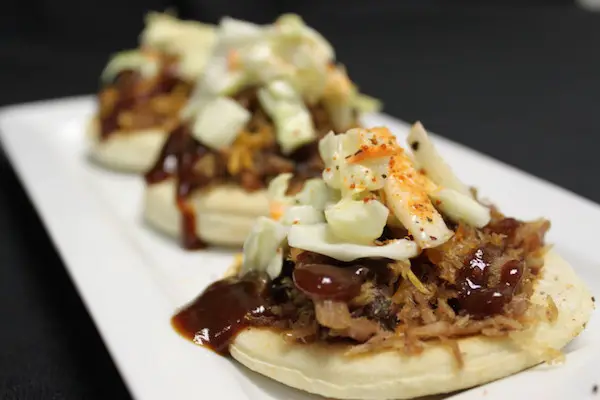 Food: Draper's Catering
Mini BBQ pizzas with pulled pork on a tasty crust topped with BBQ Sauce, homemade mustard slaw, and cheddar cheese, these mini BBQ pizzas from Draper's are sure to please.
BBQ Nacho Station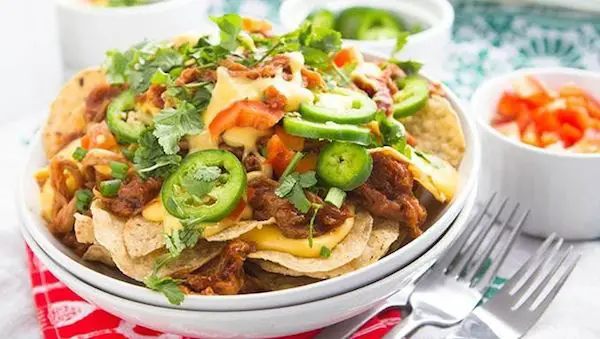 Photo: Tablespoon
Barbecue nacho stations are a great way to incorporate BBQ in a less formal way that is interactive and fun. You can use a variety of toppings so that everyone gets exactly what they want when creating their nachos. Cover all your bases by including toppings like sliced jalapenos, multiple cheeses, onions, slaw, and lots of Memphis BBQ sauces.
Classic BBQ Wedding Reception Options
Of course, sometimes you can't always go the classy route. Instead you have to go classic and know that your guests will enjoy it.
BBQ Ribs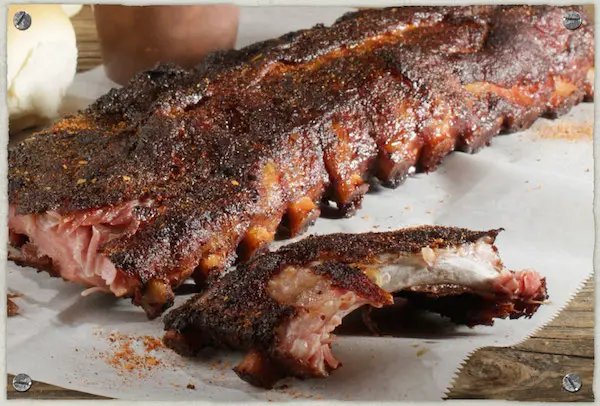 Food: Central BBQ
BBQ ribs are messy but a classic serving. If you plan to go the classic route and offer up ribs just make sure you are providing plenty of ways for guests to clean up. Wet towelettes, napkins, and bathroom access will be necessary!
from Central BBQ or your favorite BBQ restaurant always make wedding guests happy since they are delicious and more fun than a traditional plated meal. Ribs might not seem formal but they always get a warm welcome at weddings.
BBQ Wedding Reception Ideas & Tips
Want to incorporate BBQ into your wedding? Here are some tips for serving this delicious food.
Ask your caterer what BBQ wedding food they do best.
Your particular caterer might have a specialty like BBQ egg rolls or wet BBQ ribs. Check to see what they do best and then plan the menu around that specialty. Your caterer will also be able to help you plan for quantities and style of food if you are undecided.
Vary the side dishes at your BBQ wedding reception.
Having a barbecue wedding can be heavy, so bring a bit of variety by adding unexpected side dishes. You could include a salad bar or lots of different lighter side dishes. Use lots of different vegetable dishes to bring balance to the meal and elevate it to another level.
Match the style of BBQ to your wedding reception.
If you have a more formal wedding you probably won't want to have ribs. Your guests will be worried about getting messy in their formal clothes.
However, you have lots of options for classy BBQ wedding reception ideas. You could have unique barbecue appetizers served during cocktail hour.
If you are having a casual outdoor wedding, you could have a full BBQ menu since the food matches the more casual wedding style.
Style around the BBQ wedding food.
Serving a BBQ meal can inspire the details and decor of your wedding reception.
It goes perfectly with a rustic barn wedding venue packed with rustic burlap wedding details and mason jars to serve drinks and desserts.
Give guests a BBQ wedding favor.
Sending your guests home with an awesome BBQ favor to use at home is a great way to incorporate it. You can send a BBQ spice pack or a little bottle of your favorite BBQ sauce home as a tasty wedding favor. Check out these Memphis wedding welcome bag ideas for more BBQ related favor ideas.
However you decide to use BBQ at your wedding we are sure it will please everyone!