Here in the Mid-South we've already seen many bridal shows this season and there are still more to come like the Cedar Hall Bridal Show. If you're planning on attending a bridal show then you should keep reading for the best tips on how to get the most out of a bridal show.
Why attend a bridal show?
Attending a bridal show (or two!) can be very helpful during your wedding planning. You'll get to meet wedding vendors in person without any pressure so you can ask questions. Meeting lots of wedding professionals under one roof can save you a lot of time in deciding who to set up one on one meetings with next. You can quickly compare prices, services, and personalities of wedding vendors all while winning prizes and having fun.
How to get the most out of a bridal show
If you're planning on attending some of the upcoming bridal shows this year or next, take advantage of the experience with the following tips:
Register for the bridal show. For most bridal shows, if you register before the show you will get a discount or event a free ticket to the show. Every show is different but registering early can definitely save you a couple bucks at least.
Get there early. The biggest and best bridal shows will have long lines and wait times. (They also have hundreds of wedding vendors with booths!) Come to the show as early as you can so you can get in and see all the booths and take your time at each one. You want to make sure you have time to meet vendors and see what they have to offer without feeling rushed. Plan to get there early and make a day of it.
Bring your information. Get yourself organized before the show. Have a list with all your wedding info and contact information for vendors who need it. Make sure you have all your important dates written down like your bridal shower, rehearsal, wedding date, and any other important dates. This can be really helpful when checking with vendors about their availability.
Research the bridal show vendors. Check out the list of wedding vendors attending the show prior to attending. Lots of vendors will offer a discount for booking at the show, so if you do the research beforehand you can walk in ready to book and pay. Doing research before will also help you know which vendors to visit while you are at the bridal show.
Talk to the vendors you researched. Make a list of the top 2-3 wedding vendors you are interested in booking at the show. Spend most of your time talking to these vendors that you researched and want to book to determine if it's the right decision. Start a conversation and spend a few minutes socializing with the vendors. You want to make sure you click with the vendors you plan to use for your wedding.

Above Photos: Fred & Donna Jacob
Bring a list of questions to ask. Vendors will probably have their sales pitch down which is great to hear, but make sure you ask questions too. Mid-South wedding vendors are amazing people who really want to help you have the best day possible so they will be happy to listen and answer your questions.
Listen to what you can hear. Sometimes bridal shows can get big and overcrowded where it's hard to get access to all the vendors one on one. If you are interested in a service offered by a vendor and they are busy talking to someone else, you can use the tactic of "eavesdropping" to hear about their products and services. If you like what you hear then you can set up an appointment to talk with the wedding professional at a later date when you can have their full attention.
Keep favorite vendors' information separate. You'll get a lot of free swag and paper and information at a bridal show. If you really want to contact certain vendors keep that information separate in a favorite vendors bag. Keep the information of those vendors separate will help you contact the most important vendors first when you get home rather than going through all the information overload you'll come away with. Alternatively, you could mark the items from "favorite vendors" with a red mark or a sticker so you know that it's more important.
Bring a credit card. If you plan on putting down a deposit to get a discount from a vendor, bring a credit card. Using a credit card instead of your checkbook gives you some added protection in case the wedding vendor goes out of business. While most vendors are reputable, sometimes vendors go out of business before your wedding. If this happens you are more likely to get your money back with a credit card rather than a check. It's always smart to proceed with caution and read the fine print of contracts.
Know the schedule. Make sure you've looked at and know the schedule of the bridal show so you don't miss any special events like the wedding fashion show. Check the schedule when you arrive to make sure nothing has changed and you will have time to talk to wedding vendors and participate in all special events at the show.
Keep your eyes and mind open. You'll see lots of ideas at a good bridal show from flower arrangements to color combinations to favors. Keep your eyes open for different and new ideas that you might want to incorporate into your own wedding.
Bring a camera or phone. If you're very visual, then you'll want to have a visual reminder of vendors you met and ideas you saw. Snap a photo of the cake that looked amazing or the vendor booth of that professional you want to contact later. Having photos to review can jog your memory after the bridal show better than going through a stack of business cards.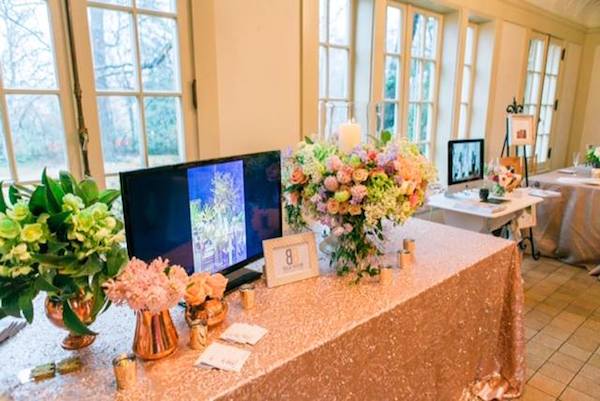 Visit all the booths. You'll have a list of vendors you want to hit first and really want to hire, but that doesn't mean you should ignore the rest of the show. Walk through and stop at all the booths to get info in case you decide you later need their services. Walk up one side of an aisle then back down the other side to make sure you hit every vendor booth. You might discover something you've forgotten or didn't know about but really love!
Don't register for everything. While you should visit all the booths, you don't have to register for everything they are offering. This will end up overwhelming your email inbox. Wedding planning is already overwhelming enough, you don't need to add bridal show follow up spam.
Have fun! Bridal shows can be fun and you should aim to have a great time. Yes you are doing important wedding planning work and it can be tiring, but you are also in a no pressure environment with music, food samples, and fun events. Make the best of it and enjoy the experience!

Photos: Sarah Rossi Photography
Hopefully these tips will help you make the most of any bridal shows you might be attending in upcoming months! Make sure you check our blog for upcoming Mid-South bridal shows!