Planning a wedding is stressful. It's a large, complicated, expensive, emotionally charged event you must plan while also living life. The only way to survive is to learn how to beat wedding planning stress.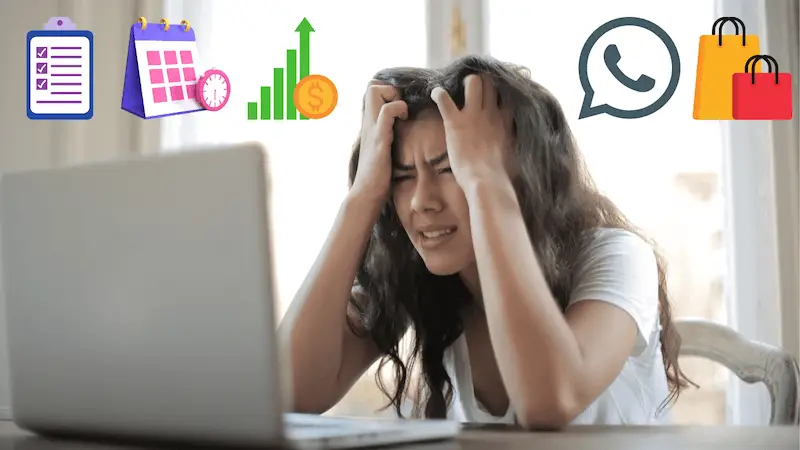 Why Planning A Wedding Is Stressful
During the wedding planning process there will be times when you feel alone in the planning.
If you are a DIY bride this is more true than when you hire a planner. Still, either way will still feel like your ideas are stuck in your head. It can feel like you have made no progress and no one understands.
When you feel alone in making wedding decisions it can feel like a lot of additional pressure and stress.
Making those decisions should always be made with both partners. However, often it is delegated to one or the other. This allows the pressure to pile on to make the right choice for everyone involved.
This often leads to brides feeling overly stressed, anxious, and emotional in the weeks and months proceeding their wedding.
Bridal meltdowns occur often because of this exact reason.
There is no reason to feel alone and overwhelmed when planning your wedding.
If you feel this way there are several things you can do to alleviate the feelings and get the planning process under control so it becomes a positive and happy experience for you.
How To Handle Wedding Planning Stress
What should you do when you feel stressed, alone or overwhelmed while wedding planning?
Here's what to do BEFORE the meltdown occurs.
Step back from wedding planning stress. 
Do something else other than wedding tasks.
It feels like there won't be time and you need to get everything done right now, but taking a break will help.  Take a break and do something with someone else. Take you mom to get a coffee or treat a friend to dinner. Don't discuss the wedding and just take a break from it!
Ask friends for help. 
All your friends were busy with jobs, kids, and life so I didn't want to bother asking them to help me with wedding tasks. This left me with too much on my plate and eventually led to my burnout. Don't put everything on yourself.
Ask friends to help!
They will come through for you in amazing ways. You can even make it fun by having a wedding task party where you tackle some projects together over food and drinks.
Talk to your fiance. 
Overwhelmed feelings and burnout can come from lack of communication with your partner during the planning process.
You are both busy, working, and have lives to continue while planning occurs. Just don't forget to keep communication lines open.
It will go a long way to helping you stay happy and stress free is you have the ability to talk to your fiance about wedding planning rather than keeping it all bottled inside.
Let people help with projects. 
Chances are you will have more people around that want to help than you know what to do with. Once you make it clear that you are willing to accept help you will find even more.
Let them help you and take some of the burden off you. Allow others around you to handle some of the wedding tasks you are dreading or don't have time for.
Hire a wedding planner.
There are super organized, super creative people that plan weddings for a living. If you are feeling stressed and overwhelmed in the wedding planning process you should consider hiring a wedding planner.
They can make life easier on you during the weeks leading up to the wedding. Let them help with finishing out all the details of your vision.
Many many offer day-of coordinating services so you can relax on the wedding day. Enjoy your wedding knowing someone else has all the details handled.
Have fun where you can. 
If you stop having fun at in the planning process things will just get worse for you.
It's important to remember that a wedding is a joyous occasion. Keep things light and fun and you will be able to actually enjoy the planning as well as the wedding.
Once you start doing those things you will feel a little better. Maybe you can enjoy the last few weeks before your wedding.
It sucks to feel alone during wedding planning but the key is to remember that you aren't actually alone. People WILL HELP YOU if you ask and then let them.