Hello newly engaged Mid-South brides and grooms! If you're planning a wedding in the Memphis area this year there are several bridal shows and bridal events to attend. These events can help you find your wedding vendors, make major decisions for your wedding, and help you score free stuff. They can also be pretty fun!
Read up on how to get the most out of a bridal show and plan to attend these great events!
January: Memphis Pink Bridal Show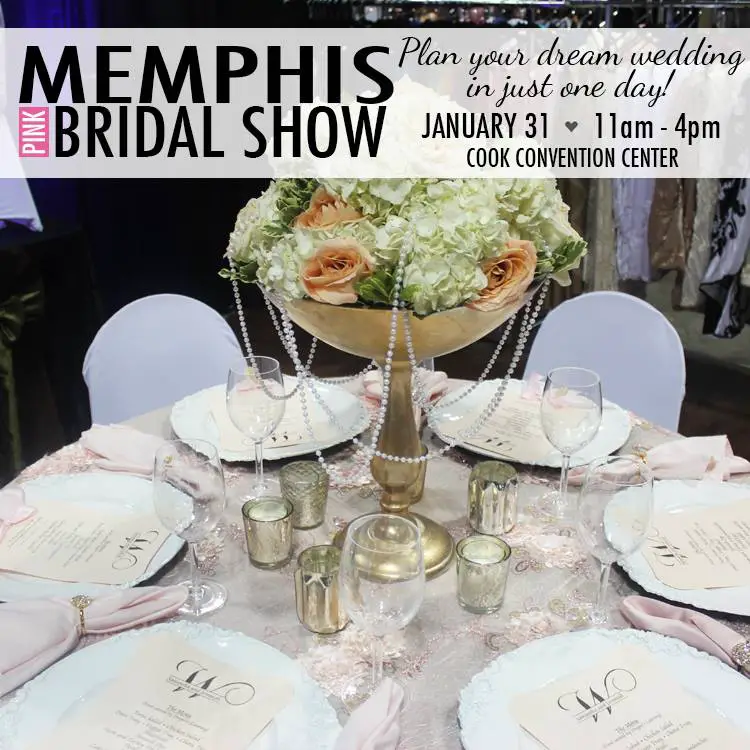 What: Memphis Pink Bridal Show
When: January 31, 2016
Time: 11 a.m. – 4 p.m.
Where: Cook Convention Center, 255 N. Main St.
Details: Plan your dream wedding in just one day! Meet wedding professionals, get inspiration, take home amazing swag and grab show-only specials to save you thousands of dollars! Includes fashion shows and gown sales along with giveaways, cash prizes, magazine subscriptions, and delicious food and drinks.
What: Everything Bridal 2016
When: Sunday, February 21, 2016
Time: 11 a.m. – 4 p.m.
Where: Esplanade Memphis
Details: Meet with top Memphis wedding professionals and celebrity wedding planner David Tutera. Gather inspiration and find the vendors to help your dream become a reality. You can win a complete honeymoon sponsored by Travel Leaders. We're a media sponsor of this event so we will be there ready to meet you all!
March: The Big Fake Wedding Memphis
What: The Big Fake Wedding Memphis
When: March 3, 2016
Time: 7 p.m.
Where: Propcellar, 2585 Summer Ave.
Details: The Big Fake Wedding is a bridal show alternative complete with an emotional ceremony, light bits and a dance-party reception. "Wedding guests" are brides-and-grooms-to-be who get to truly experience the wedding vendors in action. We are very excited to be a media sponsor of this new-to-Memphis event and can't wait to see you there!
These events should start your year off right with wedding planning by giving you a variety of experiences and access to different Memphis wedding pros.
More to come as Memphis bridal events are planned and we are notified!