Making a beautiful exit from your wedding reception can be extra fun with wedding sparklers. It's one of the best wedding exit options since it is allowed by most wedding venues. Want to sparkle on your way out? Learn where to buy wedding sparklers for an affordable but beautiful exit.
Sparklers are a popular option for wedding exist for good reasons: they are fun and look great in photos!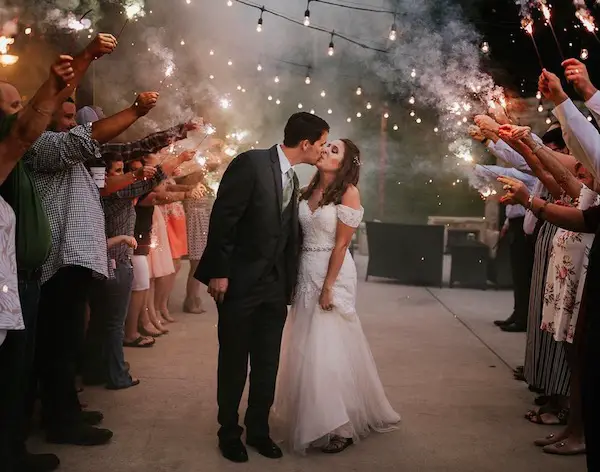 Photo by Whit Photography
Are Wedding Sparklers Allowed?
The first thing you need to do is make sure that YOUR wedding venue allows wedding sparklers.
Most wedding venues allow sparklers but some do not. Some have legal restrictions that mean sparklers can't be allowed at all. Others have conditions on how they can be used and where at the venue.
Make sure you are allowed to use sparklers for your wedding exit. Double check with your wedding venue that everything you are doing is within the terms of your contract.
Now let's look at what type or sparklers to buy and where to buy them.
What Type of Wedding Sparklers To Buy
What types of sparklers should you buy? What wedding sparklers look best in photos?
You will want to look for metal sparklers since these eliminate many of the issues with traditional bamboo sparklers that burn quickly and with more smoke. Metal sparklers do not produce any smoke and will look great in your photos.
You may be wondering, what size sparklers should you buy for your wedding?
The most popular on many websites where you can buy sparklers is 36 inches. These long sparklers have a long burn time of around 4 minutes so you have enough time to light all the sparklers from the beginning to end, do your exit, and get the special photo too.
If you have a smaller wedding party you may also consider 20 inch sparklers. These sparklers have a quicker burn time of just over 2 minutes so it works best with smaller parties with a quick lighting process. These shorter sparklers are also much cheaper so they offer a great deal for brides on a budget.
Here are a few tips to keep in mind when buying your sparklers:
Tips For Buying Wedding Sparklers
Make sure you purchase metal wedding sparklers.
Plan to buy multiple sparklers per person to cover any issues.
Use a good long lighter to light your sparklers.
Purchase longer 36″ sparklers for maximum burn time.
Those tips should help you select the right sparklers. Now let's look at where to buy them!
Where To Buy Wedding Sparklers
There are many options for buying wedding sparklers these days since the demand has grown due to their popularity as a wedding exit item. The wedding photos from sparkler exits look beautiful and lit sparklers are always a crowd pleaser.
Deciding where to buy sparklers can be a surprisingly hard challenge! It's easier during this time around Fourth of July, but what if you need sparklers for your December wedding? Where do you buy sparklers you can safely use with your wedding guests?
Here are a few of the best options for where to buy wedding sparklers online or locally.
A Wedding Sparkler Website
There are many online specialty websites like weddingdaysparklers.com, weddingsparklersoutlet.com, and more.
Once you search wedding day sparklers you will discover a wide range of specialty websites that sell nothing but sparklers! Each website offers dozens of sparkler options for sale and ships them directly to you.
Big Online Retailers
Did you know sites like Amazon sell wedding sparklers? If you are buying bulk and would rather order from a trusted retailer you may consider a bigger online retailer that offers sparklers. You can also see more reviews that you can trust on a website like Amazon. You'll usually get much better prices here than in a specialty shop online or in person.
Wedding & Party Supply Stores
If you prefer to shop in person you can visit a local wedding supply shop or party store. You will generally have less options in this type of store but if you want to shop locally it's worth checking out. Some specialty wedding shops or vendors will also discuss your sparkler needs and order them for you to pick up from the shop.
Fireworks Stands
Local fireworks stores and stands that pop up in the summer around the Fourth of July can offer a chance to buy wedding sparklers.
You won't find sparklers specifically designed for weddings so you risk not finding the right type of sparkler for your venue with this option. However, they will have a large amount of sparklers and often have big discounts once the holiday passes.
Big Box and Grocery Stores
During the summer around the 4th of July, many grocery stores and big box stores sell sparklers. Usually it's a very small selection of sparklers not designed for weddings but you can find them in store in a pinch last minute. Big box stores like Walmart will offer a larger selection year round when they have a designated aisle for wedding supplies.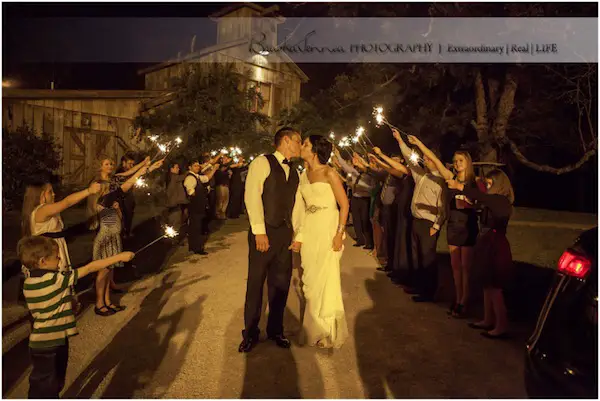 Where To Buy Accessories For Sparklers
You may want to add some accessories to your sparkler send off to help make the experience more fun for your guests. Making sure your sparklers look cute with a fun display adds to the excitement of the wedding send-off.
Here are a few fun ways to make your wedding sparklers even better.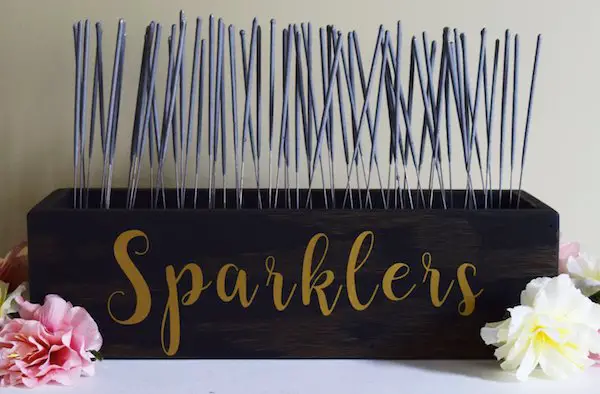 Wedding Sparklers Box by The Dutch Goldfinch
Store your wedding sparklers in a cute box before guests grab and light their sparklers.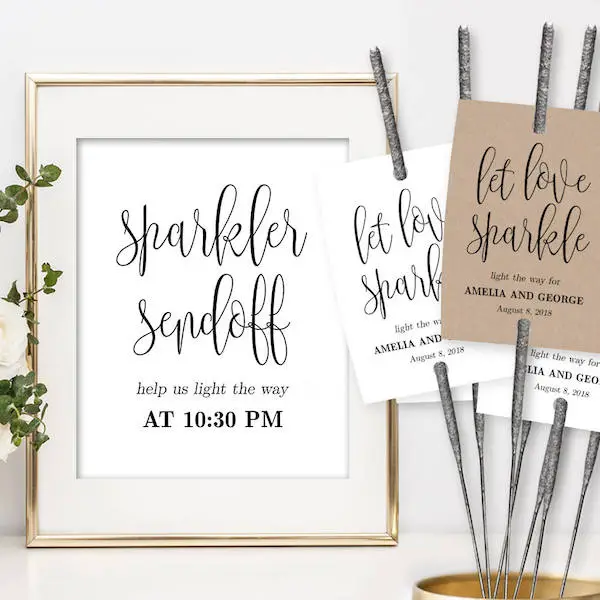 Printable Wedding Sparklers Sendoff Sign by berryberrysweet  
Let your guests know the details of your sparkler send off with this cute sign about the time for the sparkler sendoff.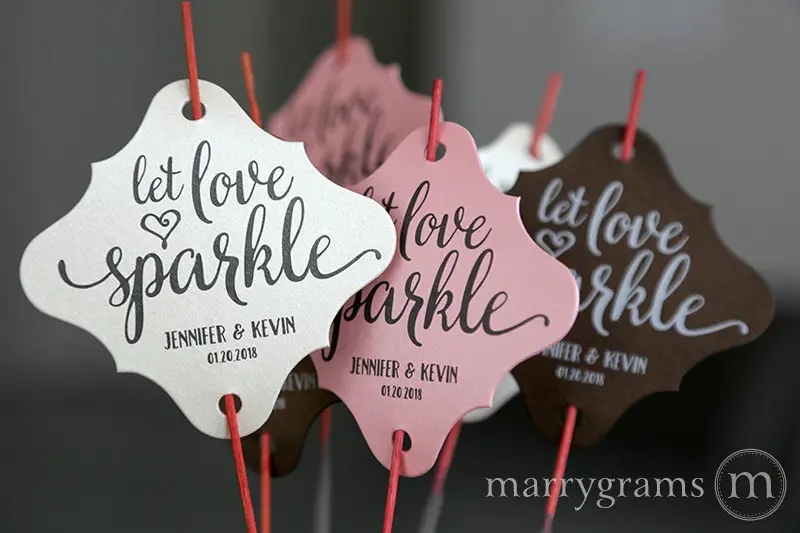 Let Love Sparkle Wedding Favor Tags by Marrygrams
Include these little favor tags on your sparklers as a favor for guests.
Just adding a few extra details like these can make your use of sparklers at your wedding a bit more unique. 
No matter where you decide to buy sparklers for your wedding, you are sure to add a touch of fun and sparkle to your day.