First look wedding photos have grown in popularity over the last few years. It's still a very personal decision as to whether or not you want to do a first look photo session before the wedding and you'll want to decide as a bride and groom with your photographer if it's right for you and your wedding day. Whether you choose to see each other at the aisle or choose a first look, that moment when you see your partner on your wedding day is very special!

Photo: Jen & Chris Creed Photographers
6 Reasons to Do First Look Wedding Photos
Just like there are plenty of reasons to wait until the aisle, there are lots of great reasons for doing a first look before your wedding ceremony. There is no right answer because both options are great! If you're trying to decide which one to go with it's best to look at the pros and cons of each.
Here are some of the reasons why a first look is a great idea for your wedding photos:

Photo: Maddie Moree
It's easier for your photographer.
Sure, you are hiring the wedding photographer to work for you. But doing a first look gives your photographer a better timeline to work. It allows them to capture amazing photos of you as a couple and not stress about getting all the other photos in within a short time frame. With a first look you'll have more time to get amazing bridal photos and photos together while still being able to get every formal family shot you want. Photographers sometimes love first looks so talk with your wedding photographer about how it can help them capture your day better.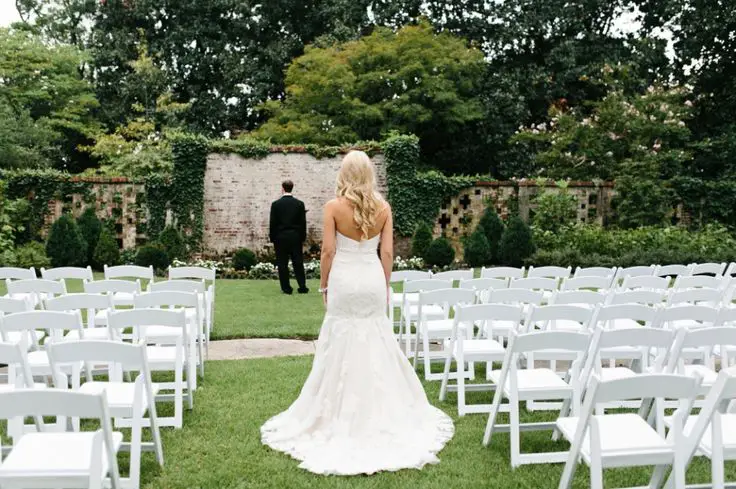 Photo: Kelly Ginn Photography
You'll actually see the reaction. 
When you're walking down the aisle you'll be distracted by the people smiling and waving at you, trying not to trip, and walking at the right speed. There are a lot of things to think about when walking down the aisle! This means it's super easy to miss your future spouse seeing you for the first time. If you have a long aisle to walk, you might not even be able to see until you get close. When you are alone doing a first look you'll be sure to see the reaction and share that special moment.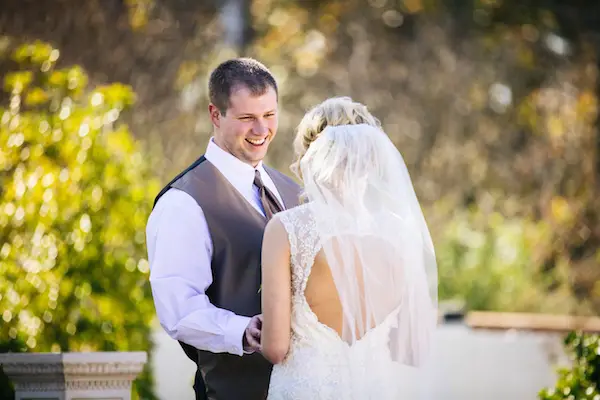 Photo: Woody & Pearl Photography
It calms your nerves. 
When you see each other before the wedding ceremony it will eliminate a lot of nervous energy you might be feeling. Seeing each other will calm you and help you feel more relaxed and happy about the actual ceremony you are about to participate in. Seeing your person can do wonders for any jitters or nerves you might be feeling.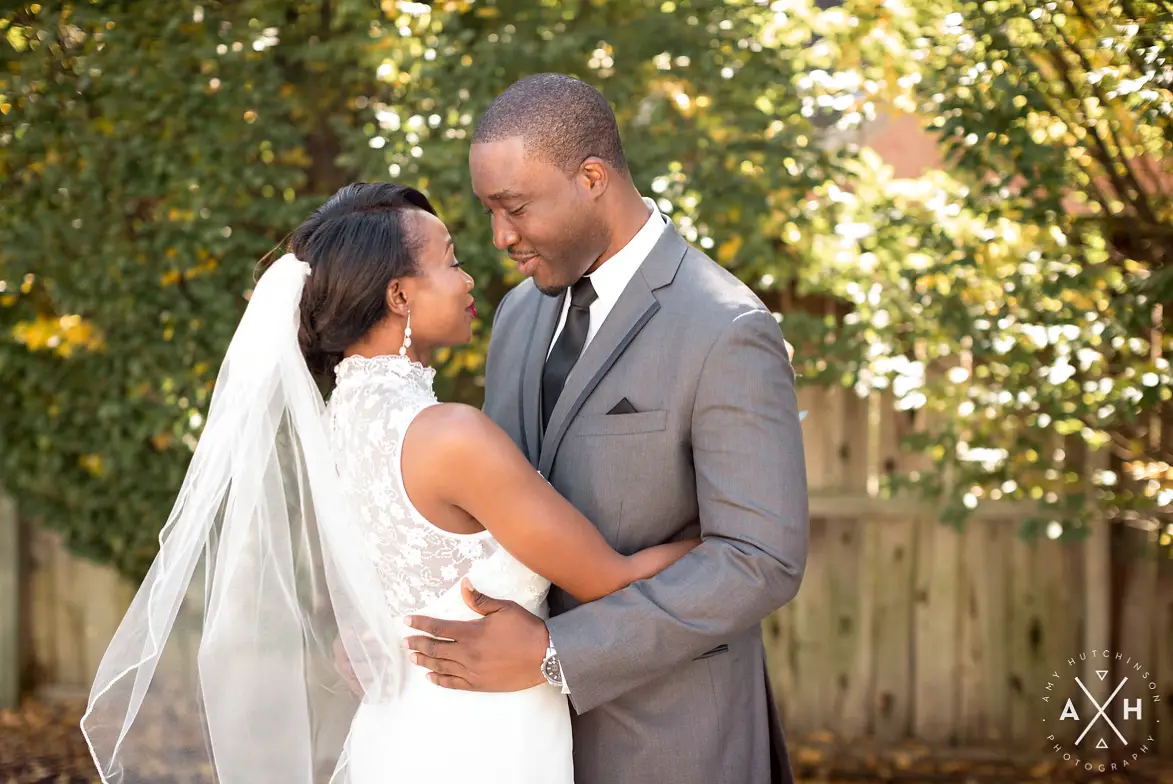 Photo: Amy Hutchinson Photography
It gives you alone time.
One thing that will be in short supply on your wedding day is alone time. The first look gives you a few private moments to spend with each other. You can laugh or cry or make jokes or whatever feels right for you in the moment. Your photographer will be hanging back to capture the experience but those first few moments will be all for you to enjoy alone. You can whisper and talk without worrying about anyone else hearing you and you'll cherish those moments of quiet intimacy.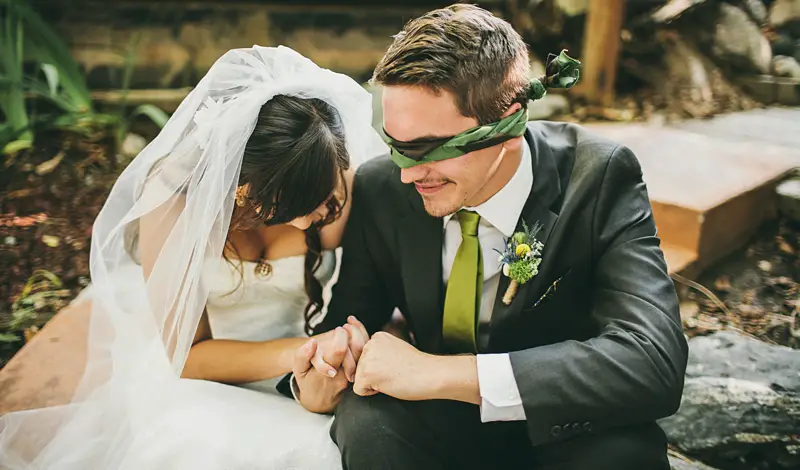 Photo: Logan Cole
It lets you spend time with your guests.
Getting the first look and portraits done early in the day will give you a chance to head directly to the reception after the ceremony. This means you can spend more time with your guests and see everyone instead of spending that hour or two off taking pictures during the reception. A first look gives your guests a better experience since they won't have a long down time waiting for the bride and groom to arrive at the reception.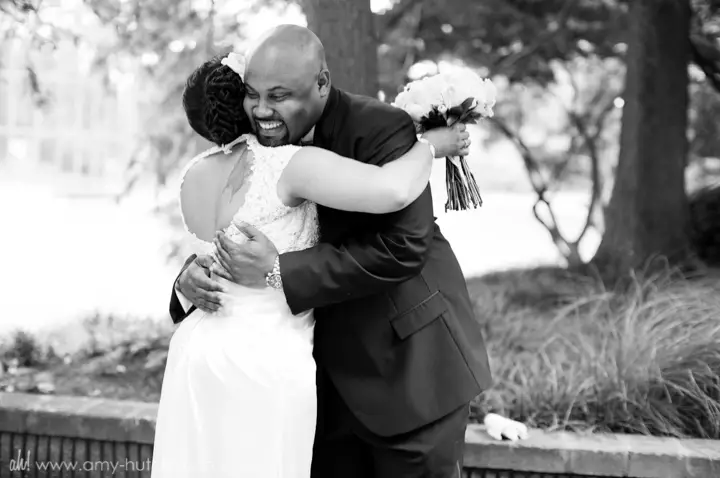 Photo: Amy Hutchinson Photography
It's a special experience. 
Seeing each other for the first time when you walk down the aisle is a sweet moment. But so is seeing each other for the first time privately! Your wedding photographer can help you recreate the experience of walking down the aisle and you'll get the same special experience privately. A first look gives you a special experience that is captured forever by your wedding photographer.
If you're still looking for a wedding photographer, check out the amazing Mid-South wedding photographers listed in our vendor guide!