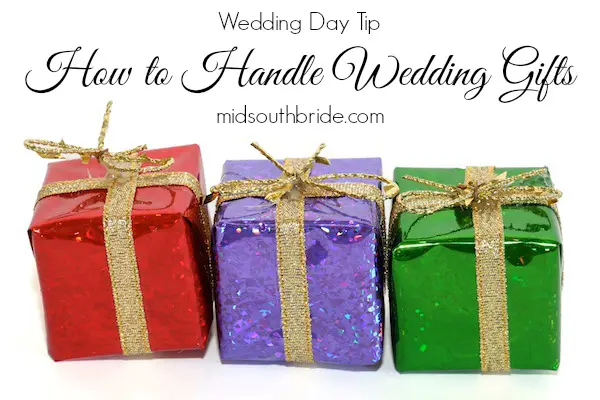 Wedding gifts are one of those details that you should plan for before the wedding to make sure nothing falls through the cracks. You don't want to be a bride worrying about what to do with wedding gifts and cards at the end of the wedding.
In pre-wedding meetings with your wedding planner or in your DIY planning, take the time to think through the wedding gifts process so the gifts will arrive at the appropriate location.
Decide where to put the gifts. Before the wedding decide where to put the wedding gifts after the wedding is over. Popular locations to stow wedding gifts include the bride and groom's hotel room, a trusted family member's car, or a secure storage area at the hotel or venue if offered.
Decide who will move the gifts. It shouldn't be the bride and groom's responsibility to move wedding gifts – they should be having the time of their lives. Before the wedding choose a vendor or trusted family member or friend to be responsible for the wedding gifts. This person should be in charge of rounding up the gifts, moving them to the chosen storage location, and making sure nothing goes missing.
Decide when the gifts will be moved. Once you know where the gifts are going and who will move them, make sure you've decided on a time for the wedding gifts to be transported. You don't want this process to disrupt the wedding or take your friend or family member away from the party for too long. If a planner or vendor is loading the gifts they can do this while everyone is dancing, if you have a friend or family member doing it they can sneak away toward the end when things are winding down.
With a little bit of thought before the wedding you can plan for a seamless transition of the wedding gifts. It will eliminate worry and make the process a lot easier on the wedding day! You'll be so happy when you get to finally unwrap and enjoy all your gifts later!