Memphis offers many date night options from the romantic to the adventurous. In the city of soul, music and food there are plenty of date ideas.
Whether you're a local or just visiting, here are some fun and unique date night ideas to try in Memphis.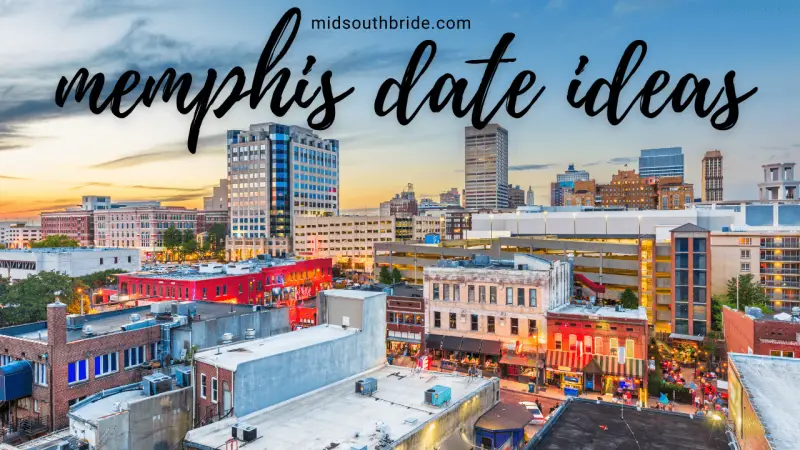 Unique Experience Dates In Memphis
Want to do something a little bit different on your date? Check out these unique date ideas!
1. Test Your Axe Throwing Abilities
Unleash your competitive side and show off your skills at an axe-throwing venue. Challenge each other to see who can hit the bullseye or enjoy a rom-com moment by helping each other aim perfectly. It's a unique and thrilling experience that will definitely make your date night memorable.
Try axe throwing at:
Civil Axe Throwing in Midtown
Craft Axe Throwing in Downtown
Axe Throwing at Shelby Farms in Cordova
Autobahn Axe Throwing in Bartlett
2. Lace it Up and Hit the Skating Rink:
Relive your childhood memories and spend a fun-filled evening roller skating with your partner. Whether you're cruising around the rink, showing off your moves, or holding hands as you glide along, hitting the skating rink will bring out the playful side in both of you.
Try skating at:
East End Skating Center
Cordova Skating Rink
Skate Odyssey of Olive Branch
3. Smash Some Stuff at Craze Memphis
Release pent-up emotions by visiting Craze Memphis where you can let go of your inhibitions and have a smashing time.
Take your frustrations out on various breakable items and experience the cathartic release it provides. From 10-minute sessions to longer durations, spend as much time as you need to release those inner demons and make room for a happier, lighter heart.
4. Take Your Love to New Heights at Go Ape Memphis:
Embark on a thrilling adventure at Go Ape Memphis for a fun and challenging date!
Challenge yourselves on a ropes course that takes you 36 feet high among the treetops.
With tree-to-tree crossings, ziplines, and heart-stopping Tarzan swings, this exhilarating experience will bring you closer together as you conquer challenges and make lasting memories.
5. Cheer on the Memphis Grizzlies at FedExForum
Show your team spirit and enjoy an action-packed evening at a Memphis Grizzlies basketball game in Downtown's FedExForum.
Indulge in local vendor food options, such as Rock'n Dough and Memphis Burrito Co., and be entertained by halftime performances from the Grizzlies Grannies and Grandpas Dance Team.
6. Explore the Unique Pyramid Arena-Turned-Bass Pro Shops
Marvel at the unmistakable Pyramid arena, now transformed into a Bass Pro Shops superstore in Downtown Memphis. From live alligators to panoramic city views, this attraction can keep you occupied during a date.
This all-in-one attraction offers dining options, bowling, shopping, and even a glass observation deck for breathtaking views of the city.
Memphis Music-Themed Date Ideas
Memphis is known as the "Home of the Blues" and the "Birthplace of Rock 'n' Roll," so it's only fitting to have multiple options for music-themed date nights.
Here are a few Memphis date night ideas focused on music:
7. Take A Tour Of Sun Studio
Known as the "Birthplace of Rock 'n' Roll," Sun Studio is where Elvis Presley, Johnny Cash, and many other legendary musicians recorded their music.
Take a tour of the studio and learn about the history of rock 'n' roll in Memphis.
8. Enjoy Live Music On Beale Street
Beale Street is home to a variety of live music venues, from blues clubs to jazz bars, and is a great place to catch a live show while enjoying a drink.
Try finding live music at:
B.B. King's Blues Club
Rum Boogie Cafe
Alfred's on Beale
Blues City Cafe:
Handy Bar
9. Enjoy Live Music at Lafayette's Music Room
Start or end your date night at Lafayette's Music Room in Overton Square. This renowned restaurant and performance venue offers Southern comfort food and live music, continuing the tradition of its predecessor that played a role in launching the careers of legendary musicians.
10. Immerse Memphis' Musical Heritage Museums
If you're a music enthusiast, plan a date night at either the Rock 'n' Soul Museum or Stax Museum of American Soul Music in Downtown Memphis. These museums offer a comprehensive look at the city's musical legacy, from blues to rock and soul, showcasing the talented artists who have shaped Memphis into a music town.
11. Visit Graceland
Take a tour of Elvis Presley's famous mansion and learn about the King of Rock 'n' Roll's life and legacy. Whether you loved Elvis or hated him, Graceland is a unique piece of music history.
Enjoy a sampling of what Graceland offers, including:
Mansion Tour: Explore Elvis's former residence and see iconic rooms like the Jungle Room.
Meditation Garden: Visit the serene garden where Elvis and his family are laid to rest.
Elvis Presley's Memphis: Experience the comprehensive entertainment complex showcasing exhibits, cars, and more.
Foodie Date Ideas In Memphis
Memphis is known for its delicious BBQ and southern cuisine, so why not make food a central part of your date night?
Here are some ways you can enjoy a Memphis foodie date night:
12. Enjoy A BBQ Dinner Date
Memphis is famous for its BBQ, and there are plenty of delicious BBQ restaurants to choose from. Try the ribs or pulled pork at Rendezvous, or the BBQ nachos at Central BBQ.
Find BBQ at some of these favorites:
Central BBQ
The Bar-B-Q Shop
Payne's Bar-B-Q
Cozy Corner Restaurant
Germantown Commissary
Charlie Vergos' Rendezvous
13. Take A Food Tour
Memphis Food Tours offers walking tours that take you to some of the best restaurants in the city, giving you a chance to try a variety of dishes.
Check out food tours from the following:
Tastin' Round Town Food Tours
City Tasting Tours
If you're a local you can do it yourself by making plans to stop at multiple of the best restaurants in town on your date!
14. Visit A Memphis Farmers Market
The Memphis Farmers Market is open on Saturday mornings, and it's a great place to pick up fresh ingredients and cook a romantic dinner together.
If both you and your partner appreciate locally sourced food and handmade goods, head to one of Memphis's farmers markets:
Cooper Young Farmers Market
Memphis Farmers Market
Agricenter Farmers Market
You can browse and buy from the local produce, meat, and other items or grab coffee and brunch from one of the food trucks at the event.
15. Eat Dinner At A Romantic Restaurant
There are many romantic restaurants in Memphis that are perfect for date nights. Not sure where to start?
Try. some of the most romantic restaraunts in the city:
Flight
Itta Bena
Folk's Folly
Catherine & Mary's
The Majestic Grille
17. Try Unique Flavors at Crosstown Concourse
This revitalized building is home to an eclectic mix of restaurants and shops. Embark on a culinary adventure, sampling international cuisines and local favorites.
From artisanal pizzas to exotic desserts, Crosstown Concourse has something for every palate.
Check out Global Cafe inside Crosstown for a multi-cultural food experience.
Culture Focused Date Ideas In Memphis
Memphis is a city with a rich history and culture, and there are plenty of ways to explore it on a date night.
Here are some of the ways you can explore this on a date:
18. Take A Mississippi Riverboat Cruise
The Memphis Riverboats offer cruises along the Mississippi River, providing a scenic and historic way to see the city.
Hop aboard a riverboat and embark on a scenic cruise along the Mississippi River. Experience the city's skyline from a different perspective, enjoy live music, and indulge in a candlelit dinner on board.
19. Immerse Yourself in Art at the Brooks Museum
Visit the Brooks Museum in Midtown's Overton Square. With its permanent collection of over 10,000 works of art, including Renaissance masterpieces and contemporary pieces, the museum provides the perfect setting for art enthusiasts. After exploring the exhibits, indulge in pastries and coffee at the museum's café.
20. Visit the National Civil Rights Museum
This museum is located at the site of the Lorraine Motel, where Martin Luther King Jr. was assassinated, and it offers a powerful and emotional look at the Civil Rights Movement.
Delve into history and gain a deeper understanding of the Civil Rights Movement at this powerful museum. Walk hand in hand through the exhibits, engage in thoughtful conversations, and reflect on the importance of equality and justice.
21. Experience the Elegance of Ballet Memphis
Treat your date to an enchanting evening of ballet at the Ballet Memphis headquarters in Overton Square.
Watch mesmerizing performances, created by world class choreographers and ballet dancers. Let the grace and beauty of the dancers captivate your hearts.
Drinking Dates In Memphis
Just want to grab drinks for your date? No worries because Memphis has you covered. Try one of these drinks focused date ideas next time!
22. Taste Your Way Through Old Dominick Distillery
Take a tour of Old Dominick Distillery and discover the art of distilling. Use your date to drink AND learn about the 100-year-old story behind Old Dominick Distillery.
This sensory journey will take you through traditions, offering sips of their crafted spirits. Gain knowledge about the distilling process and enjoy the flavors together, leaving you with a sense of commitment and shared expeInriences.
23. Indulge In Tasty Cocktails At Boutique Hotel Bars
Visit a boutique hotel bar for a classy evening of drinks. Dress up and hop between the unique boutique hotels in Memphis, each with its own distinct ambiance.
Enjoy a night of bar hopping, sipping on delicious cocktails, and immersing yourselves in the atmosphere. The people watching is fun too!
Some favorites include:
Arrive Hotel
Central Station Hotel
The Memphian
Hyatt Centric Beale Street
24. Cocktails & Sunsets On Memphis Rooftop Bars
Treat yourselves to breathtaking views of Downtown Memphis from the rooftops of the Peabody and Madison hotels.
Sip cocktails at Madison's Twilight Sky Terrace and create lasting memories while admiring the cityscape.
Outdoor Date Ideas In Memphis
Want to enjoy the great outdoors? Explore these uniquely Memphis date ideas.
24. Spend a Day at Shelby Farms Park
Escape to nature at Shelby Farms, the vast urban park in East Memphis. Take a leisurely stroll, have a picnic, or enjoy walks around the lake. If you prefer a sit-down meal, Kimbal Musk's restaurant concept, The Kitchen, offers a delightful dining experience within the park.
25. Take a Romantic Stroll By The Mississippi River
Enjoy a romantic walk along the Mississippi River in Downtown Memphis.
Take in the peaceful ambiance, hold hands, and admire the breathtaking sunsets. This serene setting provides the perfect backdrop for quality time together.
You can even cross the river while you walk over the Big River Crossing and enjoy the amazing city skyline.
26. Embark on an Outdoor Adventure at Overton Park
Explore the natural beauty of Overton Park in Midtown. Take a hike through the old growth forest, stroll along the limestone running trail, or wander along the paved paths.
This tranquil setting provides an ideal backdrop for a peaceful and active date.
27. Take A Walking Tour
Put on your walking shoes and join guides for walking tours of the city. There are historical tours or ghost tours depending on the kind of date you want to have.
Explore the city together on foot while learning more and letting your minds expand.
Photographic Date Ideas Around The Bluff City
Taking photographs together can be a fun way to explore your creative sides while also capturing memories of your relationship.
Here are some date night ideas for photo themed Memphis dates:
28. Go On A Photo Walk
Take a walk around your neighborhood or a nearby park and take photos of the things that catch your eye. Find all the Instagrammable spots in Memphis or all the murals.
You can also sometimes find dates and times for organized photo walks and join them for a date!
29. Have A Themed Photo Shoot
Dress up in costumes, pick a theme and create a set in your home, take turns being the photographer and the model.
Or hire a local photographer to take professional photos of your date!
30. Do A Photo Scavenger Hunt
Make a list of things to photograph in Memphis and go on a hunt to find and capture them.
You can do this together for a date or separately and then meet up to judge who took the better photos.
31. Visit & Photograph A New Area
Explore a new place together, whether it's a new part of the city, a park, or a tourist spot.
Visit a picturesque park, garden, or new-to-you area and take turns capturing candid and posed shots of each other. It's a great way to document your time together and create lasting memories.
Memphis Date Nights
These ideas are a great way to get creative, have fun and make lasting memories together.
Memphis is a city with something for everyone, and these Memphis date night ideas are just a small sampling of the many things to see and do.
So, whether you're a music lover, a foodie, or a history buff, there's a date night idea in Memphis that's perfect for you and your partner.
Have a date night idea we should add to the list? Let us know!