Elopements allow you to save time, money, and make your wedding uniquely yours. Want to hike up a mountain or simply stop by the courthouse? It's up to you! With these elopement day timeline examples we want to show you the options are endless.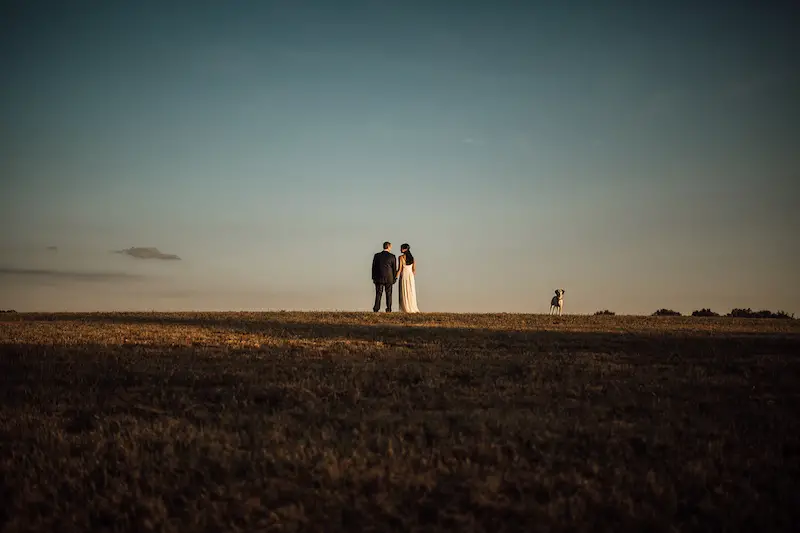 Photo: The Warmth Around You
Courthouse Elopement Wedding Timeline
Getting married at the courthouse in the city? This common elopement option can have a fun wedding day timeline too. Here's an example.
9:00 am – Get ready
11:30 am – First look + couple's photos
12:30 am – Vows at the courthouse
1:00 pm – Lunch at favorite restaurant (or a picnic!)
3:00 pm – Explore the city
5:30 pm – Head to AirBnb or Hotel for small party with loved ones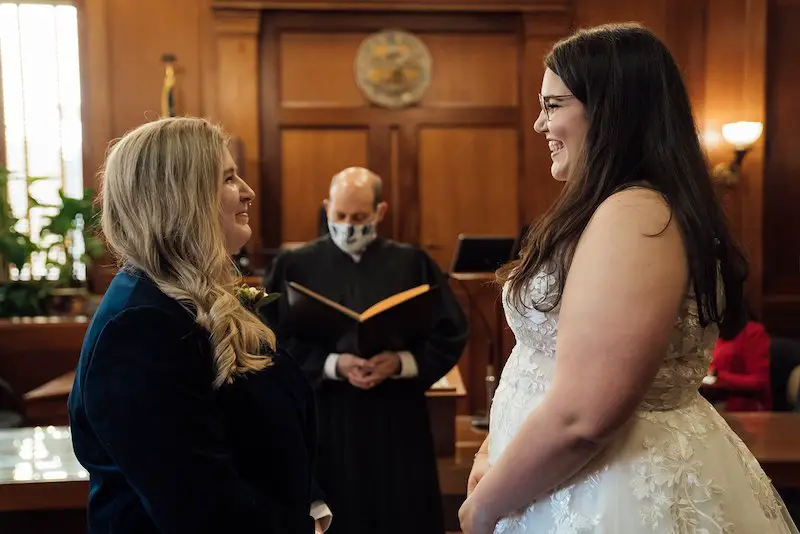 Photo: The Warmth Around You
Sunrise Elopement Day Timeline
Are you an early riser who dreams of a sunrise elopement? This wedding timeline will leave you thrilled.
4:00 am – Wake up and have coffee + breakfast
5:00 am – Get ready
6:00 am – First look photos
6:15 am – Head to ceremony location
7:00 am – Ceremony
7:30 am – Photos with loved ones post ceremony
8:30 am – First dance
9:00 am – Brunch and champagne
11:00 am – Head to next location for fun activity
This timeline can be adjusted based on when sunrise is on the day you've chosen to elope.
Hiking Elopement Wedding Timeline
Want to hike to a gorgeous location for your elopement? It's definitely an option! Follow this elopement day timeline as an example.
6:00 am – Start getting ready
7:00 am – Eat breakfast
8:00 am – Head to the trailhead
9:00 am – 12:30 pm – Hiking to the ceremony location + pictures
12:30 pm – Arrive at ceremony location + change clothes
12:45 pm – First look photos
1:00 – 1:30 pm – Wedding ceremony
1:30 – 2:00 pm – Wedding picnic, cake cutting, and toasts
2:00 – 3:30 pm – Bride + groom and wedding party pictures
3:30 – 6:00 pm – Hike back to the trailhead
6:00 pm – Head back to town for any additional celebrations
Things To Consider For Elopement Timelines
The elopement timelines examples above give you an idea of how some couples handled their day. But the best part of an elopement is that YOU get to choose whatever you want!
Here are a few things to think about for your elopement timeline:
What time of day will the wedding be? Do you want a sunrise, midday, or sunset ceremony?
How far is your elopement location from your accommodation? How much travel time do you need?
Will you be doing an elopement activity? Something unique like hiking, skiing, or a picnic?
What traditions do you want to include in your day?
What time of year will it be? Will the season affect your timeline in any way?
How many people will be attending your elopement?
Will you be exchanging gifts or doing any other wedding traditions?
All of these decisions will affect how your wedding day looks. Remember that when you are eloping you can make it uniquely yours for the best day ever.
Elopement Day Activities
Not sure what you want your elopement timeline to look like? Or not sure what activities to include? Here are a few ideas to get you started.
Ceremony activities could include:
lighting a unity candle
planting a tree
painting a picture
passing your rings for blessings
handfasting
You can also borrow and adjust wedding ceremony script examples to fit your elopement.
Elopement day activities could include:
hiking
watching the sun rise
having a picnic
taking a hot air balloon ride
canoeing
sitting by the fire
rock climbing
Jeep tours
boat rental & ride
exploring a new city
brewery or bar hopping
exploring waterfalls
There are a number of things you can do whether you are adventurous or want a cozy, calm day!
Elopement Timeline Advice
Here are some great wedding planning tips for creating your own unique elopement timeline.
Start the day special with something you truly love doing
Avoid crowds and popular places in the busiest part of the day
Work in extra travel time for any road conditions or weather changes
Allow 15 minutes for the ceremony, 1 hour for couple photos, and 20-30 minutes for photos of anyone attending
Plan to be flexible and go with the flow of the day
Check out our guide to eloping in Tennessee for specific advice about eloping in Tennessee.
We hope these timeline examples help you create the elopement day of your dreams!