We recently attended a lovely brunch wedding and were delighted by the twist on the traditional wedding time. This wedding inspired our collection of Sunday brunch wedding ideas designed to delight your guests.
What's not to love about mimosas, donuts, and breakfast foods?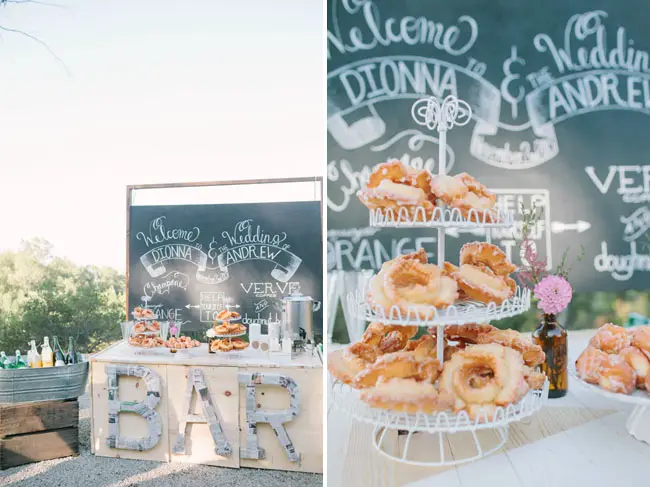 A brunch wedding allows you to get super creative with the food and ambiance. You can incorporate many different morning wedding ideas along with delightful brunch foods.
Since it's an off peak hour and morning weddings tend to be shorter, you might also be able to save money on your venue.
If you're planning a Sunday brunch wedding, the following morning wedding inspiration should get you off to the right start this morning.
Sunrise Wedding Ceremony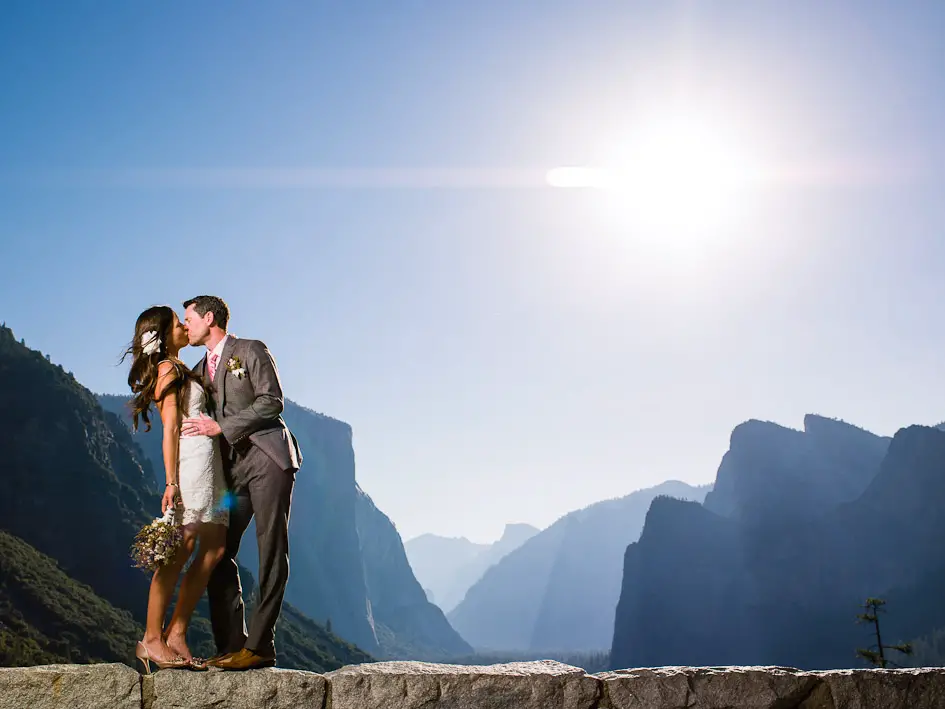 Photo: Patrick Pike

Photo: Braedon Photography, Via: Green Wedding Shoes
Start your Sunday wedding off right with a sunrise ceremony. This time of day will be full of soft lighting, cooler temperatures, and the beauty of beginning a new day as a married couple.
Brunch Mimosa Bar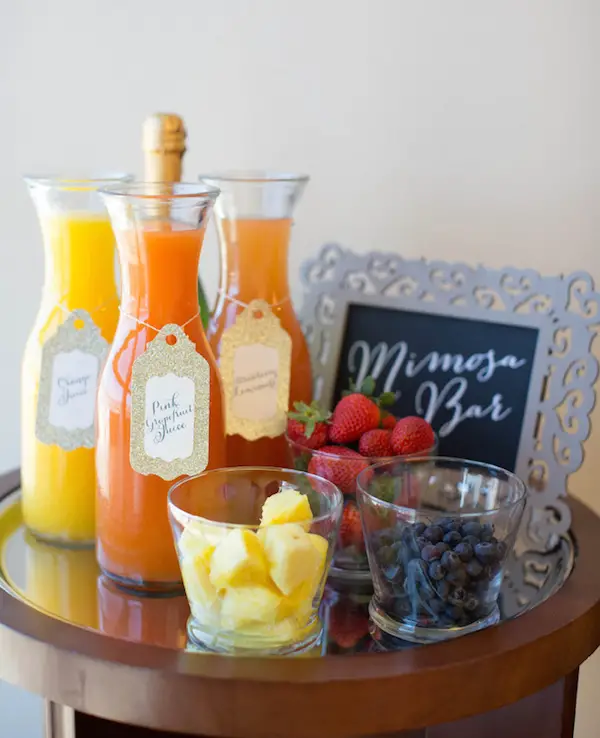 Photo: J. Anne Photography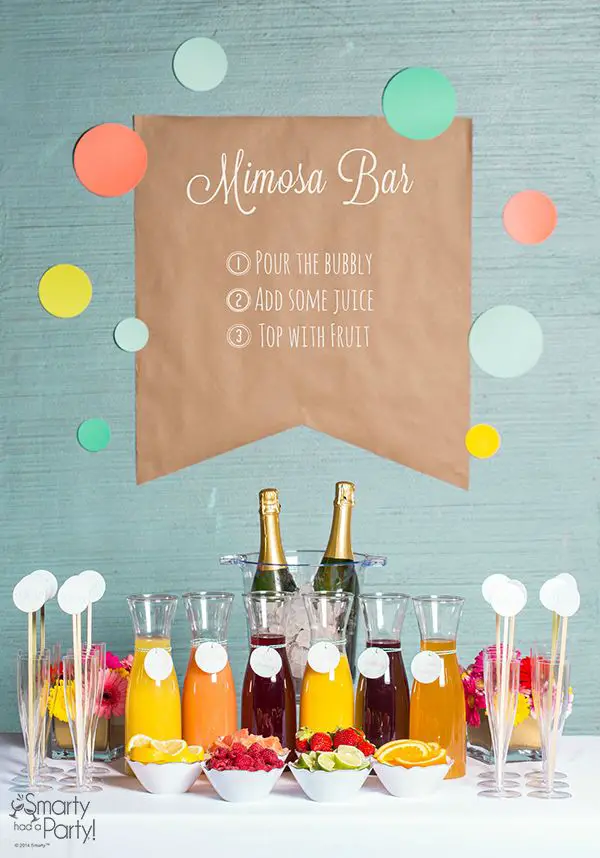 Photo: Smarty Had A Party
Mimosas and brunch are a must together! Your brunch wedding needs mimosas and this mimosa bar is perfect for giving everyone something to love.
Delight your guests with mimosa options by using different juices like peach grapefruit juice and lots of fresh fruit add-ins.
Mimosa bars are easy for guests too: pick a juice, add champagne, and garnish with fruit!
Brunch Bloody Mary Bar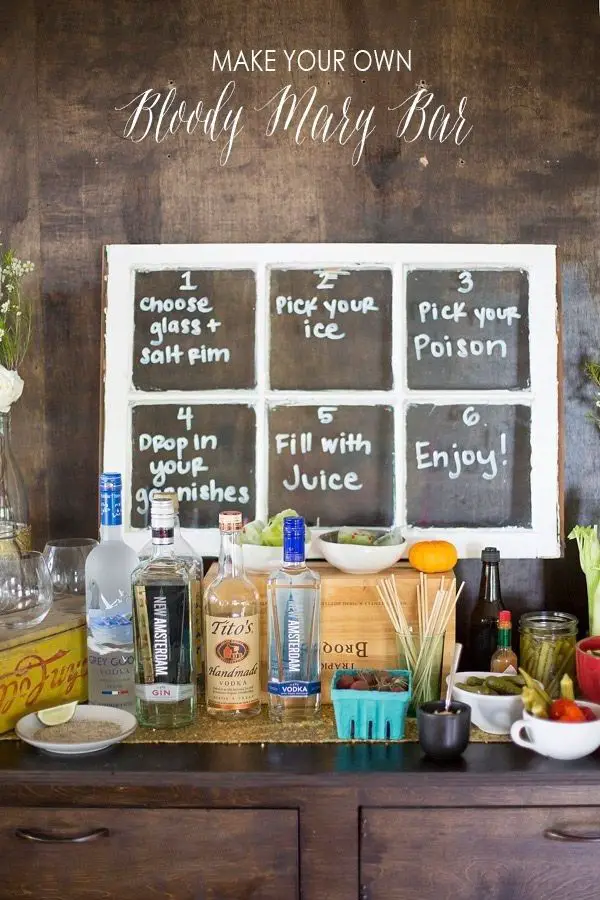 Photo: Jade + Matthew Take Pictures, Via: The Sweetest Occasion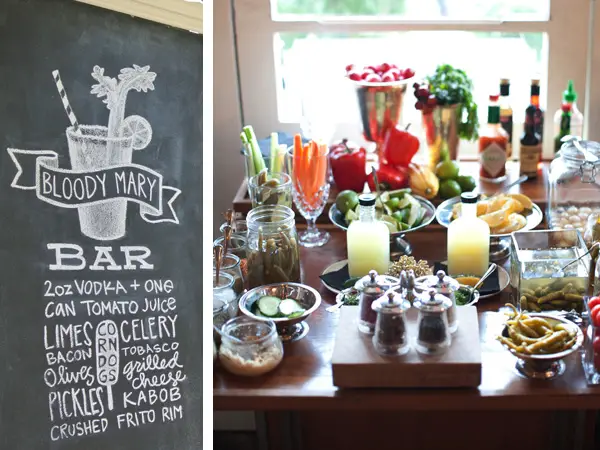 Photos: Little Baby Garvin, Via: Bower Hill Society
The classic Bloody Mary is a brunch staple and you can let guests serve up their own twist with a well -stocked Bloody Mary bar.
The elements you'll need for the Bloody Mar Bar include: vodka, tomato juice, limes, celery, bacon, olives, tobasco, any other additions!
Wedding Morning Coffee Bar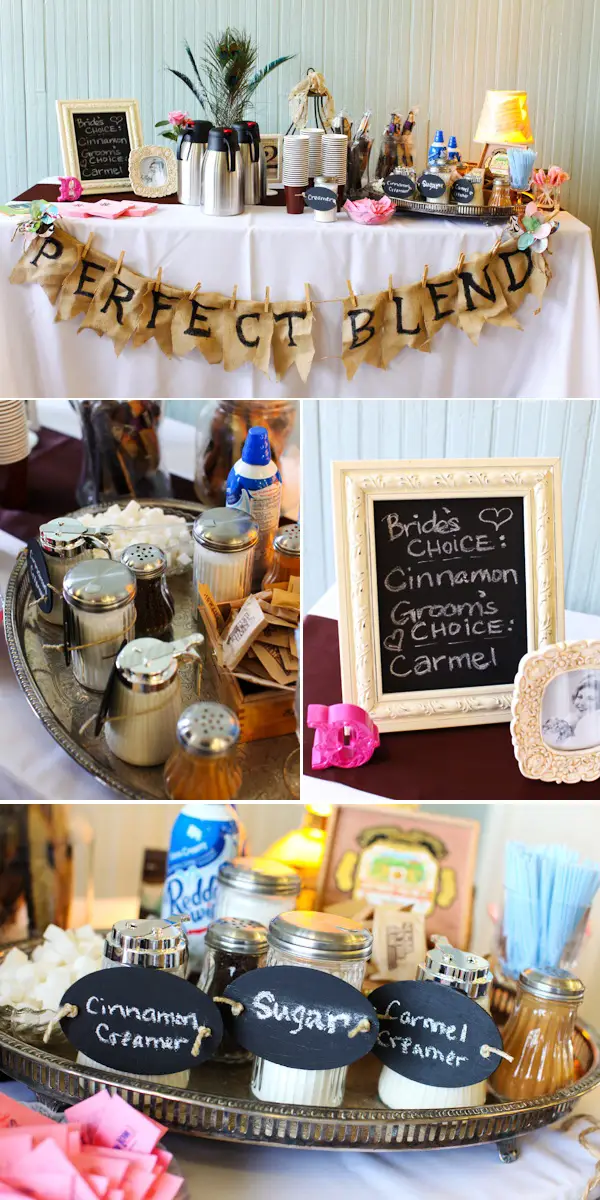 Photo: BellaPop
Coffee is required for any morning wedding!
You'll have a few guests who need it to get going. Others will enjoy the mix of flavors to mix and match with the brunch foods.
Liven up the crowd with lots of coffee options and mix-ins.
Breakfast Food At Weddings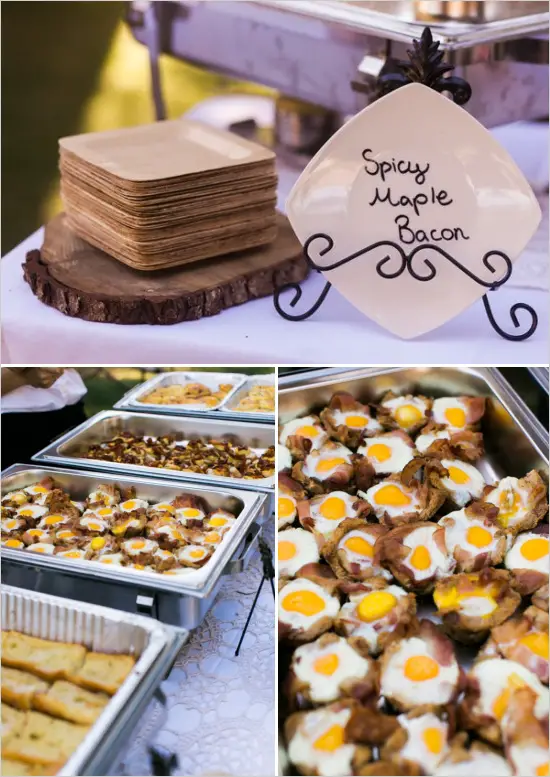 Photo: Jen Rodriguez, Via: Wedding Chicks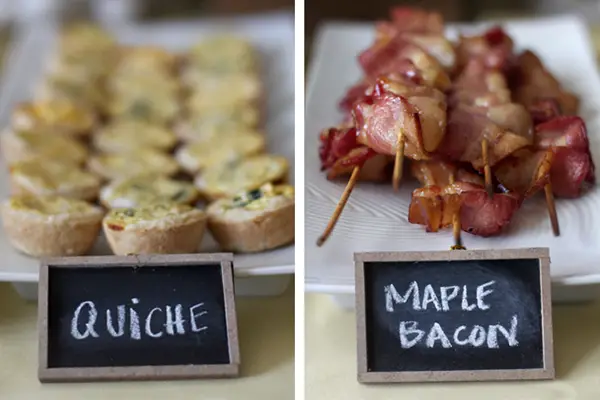 Photo: Lauren Blair Photography, Via: Pretty Tasty Things
Breakfast casseroles, quiche, and more! With a Sunda brunch wedding you can serve up your favorite breakfast foods.
Lots of breakfast foods can be turned into appetizers or part of a wedding buffet. We love these bacon skewers, mini quiches, and egg cups!
Brunch Biscuit Bar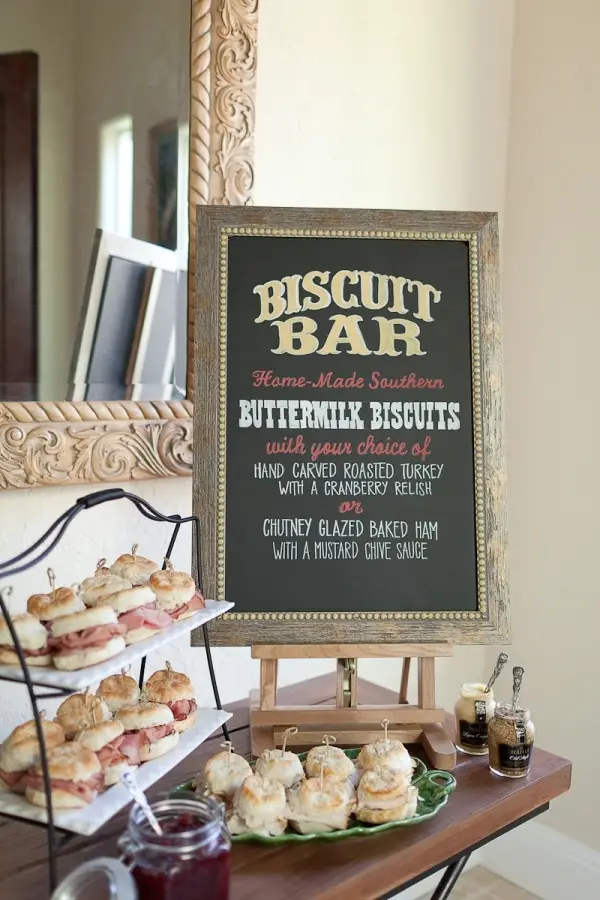 Photo: ALowCountryWedding
Southern brides know that a good biscuit can make your morning.
A biscuit bar will make your guests morning. Whip up a Sunday brunch biscuit bar with fluffy biscuits, jams, eggs, and more.
Cereal Bar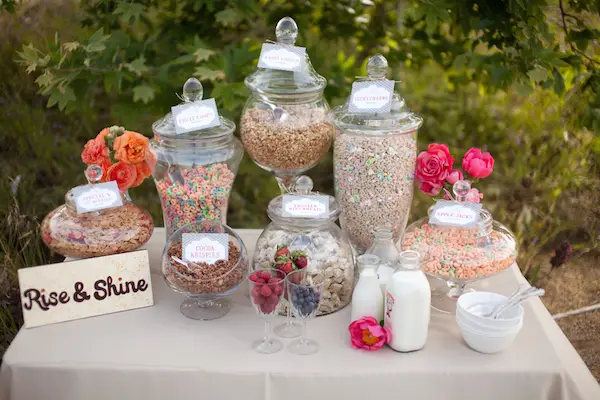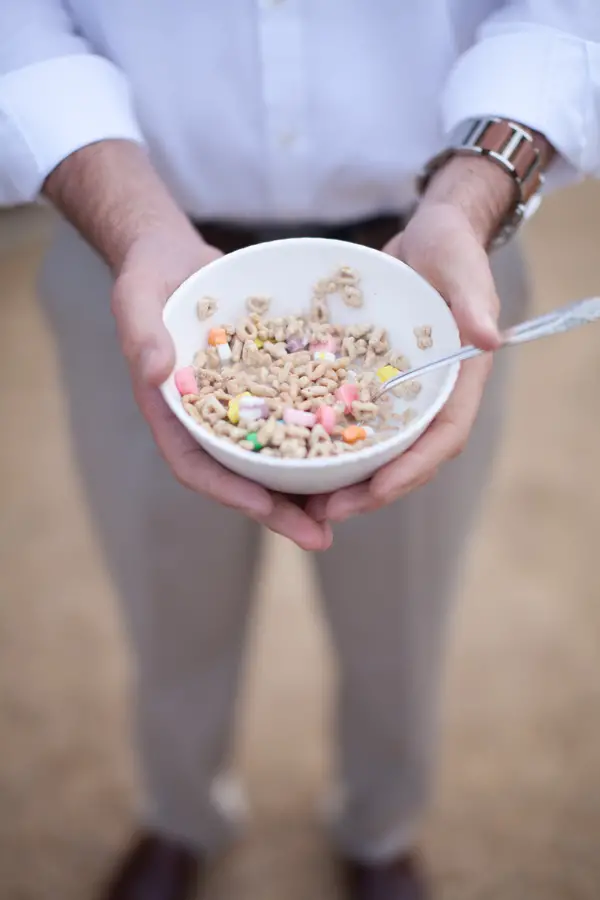 Photo: Becca Rillo Photography, Via: The Frosted Petticoat
A cereal bar at a morning wedding will delight both adults and children in attendance.
Have multiple cereals available along with different milk options including almond milk to cater to everyone.
Donuts & Donut Wedding Cake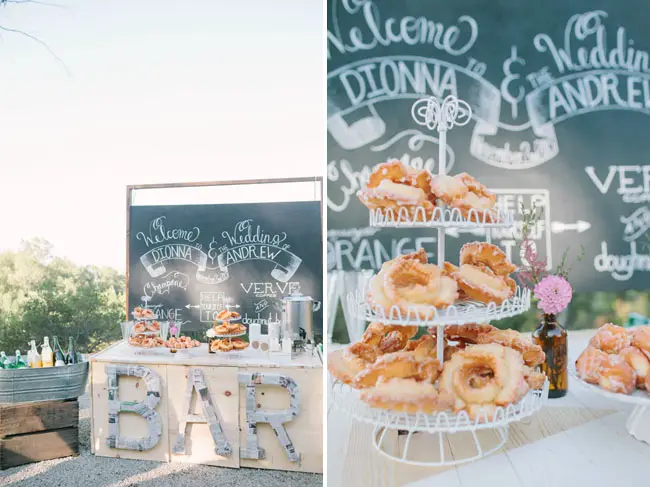 Photo: Kirsten Julia Photography, Via: Green Wedding Shoes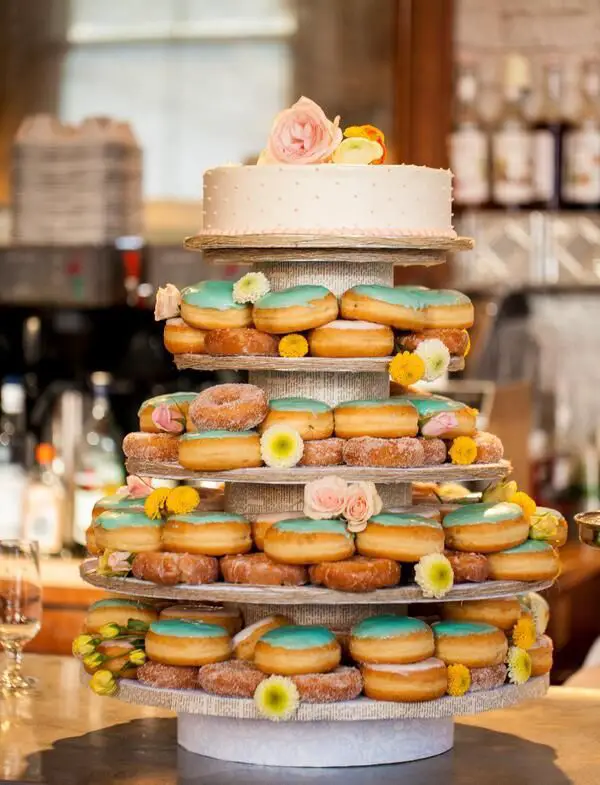 Via: Tim Hortons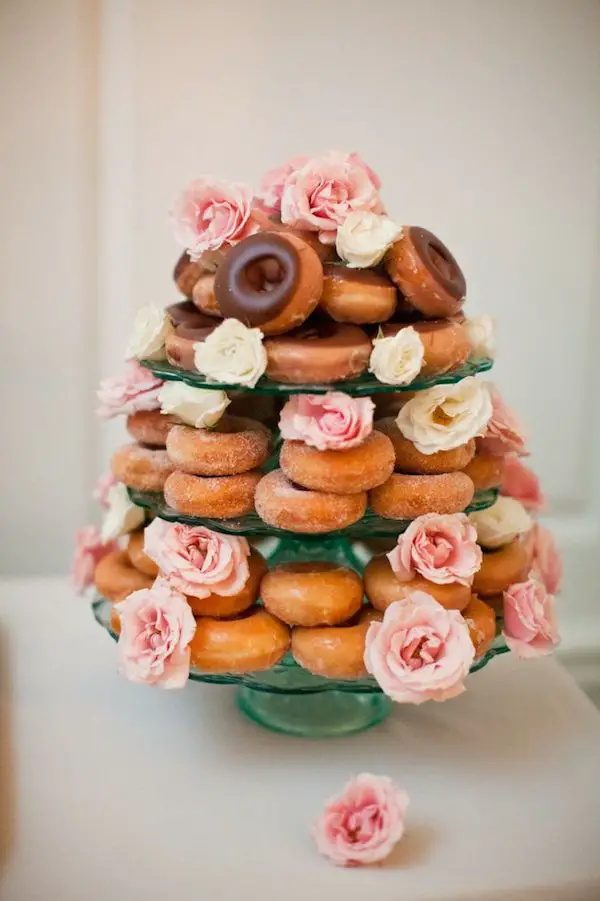 Photo: MegRuth Photo, Via: Elizabeth Anne Designs
Donuts hit the right note for a brunch wedding. Most guests love donuts and this can be an easy alternative wedding cake idea.
Several colorful varieties will ensure everyone leaves happy and can make for a stunning dessert arrangement.
Brunch Waffle Bar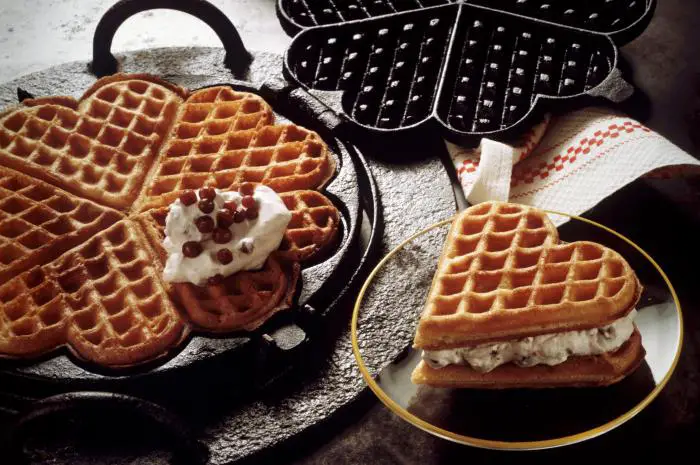 Photo: Brian Samuels Photography, Via: Taste As You Go
What's better than waffles at a brunch wedding? A waffle bar with waffles made to order and lots of toppings!
You can also go the DIY route and let guests make their own waffles and add tasty toppings like fresh fruit, fruit compotes, nuts, flavored syrups, whipped cream, ice cream or more.
Waffle Wedding Cake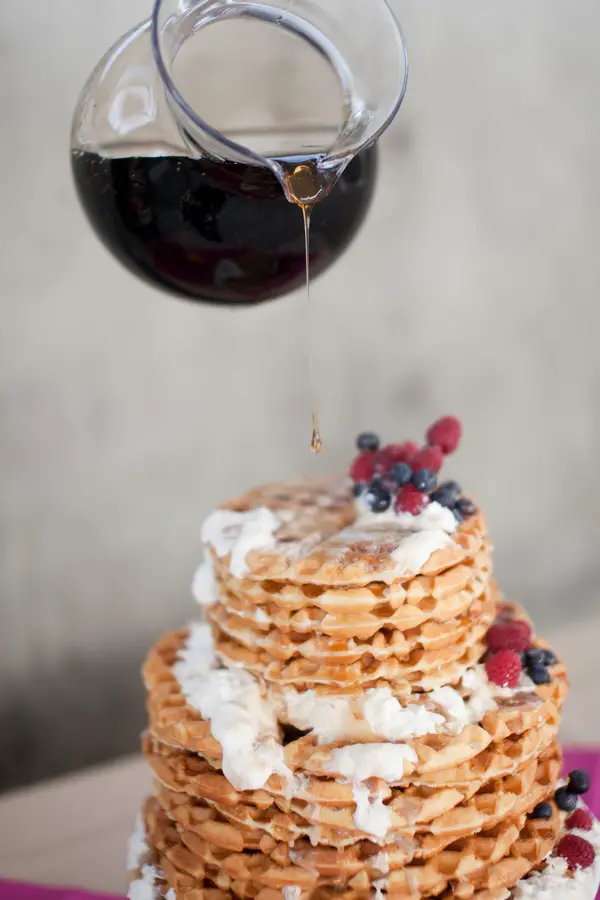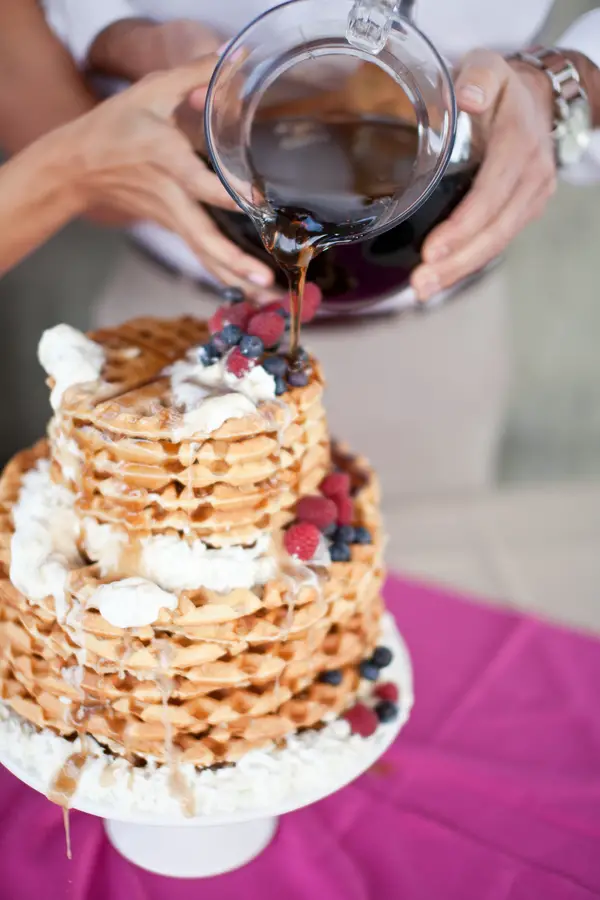 Photo: Becca Rillo Photography, Via: The Frosted Petticoat
Want to take waffles to the next level for your brunch wedding reception?
This waffle wedding cake uses waffles in the right way. The sticky, sweet cake makes for a gorgeous picture and dessert!
Crepe Wedding Cake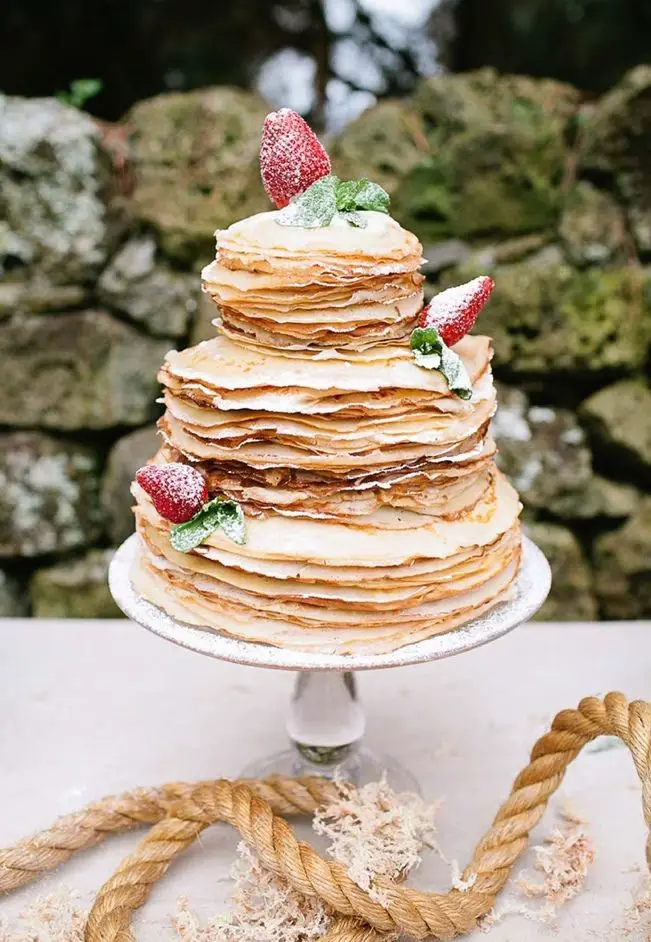 Photo: A Darling Day, Via: Story Board Wedding
Another breakfast alternative cake is the crepe cake!
This deliciously naked cake is full of light layers can be customized with jams and toppings.
Pancake Wedding Cake

Photo: Amy Rae Photography, Via: Style Me Pretty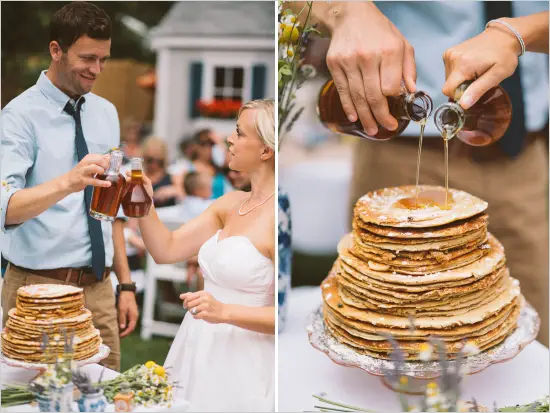 Photo: Vienna Glenn Photography, Via: Wedding Chicks

Photo: Sarah Yates Photography
A pancake wedding cake or pancake wedding bar is the perfect counterpart to a mimosa bar.
Having pancakes is an excellent way to end your brunch wedding.
Which of these Sunday Brunch wedding ideas was your favorite? Enjoy all these brunch wedding ideas at your own morning wedding!
Check out these related posts: