There are many ways to customize your wedding experience. One of our favorite options includes custom wedding maps made to represent you as a couple and your wedding.
These custom maps give guests a specialized experience they will not forget.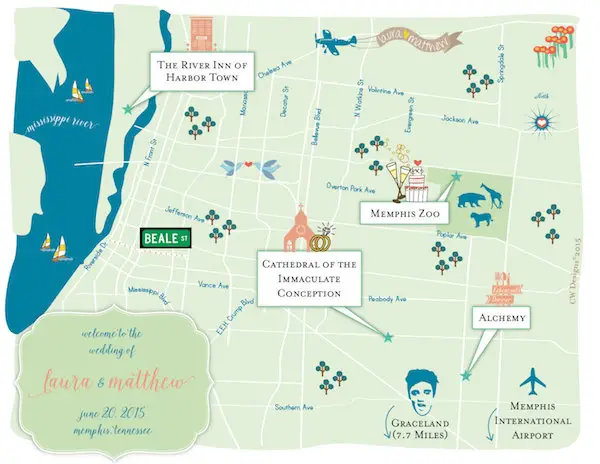 Have you seen custom wedding maps before? We love this adorable custom Memphis wedding map designed by CW Designs on Etsy.
Why Use A Custom Wedding Map?
What better way to celebrate your city, help your out-of-town guests and add a pretty piece to your wedding?
Having a designer create a custom wedding map for your guests gives them an overwhelming sense of your individual spirit, style, and personality. The map will represent you as a couple while still giving guests the important information they need to get around the city.
Whether you are traditional or whimsical or planning a wedding with edge, you can get a custom map to fit your style.
It's also just functional! The more information the guests have about you and your wedding the more comfortable they will be.
This is especially useful if you are having a destination wedding or a large wedding with multiple locations.
How To Use Custom Wedding Maps
These adorable maps offer a number of use cases.
You can use the map for any of these options:
save the dates
invitations
handouts at the wedding
in wedding guest bags
gift bags
seating charts
part of the invitation suite
There are many ways to incorporate your wedding map. You can use it in a more functional way or as decor or as a takeaway for your loved ones.
Here are a few of our favorite examples of maps created for couples in various cities. You can see the different ways these maps can be created and used.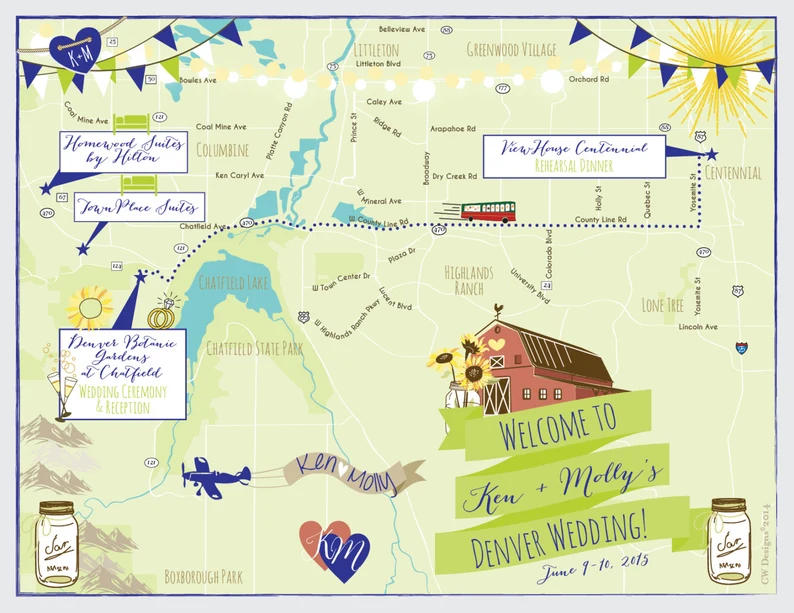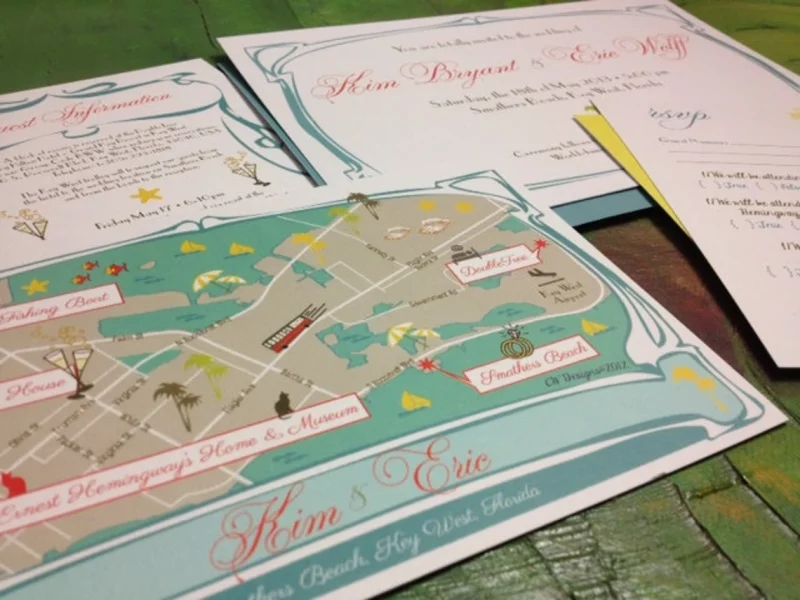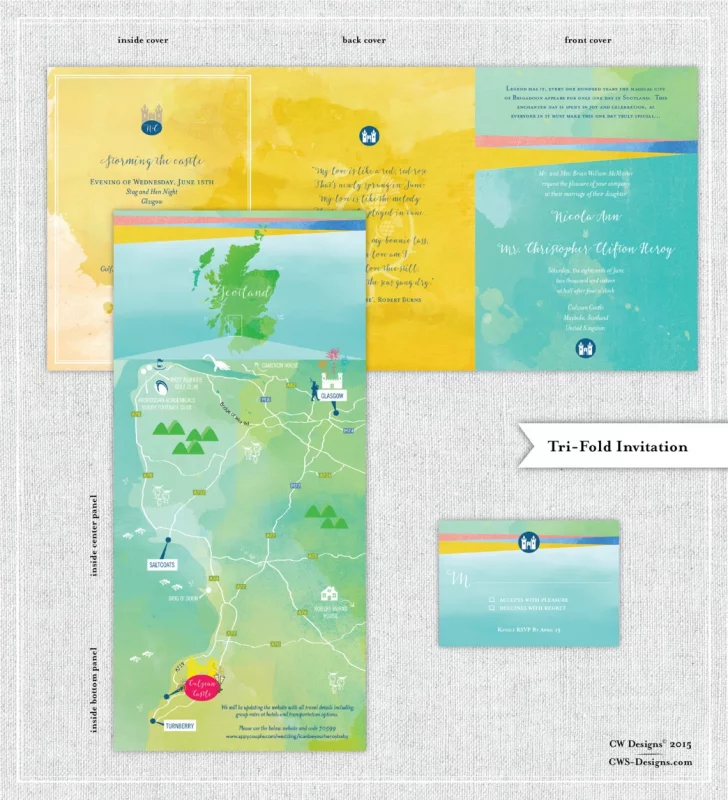 Custom Memphis Wedding Map
Of course, as a team living in Memphis, we loved the Memphis version of this custom wedding map option.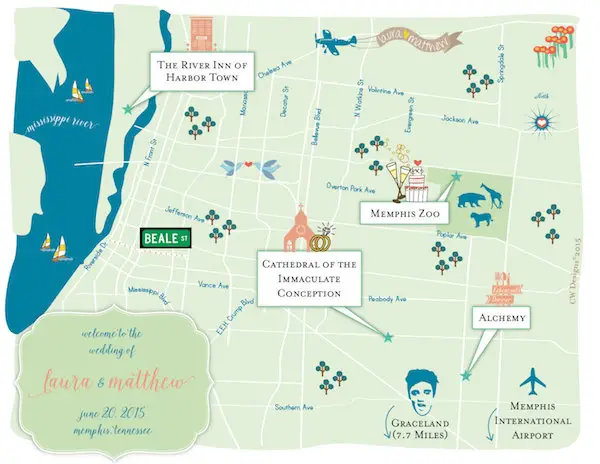 We loved this particular Memphis wedding map designed for a couple because of all the awesome details.
It included the important wedding locations like The Memphis Zoo and Cathedral of the Immaculate Conception.
It also had the major Memphis landmarks like Beale Street and Graceland to give visitors a sense of what they could do in the city while they are here. We love letting visitors know what to do in Memphis!
The custom Memphis wedding map was created by CW Designs on Etsy who has made hundreds and hundreds of maps for happy couples in Memphis and beyond.
CW Designs
This cute shop run by Carol creates maps for many couples and others. Carol is affectionately known as "The Map Chick." She's known for her custom wedding maps along with other creative maps she creates for clients.
With 20 years of design experience she works with clients to create a map they are happy with no matter what. There are no prints done until you are happy and this shop does not charge revision change fees.
CW Designs is the original map maker on Etsy and can make a custom map of any city.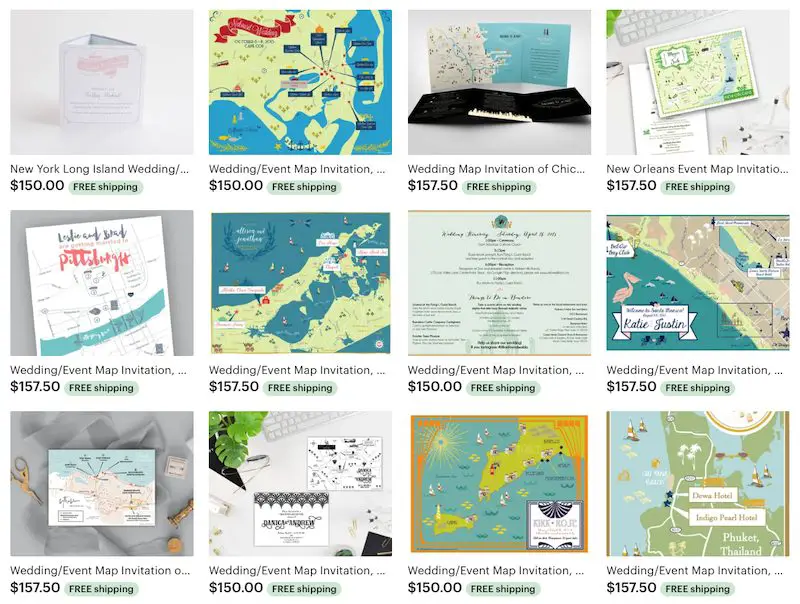 Lear more about custom city maps for your wedding by visiting CW Designs on Etsy.
Want more Memphis map goodness? Check out these personalized Memphis Map Print gift ideas!