We've covered what to include in wedding welcome bags to add a bit of Memphis flair, and now we need to share the wedding welcome bag essentials you should also include.
Choosing what to include in your Welcome Bag can be challenging. You want to be a good host and make sure your guest feels welcomed and prepared for the events ahead. However, you also don't want to break the bank.
Here are a few suggestions for what to include in a wedding welcome bag.
Wedding Welcome Bag Essentials
Welcome letter from you. Use wedding stationary matching your wedding style to write a letter to your guests. Welcome them to the city and share how much it means that they came.
Wedding weekend schedule. Nothing is more frustrating to a guest than having no idea what is going on during the wedding weekend, so give them a detailed schedule with times and locations of all wedding events.
Venue information. Include a postcard or information packet from the wedding venue. Also a map of the venue and it's relation to the city at large can be useful.
Key contact info. Guest should receive a list of key people to contact (not the bride and groom). These contacts will be able to give information and answer questions that arise.
Pen and Paper. Give your guests a way to write down any important last minute information or directions.
Travel pack of tissues. Whether your guests get emotional or have allergies these tissues are helpful to have on hand.
Chapstick. No matter what time of year this will be a welcome gift and much more so during the winter months.
Hand sanitizer. Add a small travel size bottle of hand sanitizer guests can carry with them. This is especially useful is there are any outdoor wedding related activities!
Hangover cures. If you are serving alcohol at your wedding then you should do the courteous thing and give guests some hangover cures for later. Make sure the wedding bag contains aspirin and water and maybe even a do-not-disturb door hanger.
Creature comforts. Give your guests a little something special to help them relax and feel comfortable. Try a bottle of lotion or eye mask or bottle of bubble bath to turn a good wedding trip to a great one.
Where To Buy Welcome Bags
You can purchase welcome bags online to contain all this Memphis goodness along with other wedding welcome bag essentials. Many welcome bag options come in multiple colors so you can coordinate with your wedding color scheme.
These Welcome to our Wedding bags on Amazon might work.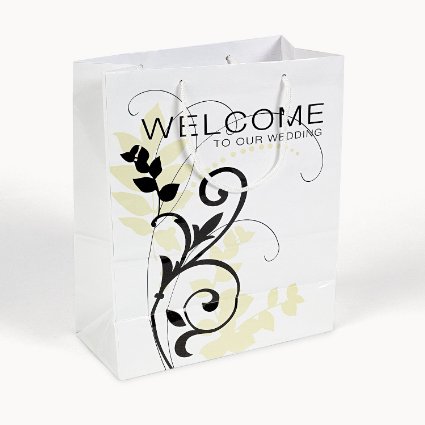 Welcome To Our Wedding Gift Bags
The Knot Wedding Shop offers plain wedding welcome bags.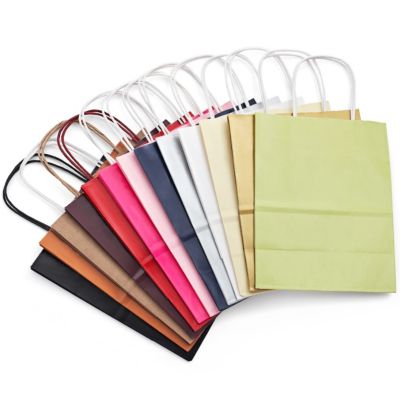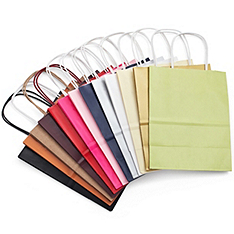 You can also personalize them with your wedding information.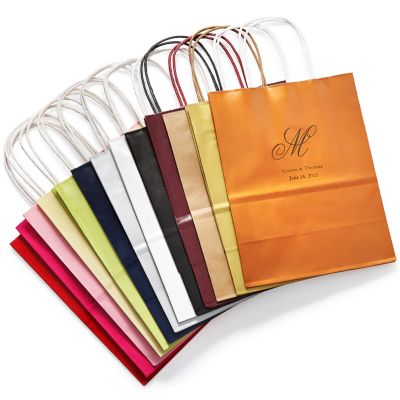 Personalized welcome bag – large
Or you can go a different route and order reusable totes to make everything in the welcome gift bag super useful!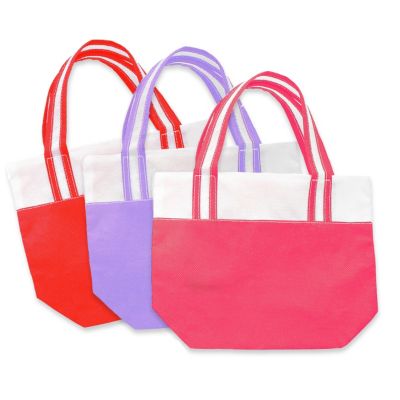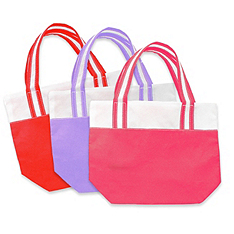 Whichever bags you choose, the contents inside are what matters most. Delight your wedding guests with a wonderful welcome to Memphis and your wedding!