There's nothing more lovely than a vintage Memphis wedding. This 1940s wedding in Memphis showcases so many gorgeous items that could still be part of weddings today.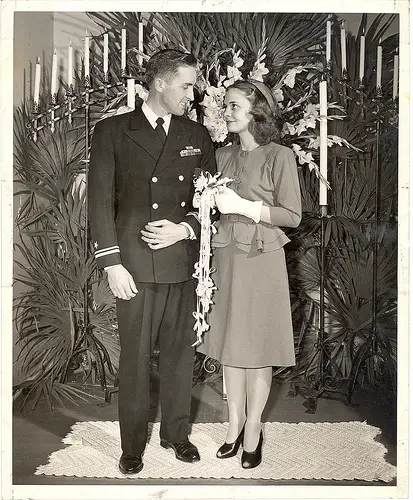 1940s Wedding Couple
Who is the couple featured in these 1940s wedding photos?
Lt. J.M.L. and E.W.L. were married on December 11th, 1946, in Memphis, Tennessee, at 7 pm in the home of Maymie Whitmore.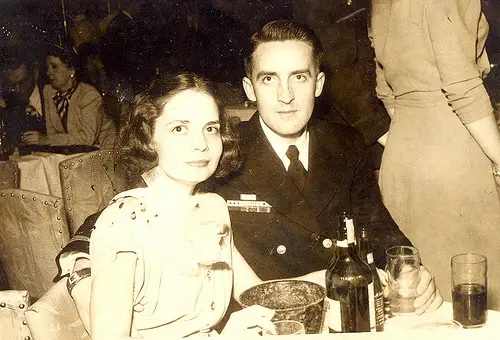 Following the wedding ceremony the couple held a reception in the Balinese Room of the Hotel Claridge.
The couple then spent their honeymoon at the hotel which was one of the finest hotels in the city at the time, complete with sophisticated rooms, coffee shop, cocktail lounge, tap room, and more.
What were 1940s weddings like?
1940s weddings were not as formal as weddings before or after this decade. There was a lot going on in the world in the 1940s and many weddings ended up taking a more casual approach.
Quick weddings were very common.
Fast paced weddings during war time were especially common when soldiers would be quickly shipping out after the wedding. Long engagements were rare during this time.
Most weddings were during the day during the 10 am to 1 pm brunch time. Some would have a light meal with cake after the ceremony.
Lively receptions with big band music were also a common occurrence where the wedding could be celebrated.
As far as what the couples wore, 1940s wedding dresses varied widely. It was a time of wearing your best outfit or making the best of what materials you had. Fabrics were rationed during the way so things were often whatever was on hand.
Memphis Wedding Venues
Today Hotel Claridge is Claridge House, a lovely building full of updated condos. It's not quite the same but the building holds many memories of weddings and parties past.
But there are many other Memphis wedding venues that still exist where you can recreate a 1940s wedding feel.
We'd suggest the Peabody Hotel or Annesdale Mansion for a wedding with 1940s wedding vintage vibes.