Kinsey & Scot's Peabody Hotel wedding in Memphis was the culmination of a long history with the hotel.
Though the couple doesn't reside in Memphis, they planned an amazing wedding here with lots of nods to Memphis culture. We love their story of connection with both Memphis and the Peabody.
Keep reading to learn why this out-of-towners got married at The Peabody Hotel in Memphis.
Peabody Bridal Portraits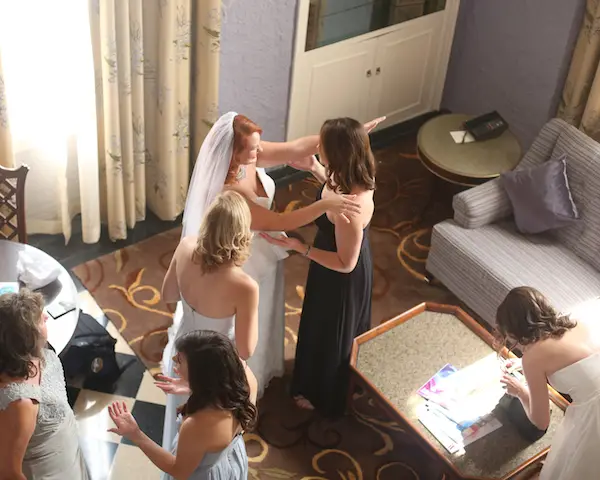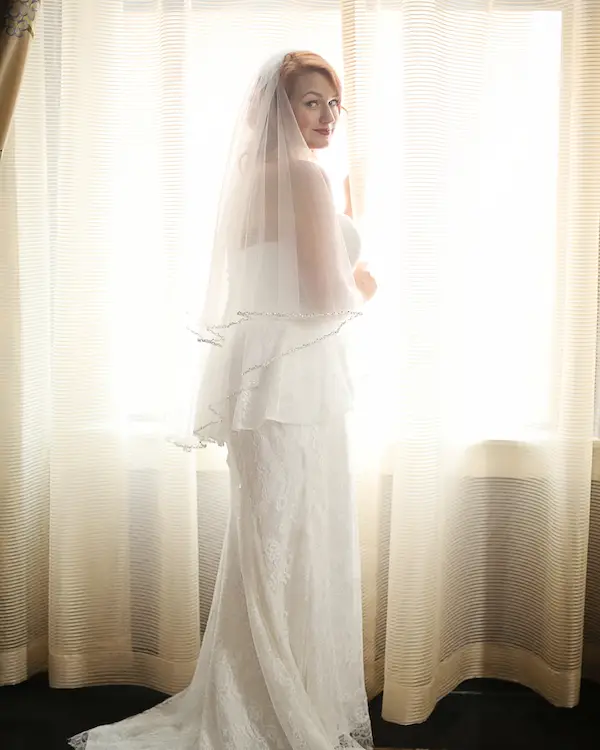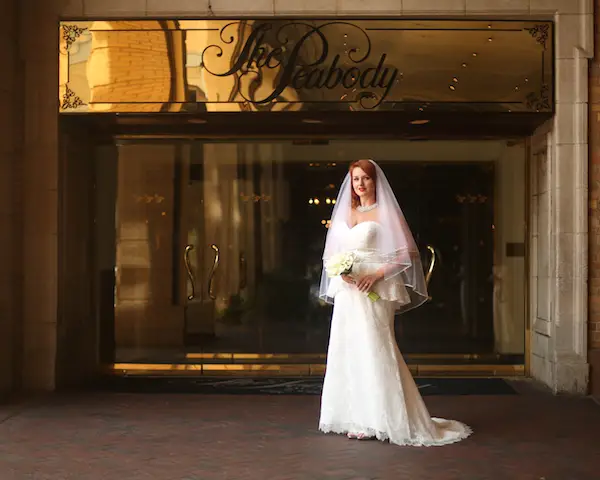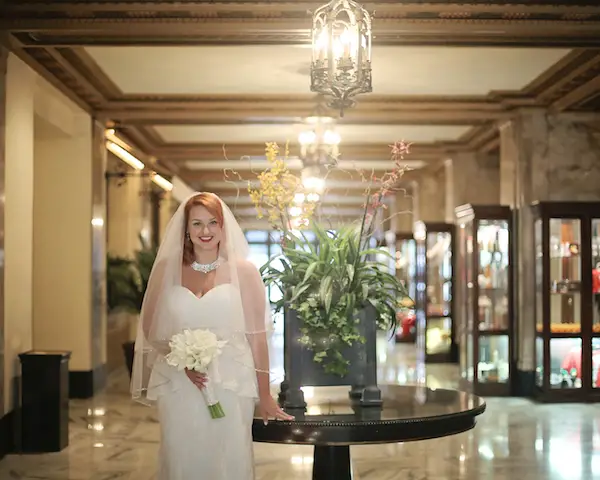 Peabody Hotel Connections
Kinsey shares the couple's history with the hotel on her blog:
We were married in the Peabody Hotel in Memphis, TN.  Neither of us are from Tennessee, nor do we have family there.  I have family down in Texas, and when we would drive to visit them we would often stay in Memphis over night.  
It become a fun tradition to see the duck walk at the Peabody and party on Beale.  I loved how grand and beautiful the hotel is, especially with the giant fountain in the lobby.
When Scot and I started dating, I told him several times how much I wanted to go to Memphis with him.  We had been dating a few months when he surprised me with Michael Bublé concert tickets- in Memphis!
It was our first trip together, and I decided to get us a room at the Peabody.  While we were there, we saw a wedding reception.  Scot looked at me and told me he'd marry me in that hotel.
Related: 20 Memphis Date Night Ideas
Peabody Hotel Wedding Photos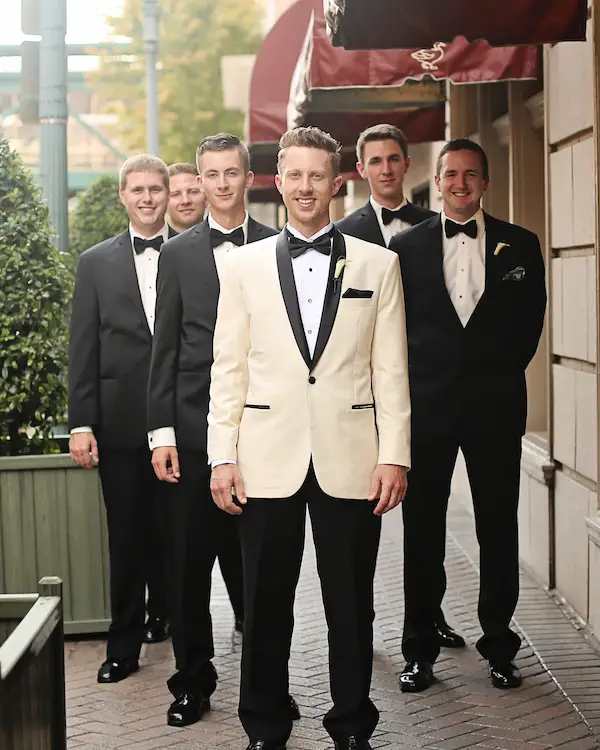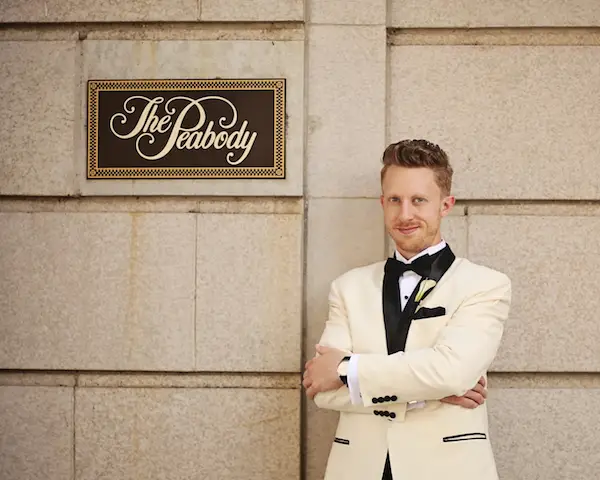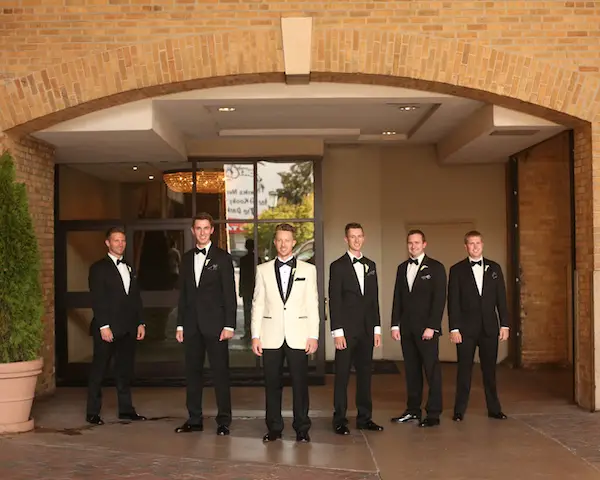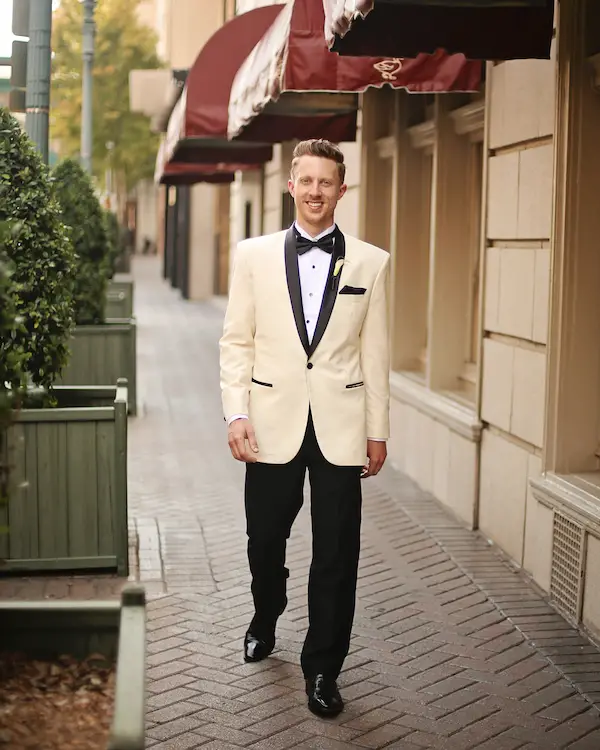 Scot had his tux made custom for him fashioned after the tux his grandfather wore for his own wedding. What a wonderful touch!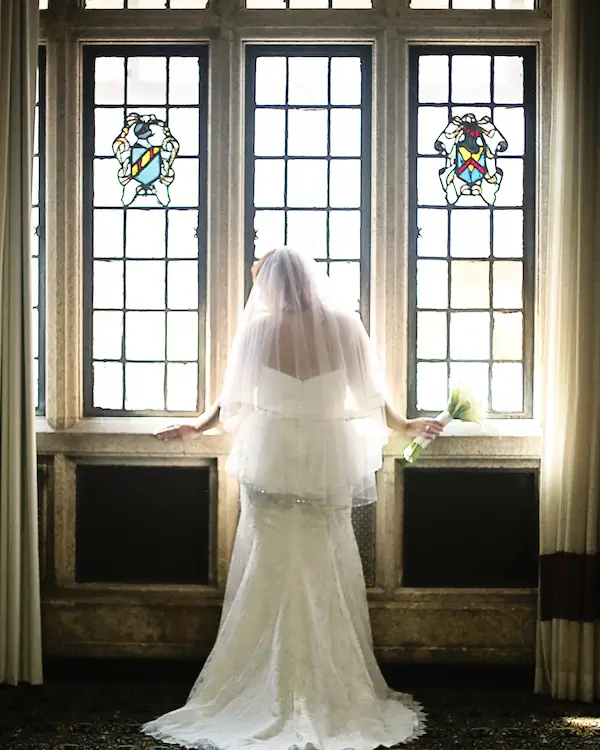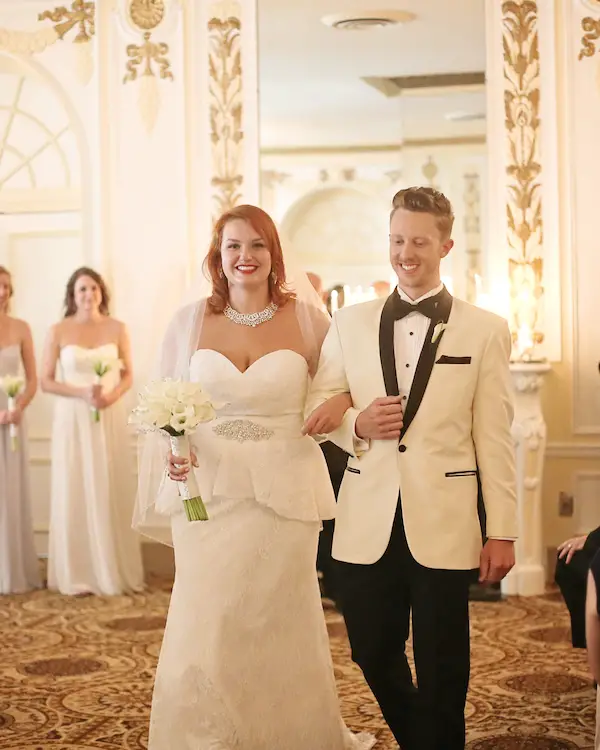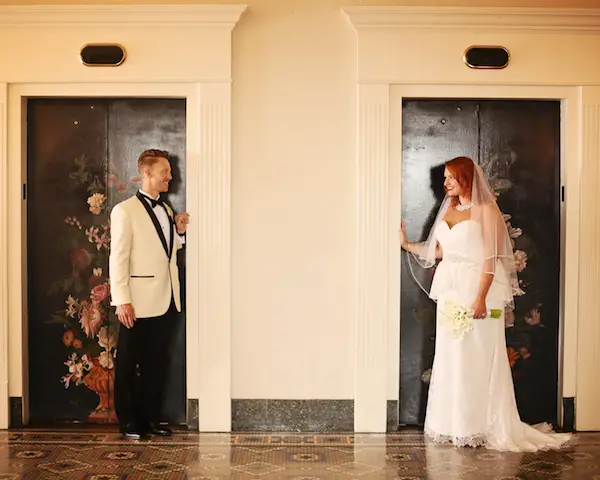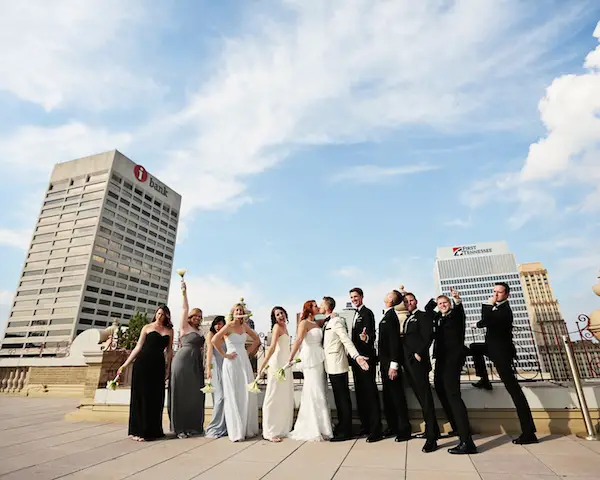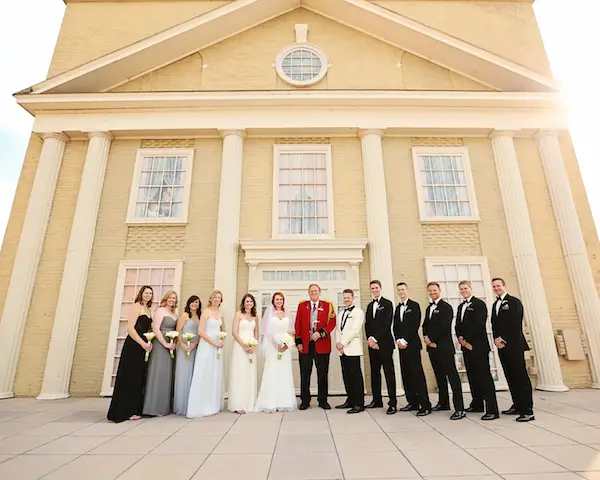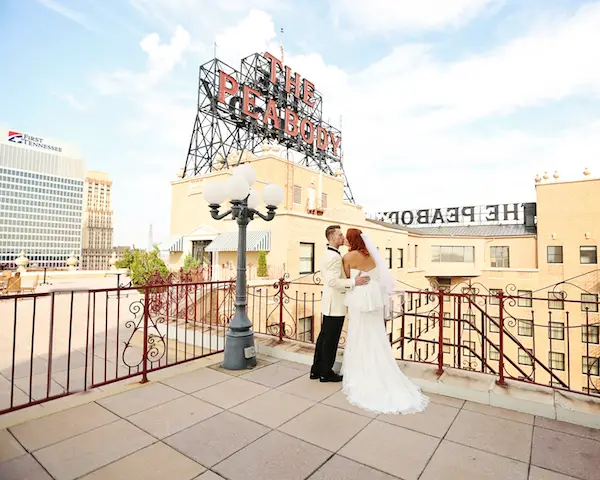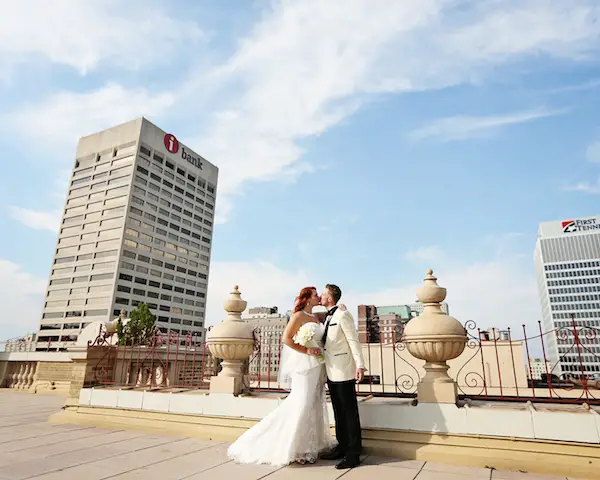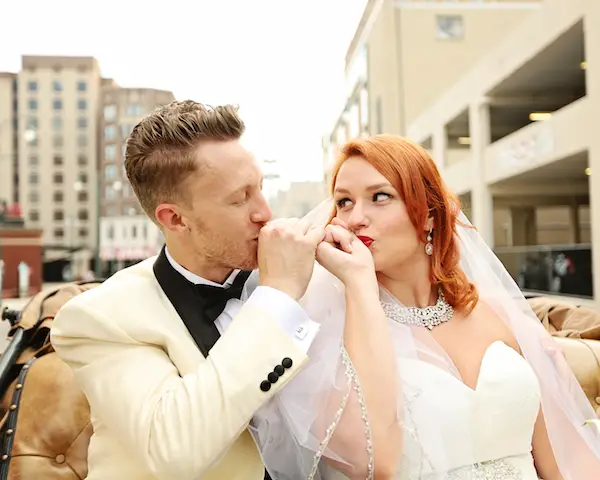 Memphis Horse Carriage Ride
The couple's impromptu carriage ride following the ceremony was one of Kinsey's favorite moments:
After the ceremony, we took photos on the top of the hotel overlooking the Memphis skyline and Mississippi River.  We also managed to sneak some alone time on a horse drawn carriage ride around downtown before we hit the reception.  I had so many special moments from that day I remember, but this our impromptu carriage ride is among my favorites.
Related: 9 Great Places To Propose In Memphis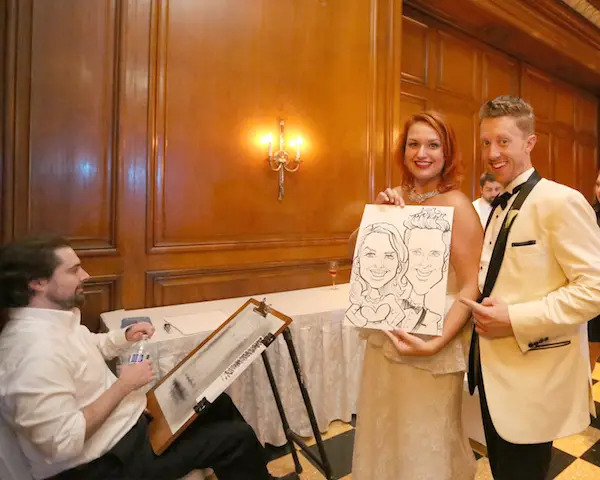 Thank you to Kinsey and Scot for sharing your story and Cindy for sending over this unique Memphis wedding!
We obviously love Memphis weddings and adore seeing Memphis as a destination for weddings!
Memphis Wedding Vendors