If you're looking for a large Memphis wedding venue in the downtown area, look no further than The Columns at One Commerce Square.
This former bank lobby built in 1929 has been renovated with two levels of event space perfect for hosting anywhere from 200 to 800 people. Impress your guests with 22 massive Ionic pillars, each 32-feet high, and 20,000 square feet of historic grandeur in the heart of the city near the city's top attractions.
Photo: Elizabeth Nord Photography
Weddings At The Columns
This wedding venue is no stranger to hosting large, formal events in this historic space. Resource Entertainment runs this venue and has hosted thousands of weddings, charity galas, and other formal events here.
Within the massive space available at The Columns there are multiple ballrooms available for your wedding ceremony or reception setup.
Because this venue was previously a bank there is a bank vault that you can pose with as part of your wedding photos. (Plus, it's just cool for guests to see.)
Want to see the space before visiting? This venue has a virtual tour posted online so you can see this amazing venue space.
Photo: Elizabeth Nord Photography
Reviews Of The Columns
Here are some reviews on The Columns from around the web:
"The Columns has always been my dream venue! The first time I went to a wedding there for a friends wedding and knew it's where I wanted to get married. The columns and beauty of the building created a perfect back drop for our reception. "- Allison
"My nephew had his wedding reception here and it was absolutely beautiful!! It was previously a bank! It was so awesome to see the vault and how it looked inside and being a former banker for years myself. It was so impressive to see everything at that size!! It was a beautiful place for the reception! The columns were massive and beautiful. The history behind the place is amazing!" – Pam
"Gorgeous venue. Formal wedding held here and it was fabulous." – Keisha
"It is a beautiful setting inside. The marble columns are amazing. However, it does have its flaws. I was there for a wedding. The sound was horrible. Underpowered speakers behind the audience, not having them. Could hardly hear the minister, and couldn't hear the bride or groom at all. It was raining outside and the roof was leaking inside. Looking up, I could see that the ceiling was damaged from the weather coming in over time. The restrooms were downstairs and the elevator was not working. In a positive note, the parking garage is attached to the back building, so getting in was really easy." – Jim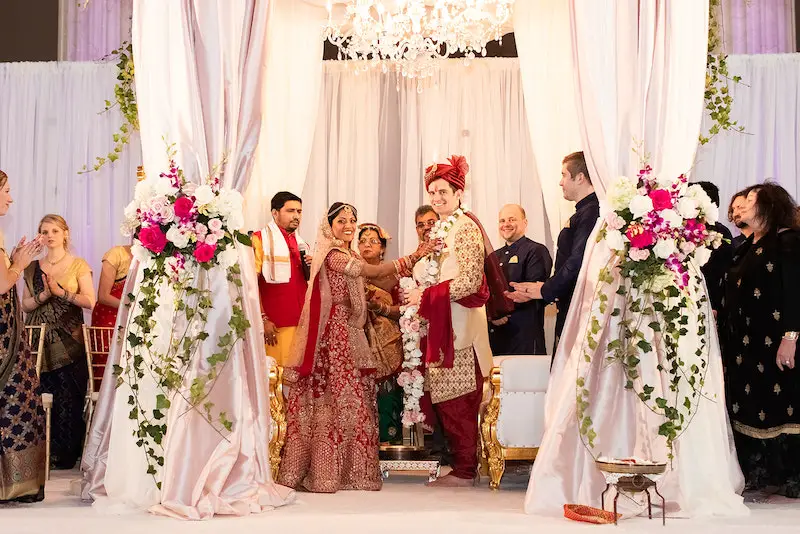 Photo: Elizabeth Nord Photography
Real Weddings At The Columns
Want to see real weddings at this venue? Check out these features:
Location & Contact Information
Contact the wedding venue:
Visit: The Columns, 45 S 2nd St, Memphis, TN 38103
Call:  (901) 543-1155
Visit them online: