Asking vendors a lot of questions can help you determine if they are the right vendor for your wedding. Wedding vendors all have different personalities, styles, and workflows that may or may not mesh well with your planned wedding.
If you've rounded up a list of wedding DJs you might want to hire then the interview is where you will decide. The questions to ask DJs below will help you during the interview to sort out the right fit. After all, your DJ will be responsible for making sure you and your guests have a great time out there on the dance floor.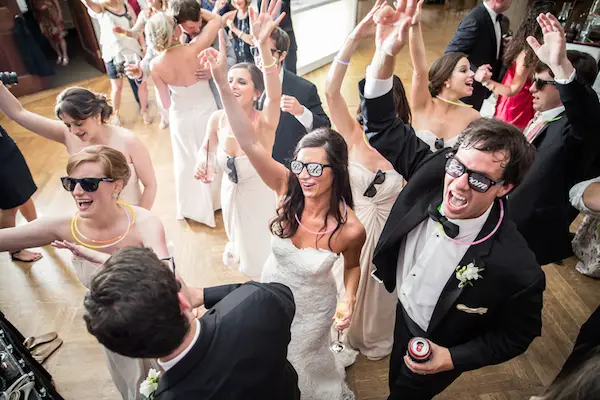 Photo: Bethany Veach Photography
The Basic Questions
Is my date available?
Are you familiar with my venue and have you done events at the location before?
How long have you been in the DJ business?
How many weddings have you done?
How many weddings do you do on an average weekend?
Will you perform more than one event on the day?
What other wedding services can you provide?
Do you belong to any professional organizations for DJs?
Do you have brides I can contact as references?
Can we visit you at a performance to see you in action?
Will you be the DJ at our wedding or will you send someone else?
What will you wear to our wedding?
Do you require a certain amount of breaks?
How easy is it to get in touch with you before the wedding?
Will we meet with you again before the wedding?
What makes you better than your competitors?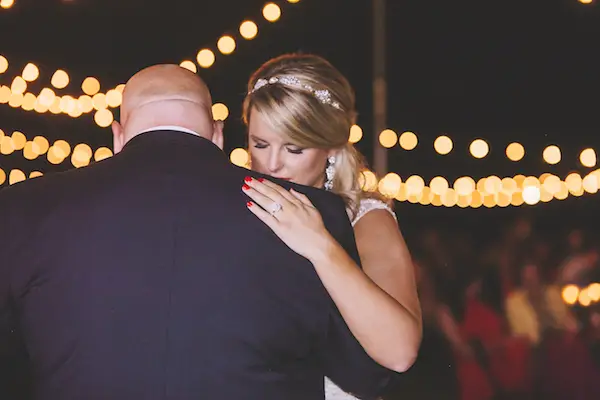 Photos: Teale Photography
Business Details
How much do your services cost?
How far in advance do I need to book you?
What is your deposit requirement?
When is the final payment due?
Does your pricing include setup and breakdown in both ceremony and reception venues?
What do you charge if the wedding lasts longer than scheduled?
Are there any additional fees that might happen that I haven't thought of already?
Do you have liability insurance?
When would I expected to receive a contract from you?
What is your refund/cancellation policy?
Wedding Music Questions
Do you have a DVD of your music and work at a previous wedding?
Will you assist us in choosing music for the important moments like processional and father-daughter dance?
How extensive is your music library? What genres do you include?
How do you keep your music selection up to date?
Can I request a list of songs to be played?
Can we submit a do-not-play list?
Do you act as emcee and make all the wedding announcements?
What's your style for making announcements?
Do you take requests from guests during the wedding?
What do you do to motivate the crowd if no one is dancing?
Will you provide wireless mics for the ceremony?
Do you always bring backup equipment?
What kind of space do you need for the DJ setup?
What kind of equipment will you use?
How much time do you need for setup, sound check, and breakdown on the wedding day?
Do you require electrical outlets that the venue needs to know about and provide?
What music will you provide during breaks in the day?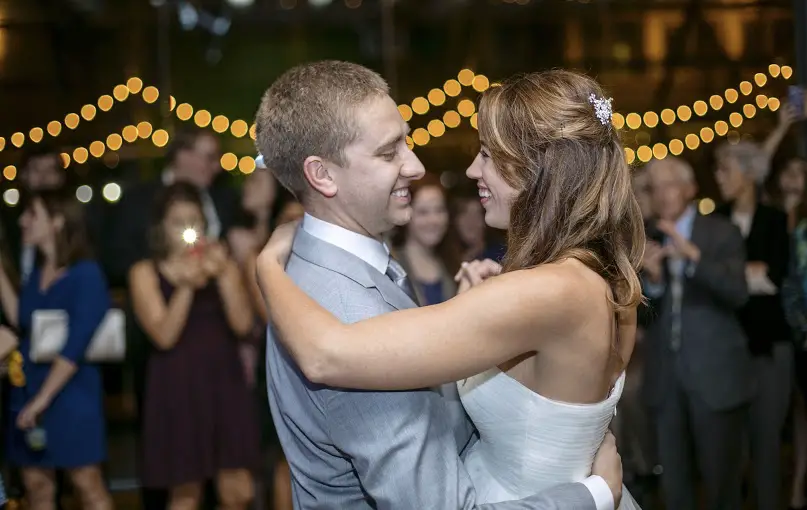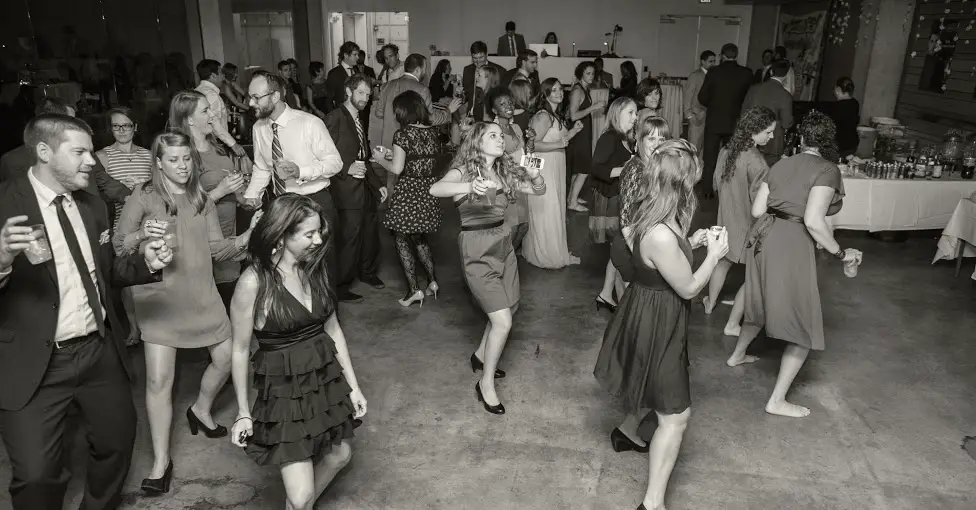 Photo: Nolen Photography
More Tips for Interviewing DJs For Your Wedding 
Discuss your wedding style and feel. The most important part of hiring a DJ is making sure he or she can help you create your desired wedding atmosphere. Do you want to entertain everyone and have a huge dance party? Or entertain a few with a more calm atmosphere? Discussing exactly what you want with your potential DJ can help you determine if he or she is the right fit. If they immediately understand your vision and seem excited about it then you've found your match.
Make notes of your music preferences before the meeting. Having a list of genres and even potential songs you know you want played can help guide that initial wedding consult. For example, if you know you want a Motown set during dinner then you can discuss this with the DJ. It will determine if the DJ is a good fit for you and also give him or her a jumpstart on creating a set list for your wedding if hired.
Check with the venue. If you are getting married at a popular venue then chances are your DJ has worked an event there before. However, it is still a good idea to check with the venue manager and know any restricitons that might be placed on your event like noise curfews and availability of outlets. Discussing these restrictions in the initial DJ meeting can help you determine if the potential DJ is the right fit for you and whether they are willing to work around potential issues.
Hopefully those questions and tips will make your initial DJ interview go smoothly and set you on your way to finding the right DJ for your wedding!
View more of this series: Questions to Ask Before Hiring Wedding Caterers