You live in a city known for it's food, but do you know how to share that experience at your wedding? In this wedding planning guide we share questions to ask wedding caterer candidates to get the best wedding food possible.
Before hiring a caterer you need to sit down with them and ask a lot of questions. It's crucial to interview the wedding caterer and make sure their style and services fit your needs. You need to know that the wedding caterer will fit your needs and provide the best food possible.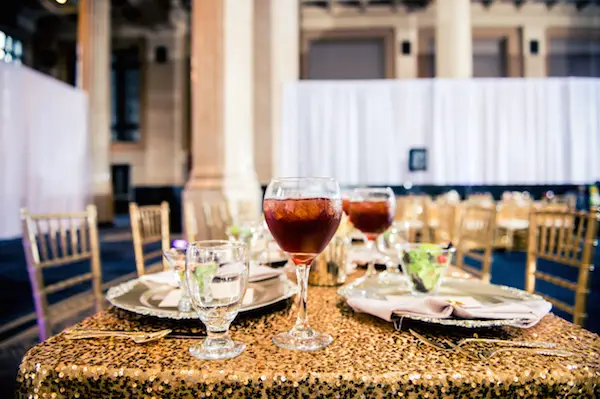 Questions To Ask Wedding Caterers
To get you started with your interview, here's a list of questions to ask wedding caterer candidates. Any potential caterer you are interviewing for your wedding should be happy to answer these.
Wedding Food Questions
Do you specialize in certain types of food?
What types of food do you offer for hors d'ouerves? For the main course? For dessert?
Do you offer food for certain dietary restrictions — vegetarian, vegan, gluten-free, kosher, etc.?
Do you work with fresh or frozen foods?
Do you create menus specific for each wedding or use a set menu?
Can you include special touches that are meaningful to us like a special recipe for a side dish?
Menu Sampling Questions
Can I sample the menu?
Is there a fee for a sample tasting?
How soon can a menu sample tasting be scheduled?
Catering Pricing Questions
What are your prices?
What can change or influence the food prices?
Are gratuities included in the food prices? If not, what is the gratuity charge?
What is the cancellation policy?
How much is the deposit needed?
When is the final balance due?
Wedding Logistics Questions
Will the caterer provide any necessary rentals: tables, place settings, linens, chairs, etc.?
Are you catering other weddings on my wedding day?
How many types of staff will you provide — waiters, bartenders, bussers, etc.?
What will the wait staff wear?
Will you prepare food on-site or bring it in already prepared?
If my reception location does not have a well-equipped kitchen, will the catering company be able to bring in the necessary appliances — refrigerators, ovens, etc.?
Are you able to supply a full bar? What is the fee for liquor?
Do you provide a bartender?
How will the food be served? Buffet style, table service or family style?
Can you provide me with a wedding cake?
Do you provide cake cutters?
How long will it take you to set up and to break down the event?
Will you pack a snack for the bride and groom?
Do you require a minimum number of guests?
Will you provide food for the other vendors — the photographer, planner, videographer and band?
When will I need to finalize the menu?
When will they need a final head count?
What will you need the day of the wedding?
You might not want to ask all of these questions upfront but it can't hurt you to get a very thorough idea of what a wedding caterer will provide for your wedding.
Getting the whole picture before hiring a caterer can save you a lot of trouble and expense.
Living in the Mid-South means you have your choice on amazing Memphis wedding caterers. Thanks to a city rich in food culture and history you can find many great catering options for your wedding sure to please your guests.
Always be wise and choose your wedding vendors carefully!