Marsala is a deep brownish red color that provides moody depth to wedding colors. It was the Pantone color of the year in 2015 and since then has graced many wedding designs. In this roundup of marsala wedding inspiration we look at ways to use this amazing color.

What Is Marsala?
Marsala, a brownish red color that evokes the richness of Italian wine it's named for.
As Pantone explains, "Much like the fortified wine that gives Marsala its name, this tasteful hue embodies the satisfying richness of a fulfilling meal while its grounding red-brown roots emanate a sophisticated, natural earthiness."
Marsala's more sophisticated earthiness pairs well with metallics or neutrals and is a versatile color for weddings. It's definitely a color that you think of for Autumn with it's warmth and richness, but can be a bold choice for upcoming spring weddings.
Marsala Wedding Ideas
We love the addition of marsala into wedding palettes. It's a fantastic option as you can see in this real marsala wedding.

While you might not want to drench your wedding in marsala, the hue is sure to inspire your wedding choices.
Here are a few ways you can use Marsala in your wedding.
Marsala Wedding Flowers
Because the earthy red tone of marsala it makes a fantastic option to include in your wedding flowers.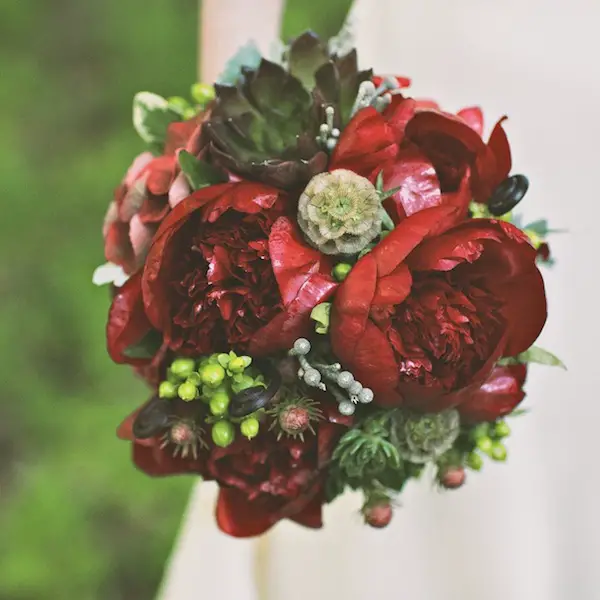 Photo: Hot Metal Studio, Via: The Knot
Peonies and dahlias naturally grow in the dark red hue of marsala. These big blooms evoke a romantic quality and can be paired with blush and ivory colors for a pretty and sophisticated palette. They also pair well with greenery like eucalyptus leaves or succulents.
Marsala Wedding Flower Crown
Marsala flowers also work well for a flower crown. It's a perfect addition when paired with ivory and blush.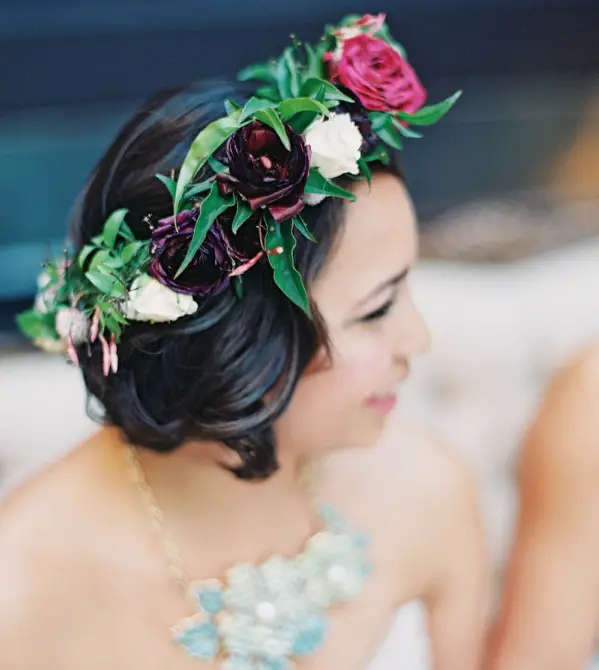 Photo: Jen Huang, Via: Style Me Pretty
A deep marsala flower crown is the perfect accessory to finish off your bridal look or tie your bridesmaids together.
Marsala Bridesmaids Dresses
Your bridal party will look stunning with marsala bridesmaid dresses at your wedding.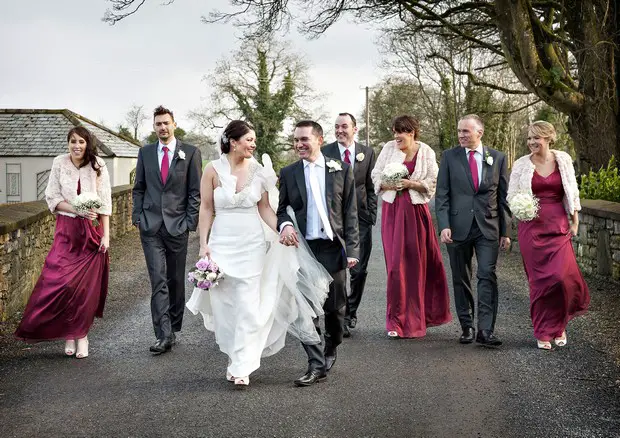 Photo: Paul Andrews Photography Via: Weddings Online
Deck the bridal party out in the color of the year. These marsala inspired bridal dresses paired with white shrugs create a classic look.
Marsala Wedding Tablescape
Moody and rich, marsala flowers make excellent tablescapes. If you are looking for more marsala wedding decor ideas then consider adding a similar table layout.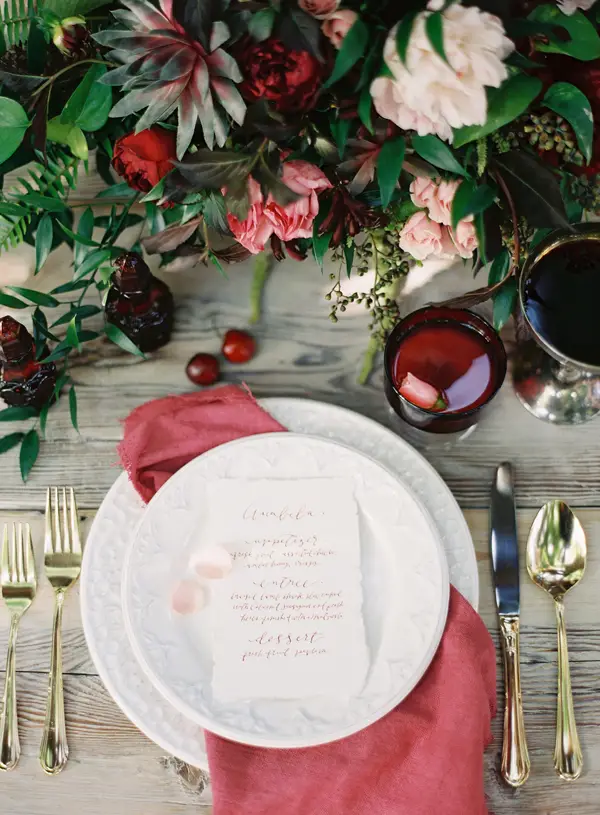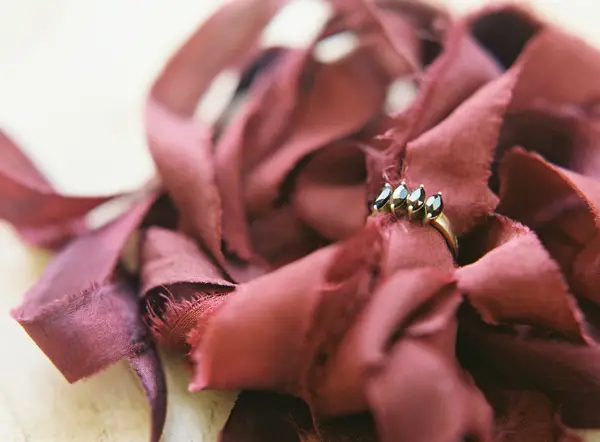 Photos: Lani Elias Fine Art Photography, Via: Once Wed
Marsala hues can build depth and richness on your tablescape. Achieve the look through luscious flower centerpieces, rich silk napkins, deep red glassware, and plenty of wine.
Red Velvet Macarons
Did you think marsala would skip dessert options? No way! Include it in your menu by adding it with something like these rich macarons.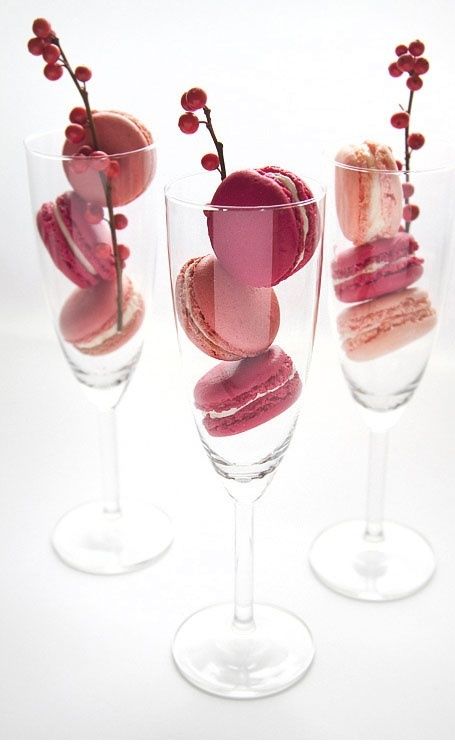 Via: Pinterest
If there was ever a reason to use macarons as a dessert wedding, the color marsala is it. While it might be touch to match the exact share with these tasty red velvet treats, a close match will provide design inspiration along with dessert satisfaction.
Marsala Wedding Decor
You can include marsala wedding decor in a variety of ways but we love the idea of renting furniture for little nooks your guests can use.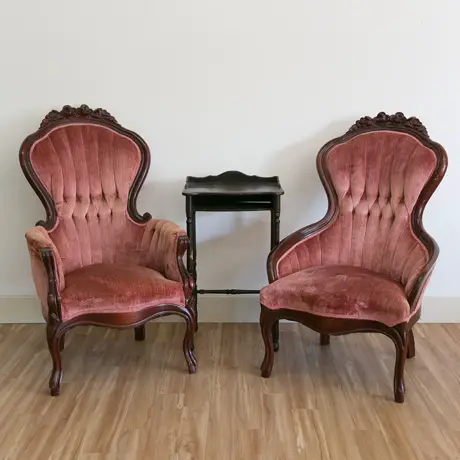 Photo: Annabella Charles Photography, Via: Propcellar
Why not stage a cozy seating area at the wedding featuring these vintage chairs?
These particular marsala wedding chairs are available from Propcellar Vintage Rentals These chairs hit the right notes to blend in with any marsala wedding decor.
Marsala Wedding Palettes
Not sure how to use marsala after all of this inspiration? Try incorporating it with an additional color for a well rounded palette.
Marsala Wedding Color Combinations
We love these combinations:
marsala and blush wedding
marsala and grey wedding
navy and marsala wedding
marsala and gold wedding
marsala navy and gold wedding
dusty rose and marsalad wedding
Marsala in it's various shades and combinations is definitely a color to love.
Hopefully it inspires you in your own planning!