Bow ties will always be in style for a Southern wedding. Since they are not commonly worn daily many grooms and groomsmen need to learn how to tie a bow tie.
This guide to bow ties shares how the most formal neckwear option should be tied to transform the wearer into a classy Southern gentleman.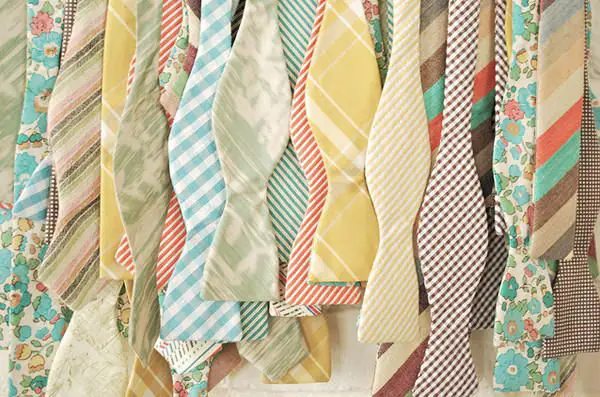 Photo: Jose Villa, Via:Bridal Musings
How To Tie A Bow Tie
Since we love the look of a bow tie, we wanted to share a few resources for helping the special man in your life remember (or learn!) how to tie a bow tie.
It's a pretty daunting task to go from a strip of material like the bow ties shown above to a perfectly tied bow tie.
Mo's Bows, our favorite local creator of  awesome wedding bow ties, created this handy guide for gentleman needing to tie a bow tie.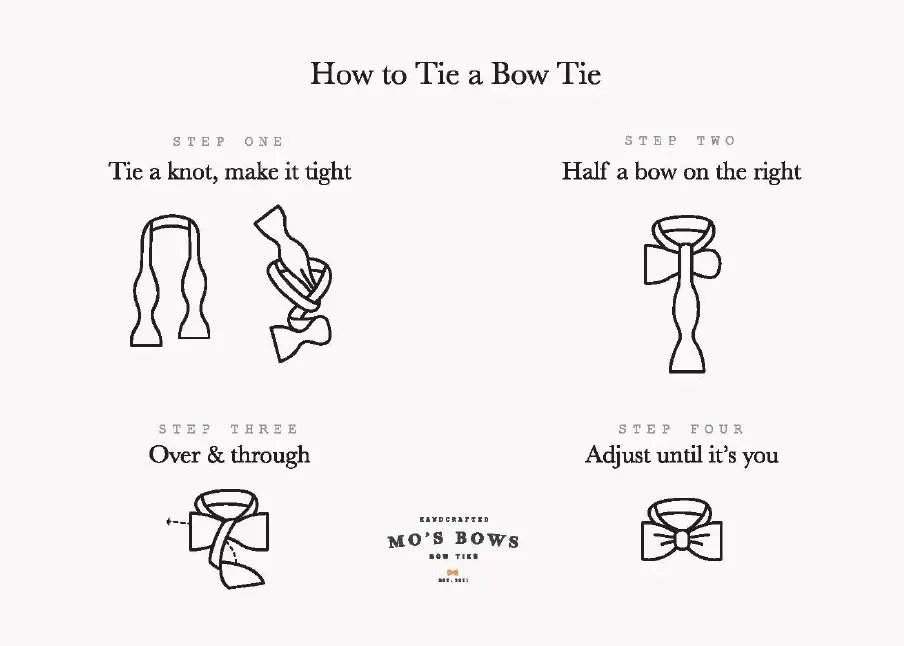 The four step process from Mo's Bows is truly the simplest way to learn how to craft your own bow tie.
We also love this guide from The Black Tux.
Start with the bow tie lying face up. Adjust it so the right side is shorter than the left. The end on the left will be referred to as A and the end on the right will be referred to as B.
Move A to the right side, across B.
Bring A under B and up through the neck loop.
At the joint, fold B toward the right and then the left to create the bow shape.
Bring A straight down over the middle of the bow shape you made with B.
Fold A back toward the chest and pinch the fold.
Push the pinched end A through the loop behind B.
Pull on the folded parts of the bow to tighten.
Adjust until balanced on both sides.
You're done!
Video Tutorial
Need to see someone do it? Sometimes it's easiest to learn how to do something by watching it be done.
This video shows you how to tie it on yourself or someone else.
This video tutorial makes it very simple. Though the instructions and perspective are how to put it on someone else you can also use it on yourself.
Common Tie Variations
If you'd like a little more variety this shows how to use the most common bow tie styles.
The following infographic from Real Men Real Style gives you everything you could possibly want to know in the ultimate guide:

This infographic shows various ways to rock this style:
bow tie with a tall leaf
bow tie with small knot/large strap
un-necked bow tie
bow tie with wide spread
ribbon style bow tie
batwing bow tie
bow tie with tall knot
bow tie with wide knot/wide strap
unlined bow tie
Did you know how many different ways there were to wear it? It feels like endless options once you learn the different styles.
Admittedly, if tying a bow tie is too much work you can always get a clip on. But where is the fun in that? Go rock it at your wedding or formal event!
Bow Tie Inspiration
Now that you know how to handle your bow tie, let's look at some inspiration! Just look at these Mid-South grooms rocking their bow ties on the big day!

Photo: Amy Hutchinson Photography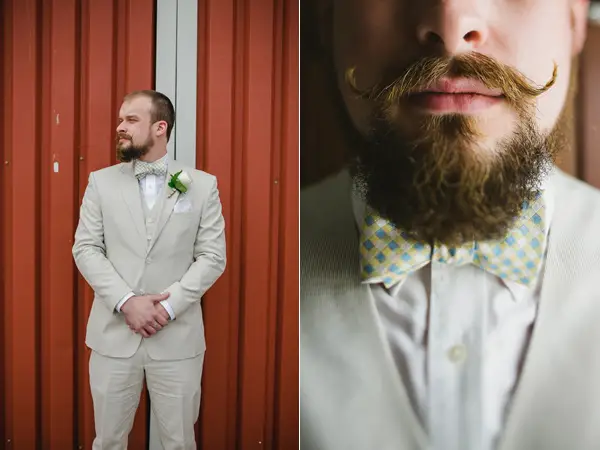 Via: Ruffled Blog, Photo: Kelly Ginn Photography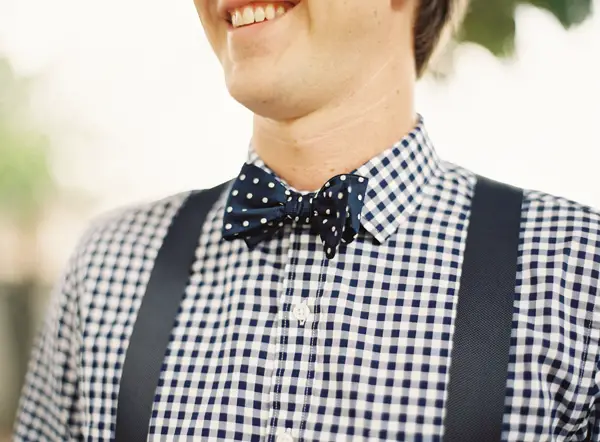 Photo: Heather Hester Photography Via: Ruffled Blog