What color flower girl dresses will you choose for your wedding? From white and ivory to more bold choices, you have the freedom to select whatever color fits your style.
Choosing the perfect color for your flower girl's dress can be an exciting process for both the bride and the flower girl.
In this post we look at options for flower girl dress colors and give you some insight on how to pick the right color choice for you.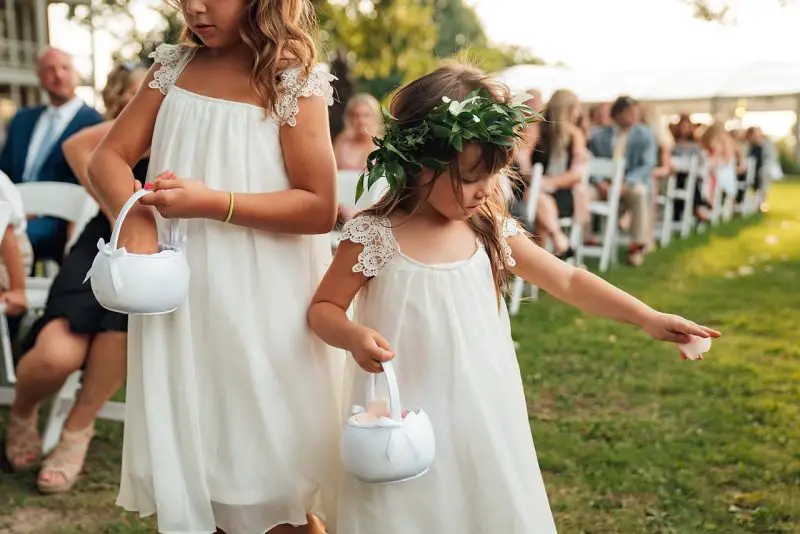 Photo: The Warmth Around You, Memphis wedding photographer
How to Choose Flower Girl Dress Colors
How do you pick the right color for your flower girl dresses? You consider the whole picture!
Take into account your wedding theme, dress code, and venue when selecting the color for the flower girl dresses. These elements play a crucial role in setting the overall tone and atmosphere of your wedding.
Consider the following factors to ensure you make the right choice:
Wedding Theme
Consider the overall theme and color scheme of your wedding.
The flower girl's dress should complement the wedding theme and harmonize with the bridesmaid dresses, decorations, and the overall ambiance.
Traditional Weddings: For more traditional weddings, classic white flower girl dresses are a timeless and elegant choice. They symbolize purity and innocence, aligning perfectly with the occasion.
Nontraditional Weddings: If your wedding leans towards a nontraditional style, consider opting for a more unique dress that showcases your personality as a couple. This allows you to break away from convention and add a personalized touch to the flower girl's attire.
Flower Girl Accessories
You'll also want to consider accessories you might want the flower girls to wear or carry.
Will they be wearing tiaras? Flower crowns? Any special shoes or other accessories that need to be seen?
Will they be carrying a basket and throwing flower petals? Or will they have a flower girl alternative like a here comes the bride sign?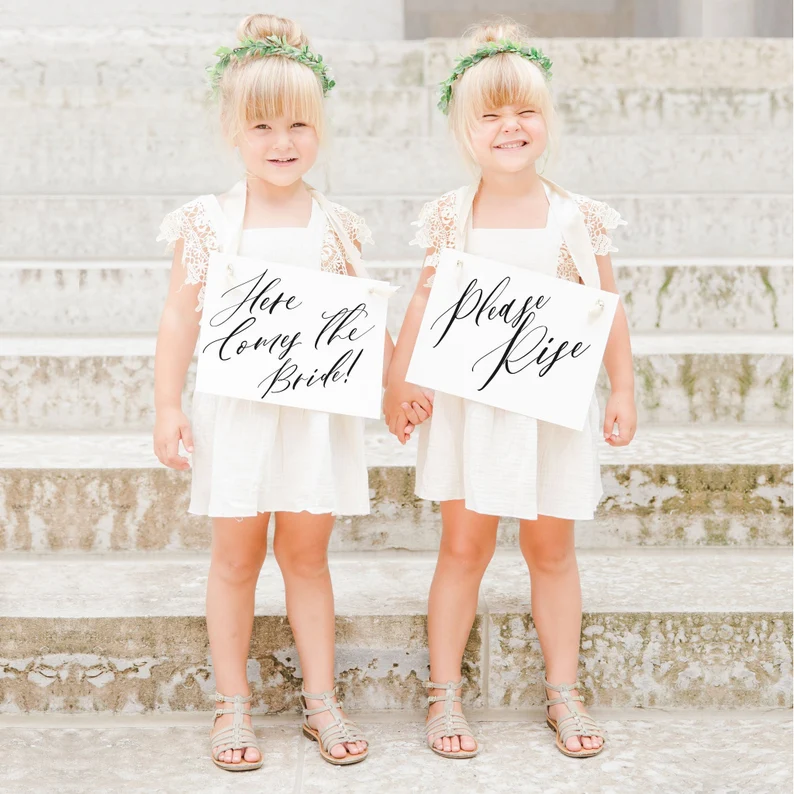 Season and Venue
Take into account the season and venue of your wedding.
Different colors evoke different emotions and can create a specific atmosphere.
For example, pastel shades work well for spring weddings, while deeper tones are suitable for fall or winter weddings.
Bride's Dress
The flower girl dress should complement the bride's dress without overshadowing it. Flower girl colors and dress shapes should complement the bride's style of dress.
Consider the style, color, and embellishments of the bride's dress to ensure a cohesive and visually pleasing look.
Wedding Colors
Seek inspiration from your wedding color palette.
You can choose a flower girl dress in the same color or a similar shade as the junior bridesmaid or bridesmaid dresses to create a cohesive and uniform look.
Alternatively, you can select a color that ties back to your wedding colors, ensuring a harmonious visual appeal.
Classic and Timeless Flower Girl Dress Colors
The most classic flower girl dress colors are white and ivory which typically match the bride's dress.
Ivory or White
Ivory and white are timeless and traditional choices for flower girl dresses.
These colors symbolize purity and innocence, perfectly suiting the role of a flower girl.
White matches any wedding theme and pairs flawlessly with the bride's dress. It works for both formal and casual weddings:
Formal Weddings: For a fancy black-tie wedding, a sweet floor-length tulle ballgown in white can create a stunning and elegant look. It adds a touch of sophistication and grandeur to the occasion.
Casual or Beach Weddings: If you're having a more relaxed boho beach wedding, a tea-length lace flower girl dress in white or ivory might be a better match. It exudes a laid-back charm and complements the beachy atmosphere.
We love this boho flower girl dress in white for beach weddings and more casual settings.
It's available on Amazon for less than $40 and it comes in white along with other colors if you want to add more color via flower girl dresses.
Exploring Flower Girl Dress Colors Beyond White
While white is traditional, you have the flexibility to choose other colors for the flower girl dress.
Here are a few options for flower girl dress colors beyond white:
Blush or Light Pink
Blush or light pink is a popular choice for flower girl dresses.
These soft hues add a touch of femininity and romance to the wedding.
Blush works well with various wedding color schemes and complements the bride's dress beautifully.
Lavender or Lilac
Lavender and lilac bring a whimsical and enchanting touch to any wedding.
These shades work exceptionally well for spring or garden weddings.
They add a pop of color while maintaining a soft and romantic atmosphere.
Champagne or Cream
Champagne or cream-colored flower girl dresses exude elegance and sophistication.
These shades are versatile and pair well with both warm and cool color palettes.
They offer a subtle alternative to white while still maintaining a classic feel.
Mint or Aqua
For a fresh and youthful look, consider mint or aqua-colored flower girl dresses.
These shades are perfect for outdoor or summer weddings.
Mint provides a cool and refreshing vibe, while aqua adds a tropical touch.
Shades of Blue
Blue is a versatile color that offers various shades to choose from.
Light blue creates a serene and ethereal look, while navy blue adds depth and richness.
Shades of blue can work well for nautical or beach-themed weddings or complement the bridesmaid dresses.
Choices For Multiple Flower Girls
If you have multiple flower girls, explore different options to create a visually stunning wedding party lineup.
Here are a few ideas for flower girl dress colors with multiple flower girls:
Same Color: Dressing all the flower girls in the same color creates a cohesive and unified look. It adds symmetry and coordination to your wedding party.
Variations of the Same Hue: Opting for variations of the same hue adds depth and visual interest. You can choose different shades of a particular color to suit each flower girl's preferences or skin tone while maintaining a cohesive theme.
Complementary Colors: Consider choosing different colors that work together and tie back to the overall color theme of your wedding. Ensure that the selected colors complement each other and create a harmonious ensemble.
Remember to consider how the flower girl dresses will look alongside other elements, such as the bride's dress, bridesmaid dresses, and decorations.
Aim for a picture-perfect wedding party lineup that exudes beauty and elegance.
Choosing Your Flower Girl Dresses
Choosing the perfect color for flower girl dresses involves considering factors such as the wedding theme, season, venue, and the bride's dress.
Classic options like ivory, white, blush, and champagne remain popular for their timeless appeal, while bold and vibrant colors like blue, lavender, and mint offer a contemporary twist.
Ultimately, the color you choose should reflect your vision for the wedding and create a cohesive and visually pleasing aesthetic.