Happy Fall Y'all! If you couldn't already tell, this is one of our favorite seasons. While the bulk of October weddings have passed we still love all the November weddings and new engagements that happen every year during this season.
If you are getting married in the fall, engaged in the fall, or just love the fall season, you might want to consider sending a fall themed wedding invitation to your guests!
We've rounded up some of our favorite fall wedding invitations below with affiliate links to our favorite sources of wedding invitations including Etsy, Minted, and Wedding Paper Divas!

Autumn Leaves Wedding Invitationson Minted
A beautiful flurry of fall leaves with a heart like shape ascend over the name of the happy couple and event details in this fall themed wedding invitation.

Autumn Leaves Wedding Invitations on Minted
Rustic and romantic watercolored leaves set the tone for an autumn inspired wedding with sweet details and perfect coloring.

Autumn Wreath Wedding Invitations on Minted
Wreaths start appearing in the fall which is why this wedding invitation is so perfect! Featuring a sweet fall wreath around your initials it stays classic with a neutral color palette.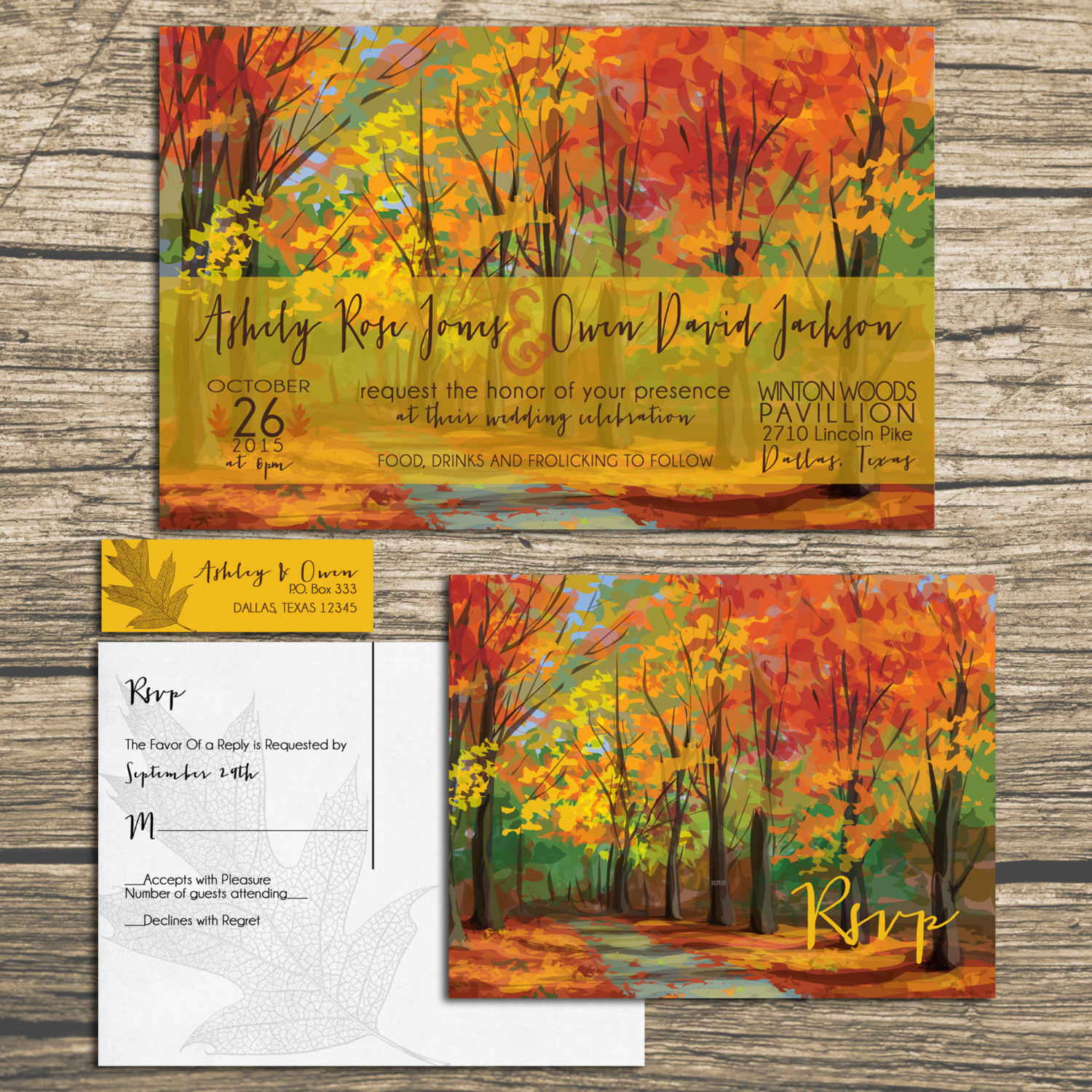 Fall Autumn Woods Wedding Invitation Suite by Inviting Moments
This Autumn woods fall wedding invitation design sets the stage for a romantic stroll through the woods surrounded by the vibrant colors of fall.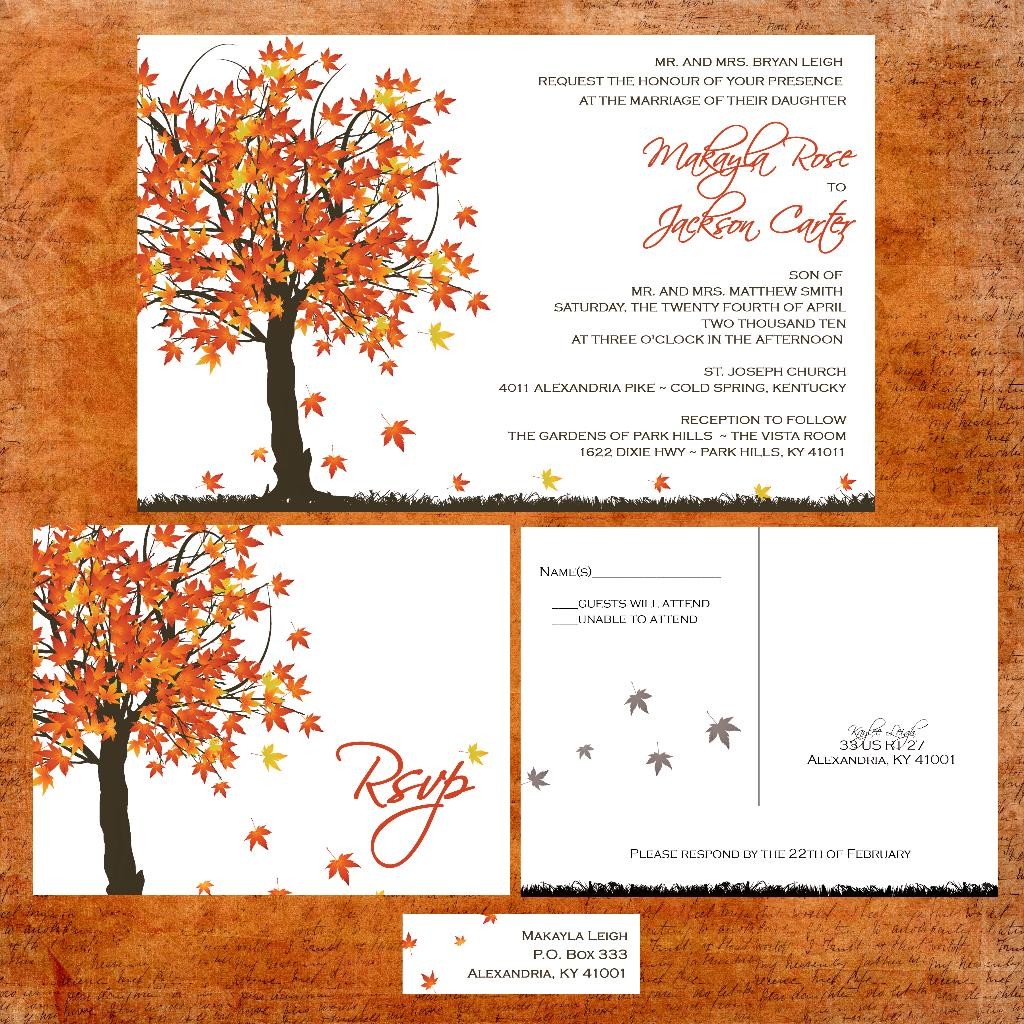 Fall In Love Wedding Invitation Suite by Inviting Moments
These customizable fall wedding invitations feature a gorgeous tree with vibrant fall colors along with a handy coordinated RSVP card.

One Fine Autumn Day Wedding Invitations on Minted
Acorns and leaves in the perfect fall colors raise the cute factor on this fall wedding invitation framed by a golden border.

Fall Carving Wedding Invitations on Minted
A special heart carved into the tree with your wedding date and initials makes this wedding invitation perfect for fall or any time of year.

Fall Tranquility Wedding Invitations on Minted
This fall wedding invitation with hand drawn Aspen trees and bright leaves creates a tranquil and calming effect on your invitation. Perfect choice for a small, intimate fall wedding.

Autumn Oak Wedding Invitations on Minted
This clean and bold design of oak leaves creates a fun and unique fall wedding invitation option. The colors offer a beautiful design without an extreme focus on fall colored leaves.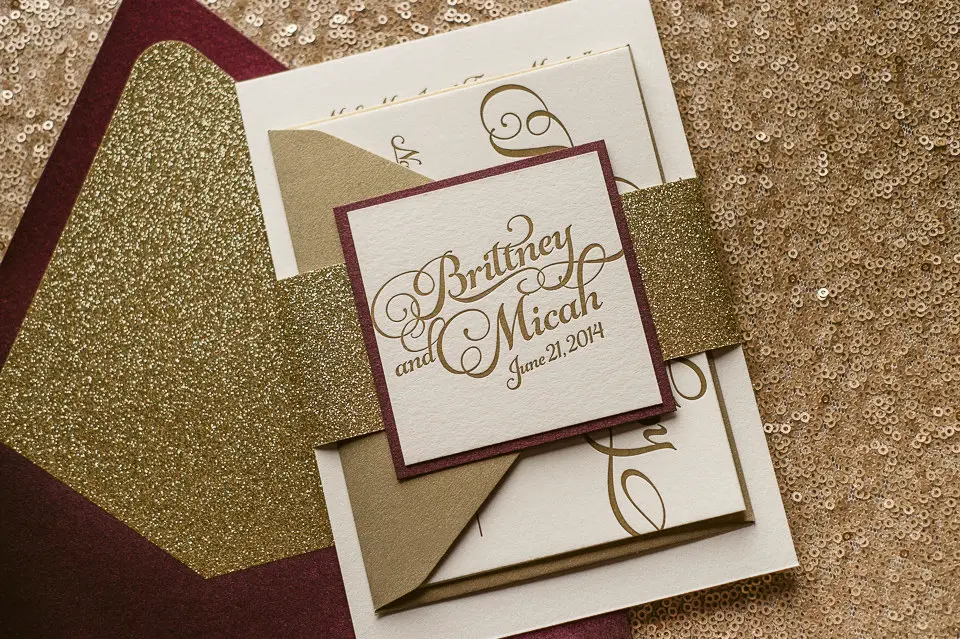 Wine & Gold Fall Wedding Invitation by Flair Necessities
Fall isn't all about tree leaf colors which is why we love this gold wine and gold letterpress wedding invitation suite as a fall wedding invitation. The warm tones and elegant calligraphy font feel rich and luxurious like fall does.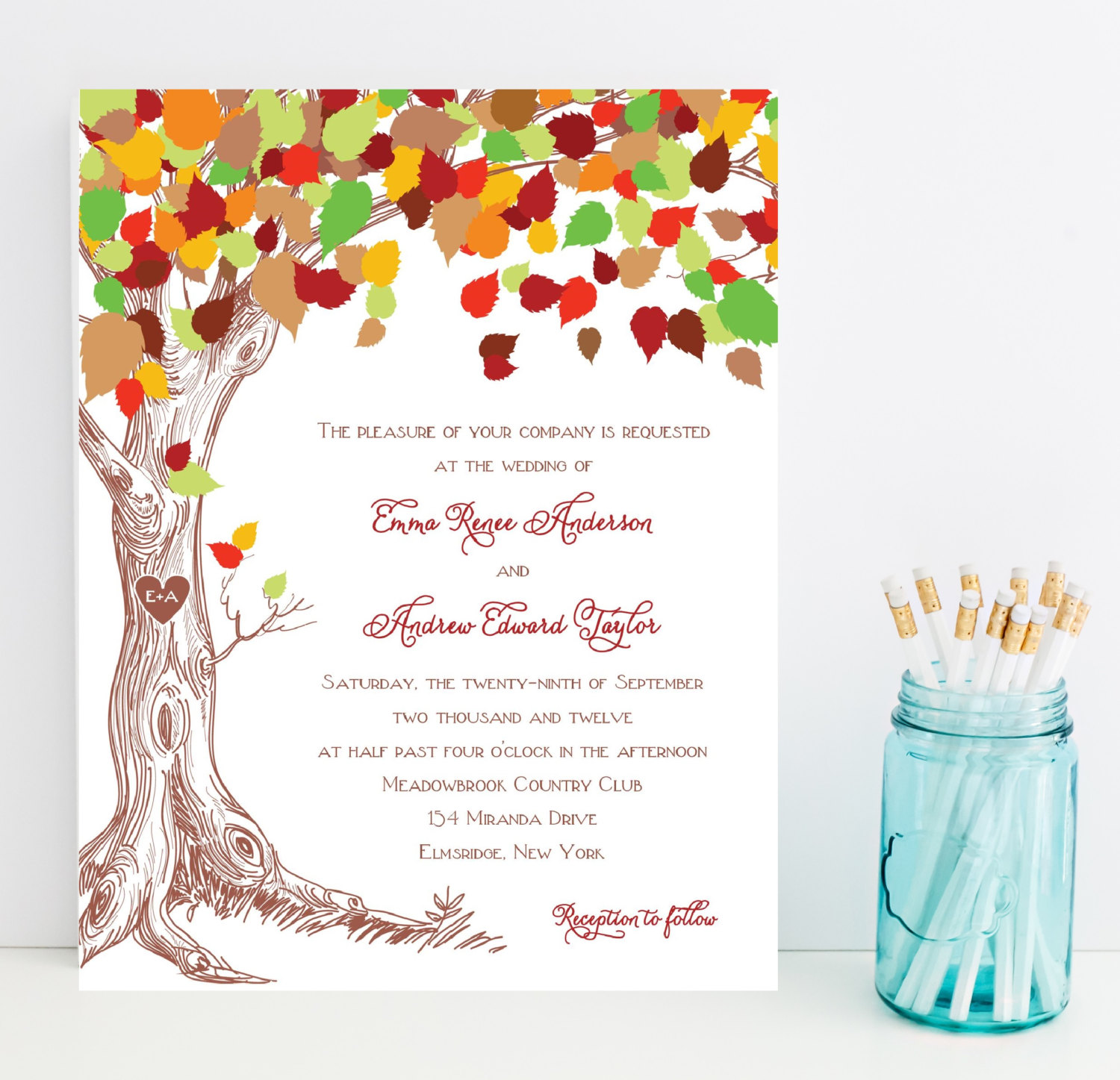 Fall Woodland Wedding Invitations by Whimsical Prints
This fall themed woodland wedding invitation features a gorgeous tree with carved initials and bright fall colored leaves. The reds, oranges, greens, and browns make this fall wedding invitation come alive!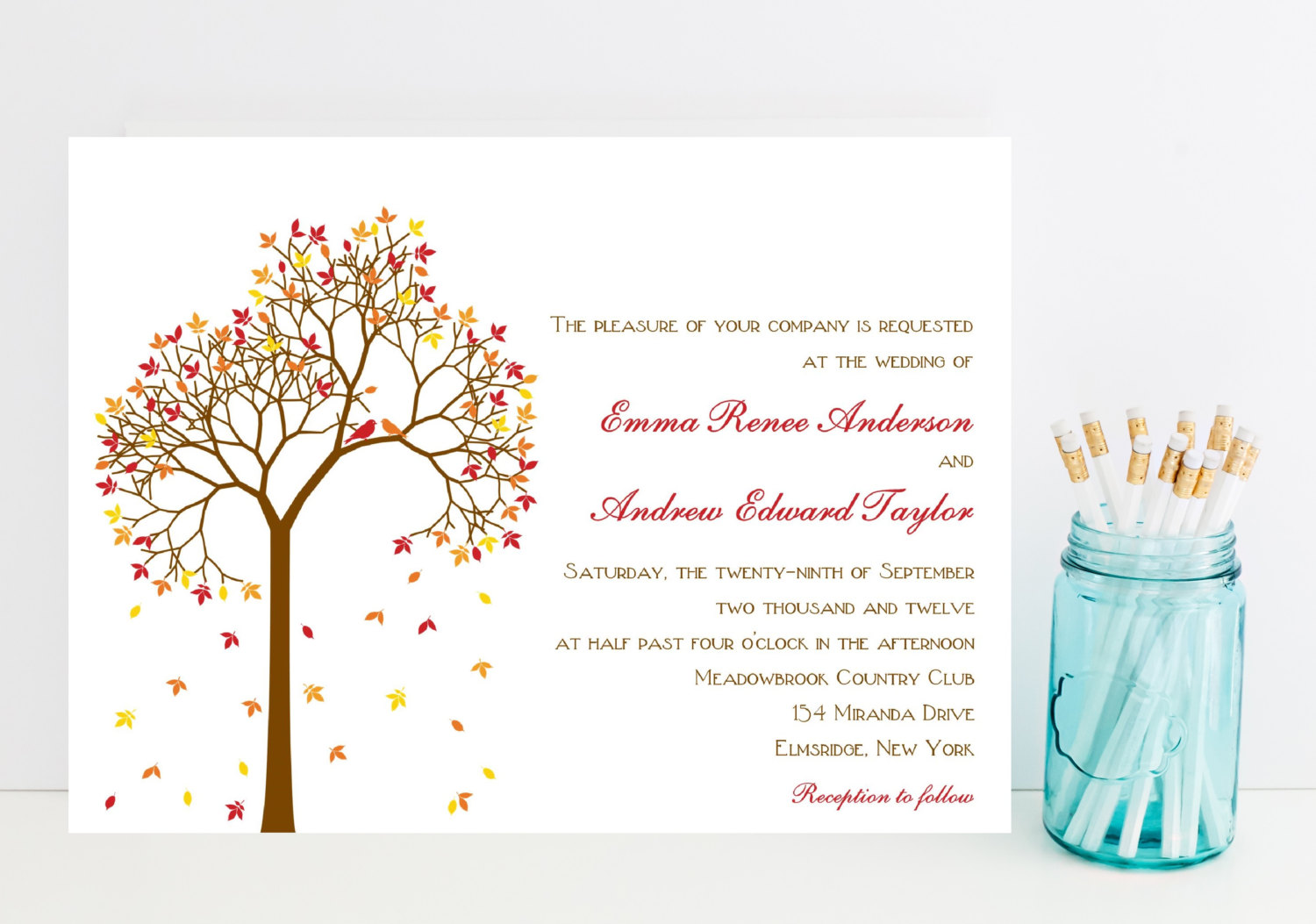 Fall Tree Wedding Invitation by Whimsical Prints
Another fall themed wedding invitation featuring a tree with colorful leaves, this invite showcases a pair of happy lovebirds surrounded by a cascade of falling leaves.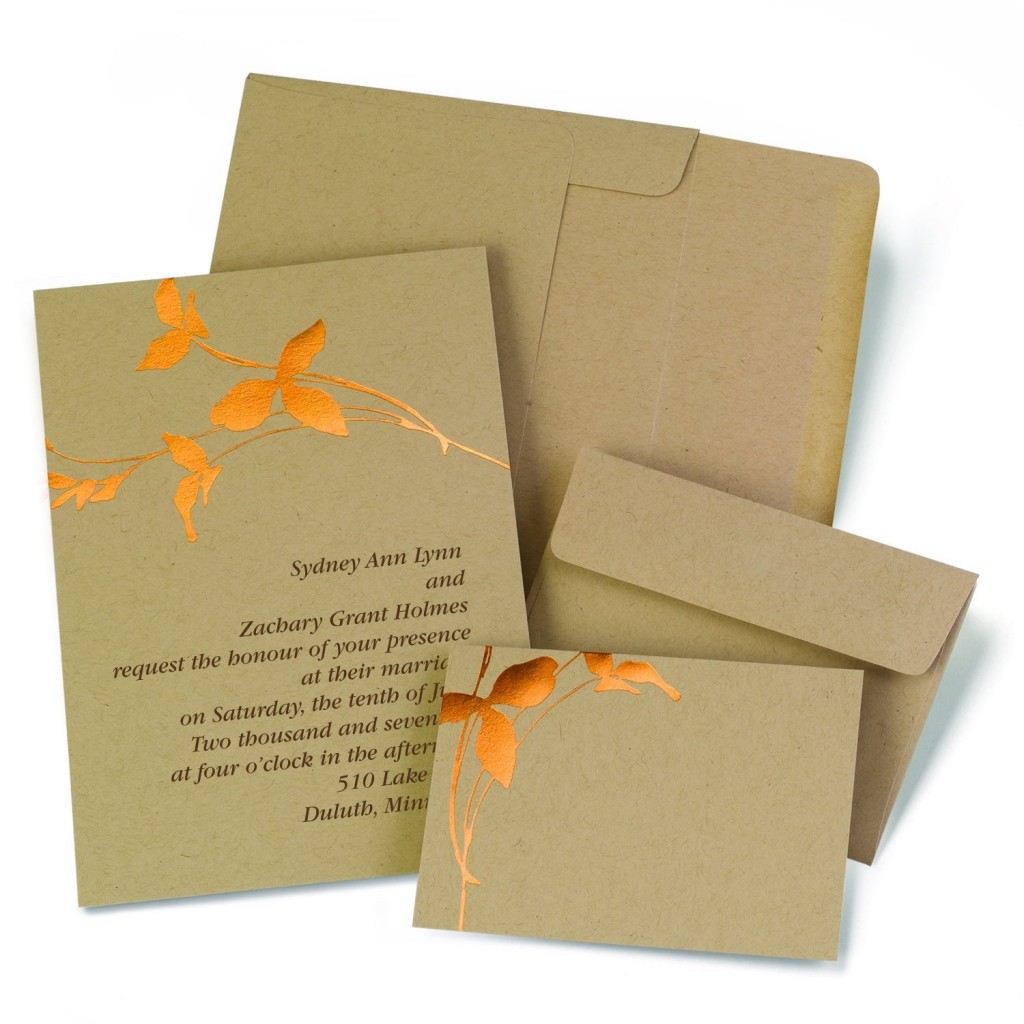 Copper Branches Invitation Kit on Amazon
This DIY fall wedding invitation kit features a delicate leaf design in copper foil on kraft paper. The copper foil's shades of orange hint at the fall season without being over the top.
Those are just a few of the amazing fall wedding invitations out there for sale!
If you'd love more fall wedding content, check out our other fall related posts: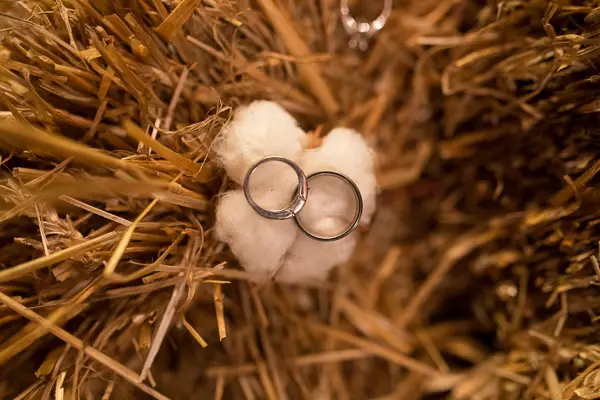 Ryleigh and Tyler's Fall Country Wedding