If you're newly engaged this season you might be working on planning your engagement party, the first event in a series of many wonderful events leading up to your wedding.

Fingerprint Heart Engagement Party Invitations
Why have an engagement party?
People will want to congratulate you on your engagement and doing so in person is much more fun than a phone call. An engagement party is the time for this to happen and it's also the time to introduce key people in your lives that haven't met yet. Mixing different friend groups and family starts at the engagement party so people can begin getting to know one another.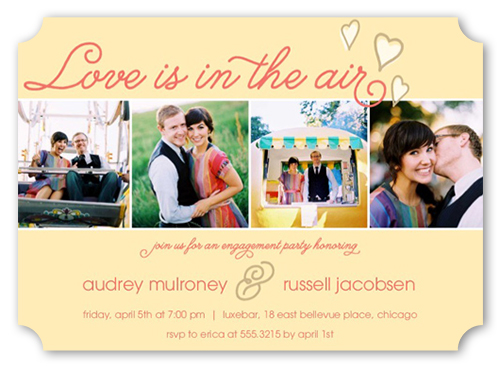 Hearts Afloat Engagement Party Invitation Yellow 5×7 Flat Card
Who hosts the engagement party?
The bride's parents traditionally host the first official wedding related celebration. However, these days most couples are throwing the engagement party themselves. Sometimes friends may host or volunteer but make sure the financial implications of the party are discussed before agreeing.

Forever Together Engagement Party Invitation Black 4×5 Flat Card
When do you have an engagement party?
Engagement parties should happen within a few months of the proposal. It's that fun time after the proposal before serious wedding planning begins. Give your guests a month's notice if possible. Usually 9 to 11 months before the wedding is the ideal time frame for hosting an engagement party. For less traditional routes some couples have engagement parties the night of the engagement.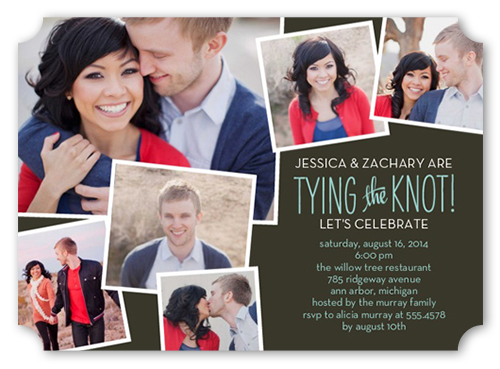 Perfect Knot Engagement Party Invitation Grey 5×7 Flat Card
Where should you host your engagement party?
An engagement party can work almost anywhere depending on how many people you want to invite. The most important element to consider when choosing and engagement party venue is the atmosphere. Do you want everyone in the same room? Maybe rent a private room in a restaurant or bar. Do you want something casual and low key? Maybe host it at home or in the backyard.

Romantic Superhero Engagement Party Invitations
Who should you invite to your engagement party?
Long ago the rules said you should only invite people to the engagement party that you were inviting to the wedding. These days those rules are more flexible thanks to changing expectations. The formality of engagement parties has changed and they often include people who aren't invited to the wedding when the party is hosted by someone other than the couple or parents. If you or your parents are hosting the engagement parties then try to stick to the wedding guest list.

Knotted Engagement Party Invitations
How should you invite people to your engagement party?
Engagement party invitations can be simple and fun. You can order them cheaply online or even make them yourselves if you have time and inclination. If you have a wedding invitations designer they might also design them at a special rate. You engagement party invitation don't have to match the rest of your stationary (those decisions can be made later).
Here are some of our favorite engagement party invitations:

Coupled Heart Engagement Party Invitations

Enchanted Engagement Party Invitations

Two of a Kind Engagement Party Invitations

Now Let's Party Engagement Party Invitations

The Future Mr. and Mrs. Engagement Party Invitations

E is for Engaged Engagement Party Invitations

Garden Engagement Engagement Party Invitations

Weber Grill Engagement Party Invitations
View more engagement party invitations at Minted.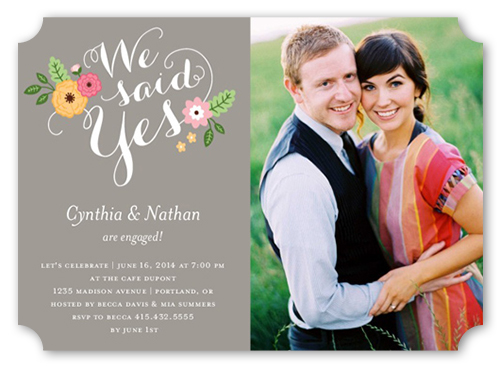 We Said Yes Engagement Party Invitation Brown 5×7 Flat Card

Gleaming Glasses Black Engagement Party Invitation 4×5 Flat Card

Finally Happening Engagement Party Invitation Brown 4×5 Flat Card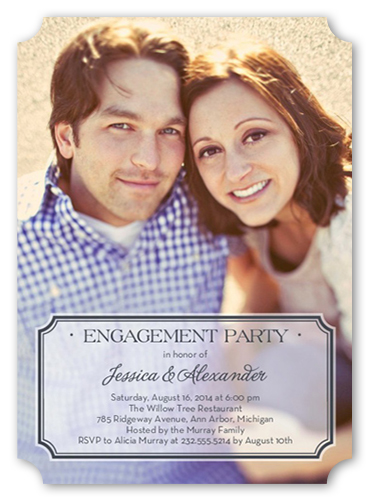 Stylish Affair Engagement Party Invitation White 5×7 Flat Card
View more engagement party invitations from Wedding Paper Divas.
Once you've bought the right invitations and made a list you can send them out.
Next week we will share more about planning your engagement party, from what to serve to what to wear!