Today's post is very special. Our newest (and first!) Mid-South Bride Intern, Sara, is sharing the story of how her sister recently got engaged in Memphis.
The proposal took place at Beale Street Landing on the Mississippi River in Downtown Memphis and Sara was there to capture it all. As Sara writes, "Seeing the reaction on her face as she realized what was happening had made all the secrets worth it."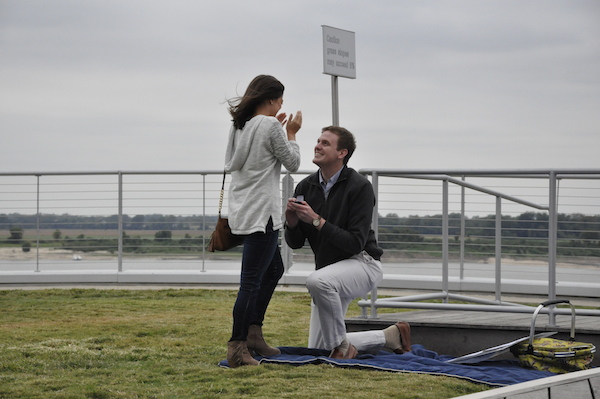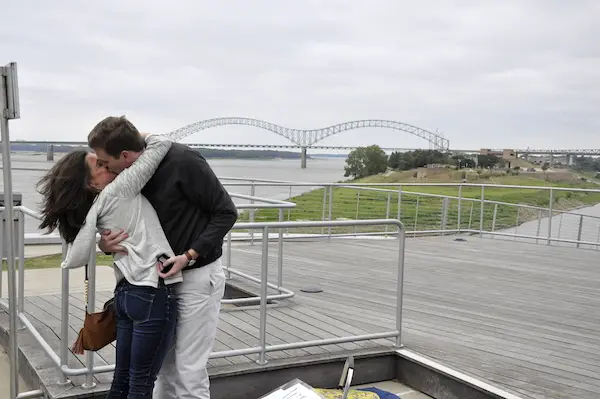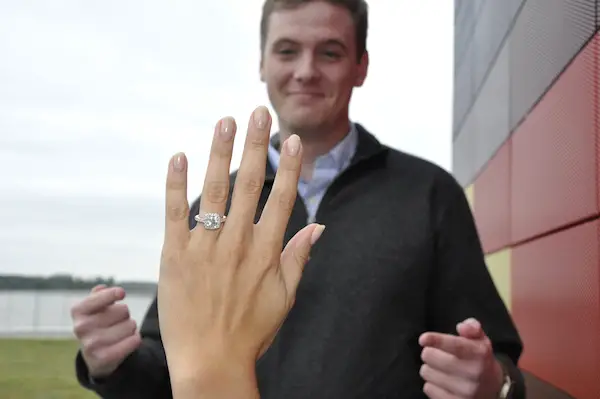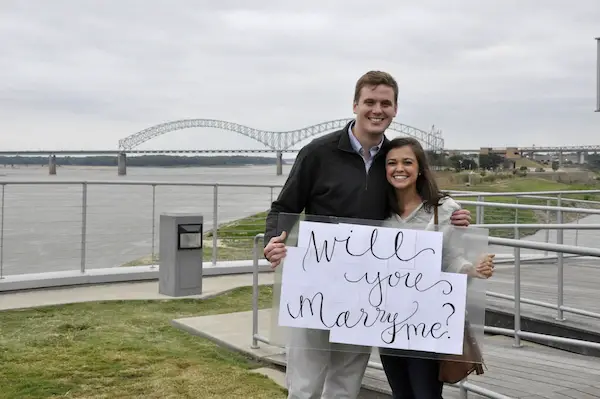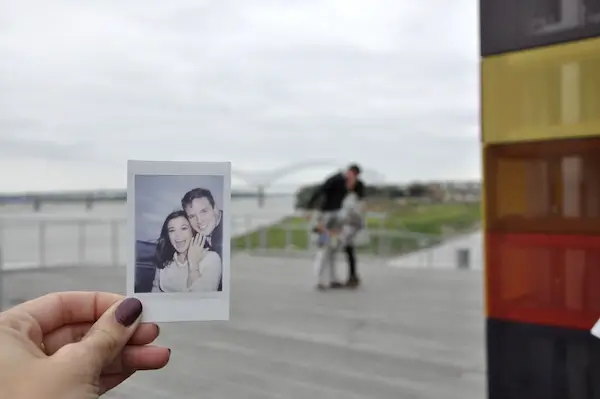 Catherine & Jack's Love Story
Catherine and Jack have been dating for two years and both graduated from Mississippi State University this past May. Catherine is currently living in Birmingham and works at an advertising agency as a social media specialist and Jack lives in Atlanta where he is a sales representative at NAFECO. Catherine's best friend from high school set the two up during the summer before their junior year of college.
Unknowingly, Catherine and Jack had actually met in preschool in Memphis.
"When we began to date, we had all of the typical "getting to know each other" conversations and one that popped up was how he is from Memphis and before he moved to Atlanta, he went to preschool at Germantown Baptist. This blew my mind because I, as well, went to preschool there. So we knowingly met on July 13, 2013 in Jackson, MS at his fraternity's summer rush party. What's funny is we awkwardly passed each other on the sidewalk before getting to the venue. We both just pretended we didn't see each other. Then the rest is history after we met that night. We ended up talking outside during the entire party, not paying one bit of attention to anyone else," says Catherine.
After dating for a few months, Jack saw a potential future with Catherine. After a long weekend for fall break in Memphis he knew his relationship with Catherine was special and different from any past relationships. So two short years later fall break held a surprise that kept Jack's nerves on edge all day.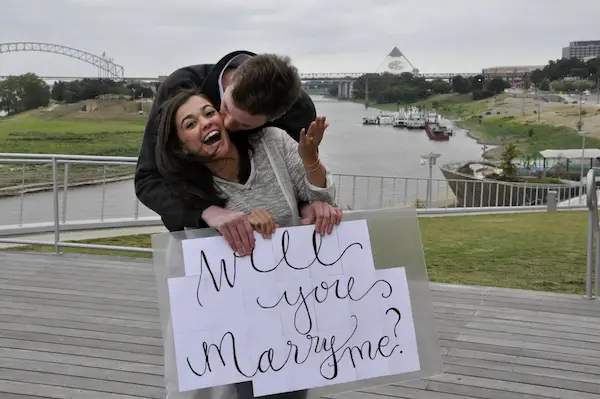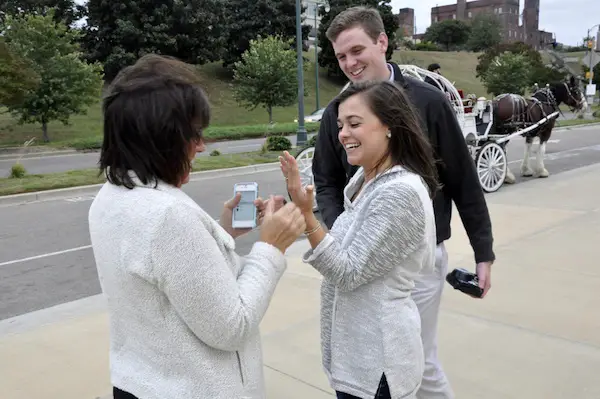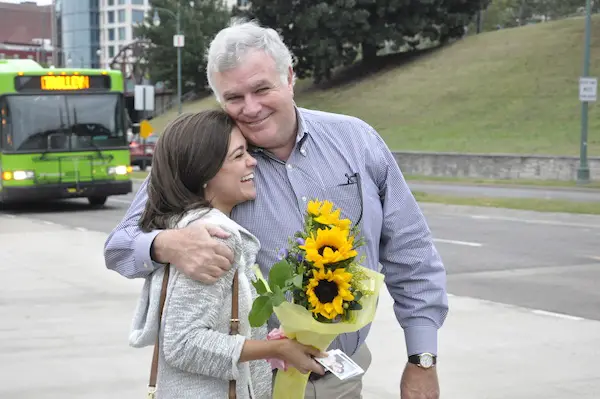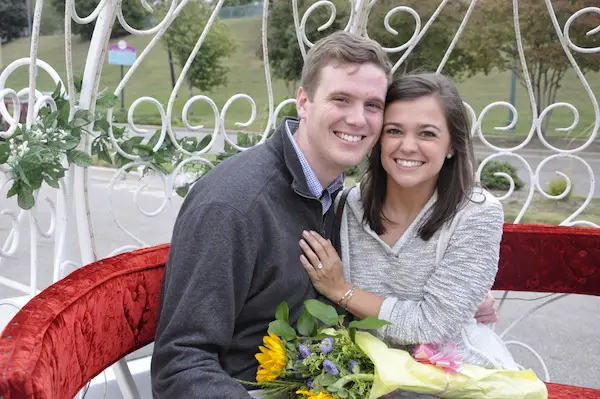 The Proposal
Catherine and Jack came to Memphis with very different ideas on how the day would unfold. Catherine believed they had come to Memphis in order for Jack to meet Catherine's new niece and go to dinner with her brother and sister-in-law, but Jack had the whole night planned.
I went ahead of Jack and Catherine to Beale Street Landing and set up a picnic blanket, basket and a collage of photos of them. On their way downtown Catherine's brother calls to say he'll be late so Jack takes Catherine up to the top of Beale Street Landing. I hide behind the elevator waiting for them to come out to get candid shots of the moment.
Catherine recalls the minutes leading up to the big question saying, "So we go up the elevator and the doors open and we walk out to the roof and I immediately see my family's blanket we've had FOREVER and then a picnic basket and a board of our pictures. It hit me then! So we walk over and look at the pictures and "reminisce," although I'm really just freaking out at what is about to happen! So he grabs my hands and starts telling me how he wants to spend his life with me and then tells me to flip the sign over and on the back of the picture sign, "will you marry me" is written. I could not believe those words were RIGHT THERE talking to ME! So then he gets down on his knee and pops the question and I can't even get words out, I just nod my head and grab him to hug him! I didn't let go of him for so long that he eventually says, "well, let's put this thing on!" After Jack popped the question he tells Catherine they have one more picture they have to take and pulls out a Polaroid camera from the basket. The two take a ring selfie and I come out of hiding to capture more moments of the excitement.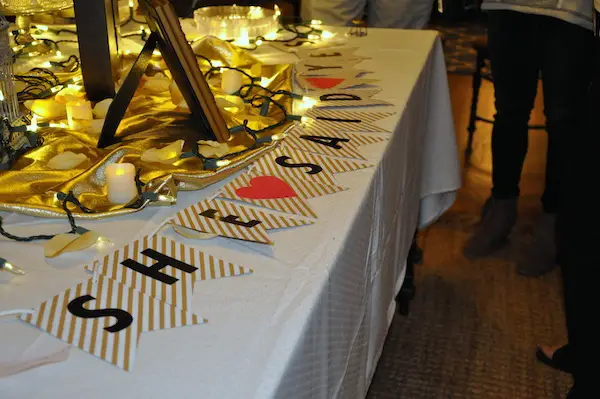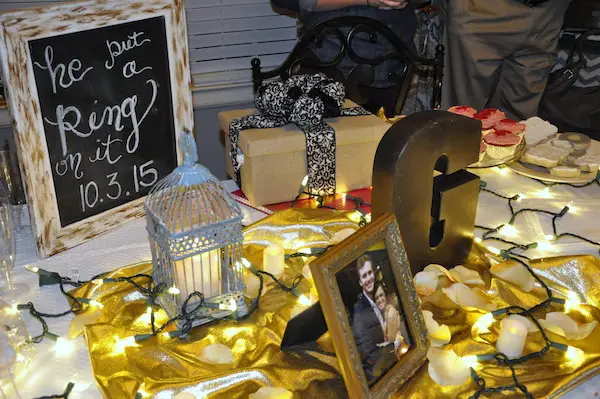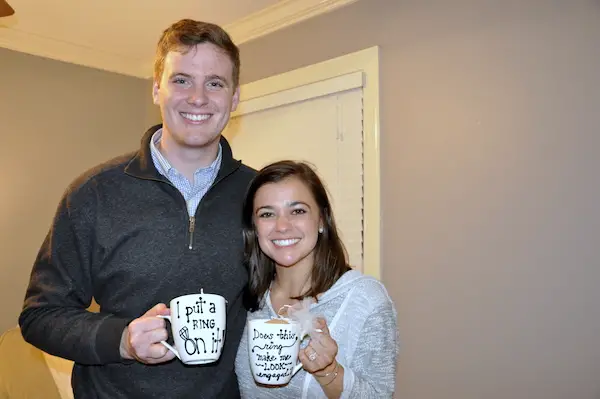 Proposal Celebrations
This was only the beginning of the surprises for the night as Jack handed me the keys and told Catherine they had a ride to dinner. We go downstairs to find both of their parents waiting to congratulate them and a Cinderella carriage ready to show them to their real dinner destination. They ride off and go meet their families at Majestic Grille for dinner.
After dinner there is one last surprise for Catherine. They leave dinner to go have a celebratory party back at her brother's house with more family. "Couldn't have been more perfect," says Catherine after the night concludes and she stares with unbelief at her glistening finger.
The couple has plans for a summer wedding at the end of June. Catherine hopes to plan a wedding that exemplifies the joy of their relationship with a classic touch of Memphis.