Kate Spade has built an iconic brand that evokes a sense of style and fun. We're huge fans as you can tell from our past posts about wedding accessories from Kate Spade and Megan & Brooks Kate Spade Inspired Tennessee Wedding.

Photo: Teale Photography
We love to share Kate Spade whenever we can!
Today we've gathered up our favorite Kate Spade wedding ideas. These can all be purchased either from Kate Spade's website directly or through a trusted retailer linked through our affiliate links.
We hope you enjoy these Kate Spade wedding accessories and Kate Spade inspired wedding ideas!
Kate Spade Inspired Wedding Invites & Save The Dates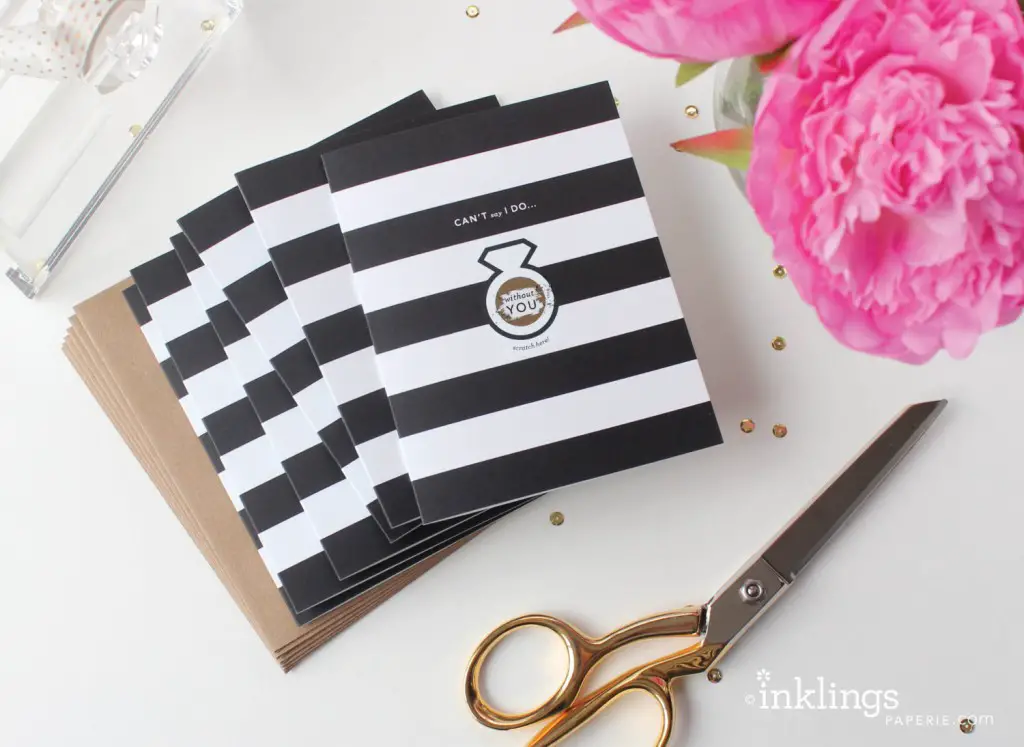 6 Scratch Off Be My Bridesmaid Cards by Inklings Paperie
Let your girls in on your Kate Spade inspired wedding by asking them to be your bridesmaids with these fun scratch off cards! The black and white stripe style with a gold scratch off is the perfect start to a Kate Spade styled wedding.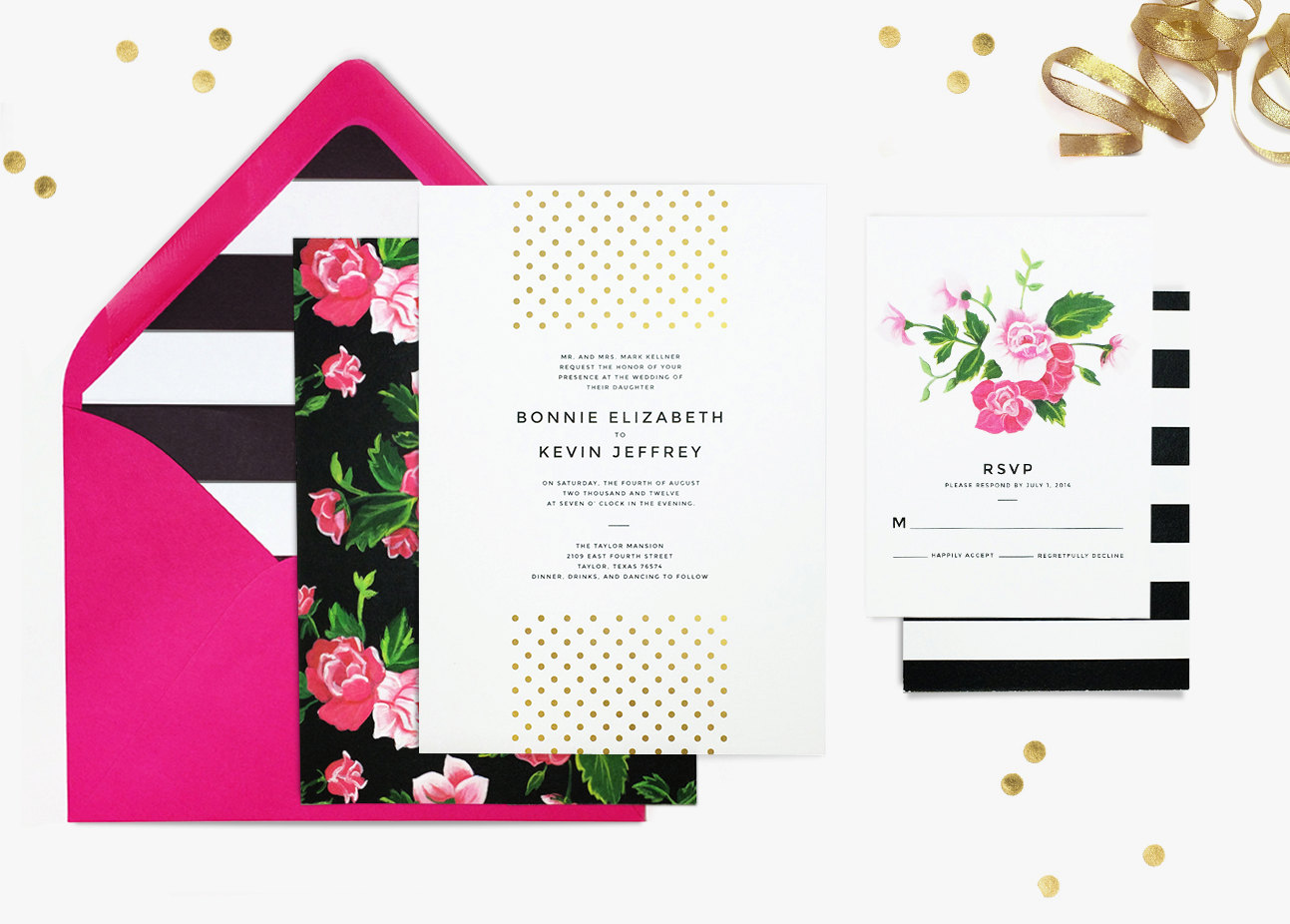 Kate Spade Inspired Custom Pink, Black and Gold Wedding Invitation by Archer and Olive
These stunning pink, black and gold wedding invitations are inspired by Kate Spade and include European-inspired, pointed flap, pink envelope lined with a bold black and white stripe pattern and invitations with a classic gold foil polkadot pattern.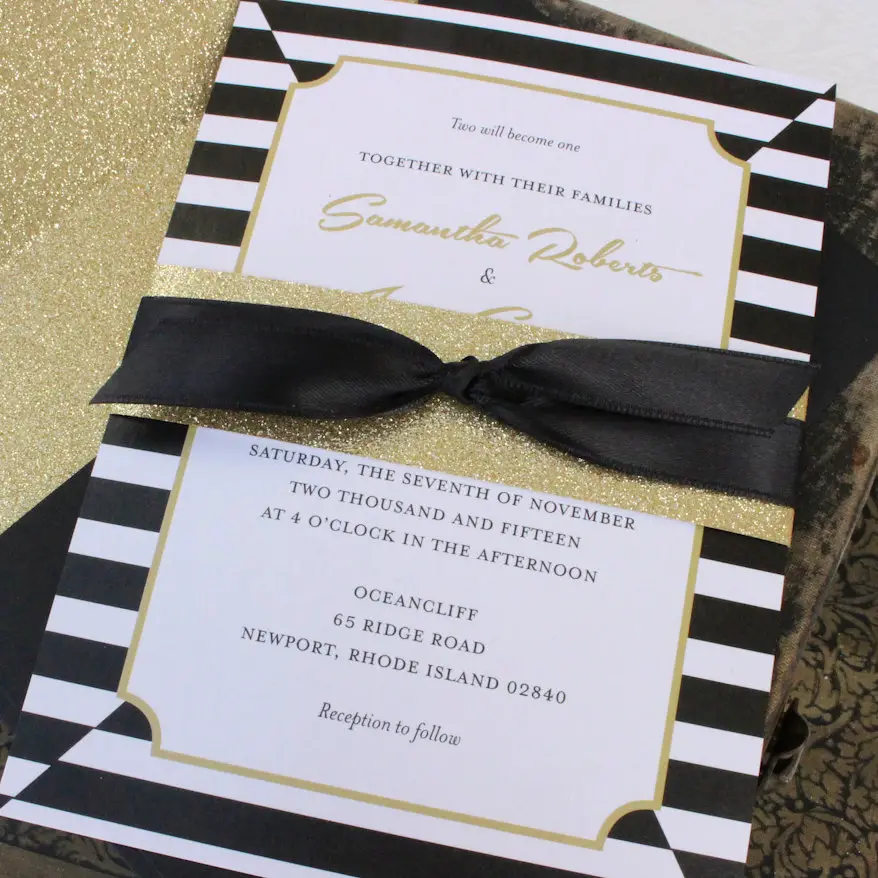 Elegant Black & Gold Wedding Invitation by Beyond Design
Glitter, glitter everywhere! These shimmer invitations have a classic black strip background and gold glitter belly band to bring home the Kate Spade feel. The gold glitter envelope liner completes the look of glitter everywhere!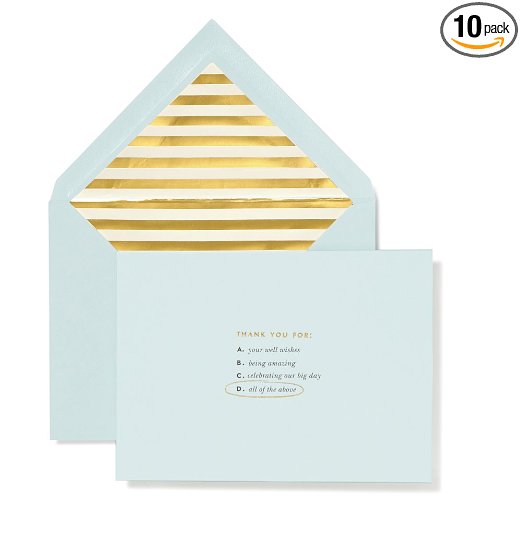 Kate Spade New York Bridal Note Card Set – All of the Above
After the wedding send your thank yous in Kate Spade style with these unique "all of the above" thank you cards. The lovely gold striped lining will make the recipient smile for sure.
Kate Spade Wedding Shoes
What better way to feel great on your wedding day than to wear a pair of Kate Spade heels? From wedges to heels, you'll love all the options for your wedding day shoes from Kate Spade.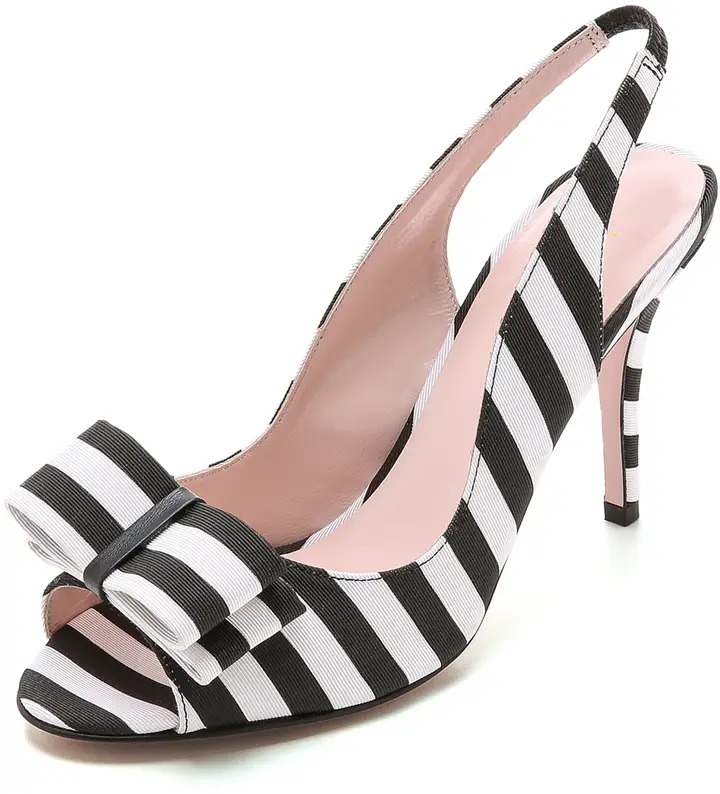 Kate Spade New York Celest Stripe Slingback Heels
These Kate Spade slingback heels in striped grosgrain show off the stylish black and white stripes Kate Spade is known for. The wide bow trims the open toe and add an element of fun.
The grano heels is one of the best selling party shoes from Kate Spade. The shoe's signature mix of satin and bows lets you put a sophisticatedly feminine step forward confidently in your wedding dress.
These whimsical Jackie Heels from Kate Spade feature oversized bow with a ladylike pump heel. The pointed toe provides polish and the upper mesh area adds an element of surprise that adds style while you dance the night away.
These sweet Kate Spade heels with a lovely ribbon heel have a very pretty flourish over the toe that adds tons of interest. These heels are perfect for wearing down the aisle and through your after party.

Kate Spade New York Women's Izzie Dress Sandal
A lovely bridal heel choice, these Kate spade heels are gorgeous and fit perfectly. The bow in the back makes for super cute detail shots!
These Kate Spade wedges manage to create a black-tie-worthy wedge that combines satin and sparkles for a dressed-up look that is still super comfortable. You'll have no trouble walking down the aisle in these wedges that will pair perfectly with your wedding gown.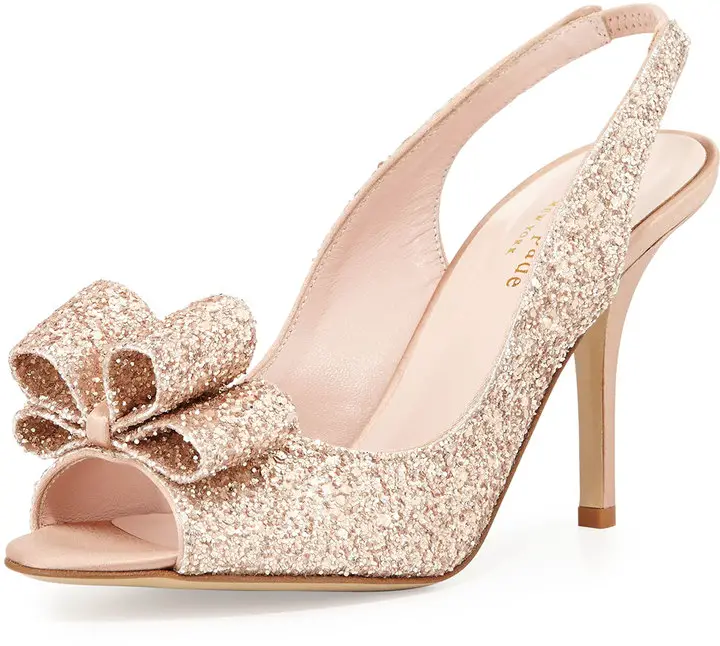 Kate Spade New York Charm Glittered Bow Slingback in Rose Gold
These rose gold stunners will sparkle and shine throughout the day with the rose gold glitter they carry. The bow detail at the peep toe of these Kate Spade slingbacks makes them the perfect mix of fun and sophistication.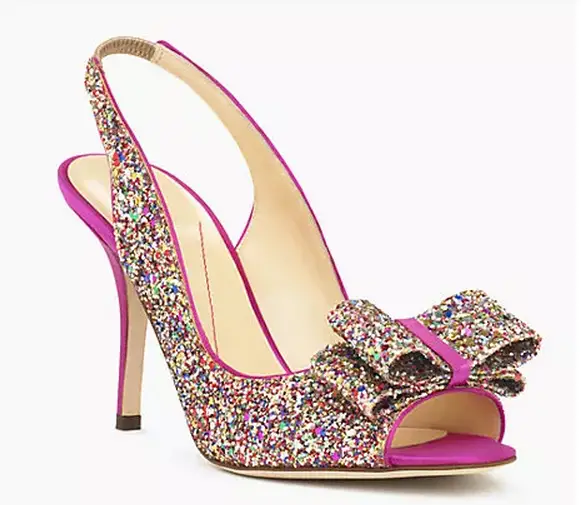 Kate Spade New York Charm Heels
If you really want to sparkle on your wedding day then these Kate Spade heels will bring you the attention you deserve! These gorgeous glitzy heels feature a fabulous bow and open toe.
Kate Spade Wedding Bags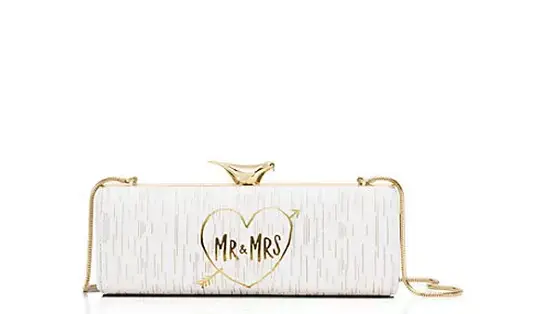 Kate Spade Wedding Bells Mr & Mrs Clutch
This sweet log inspired clutch is the perfect accompaniment to your wedding dress. Proclaim your newly Mr & Mrs status with the "carved" heart in the side and a printing lining that reads two of a kind.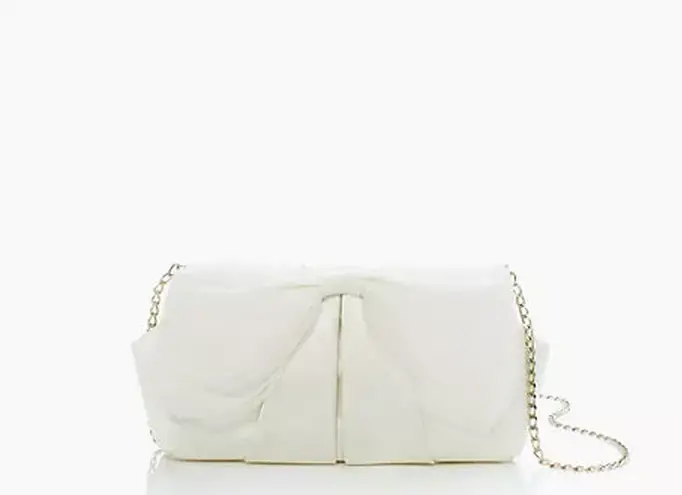 Kate Spade Wedding Belles Adriel
This dainty white clutch from Kate Spade is a wonderful addition to your wedding day and beyond. Crafted from layers of italian silk and silk chiffon it feels light and effortless.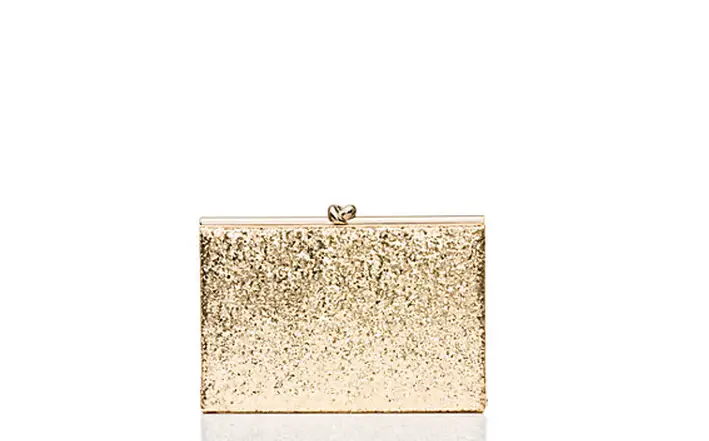 Kate Spade Wedding Belles Gold Knot Clutch
This gold knot clutch from Kate Spade screams party! It is the perfect clutch to carry at your reception or after-party with a very subtle nod to "tie the knot" in the knot closure. Inside the printed lining reads two of a kind which will make you smile each time you open it.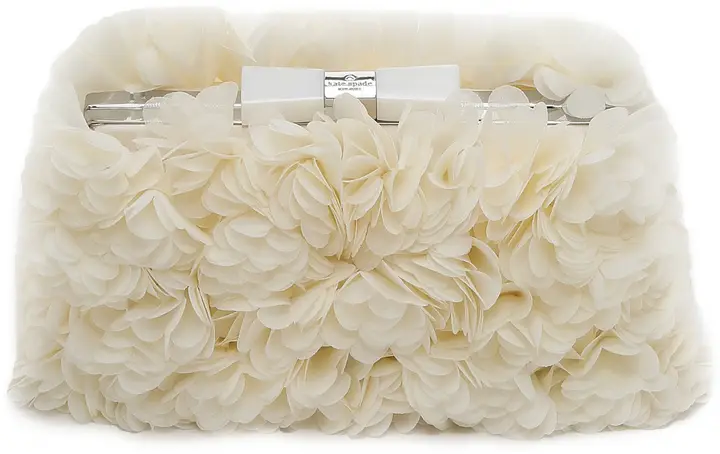 Kate Spade New York Wedding Belles Flower Minaudiere
Dramatic and bridal! This flower minaudiere from Kate Spade features clusters of crepe flowers lend plush texture with a bow-shaped top lock to keep your valuable safe.

Kate Spade Wedding Belles Lucinda Bag
The Lucinda Bag features a Kate Spade bow bejeweled with lots of sparkle. These silk satin clutches are still made in small batches which makes it extra special.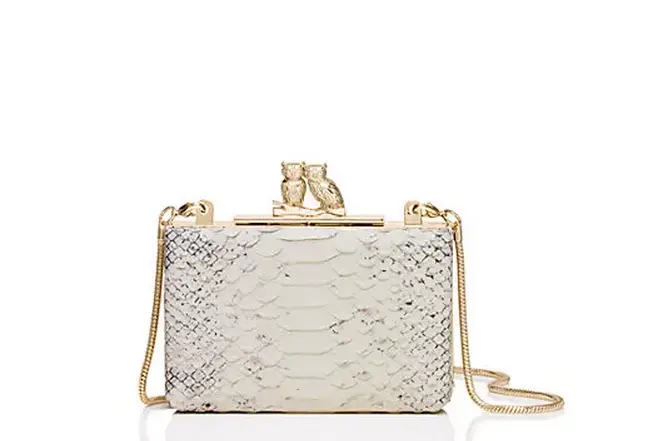 Kate Spade Wedding Belles Love Owls Clutch
Owl lovers, you need this lovebird inspired purse! This python-embossed leather clutch from Kate Spade is topped with two shining owls. It's the perfect size to carry at your reception or to hold all your wedding day essentials.

Kate Spade Wedding Belles Ampersand Clutch
Celebrate the ampersand in Mr & Mrs with this Ampersand Clutch from Kate Spade. It's fun, glitter covered exterior makes it a great choice for your reception or after party giving nod to your newlywed status.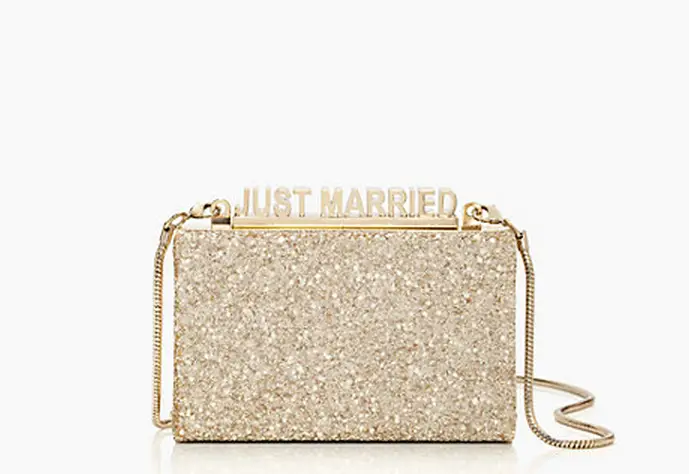 Kate Spade New York Wedding Belles Ravi Clutch
If you want less subtle and more obvious, this Kate Spade Ravi Clutch proclaims your "Just Married" status in the closure. This glitter minaudière with 14K light gold plated hardware will leave no doubt that you just tied the knot.
Kate Spade Wedding Decorations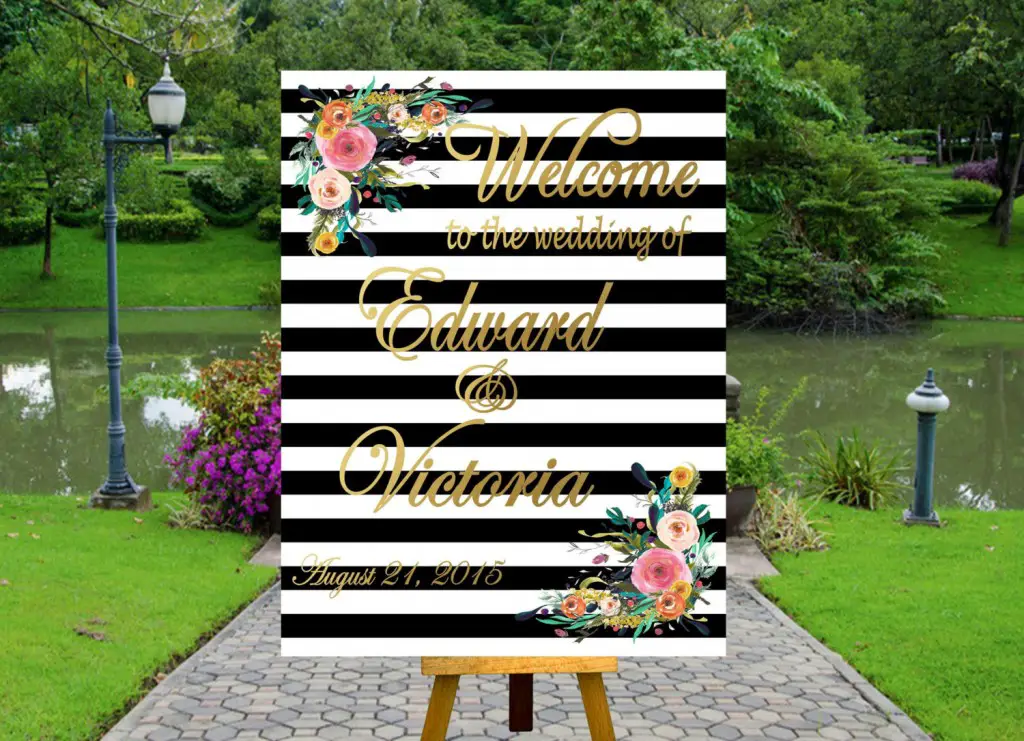 Kate Spade Inspired Wedding Welcome Sign by Ink Me Beautiful
Welcome guests to your wedding with this Kate Spade inspired wedding welcome sign featuring a black and white stripe background, gold text, and pretty florals.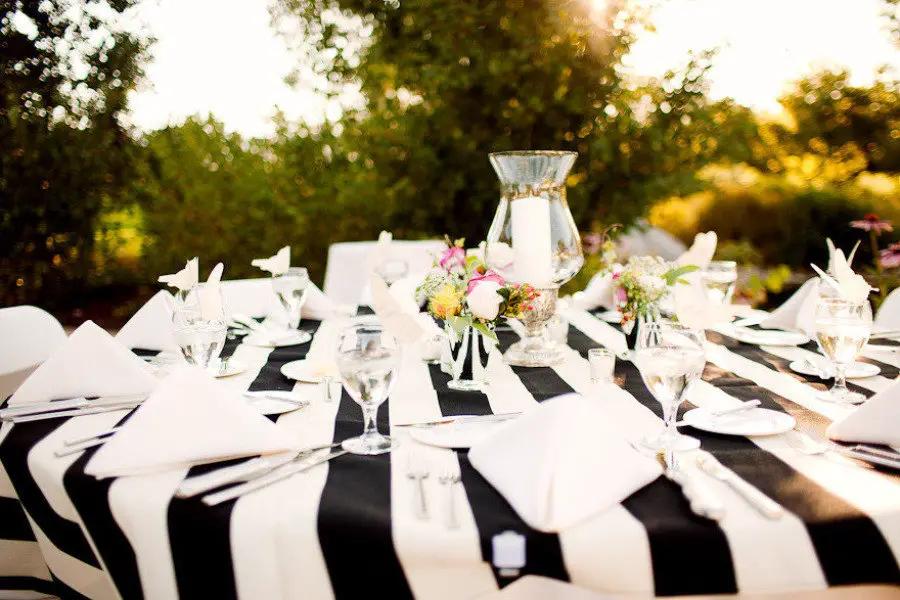 Kate Spade Inspired Black and White Tablecloth by Mylk and Honey
Black and white tablecloth is a great reception decor option for the quintessential classic Kate Spade wedding or a backyard event.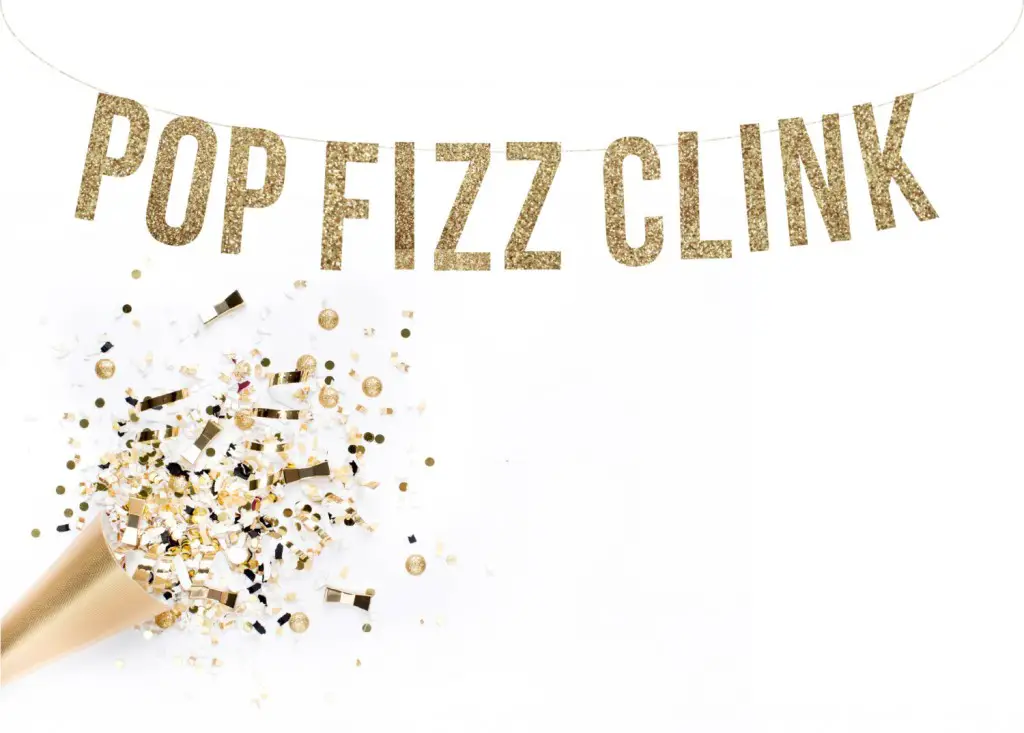 POP FIZZ CLINK Glitter Garland Photo Booth Wedding Banner by Little Retreats
Decorate your wedding photo booth with this awesome POP FIZZ CLINK gold glitter garland inspired by Kate Spade.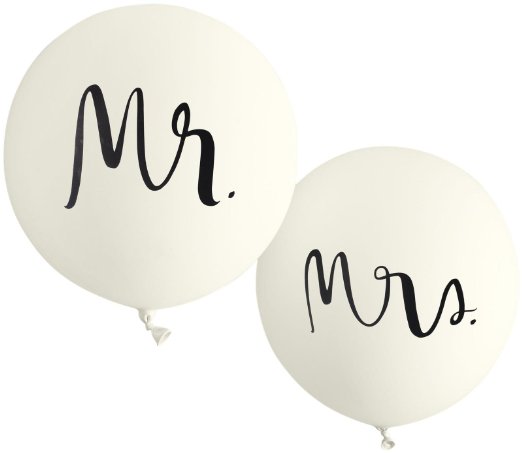 Kate Spade New York Bridal Balloons, Mr. & Mrs.
Decorate your wedding reception with these fun white balloons from Kate Spade that say Mr. and Mrs. The 30″ round balloons create a whimsical touch when bundled together as decorations.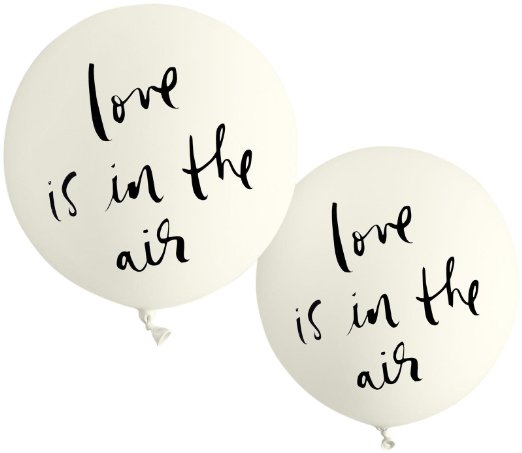 Kate Spade New York Bridal Balloons, love is in the air
Love is in the air at your wedding with these Kate Spade balloons! Mix and match them with other balloons for a fun and whimsical decoration.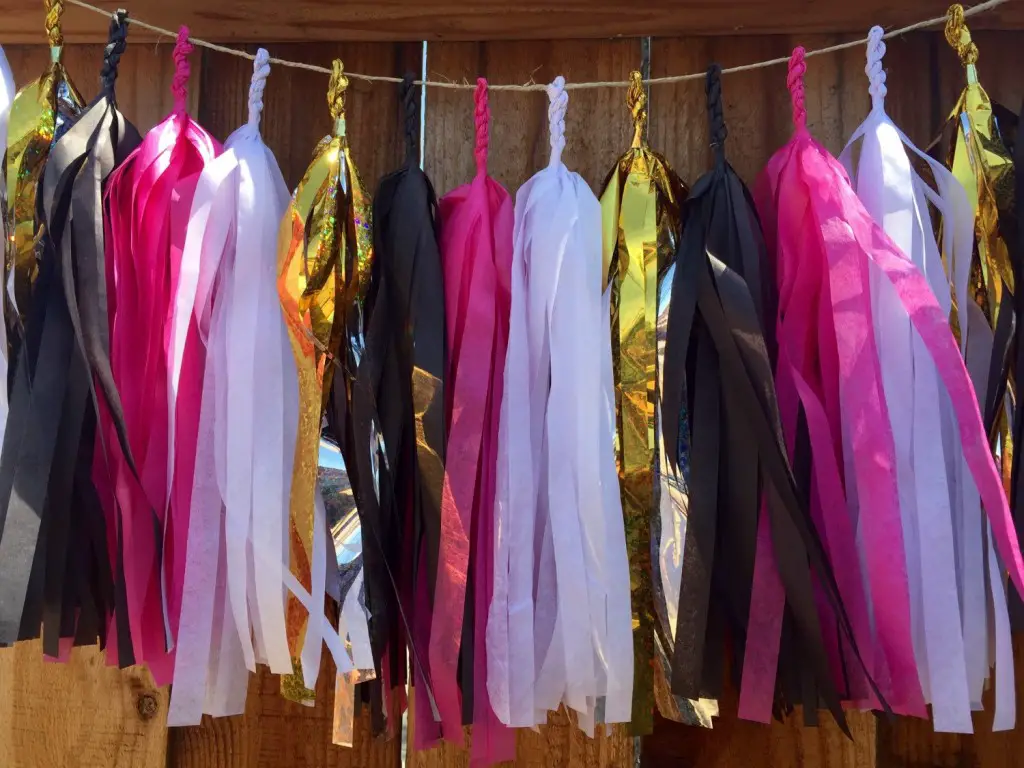 Kate Spade Inspired Black, Pink, Gold Tassel Garland by 3 Sisters Pretty Party
Decorate around your wedding reception or photo booth with this Kate Spade inspired tassel garland in pink, black, and gold.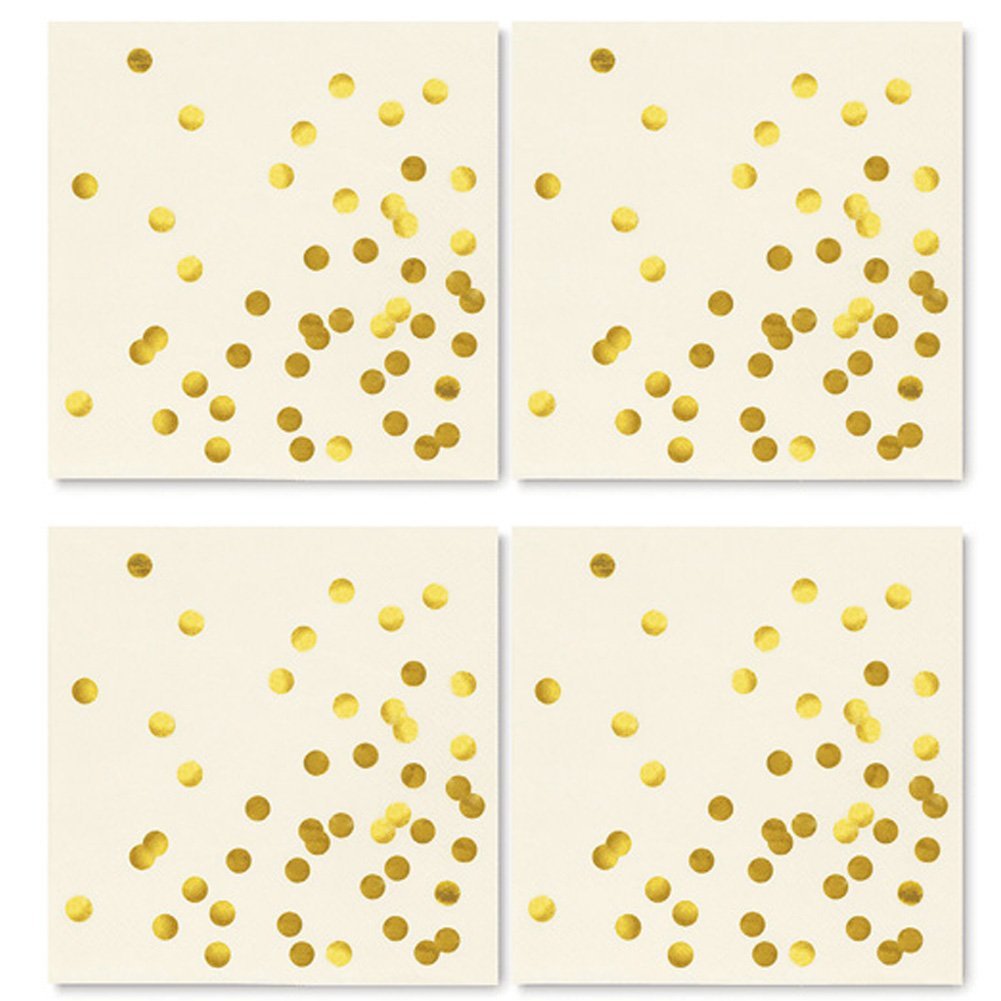 Kate Spade New York Cocktail Napkins Gold Dot
Add a touch of sparkle and classic Kate Spade to your cocktail hour when you use these gold dot Kate Spade cocktail napkins!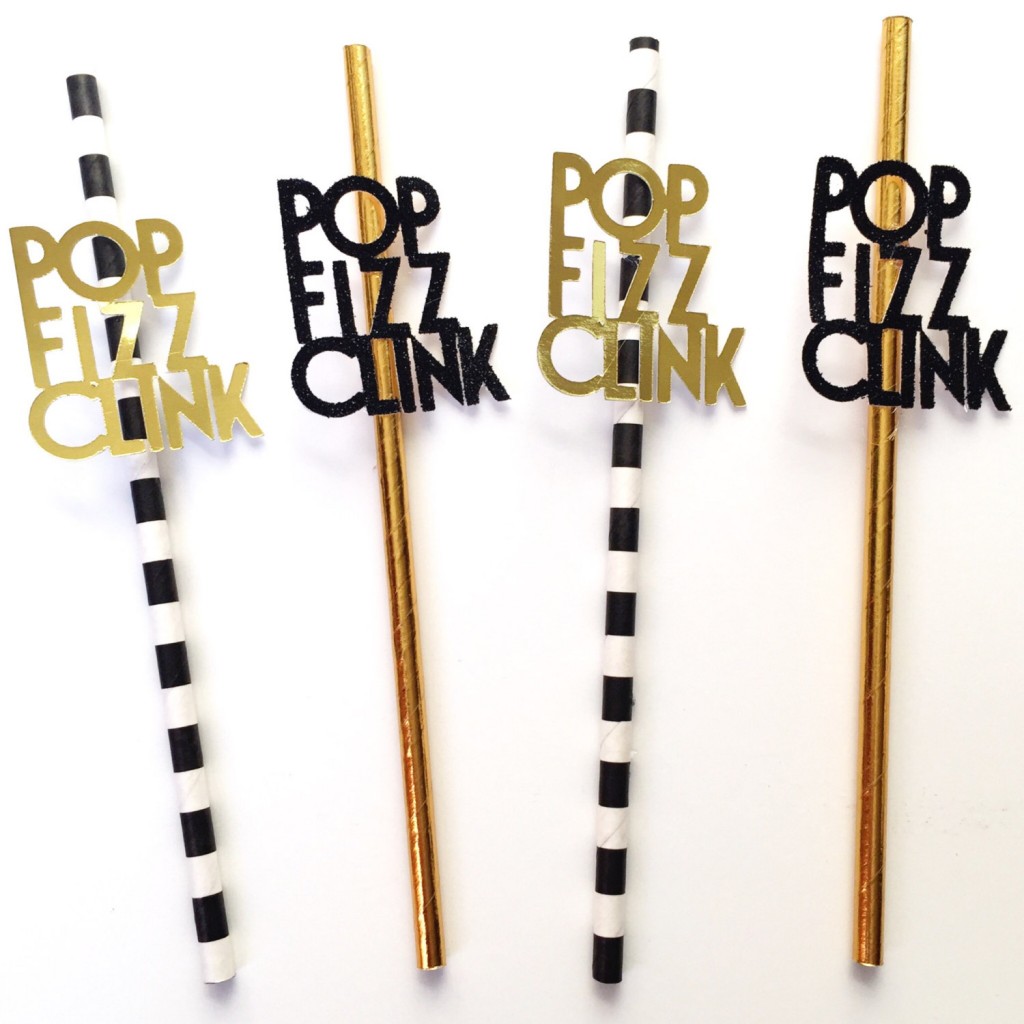 Pop Clink Fizz Straws by A Fancy Hostess
Pop! Clink! Fizz! Whether you are drinking at your wedding reception or a pre-wedding party, these fun gold and black and white striped straws are sure to make the drink more fun.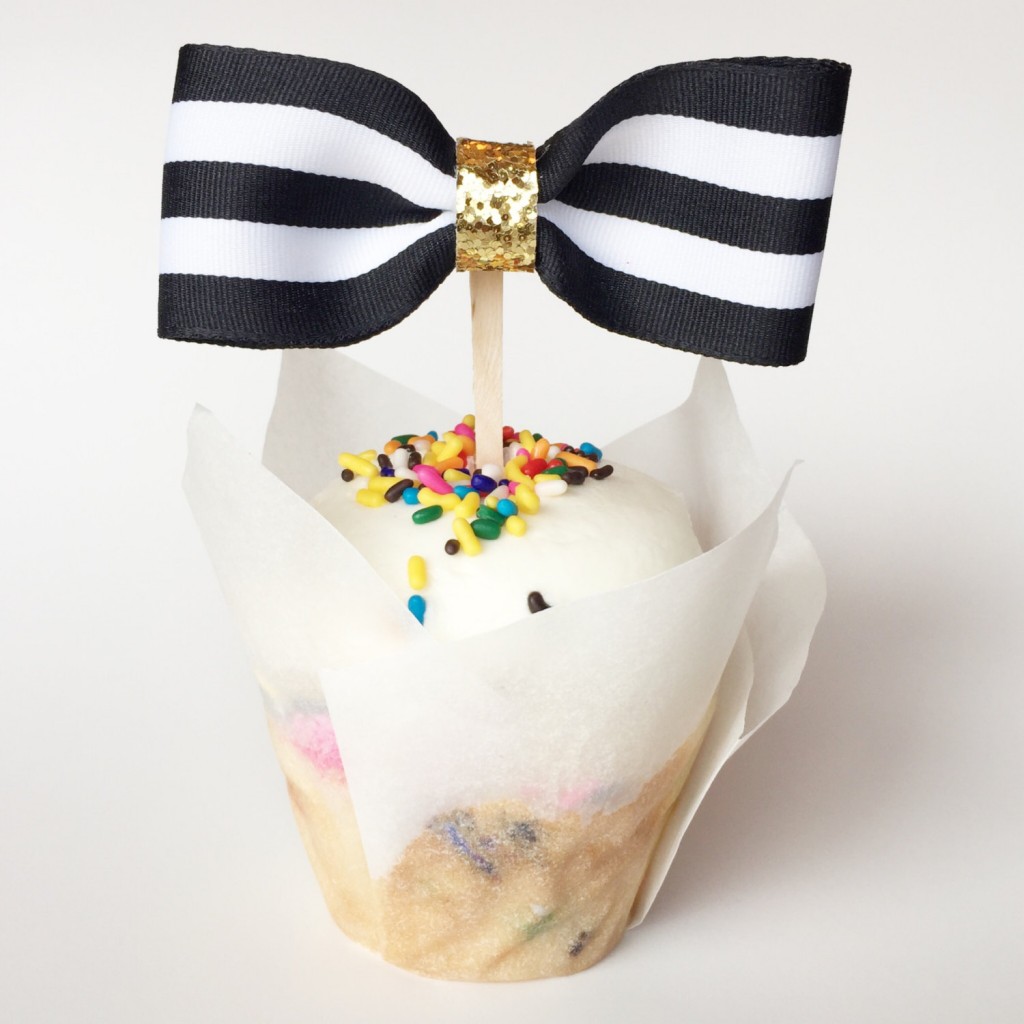 Bow Cupcake Toppers Kate Spade Inspired by A Fancy Hostesss
These adorable bow cupcake toppers inspired by Kate Spade would be a hit on top of cupcakes at your wedding or any bridal event.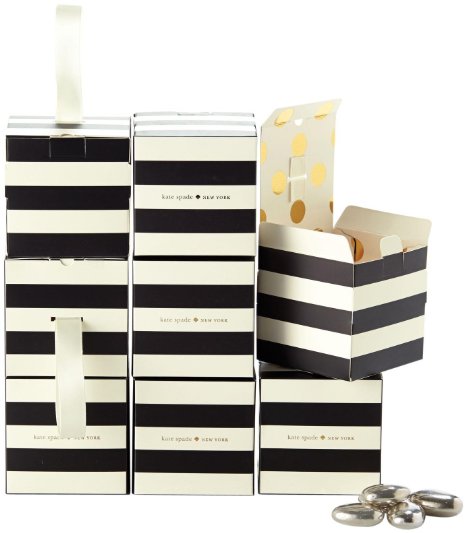 Kate Spade New York Favor Boxes, Treats & Trinkets
Send your wedding guests home with favors in these fun Kate Spade favor boxes. This pop-up treat box with Kate Spade's signature mix of black and cream stripes for a quick-and-easy DIY with an eye-catching end result.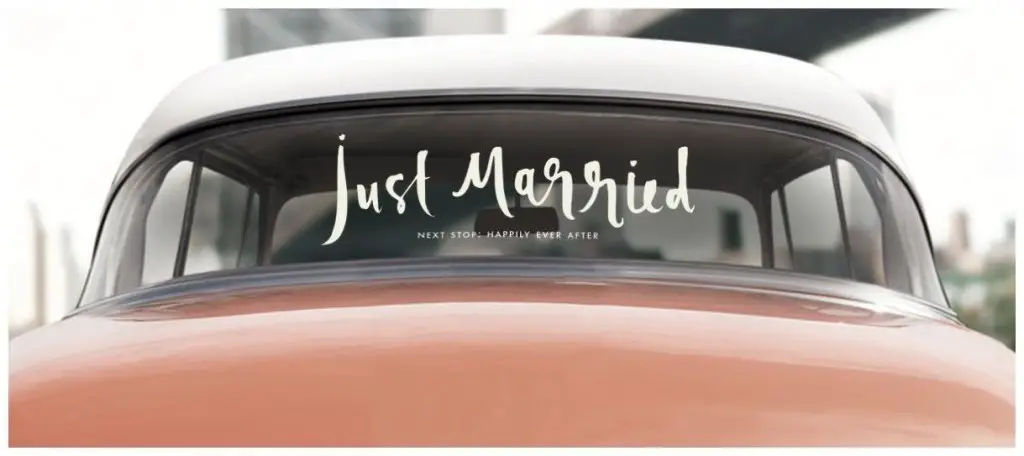 Kate Spade New York Window Cling "Just Married"
These super cute window cling from Kate Spade will let you decorate your getaway car with a sweet decal that marks your newly just married status. Next stop: Happily Ever After.
Enjoy!
Those are just a few of the great Kate Spade options available right now to brides who want a little touch of fun and glitter at their wedding. Let us know which ones you choose to use!
We love all the Kate Spade wedding accessories and decorations from Kate Spade New York and designers inspired by the brand. Hopefully you found something you loved too!