When you're designing your wedding reception tables you probably have considered your centerpieces and plates, but have you thought about your chair signs? Wedding chair signs are a fun option for making the bride and groom's seats stand out whether they are mixed in with guests or alone at a sweetheart table.
Today we've picked 10 of our favorite bride and groom wedding chair sign options. Some of the links in this post are affiliate links, meaning, at no additional cost to you, we will earn a commission if you choose to make a purchase. Thank you for helping Mid-South Bride continue to run!
Bride and Groom (and Mr. & Mrs.) Wedding Chair Signs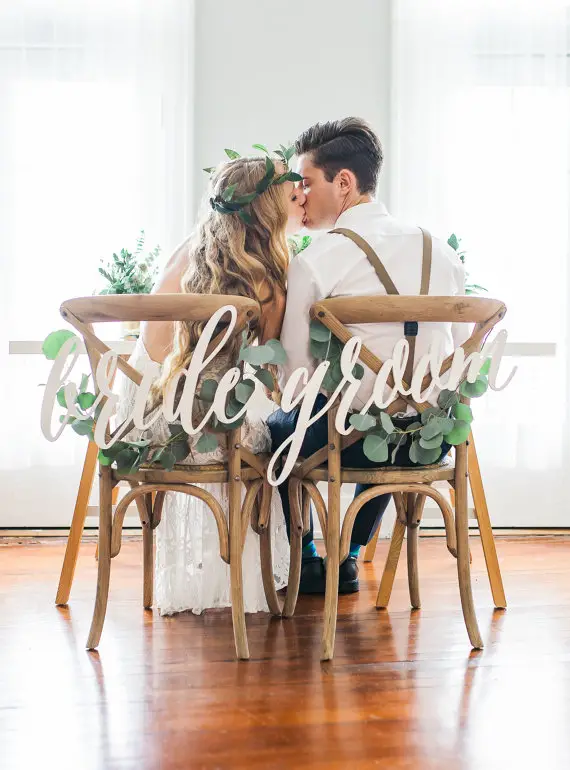 Bride and Groom Chair Signs for Wedding by ZCreateDesign
These Bride and Groom wedding chair signs are carved words in the most stylish font. You can hang them directly  from your sweetheart table chairs or also use them as photo props! Etsy seller ZCreateDesign sells these hanging chair signs and will paint them in the color of your choice to match your decor and venue colors. These signs are painted front and back so they look good from photos in all directions.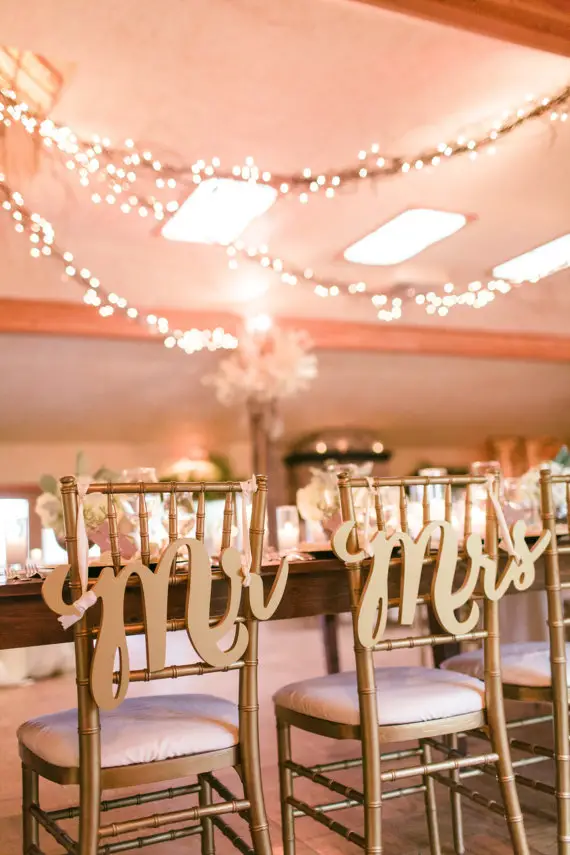 Mr and Mrs Chair Signs for Wedding Decor Wooden Hanging Sign by ZCreateDesign
"Mr & Mrs" wedding chair signs in a thick cut script font will add that little extra something to your sweetheart table chairs. These elegant chair signs look great on any style chair so the styling possibilities are endless! We love the gold chair signs with gold chiavari chairs in this picture from ZCreateDesign.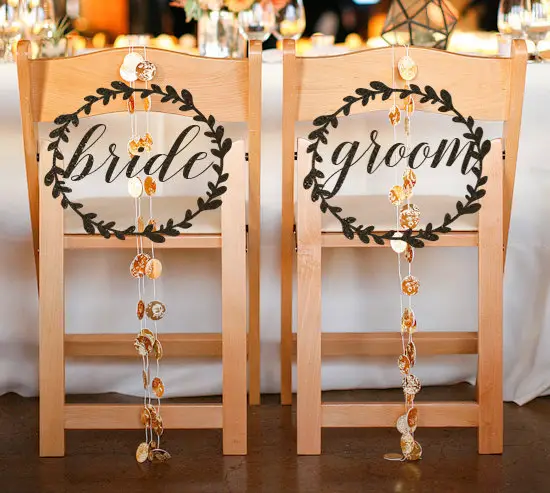 Bride and Groom Chair Signs by Tie The Knot Shoppe
These decorative"Bride" and "Groom" wreaths look great in photos of the bride and grooms chairs and could be used for numerous wedding styles. The wreath chair signs from Etsy seller Tie The Knot Shoppe are customizable by color and the words included if you prefer to use "Mr." and "Mrs.", your names, and sweet nicknames!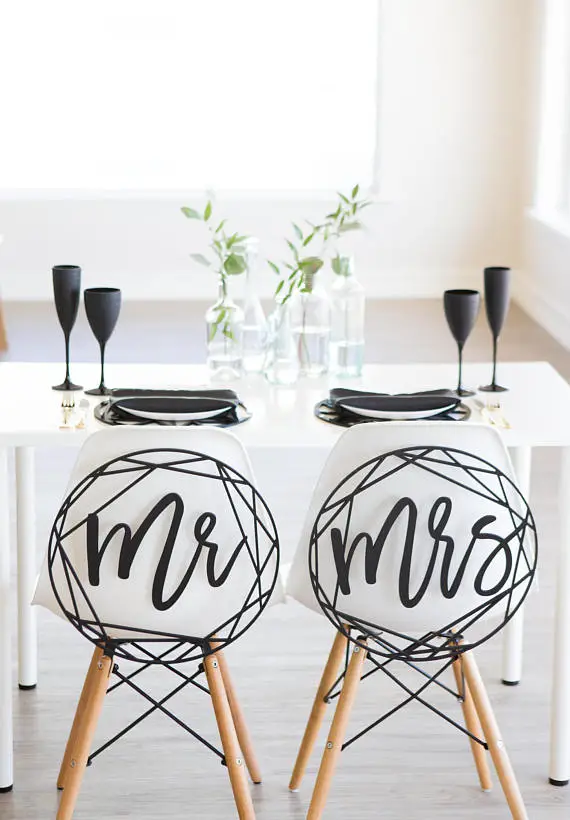 Modern Geometric Mr. & Mrs. Wedding Chair Signs by ZCreateDesign
We love geometric styles (I used a lot of geometric designs in my own wedding!) so of course these amazing modern geometric mr and mrs signs are a favorite. This wedding chair sign set is precision cut and painted in your color choice. This unique choice works well with modern styled chairs and venues. They also would make great home decor after the wedding!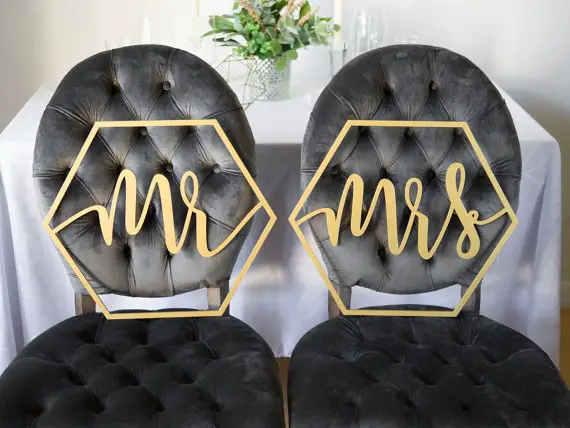 Hexagon Bride and Groom Wedding Chair Signs by ZCreateDesign
Hexagons have been popular for a while in home and wedding designs. These beautiful"Mr" and "Mrs" hexagon wedding signs are the perfect addition to a modern and funky wedding style. Whether you choose gold or another color of your choice, these wedding chair signs are sure to stand out.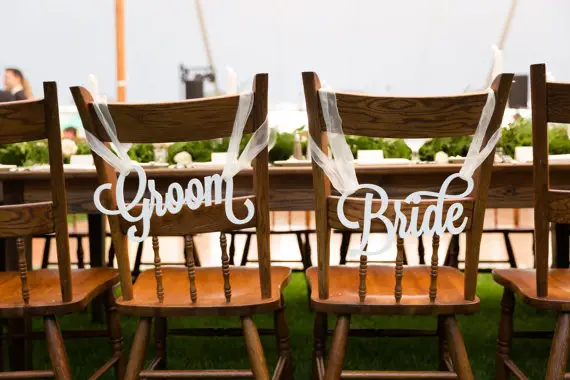 Hanging Bride and Groom Chair Wedding Signs by ZCreateDesign
These more traditional looking Bride and Groom wedding chair signs in a beautiful script will make your seats stand out! You can get these chair signs in any color or even glitter.  Style them with ribbon, lace, or twine depending on the rest of your wedding decor.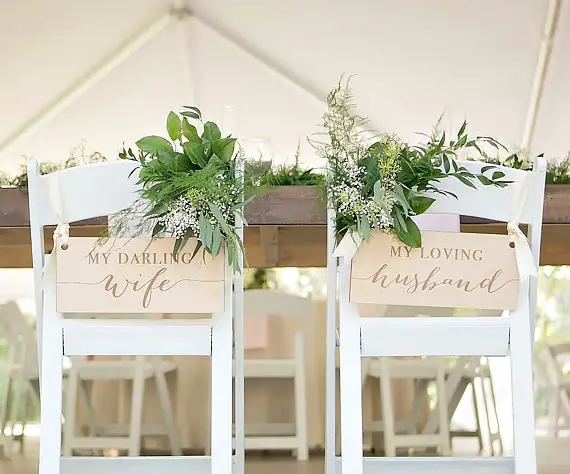 Darling Wife & Loving Husband Rustic Wooden Chair Signs by ZCreateDesign
If you are planning a more rustic style wedding reception you might want to consider these sweet wooden signs that read "My Darling Wife" and "My Loving Husband".  These romantic chair signs are engraved in rustic wood with a sweet script font, perfect for a rustic styled sweetheart table.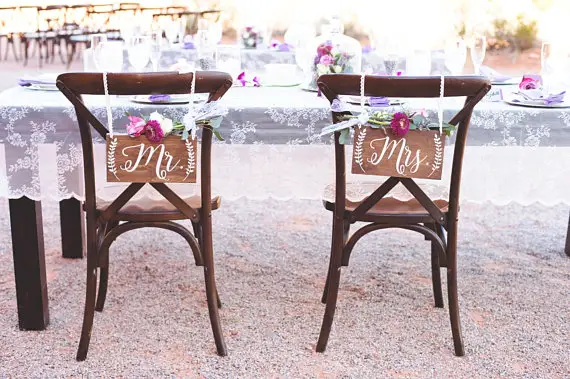 Mr and Mrs Rustic Wedding Chair Signs by Cypress and Whim
Beautifully painted Mr. and Mrs. rustic wood chair signs with laurels are an excellent way to decorate your wedding table chairs. These signs pair perfectly with ribbon or twine and can be styled for a romantic look with flowers like the photo shared by Cypress and Whim.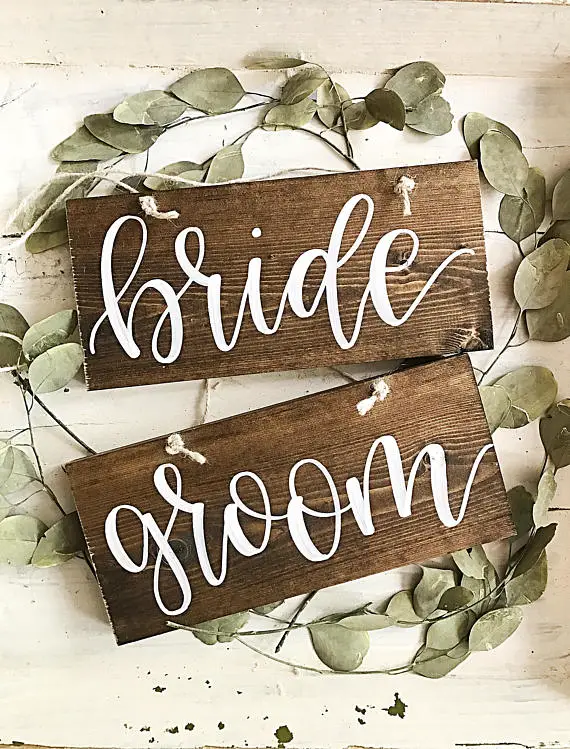 Bride and Groom Sweetheart Table Rustic Wood Wedding Signs by Salvaged Chic Market
Another rustic wedding chair option is these hand painted, hand letters "Bride" and "Groom" hanging chair signs. The medium/dark walnut stain with white lettering creates a beautiful contrast. Paired with greenery these chair signs are the perfect complement to a rustic style wedding table!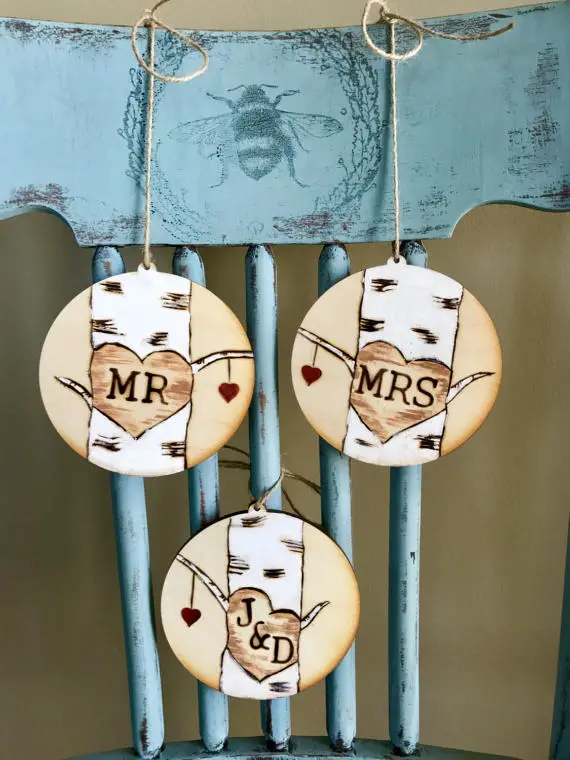 Birch Trees Mr Mrs Wood Chair Signs by Kerley Crafts
Rustic, woodland themed chair signs from Kerley Crafts offer a sweet touch for bride and grooms chairs. Perfect for a rustic, woodland, or outdoorsy wedding, this chair sign set is actually a three piece set with the "Mr." and "Mrs." and your initials! These chair signs make a beautiful keepsake for after your wedding.

Floral Bride And Groom Chair Wedding Sign by Simon + Kabuki
If you're willing to put in a bit of work these printable floral wedding signs are a gorgeous addition to any outdoor or indoor wedding table. Framing the print gives it a lovely definition and can tie in the print with your overall decor.
These are just a few of our favorite signs for hanging on chairs at your wedding. There are also a ton of DIY options where you can make your own chair signs.