The arctic air has blown into town and cooled everything off. Now it's time for the lovely winter weddings to begin. What better way to celebrate than to browse some fun winter wedding favors?
Today we've gathered ideas for winter wedding favors that will work for your winter wedding guests. If you haven't ordered your favors yet enjoy these ideas!
Winter Wedding Favor: Snowflake Bottle Stopper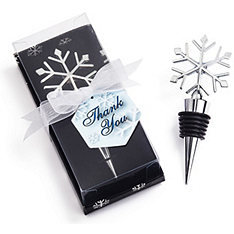 Thank your winter wedding guests with a flurry of fabulousness!
This cute chrome bottle stopper is adorned with a detailed, three-dimensional snowflake to commemorate your day; a rubber gasket on the sturdy chrome base offers an airtight seal.
Each wine bottle stopper arrives ready to gift in a deluxe box with a white organza bow and snowflake-themed thank-you tag. 4 1/2″ x 1/2″ x 3/4″.
Winter Wedding Favor: "Snowflake" Bookmark
It's winter, and you're curled up in your favorite chair next to a roaring fire with a cup of piping-hot chocolate close at hand, reading a best-seller as snow falls from the starry night sky. Sounds like heaven, doesn't it?
Your elegant wedding or dinner party guests will think so, too, when their stunning "Snowflake" Bookmark favor greets them at their table.
Features and facts: Gleaming, metal snowflake bookmark is highlighted by intricate openwork detail Exquisite, ice-blue tassel captures the essence of winter.
Winter Wedding Favor: Glass Snowflake Tea Light Holders
Details: Frosted glass holders with laser carved snowflakes in a silver interior create a beautiful glow. Ideal for adding instant warmth to winter decor.
There is nothing like candle light to set the mood.
Winter Wedding Favor: Snowflake Coasters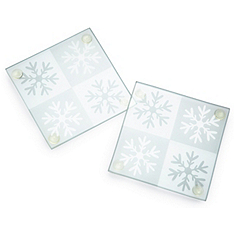 A unique addition to your winter wedding, these classic snowflake coasters make great table décor and wedding favors, too.
Etched with four frosted snowflakes in a checkerboard pattern, these coaster favors are boxed in pairs, ready to gift.
Winter Wedding Favor: Personalized Cocoa Packet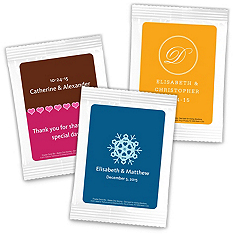 These personalized hot cocoa packets are a cozy way to welcome your guests to your destination wedding, or send them off with a cozy treat after your big day is done.
The individual cocoa packets come personalized with labels in designs of your choice, many of them seasonally appropriate for cocoa, such as a pair of snowmen. we'll also print the label that adheres to your cocoa pouches with your names and wedding date.
These are a must-have for winter wedding favor bags! must order a minimum of 24 packets.
Winter Wedding Favor: Winter Mint Roll
This roll-pack of adorably decorated winter-themed mints is the perfect complement for your winter wedding. The mint rolls come in a variety of designs including snowcapped trees a jolly snowman warm mittens and a winter snowflake.
Available in a choice of peppermint or wintergreen flavored mints. Mints are personalized with the bride's and groom's names and also the wedding date. Please allow 2 weeks for delivery.
Winter Wedding Favor: Winter Mint Packs
Warm guests' hearts with these sweet winter wonderland mint pack favors. Available in a variety of designs including snowcapped trees a jolly snowman warm mittens and a winter snowflake.
Each mint pack comes with personalized bride's and groom's names and the wedding date. Inside guests will find two sealed wintergreen mints. This is a great way to thank your guests for sharing your special day.
Winter Wedding Favor: Scented Pine Cone
These beautiful, authentic ponderosa pine cones come from the Pacific Northwest. Each pine cone stands about three inches tall and is dusted with silver glitter. Choice of cinnamon spice, forest pine, or cranberry spice scent. The pine cones are then accented with beautiful white satin ribbon and a snowflake favor tag that reads "Winter-Scented Pine Cone".
Winter Wedding Favor: Scented Pine Cone Sachets
Our new real mini scented pine cones come packaged in a white or red organza bag with your choice of white or red satin ribbon and perfectly matched pine cone hang tag.
The tag reads "Scented Pine Cone Sachet". Your choice of scent: Forest Pine, Cinnamon Spice, or Cranberry Spice. Each sachet measures 3″x4″. Perfect for a winter wedding!
Winter Wedding Favor: Laser-cut Snowflake Favor Boxes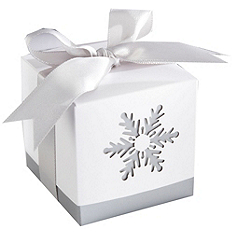 If your wedding is going to be a winter wonderland, consider tucking your favors into this splendid snowflake flavor box.
The white slip-on top features intricate, precision-cut snowflakes which expose the silver gray box beneath it. the favor boxes come with a pretty matching satin ribbon and bow. fill them with everything from traditional jordan almonds or any other little treat sweet enough to send home from your special day. the boxes measures 2″ square and are sold in a set of 24.
Winter Wedding Favor: Snowflake Boxes with Chocolates
Our snowflake take-out box is perfect for winter weddings. Each box comes with a beautiful snowflake cascade in white, light blue, and blue on a blue background with a blue cord. The box comes with three blue foil wrapped chocolates with an embossed snowflake design.
The favors are then wrapped in elegant white, satin-edge organza ribbon and accented with a glitter snowflake.