Since it's been icy and cold here in the Mid-South this week, we decided it was the perfect time to share a list of our favorite winter wedding invitations. Winter is quickly becoming a more popular time for weddings and it's one of the best times to create a unique celebration. We love winter weddings with hot chocolate bars, white bridal stoles, and snowy wedding photos!
Snowflake Wedding Invitations
If you're planning a winter wedding and want a winter wedding invitation, consider one of these sweet snowflake wedding invitations:

Dark Snowfall Wedding Invitations
This winter snowflake wedding invitation with classic fonts evokes a dark winter night snowfall, perfect for a nighttime winter wedding.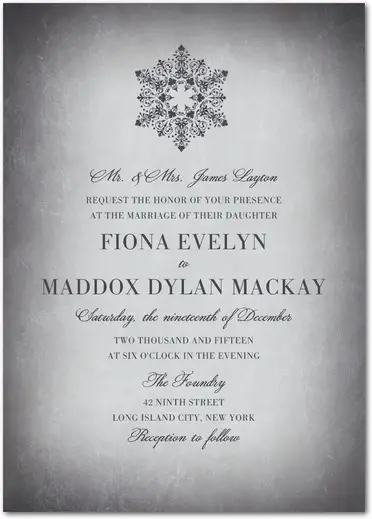 Snowflake Sentiment Wedding Invitations
Similar to the first winter snowflake wedding invitation, this gorgeous design evokes a feeling of a frosty night scene with a detailed snowflake and beautiful scripts.

Winter Wedding Wedding Invitations
The beautifully designed snowflake featured on this wedding invitation isn't a traditional style snowflake which makes it perfect for your unique winter wedding.

Diamond Sky Winter Wedding Invitations
Bright white "diamonds" in the sky mimic snowflakes on this black backgroudn making it a great option for a snowflake wedding invitation without being literal.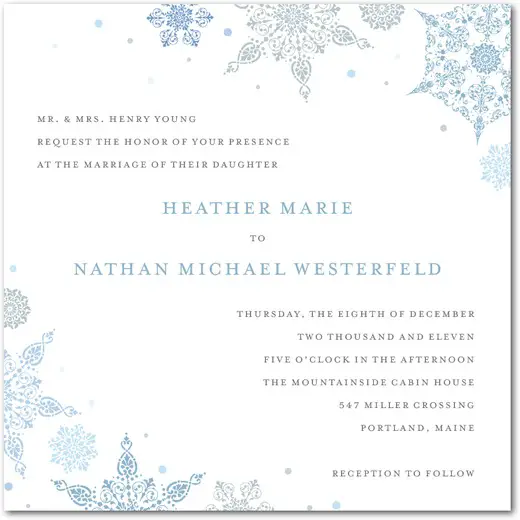 Stately Snowflake Wedding Invitations
Delicate snowflakes in a variety of soft, cool colors surround the important wedding invitation information in this snowflake wedding invite.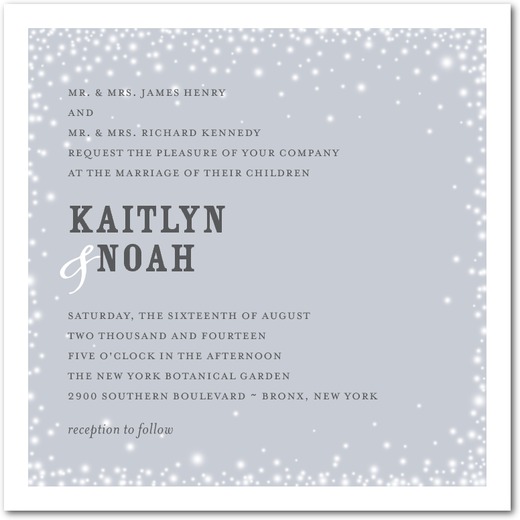 Framed Snowflake Wedding Invitations
This stylish grey and white snowflake wedding invitation features tiny white snowflakes framing your invite.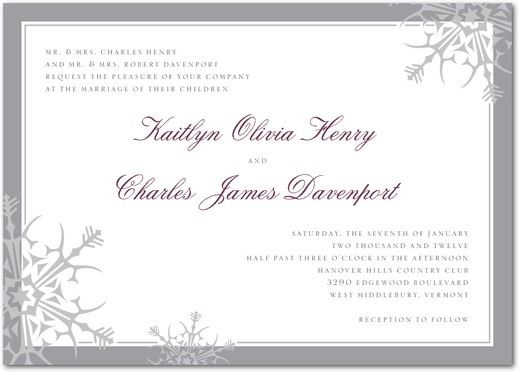 Chic Snowflake Wedding Invitations
These highly rated chic snowflake wedding invitations designed in white, silver, and cranberry are perfect for a winter themed wedding.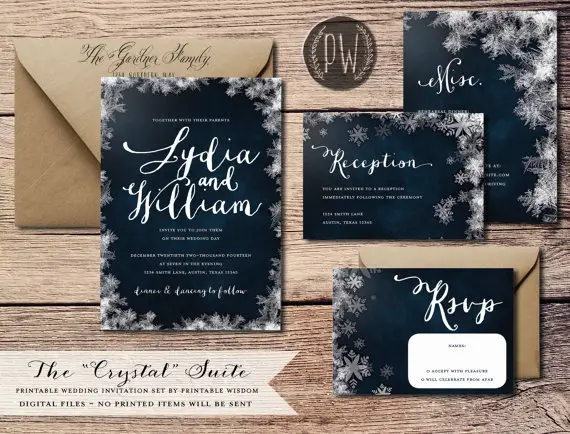 Crystal Suite Snowflake Wedding Invitations
The "Crystal" Suite is perfect for your winter wedding with elegant crystals and snowflakes surrounding a textured navy background and stylish white calligraphy.
Winter Florals Wedding Invitations
This lovely winter wedding invitation doesn't feature snowflakes, but the white winter florals evoke the same feeling so we had to include it!
Snowflake Wedding Announcements
After the wedding you might want to announce your new marriage to those who couldn't make the ceremony. These winter wedding announcements with snowflakes are the perfect way to do it!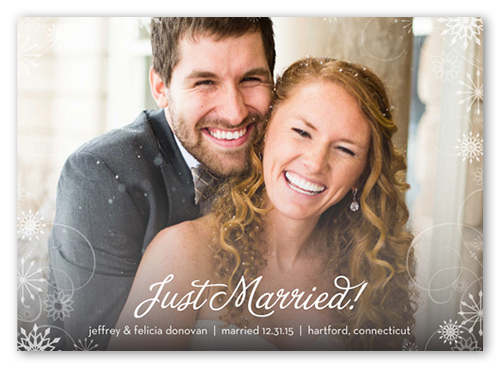 Winter Wedding Wedding Announcement White
This winter wedding announcement postcard focuses on your photo and the important details with several fun designed snowflakes on the edges!

Merrily Matched Winter Wedding Announcement
This snowflake wedding announcement features a beautiful snowflake with your wedding year and the words Merrily Married – the perfect way to announce your marriage!
All of these amazing snowflake wedding invitations and wedding announcements are so pretty and are much nicer than the sleet and ice we usually experience here in the Mid-South! Hopefully you enjoyed them and found the perfect snowflake wedding invitation for your wedding!