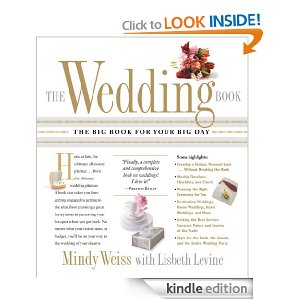 The Wedding Book: The Big Book for Your Big Day
The Wedding Book Description:
Announcing the wedding bible: the most complete, lively, handholding, step-by-step guide to help every couple have a perfect wedding—no matter their budget, taste, or personalities. More than 2.2 million North American couples tie the knot each year; until now, only a mere fraction could work with celebrity wedding planner Mindy Weiss. But the significant fact is not Ms. Weiss's clientele, but the reason for it: She's so very good at what she does. And now she shares all of her hard-won experience, wisdom, inspiration, and style tips.
The Wedding Book covers everything, in a voice filled with understanding: announcing the engagement, and what to do when someone isn't happy about the news; creating a budget; the pros and cons of destination weddings. Drawing up the guest list; planning the ceremony (and how to personalize your vows); menus to inspire; contracts and wedding insurance. Shopping for the dress, six great hairstyles, tuxedo vs. dinner jacket, the etiquette of invitations. Style tips for flowers, the tabletop, linens; a cake that says "you"; the crucial "Sixty Days Until I Do"; rehearsal dinner strategies; plus freezing the cake and preserving the bouquet.
Today the average cost of a wedding is $25,000—at $19.95, The Wedding Book is the smartest investment a bride-to-be could make.
The Wedding Book Reviews:
Here are a few snippets of reviews from other brides and wedding industry insiders:
"I'm glad I bought this book, because it really is COMPREHENSIVE. She details things like what to eat the week before your wedding, what kind of eye shadow works well in different lighting situations, good arm exercises, as well as the normal things about how to word invitations and things like that. In the introduction, she says that what she set out to do was to put all of the information any bride would need in ONE place. I think she does a really great job at that. But if you're having an non-traditional, DIY, or lower-budget wedding, this won't be the only book on your bookshelf." – Elizabeth
"I had read other reviews of this book on here that called it stuck up and not realistic for a bride on a budget. Being one myself, I was turned off and decided that the book would not be worth it for me. However, after hearing a number of other people talk about this book with nothing but glowing reviews, I decided to give it a shot. I am SO glad that I did! This book covers every single aspect of a wedding, top to bottom & start to finish, and the advice contained therein is useful for a wedding being planned on a $5k budget or $50k. The authors cover every aspect of the day- announcing your engagement, invitations, catering, music, photography… everything!- but they never pressure you to spend a certain amount or say that one option is better than the other. Instead, they present you with ALL of your options, including some cultural or religious points you may not have thought of, in order for you to make a fully informed and thoughtful decision." – T.
"My fiance and I are currently planning a low-budget, fairly untraditional wedding all on our own, sans wedding planner, and since wedding books nearly all cater to a more mainstream, high-budget crowd, I haven't found the majority to be helpful or necessary.THIS book, however, has been my go-to resource when we have any questions of process or etiquette, and has been enormously helpful for answering questions related to things like timelines, types of fabrics, tipping vendors, and figuring out seating charts. It is extremely comprehensive and detailed, with information about every single aspect of a wedding, and it looks much more at the PROCESS of putting together a wedding rather than the PRODUCT of what the wedding will look like at the end. It's like having a wedding planner in your pocket. So even though I was initially afraid the book might only apply to formal weddings, I definitely think it could be relevant for anyone's planning process, no matter how small the wedding or unique the plans. You might end up ignoring 90% of what's in the book, but you will love it for the 10% that you do need to know. – Melinda
Mid-South Bride Recommends The Wedding Book
This is a great wedding resource for brides planning a larger wedding with lots of moving parts (let's be real, that is MOST weddings). It's a comprehensive guide that covers all aspects of wedding planning thoroughly like having a handy wedding planner by your side during the process.
Get The Wedding Book
You can get The Wedding Book at most major bookstores or online retailers like Amazon. You can usually save 30% by buying from Amazon, so check the price on Amazon.