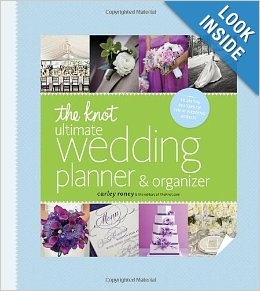 The Knot Ultimate Wedding Planner & Organizer [binder edition]: Worksheets, Checklists, Etiquette, Calendars, and Answers to Frequently Asked Questions
The Knot Ultimate Wedding Planner & Organizer Description:
For the first time, the go-to wedding website, The Knot, has compiled all their essential planning tools—and dozens of new ideas—into this beautiful wedding organizer. Inside you will find:
Detailed timelines and worksheets for scheduling and budgeting
Planning and money-saving tips on everything from the dress to the music to the reception decor
8 tabbed dividers packed with visual inspiration, including more than 100 color photos of centerpieces, table settings, favors, and more
A perforated color swatch page for mixing and matching your own wedding palette
Extensive information on choosing your vendors, including checklists of key questions to ask
Ideas for the twenty-first-century bride, including how to use online tools and mobile for maximum convenience
Pockets for collecting inspiring tearsheets, important contracts, and business cards
Removable stickers on the front, spine, and back so you can make the binder your own
The Knot Ultimate Wedding Planner & Organizer is an indispensable resource—and a lovely keepsake after the meaningful, joyful, and customized celebration you're sure to have.
The Knot Ultimate Wedding Planner & Organizer Reviews:
Here are a few snippets of reviews from other brides and wedding industry insiders:
"This planner was a lot nicer looking than other ones that I looked at…"
"This has made my wedding planning so much simpler…"
"Great for planning a wedding on your own!!!…"
"The info inside is concise, touches on a lot of things I may not have thought of in the madness of planning my wedding…"
"The lists and templates are helpful for organizing thoughts…"
"I know much of this information is available online but I wanted a tangible copy. I love the fact that it's a binder and you can take things out and add your own…"
Mid-South Bride Recommends The Knot Ultimate Wedding Planner & Organizer 
We recommend this planner for all DIY brides who want to stay organized while handling every single aspect of the wedding. If you are your own wedding planner or just want to be a very hand-on bride, then you need this organizer and planner to stay sane during the wedding planning process.
Everything in the binder is tabulated, keeping sections separate so you can keep things organized like the timeline and budget, the outfits and styling, the catering, etc. The pockets included for holding receipts and business cards will help you keep track of the vendors you meet and the money you spend on your wedding. Additionally since you can add more pages yourself this binder can grow and evolve as your wedding planning does as well. We highly recommend it!
Get The Knot Ultimate Wedding Planner & Organizer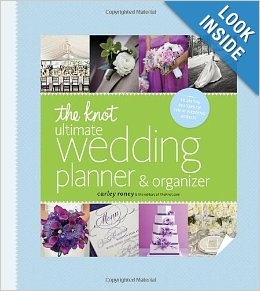 You can get The Knot Ultimate Wedding Planner & Organizer at most major bookstores or online retailers like Amazon. You can usually save money by buying from Amazon, so check the price on Amazon.