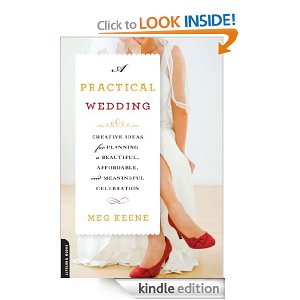 A Practical Wedding: Creative Ideas for Planning a Beautiful, Affordable, and Meaningful Celebration
A Practical Wedding Book Description:
An Insanity-Free Wedding: It Can Happen!
Getting engaged is exhilarating…until it sets in that a wedding costs three times what you thought, and takes five to ten times the effort it reasonably should. And then there are the expectations: from calligraphy invitations to satin chair-covers, all those things that Must Be Done or everyone will be Horribly Offended. Or will they?
A Practical Wedding helps you create the wedding you want—without going broke or crazy in the process. After all, what really matters on your wedding day, what you'll remember 'til you're old and gray, is not so much how it looked as how it felt. In this refreshing guide, expert Meg Keene shares her secrets to planning a beautiful celebration that reflects your taste and your relationship. You'll discover:
The real purpose of engagement (hint: it's not just about the planning)
How to pinpoint what matters most to you and your partner
DIY-ing your wedding: brilliant or crazy?
Affording a wedding without having to cut your guest list
How to communicate decisions with your family
Why that color-coded spreadsheet is actually worth it
Wedding Zen can be yours. Meg walks you through everything from choosing a venue to writing vows, complete with stories and advice from women who have been in the trenches, the Team Practical brides. So here's to the joyful wedding, the sensible wedding, the unbelievably fun wedding! A Practical Wedding is your complete guide to getting married with grace.
A Practical Wedding Book Reviews:
Here are a few snippets of reviews from other brides and wedding industry insiders:
"Now, I didn't learn anything from this book, but that's because, well, I now do this professionally. However, if you're not a professional wedding planner? You will learn things. Good things. Things like how to find an affordable venue, and that it's OK to sometimes cry during the planning process, and why you should focus on your ceremony, and when and why you need to ask for help.
It's a wedding planning book that manages to deal with both logistics (important! weddings are full of logistics, and they are often overwhelming) and, probably even more importantly, also deals with the often intense emotional logistics around weddings and marriages. It reminds you that your wedding is not just a big party, it is the start of your marriage." – Elizabeth
"This book is an island of sanity in a sea of crazy wedding expectations. It will encourage you, again and again, to stop right before you put down a deposit on Chilean sea bass for 200 people, or right before you buy a diamond-encrusted LED-light flashing cake cutter, or right before you punch some relative who chuckles over how brides these days are all "bridezillas", and ask yourself, "What are we really going for here?"" – Chris
"I won't call this a wedding planning book. This is a book to make you better understand the wedding industry, what weddings mean to you, and where you fit. Meg Keene does not tell you what kind of wedding you should have, but helps you figure out why you want the wedding you want. Whether your budget is $500 or $50, 000, she does not judge. This is a must-read before you get caught up in the chaos of wedding planning." – Jenn
"Meg Keane's A Practical Wedding is an excellent resource for planning a heartfelt, thoughtful wedding. As a reader of Keane's eponymous blog since 2009, I was concerned that her book would be a recycled version of her blog. The book is a standalone, cohesive resource. Keane's informal and friendly voice is consistent with the blogs, as are the themes on marriage equality, partnership, and civility. The 209-page book offers big picture planning advice and more precise advice on certain topics."  – Dew
Mid-South Bride Recommends A Practical Wedding
Like the reviews from readers above mention, this is a great wedding book for brides who want to stay SANE while planning a wedding.
This wedding book  doesn't focus so much on the details as it does focus on the things that really matter behind the wedding planning details. It's a reminder to slow down and not get caught up in the wedding industry complex that drives many brides to make decisions that don't reflect a couple's personal values.
We recommend this book as a supplement to any traditional wedding planning books you decide to use during your planning process. It's a great idea to read it before the real nitty gritty of planning begins so you go into it with a balanced mindset.
Get A Practical Wedding Book
You can get A Practical Wedding at most major bookstores or online retailers like Amazon. You can usually save 30% by buying from Amazon, so check the price on Amazon.