Wedding table numbers are often carefully thought out and beautifully designed touches of decor at a wedding reception.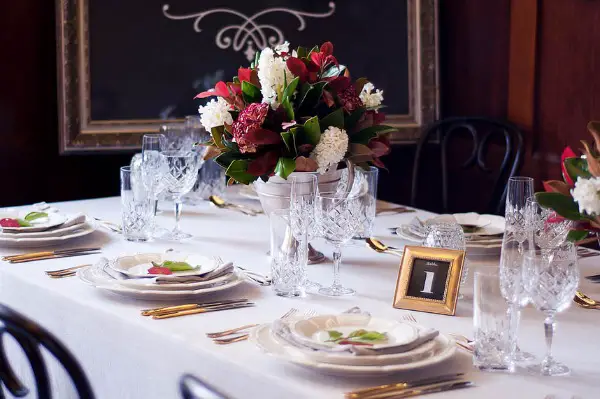 However there are many things that can go wrong in the implementation of table numbers. They can be misplaced, confusing to find, or even forgotten.
Here are a few wedding day tips to make table numbers look their best:
Set table numbers to face entering guests. When setting up the table numbers or table names consider where guests will be entering the room. All the table numbers should face the entrance so guests can easily see the names or numbers and find their table quickly. Doing this eliminates confusion and wandering guests looking for the right table by circling each table.
Make the table numbers make sense. If you are using numbers then they should make sense in the order they are placed. They should be ordered 1, 2, 3… instead of being randomly placed. With table names this is done by keeping the guest seating chart and tables in the same order. This makes things less confusing for guests and waiting staff.
Do a final walk through to check the table numbers. Make sure someone (trusted friend, wedding planner, day of co-ordinator) is in charge of doing a final walk through of the reception area to check the table numbers. Move any turned or wayward table numbers around so they all face the same direction and look uniform.
It's a small thing in the grand scheme of your wedding but making sure this little thing is taken care of makes a huge difference in the flow and organization of your wedding reception!
photo via Le Fanciulle