 Tell us about yourself. What do you do?
I am the wedding/engagement photographer and owner of Maddie Moree (pronounced More-eeeee). I also co-own and run Yen Studios, which is a commercial photography studio in town. Additionally, I recently got married back in June to my kick-butt husband, Daniel. We just (and I mean just signed the papers. eek!) bought a house off of the Greenline. I graduated from the U of M (Go Tigers!!) in International Business as well as Foreign Languages.  I love going to Hot Yoga (Hot Yoga Plus, not Bikram), eating Chinese food, and coming up with new business ideas.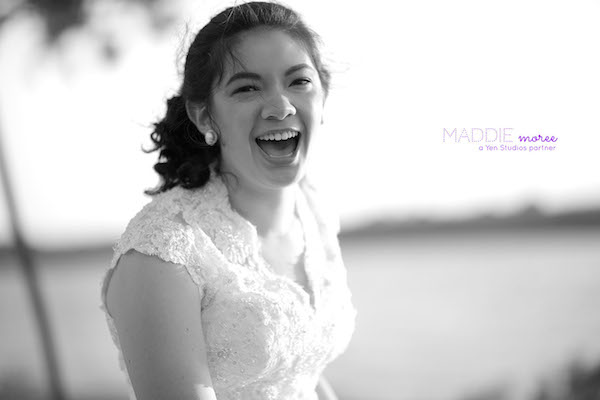 Photo of Madison by her dad of Yen Studios
How did you get started in wedding photography?
I got started in wedding photography because of my dad and working with Yen Studios. I've been helping with his business since I was old enough to hold a camera. I've been helping him with weddings since I was 10. I have been the official second shooter for him for the past 2 years, and I REALLY enjoyed the side shots and candids. There is a true art to second shooting, and I honestly love it. Because the couple is mainly focused on the head photographer, there is this perfect opportunity to capture some really sweet moments that occur because the couple thinks no one is looking. I love the wedding day because they are just filled with beautiful illustrations of life, family, happiness, and most importantly – love. It's there, waiting to be turned into film to stay with you forever.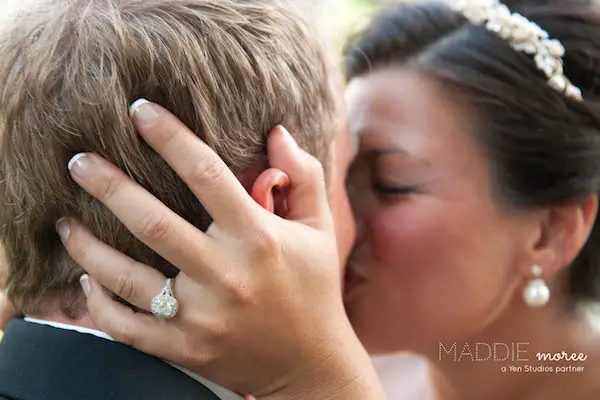 What makes your service unique?
Skill-wise, I use top of the line equipment, I have an awesome mentor with 35 years in the photography business, and I have been shooting and around cameras with lots of practical experience for years. But I honestly think my service is different because I'm different. A bridezilla to me is someone who just wants their wedding to be perfect. I can put myself in their shoes and know what they're going through when x,y, or z happens. I focus on how the couple acts together. If one photo could sum up a couple, what would that look like? This may be a generalization, but I don't think other photographers aim for that. They want to capture the day, and then call it a day. I want to capture how the bride and groom react with each other and their families on the day! It's a big day for them, and I get that.
What is your favorite part of a wedding? 
I LOVE the before the ceremony shots. You can just feel the nervous excitement. Things are coming together with the hair, make-up and dress. Whether they are doing a first look or walking down the aisle, you can see that both the bride and groom are scared, excited, happy, nervous. Then, right before they walk down, there is this true moment between the daughter and the father. Like, "I've got your hand, let's do this." Ahhh, it's so sweet.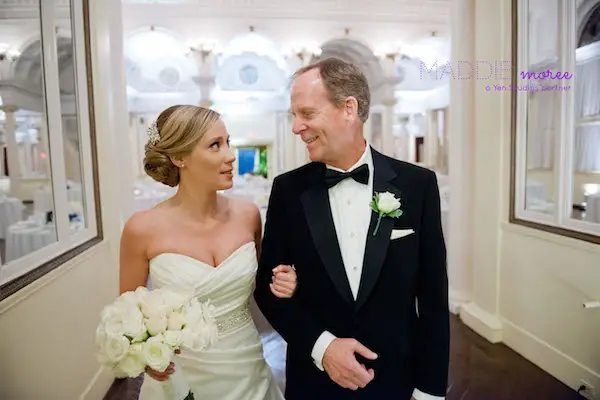 What is one of your favorite Memphis wedding venues?
So hard to choose. I like quite a few. For venues, you really have to choose the one that fits your personality! I'm partial to Spring Creek…that's where I got married, but I also love Annesdale (it reminds me of Pride and Prejudice)!
What inspires you?
I love looking at magazines, watching chick-flicks (I'm not ashamed!!), and the couple themselves. I like searching the internet for new ideas for a feel and then tailoring it to the couple with a Maddie Moree spin.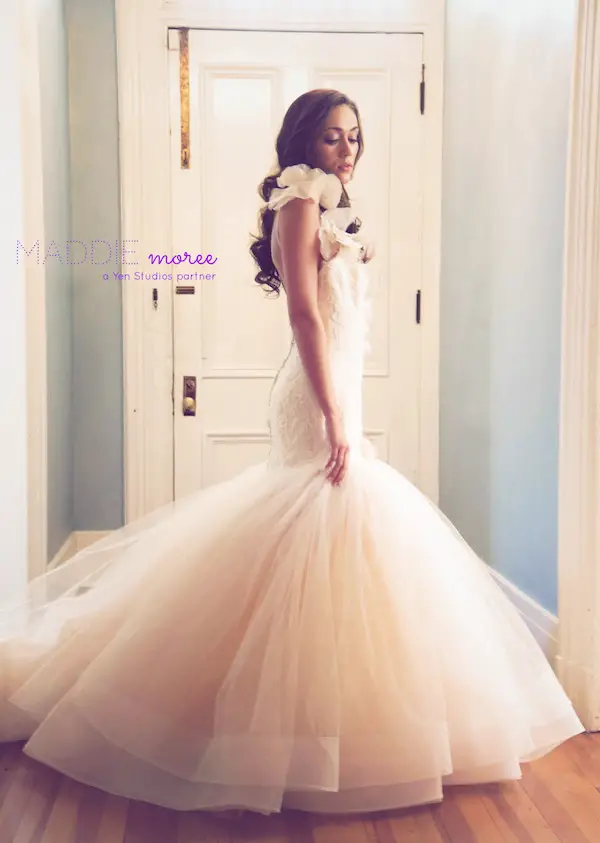 What do you do in your free time?
Right now, I'm painting my entire house trying to move in. Normally though, I like going to yoga, going out to eat with my husband, listening to country music… I also love a good beer.
What can brides do to prepare to get the best of your services?
A few things, all of which I mention in my blog (maddiemoree.com/blog).
For engagement shoots: bring multiple outfits, make-up for touch-ups. Take a selfie of you and your fiance kissing. If it doesn't look good, practice before hand! I know that sounds stupid, but people don't realize what they look like until they get the pictures back…
For the wedding day, the best preparation is creating a shot-list before the day and finalizing a timeline. I didn't create a shot list, and I forgot to request certain shots. I'm a wedding photographer and I FORGOT. Because the wedding day is soooooo busy, just do it before hand, and your photog won't forget! Also, having a good timeline is crucial! When is your photog going to arrive? What shots are expected at what times? Once your photog knows that, you can just go with the flow.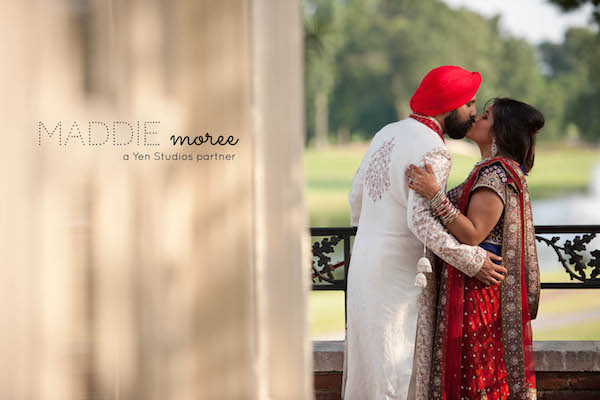 What's your process? What can brides expect on the day?
You can expect a timeline and a plan that we've discussed and agreed upon! Haha. I like for my brides to know, from this time to this time, we will be doing this, this, and this.
I also want to give them suggestions. Like – if you are not having a first look, I suggest having a cocktail hour after the ceremony so that will give us time to do family formals not as stressed out, of course that is during the wedding planning process, not the day of. For the day of, I will be there to chat and make jokes with you, tell you how pretty you look, and take photos when there is a moment to be captured! I want the pictures to be natural, but don't worry, I will set you up! Once you are in a good spot, I give a little instruction, and then you can just be you with your girls, or your groom, or your parents. You just have to find that natural aspect so it doesn't look fake.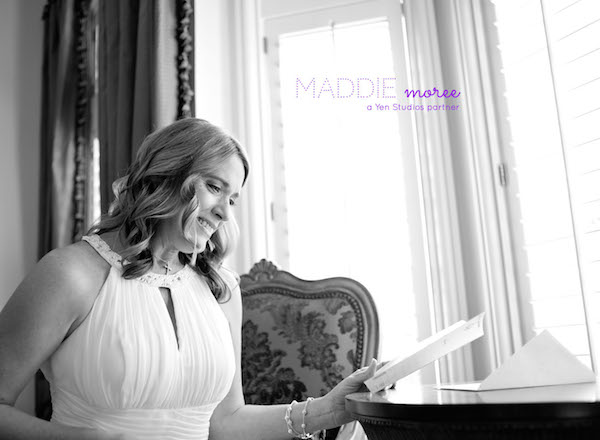 Where do you work? Do you travel for weddings?
Our studio is downtown, but I kinda work all over Memphis depending on what's going on. I do travel for weddings. I love destination weddings! We have done weddings in New Orleans, New York, New Jersey, Vancouver…
How can Memphis brides and grooms contact you?
They can contact me via email: [email protected] or call/text 901-412-4482. Not going to lie, I prefer to chat via email/text or in person, not so much on the phone.
Is there anything else you'd like to share?
Thanks for asking me all these questions! I know my answers are long, but I'm very passionate about weddings…so it's hard for me to limit my responses! haha
Thank you to Madison for stopping by the blog today to share more about your passion for wedding photography! Please check out Maddie Moree in our vendor listings or at her website maddiemoree.com to learn more!