This list contains ten of the most popular, best selling, wedding books available to download on your kindle. Download these wedding books for your Kindle and you will be off to a great start with your wedding planning.
10 Most Popular Wedding Kindle eBooks
A Practical Wedding: Creative Ideas for Planning a Beautiful, Affordable, and Meaningful Celebration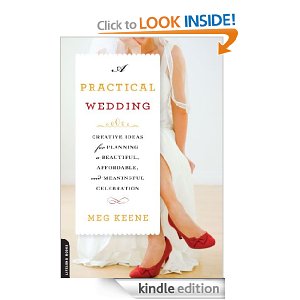 An Insanity-Free Wedding: It Can Happen!
Getting engaged is exhilarating…until it sets in that a wedding costs three times what you thought, and takes five to ten times the effort it reasonably should. And then there are the expectations: from calligraphy invitations to satin chair-covers, all those things that Must Be Done or everyone will be Horribly Offended. Or will they?
A Practical Wedding helps you create the wedding you want—without going broke or crazy in the process. After all, what really matters on your wedding day, what you'll remember 'til you're old and gray, is not so much how it looked as how it felt. In this refreshing guide, expert Meg Keene shares her secrets to planning a beautiful celebration that reflects your taste and your relationship. You'll discover:
The real purpose of engagement (hint: it's not just about the planning)
How to pinpoint what matters most to you and your partner
DIY-ing your wedding: brilliant or crazy?
Affording a wedding without having to cut your guest list
How to communicate decisions with your family
Why that color-coded spreadsheet is actually worth it
Wedding Zen can be yours. Meg walks you through everything from choosing a venue to writing vows, complete with stories and advice from women who have been in the trenches, the Team Practical brides. So here's to the joyful wedding, the sensible wedding, the unbelievably fun wedding! A Practical Wedding is your complete guide to getting married with grace.
The bestselling wedding planning guide—now updated!
Congratulations, you're planning a wedding! Besides obtaining a fancy tuxedo and a stunning gown, organizing a wedding ceremony takes creativity, planning, and diplomacy. The whole ordeal can seem overwhelming at first, but with lots of guidance, you'll plan a wedding people will remember for ages.
Wedding Planning For Dummies demystifies and simplifies all the details that go into the Big Day, providing inspiration and innovative ideas to personalize your wedding celebration and, of course, make it fun for everyone–especially you! Expert wedding planner Marcy Blum walks you step-by-step through everything you'll encounter as you plan your wedding, from choosing a reception site to picking a photographer—and everything in between.
20% new and updated content
Keep track of expenses with a wedding budget
Negotiate contracts and surf online for wedding deals
Get those pesky financial technicalities out of the way
Plan a weekend wedding, a themed wedding, same sex wedding, and other celebrations
Plan for various wedding customs and rites
Throw a great reception with music, food, drink, and cake
The 4-1-1 on the latest and greatest trends in wedding registries, rings, photos, and the honeymoon
Packed with tips for saving money and common kitsch you should avoid, this is the ultimate guide to satisfying everyone on the Big Day—while making all of your fairytale dreams come true.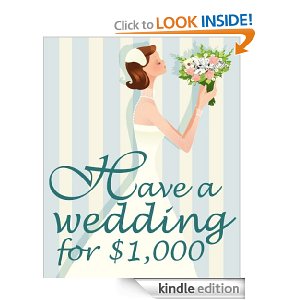 You're engaged. Congratulations! Now what? A short, amusingly candid and clever approach to wedding planning, "Have a Wedding for $1,000" breaks it down to the basics. There are only five things you need to do to plan a wedding:
Pick a Date
Invite People
Get Hitched
Provide Refreshments
Celebrate
…and you can do all of those while on a budget.
Offbeat Bride: Creative Alternatives for Independent Brides
Unenthused by a white wedding gown and bored by the hoopla of the Hollywood-style reception, Ariel Meadow Stallings found herself absolutely exhausted with the nuances of traditional nuptials . . . so she chose to take a walk off the beaten aisle. In this updated edition of Offbeat Bride, Stallings humorously recounts the story of the original offbeat wedding—hers—and shares anecdotes and advice from dozens of other nontraditional couples. She also includes a chapter on budget weddings in today's weak economy, along with sidebars, tips, tricks, and planner encouragement to help you figure out your special day. What results is a combination of hilarious wedding stories and tons of helpful how-tos—a perfect mash-up of memoir and handbook.
At once practical and enjoyable, Offbeat Bride validates choosing the funky, different, and offbeat over the traditional, and leads couples through the planning process—from unique ideas on how to announce their engagement all the way to answering the question, "So, how's married life?" Stallings is the ultimate guide to the alternative wedding of your dreams, and with Offbeat Bride, she brings you a book that serves both as an encouragement and celebration of aisles less traveled.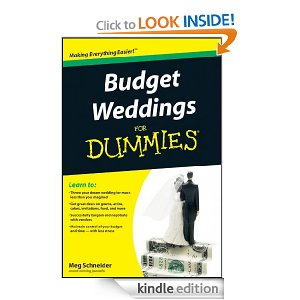 Don't let 'white blindness' drive you into debt! Make your wedding everything you want it to be on the budget you determine.
Are you planning a wedding, but worried about how much money you'll have to spend? In today's tough economic times, planning a budget wedding is more important than ever. This fun, money-saving guide is packed with tips for planning the wedding of your dreams without breaking your bank account!
Inside you'll find tons of tips and advice for planning a budget-friendly celebration while still remaining true to your personality, values, and tastes. You'll see how to make and keep your wedding budget; select the most economical time to get married; scope out wedding locations that fit the bill; and incorporate everything from economical to green ideas that emphasize style and elegance. Plus, you get tips and pointers for negotiating with vendors and avoiding hidden expenses and add-ons.
Hands-on information for planning a stylish wedding while sticking to your budget
How to get deals on gowns, tuxes, cakes, invitations, photography, food, and more
Use your creativity (and friends and family) to save money on decorations, food, favors, and wedding attire
Cut corners where no one will notice
Set your own priorities for your big day
Make your celebration unique
You don't have to settle for less on your wedding day. Author, Meg Schneider is an award-winning journalist who planned her own wedding for less than $5,000 Budget Weddings For Dummies is the only guide you need to save yourself money, time, and stress while you plan a beautiful, memorable ceremony!
That Costs How Much?: The Bride's Guide to Budgeting for an Unforgettable Wedding
Previously published as part of The Big White Book of Weddings.
Entertaining expert David Tutera opens his files to reveal a wealth of detailed information about budgeting for the perfect wedding.
It's tough to be a bride on a budget—but David reveals his personal tips of the wedding trade that proves brides can be both sophisticatedly chic and realistically resourceful! From creating you budget before you start spending to the best questions to ask when researching costs, and how to cut costs in every area, from your accessories to the food and entertainment, Tutera has created a must-have for brides-to-be who want the perfect—and perfectly affordable—wedding.
Sacred Ceremony: Create and Officiate Personalized Wedding Ceremonies
"I Do" What?
Religious or Not, Choose the Right Words For Your Wedding Day.
"Sacred Ceremony: Create and Officiate Personalized Wedding Ceremonies," brings the focus back to the real purpose of a wedding … not the cake, the dress or the centerpieces, but the sacred agreement between two people that defines their marriage.
In step-by-step, informative chapters, Dayna Reid describes the elements of a wedding ceremony from beginning to end, and the choices people can make with each element. "Sacred Ceremony" includes a wealth of wording and ceremony selections, to celebrate diverse styles, beliefs and traditions, from Christian to Zen, to the simple declarations of love that transcend tradition.
Reid, an ordained Officiant with more than a decade of experience discovered "the few ceremony books available were written in either a particular style or from a specific religious view, offering limited variety for customizing a wedding to reflect a couple's unique and personal perspective and intentions."
Some key information within the book:
A large collection of spiritual and non-spiritual wording examples
Several sample wedding and renewal ceremonies
A worksheet to help easily compose the ceremony
Instructions for obtaining a marriage license
Who can legally perform the ceremony and steps to becoming ordained
Advice on selecting the right Officiant
Information on filing the paperwork to make the wedding legal
Handmade Weddings: More Than 50 Crafts to Personalize Your Big Day
Handcrafted details are at the heart of a beautiful wedding adding charm, meaning, and style.
In this delightful book, Eunice and Sabrina Moyle, the founders of Hello!Lucky, join forces with stylist Shana Faust to bring you over 50 gorgeous projects. Whether you favor a modern, classic look or a retro, homespun flavor, you'll find plenty of crafts and inspiration suited to your tastefrom vintage-key save-the-dates to delicate paper wreaths to silhouette bride and groom signs.
At the front of the book you'll find guidance on choosing a look, sourcing materials, and working out timelines. Then, each of the 50 projects are fully explained with photos, how-to diagrams, and step-by-step directions.
Clever, creative, and budget-friendly, Handmade Weddings is the perfect handbook for the bride looking to style her day her way.
The Wedding Book: The Big Book for Your Big Day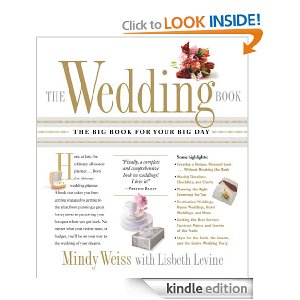 Announcing the wedding bible: the most complete, lively, handholding, step-by-step guide to help every couple have a perfect wedding—no matter their budget, taste, or personalities. More than 2.2 million North American couples tie the knot each year; until now, only a mere fraction could work with celebrity wedding planner Mindy Weiss. But the significant fact is not Ms. Weiss's clientele, but the reason for it: She's so very good at what she does. And now she shares all of her hard-won experience, wisdom, inspiration, and style tips.
The Wedding Book covers everything, in a voice filled with understanding: announcing the engagement, and what to do when someone isn't happy about the news; creating a budget; the pros and cons of destination weddings. Drawing up the guest list; planning the ceremony (and how to personalize your vows); menus to inspire; contracts and wedding insurance. Shopping for the dress, six great hairstyles, tuxedo vs. dinner jacket, the etiquette of invitations. Style tips for flowers, the tabletop, linens; a cake that says "you"; the crucial "Sixty Days Until I Do"; rehearsal dinner strategies; plus freezing the cake and preserving the bouquet.
Today the average cost of a wedding is $25,000—at $19.95, The Wedding Book is the smartest investment a bride-to-be could make.
The Complete Wedding Planner & Organizer
The Complete Wedding Planner & Organizer is designed to simplify the wedding planning process and help you stay organized and on schedule. This book contains all the information you need to plan the wedding of you dreams, from the most current etiquette to expert advice, tips to save money, ideas to personalize your wedding, questions to ask your potential vendors, and much more.
The Complete Wedding Planner & Organizer is written by America's top wedding experts, Alex and Elizabeth Lluch. Their books are the best-selling wedding planners in the country because they are comprehensive, inspirational and save you time, money and stress!
We hope you enjoy these best-selling wedding books on your Kindle. For more awesome wedding books check out the Wedding Best-Sellers list for Kindle on Amazon.
This list contains Amazon affiliate links. Your purchases help keep Mid-South Bride running!