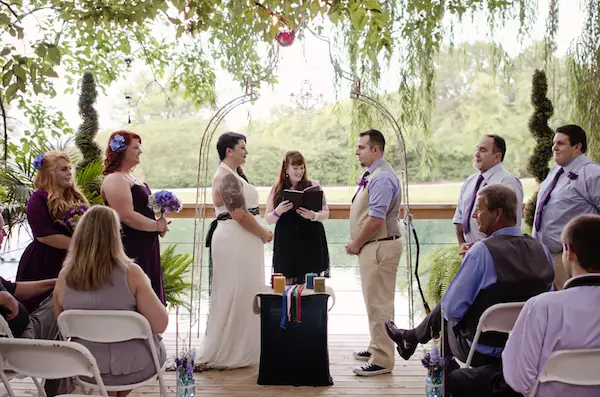 When Amy from And How! Imaging submitted this wedding, she explained how it was a special treat to photograph Tiffany and Matthew's wedding. It was an intimate wedding filled with all the great things – love, laughter, family, and friends. We love the wedding for that happiness that shines through and all the fun details like vintage styling and badass tattoos.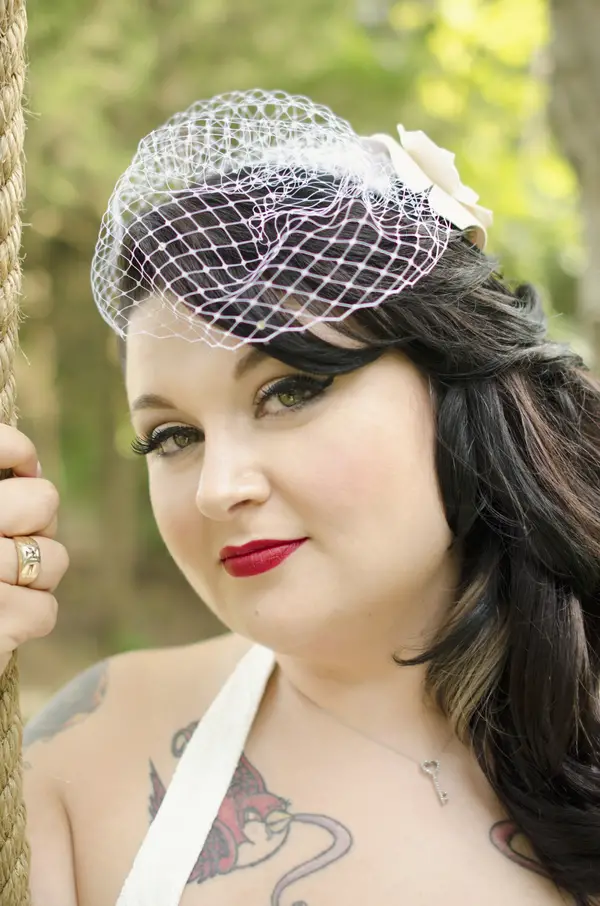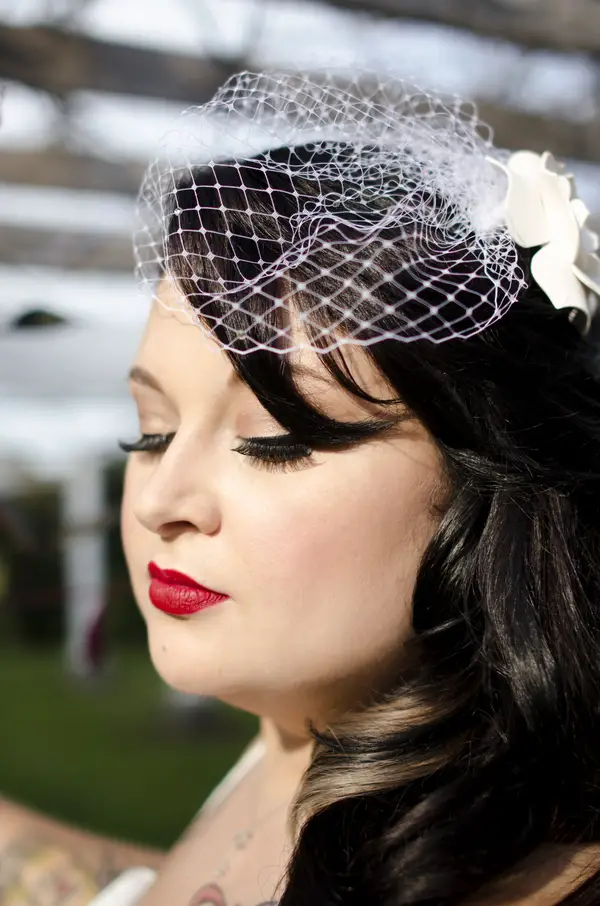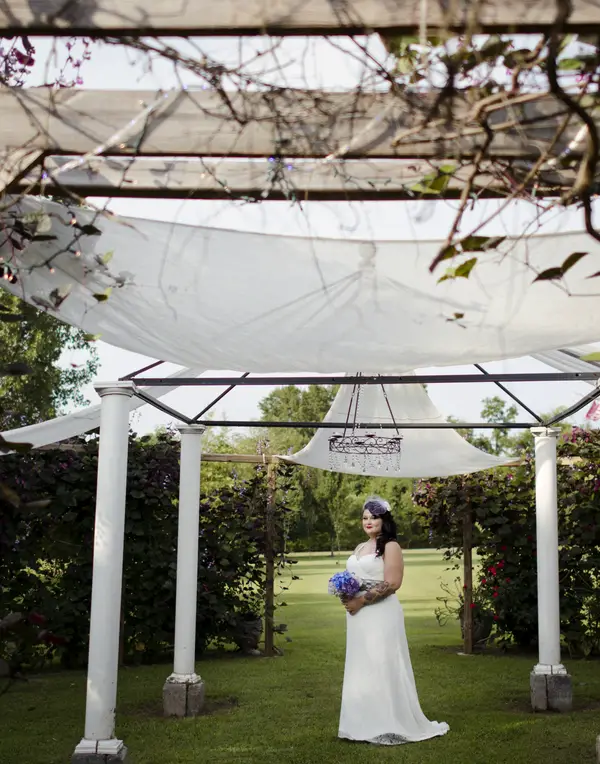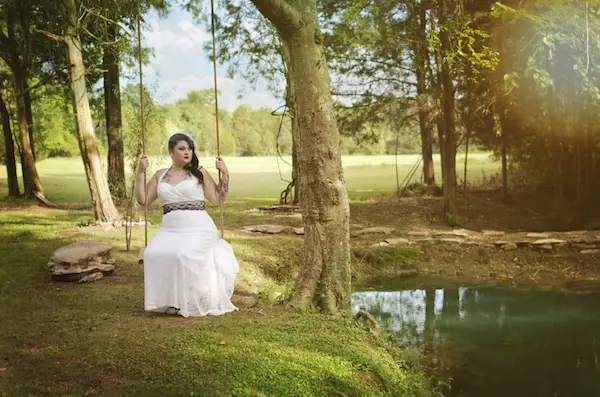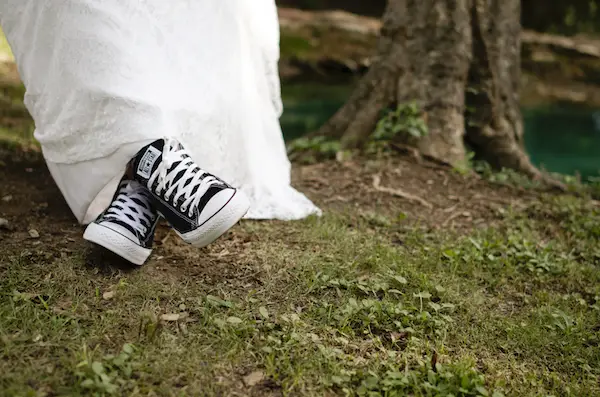 Love Story
Tiffany was sweet enough to share the love story and wedding details with us. Here she recounts how she met and fell in love with Matthew, accompanied by their adorable first look photos!
"Matthew and I first met through mutual friends. I was drawn to his wit and intellect right away. A relationship blossomed very shortly after we met, and our love for each other grew rather quickly. Although it didn't take long for us to figure out we were drawn to each other, we took plenty of time getting to know each other over the next 5 years before engagement. On our 5 year anniversary, we took a romantic getaway to the beach and splurged on a lovely suite for the weekend with an ocean view. Matthew was a nervous wreck the whole weekend, and I found it very odd he allowed me to shop as much as I did without one complaint. Apparently I foiled his proposal plan several times by falling asleep early, oops! Although he didn't get to propose on the beach at sunset like originally planned, I think his proposal was perfect and suited our relationship wonderfully! It began to rain so we headed back to the resort, and as we got back to the room a beautiful lightning storm was brewing over the bay. We went out on the balcony to get a better view of the lightning filled purple skies, to smell the salty air right before the rain, and to feel the wind rush around us. Right before the clouds broke and the rain started to fall, he got down on one knee and asked me to be his forever! Of course with tear filled eyes, I said YES!
Wedding Day
Tiffany shares the details of her best day ever: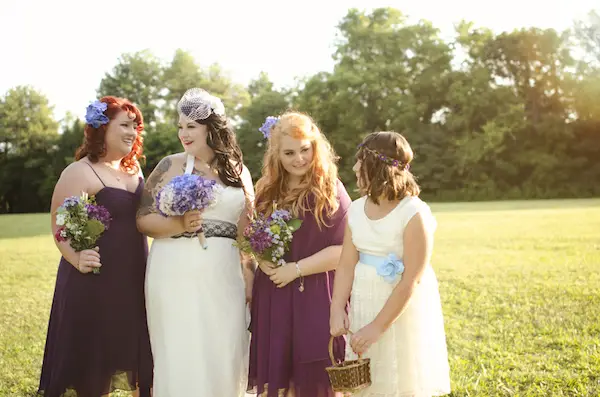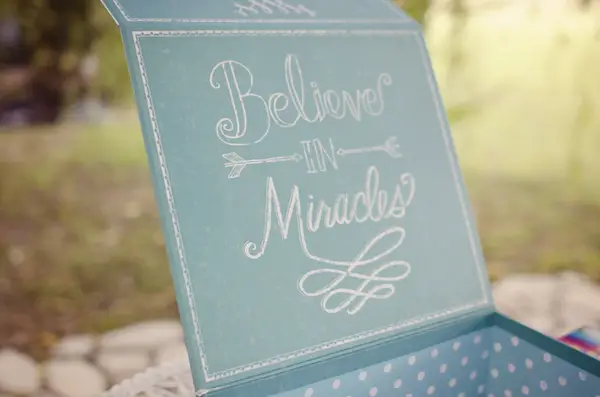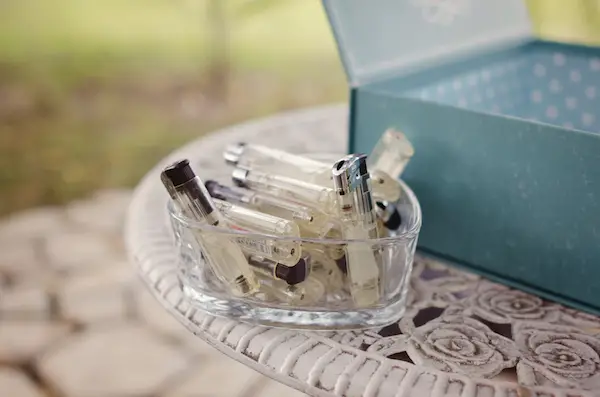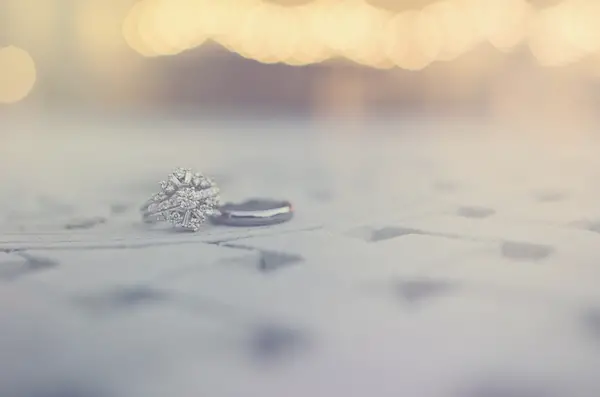 "The wedding was held at Cheval Manor in Murfreesboro, TN. It is actually a working horse ranch, but you couldn't tell that at all unless that's what you desire! We chose the location because it was budget friendly and just beautiful. There were so many wonderful photo opportunities there! I chose to have the wedding at dusk because I love the romantic element of the sun hanging in the background for photos and for our intimate little ceremony. Also, there is something magical to me about the transition from day to night. The guest list included 30 of our closest friends and family in order to keep the wedding very small and intimate. My favorite part of the wedding was the fact that we did it exactly how we wanted it, including walking down the aisle to Deftones and having a pagan handfasting ceremony. We kept the decorations simple and lined the aisle with antique blue mason jars filled with lavender. The ceremony area was underneath the most gorgeous weeping willow with strings of lights hanging underneath. (my favorite!) Afterwards, we all went down the road to one of Murfreesboro's best little Italian restaurants Gondolier for a nice little reception.
Our wedding day was one of the best days of my life. It went without a hiccup and I love how Chuck and Amy from And How! Imaging captured every moment of the day so when I look through my wedding album it actually tells a story!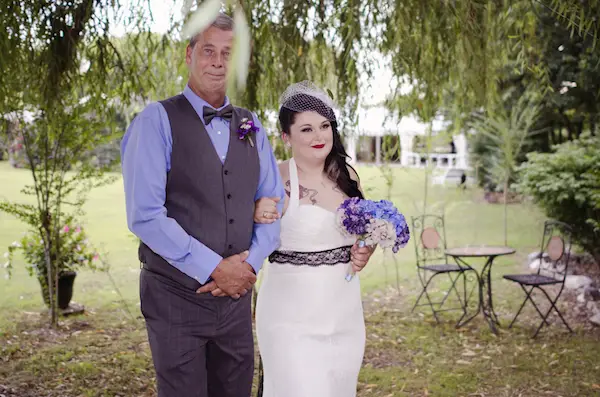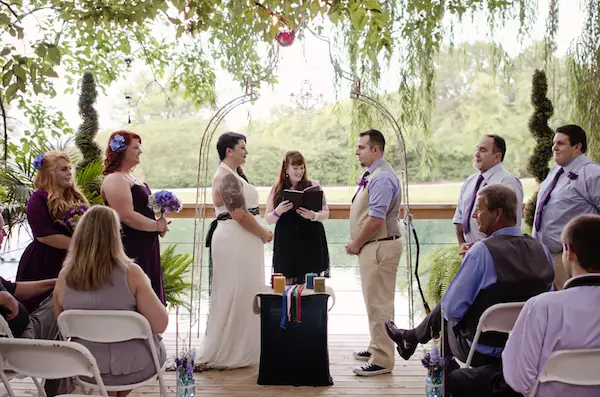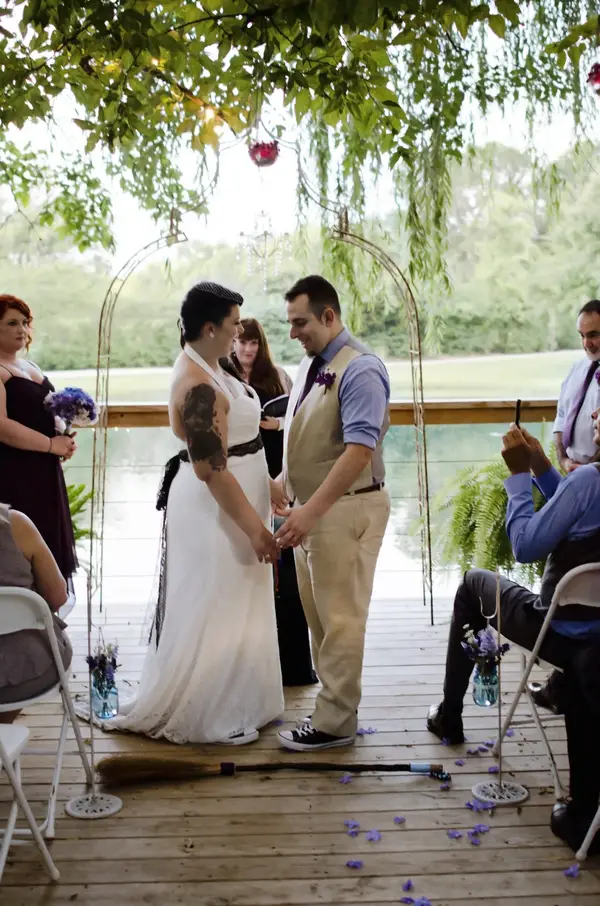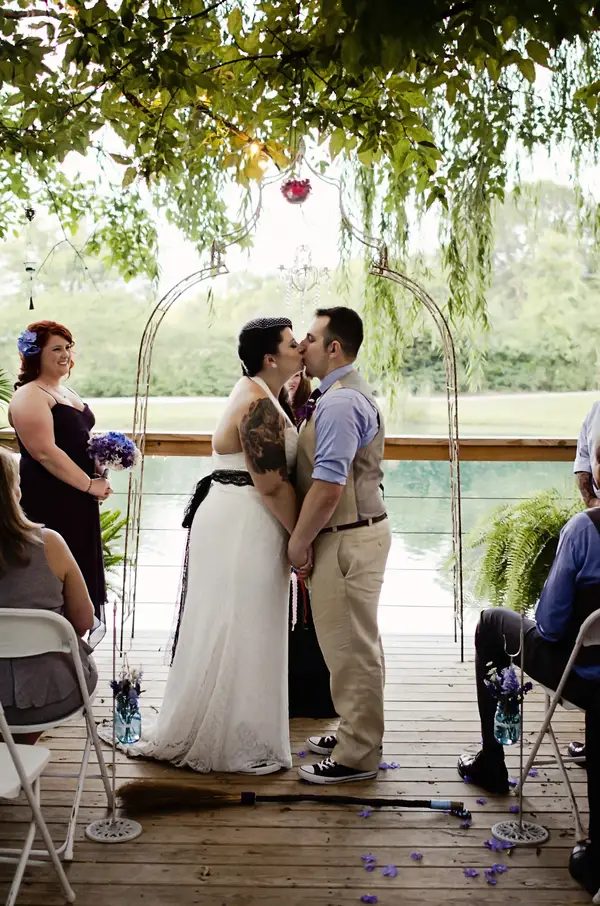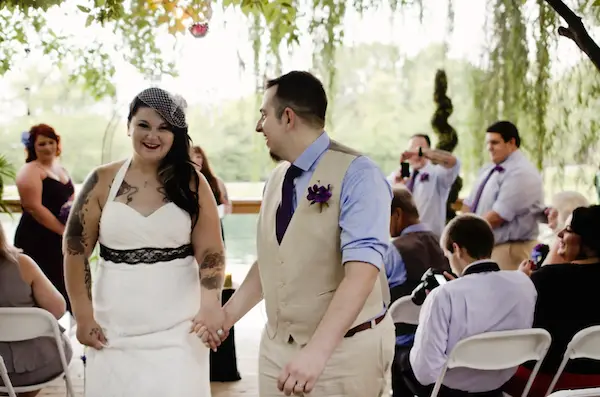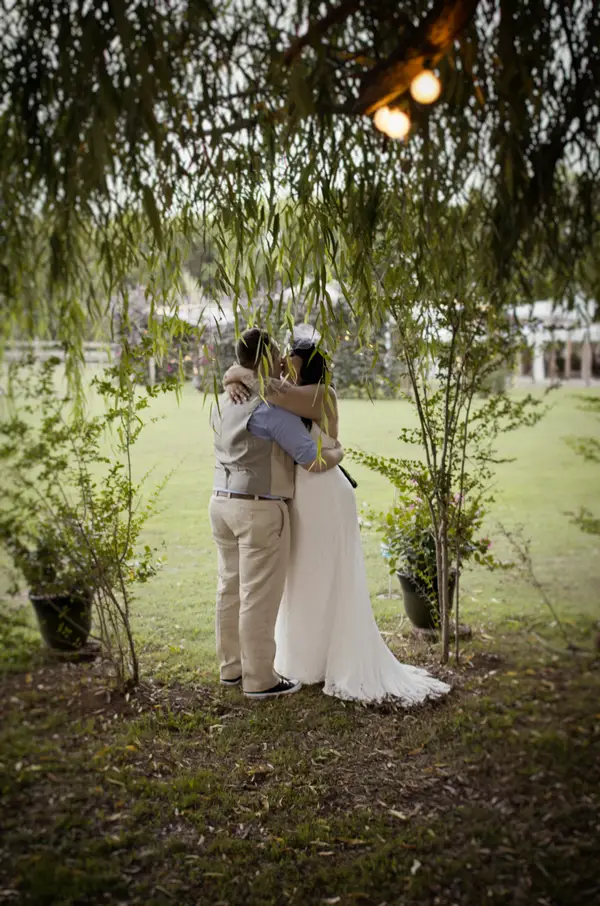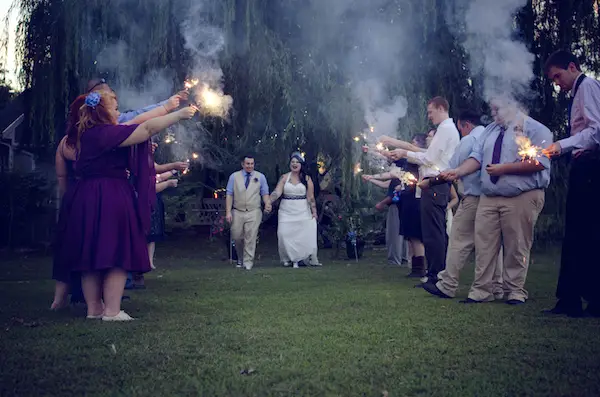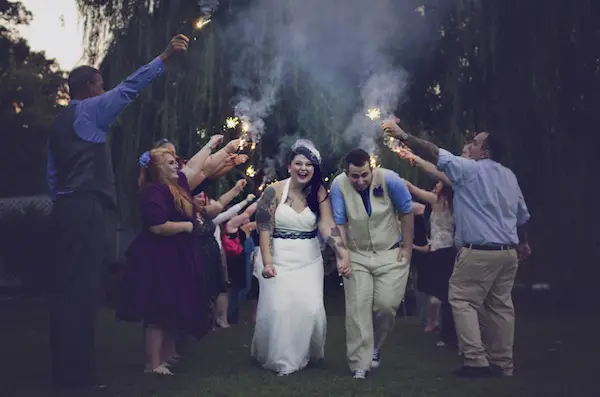 Photos: And How! Imaging
How happy do they look?!? And did you catch her the expressions as she walked down the aisle? Too sweet. Congrats Tiffany and Matthew!
Tennessee Wedding Vendors
Browse more real Mid-South weddings.