If you're planning to have a photobooth at your wedding (which you should because they are FUN), you're going to need fun props. Most of the awesome Memphis wedding photo booth rentals will bring props, but if you plan to create a DIY photobooth you'll have to provide your own.
It's easy to make photobooth props if you are crafty and you also can buy very inexpensive photobooth props if time is an issue.
Here are a few of our favorite photobooth prop ideas.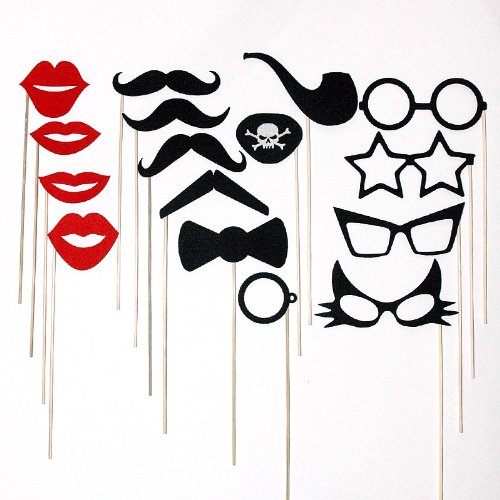 Mustache on a Stick Wedding Party Photo Booth Props
Great party idea!
Made from durable stiffened felt and wood
"I had a wedding with mostly 20-somethings and these were used by atleast 200 people that were feeling very "good" if ya know what I mean…"
"We used these in our wedding photo booth. Of course, they migrated from there and ended up on the dance floor and everywhere else…"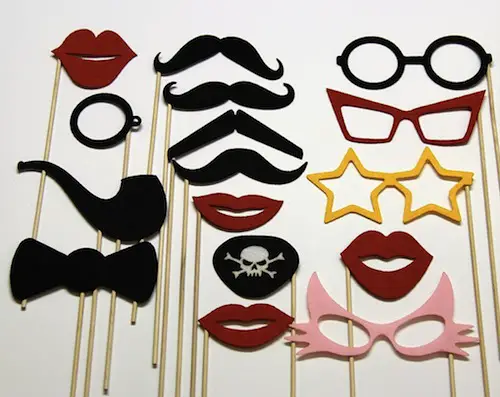 Photo Booth Props Mustache On A Stick Fun Wedding Favors 16 Piece Set
Mustache Photo Booth Prop Mask are a Great Fun Birthday, Wedding Party Idea!
Fun Costume Accesory
16 Unique Designs
Quality Crafted from solid color stiffened felt (not paper stock!) and wooden stick
Easy Way To Make Any Event Special!
"I was very impressed with the quality of these props…"
"I used them in an engagement photo shoot and the customers loved them…"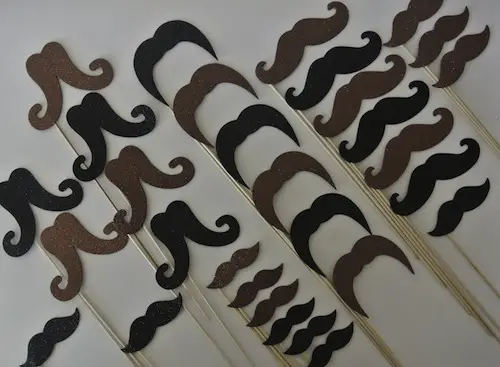 Mustache on a Stick Photo Booth Props Wedding Photo Booth Props
Mustache Party favors
Wedding Photo booth party props
Material Glitter Foamy
"My guests seemed to have a great time playing with them!"
"Was a very popular product at my event (where I had several mustache options)…"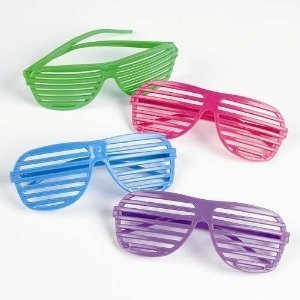 80's Shutter Shade Sunglasses – Photobooth Props & Party Favors
Set of 12 sunglasses.
Assorted neon colors.
Each measures 6″
Doubles as great party favors!
"Cheap and easy way to add a little flare to a party…"
"I used these for a photo booth at a wedding and they were a hit…so much so that 5 of them walked away!"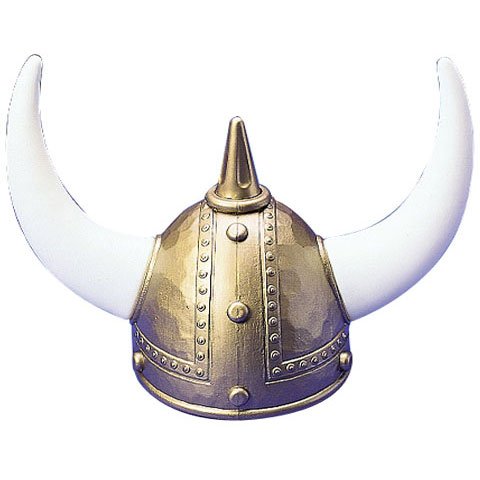 One size fits most adults 14″ wide at widest point Made of plastic
Fun addition to your photobooth props.
"Always gets a laugh every time you pull it out…"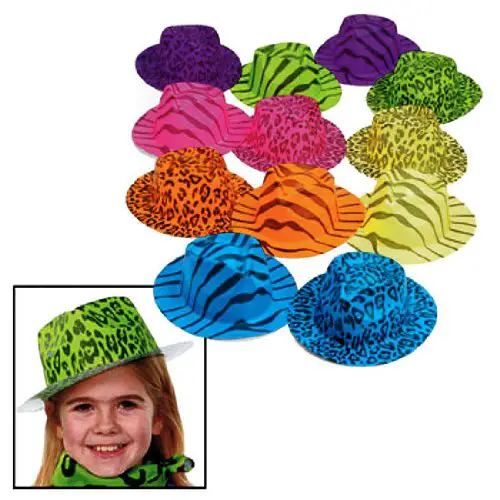 Neon Animal Print Gangster Hats
12 Assorted gangster hats
Assorted colors and animal prints
Cowboy hat shape
Fits older kids to adults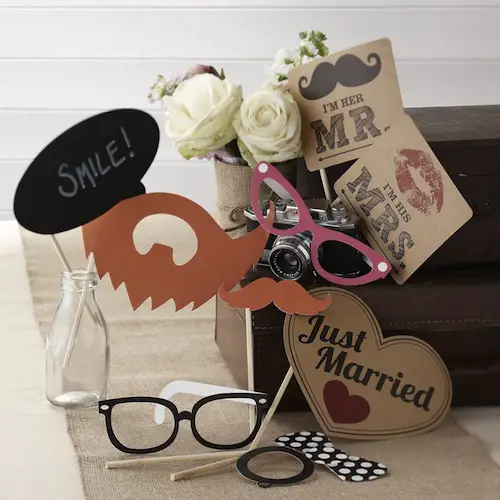 Ginger Ray Photo Booth Vintage Style Wedding Props Kit
Pack of 10 Card Props with Wooden Sticks
"The props were perfect for my rustic outdoor wedding!"
"Great props for wedding, made really cute pictures…"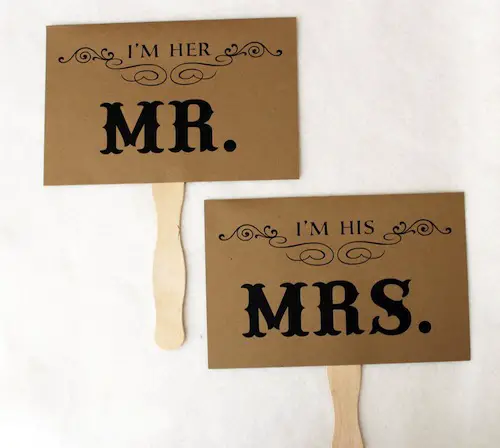 Vintage-style Mr. & Mrs. and Thank You Double sided Paddle Signs 
Set of 2 Double-sided Paddle Signs
One side: "I'm his MRS." and "I'm her MR."
Other side: "THANK" and "YOU"
Vintage style with black text
Use for photo shoots and "Thank You" card pictures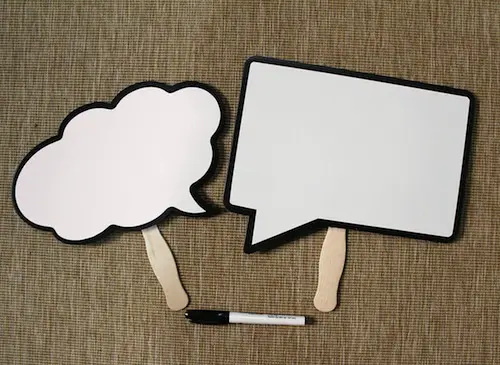 Set of 2 Dry Erase Boards with Handles
Made in the USA.
11″ wide by 7″ tall. Set of Two. Black marker included.
Comes with wooden handles.
Waterproof and durable for reuse over and over again.
Handheld for Photo Booth or can be mounted on a wall.
"This item was the hit of the night…"
Bonus: in addition to props, get an awesome background for your photobooth! We love this fun metallic silver fringe backdrop.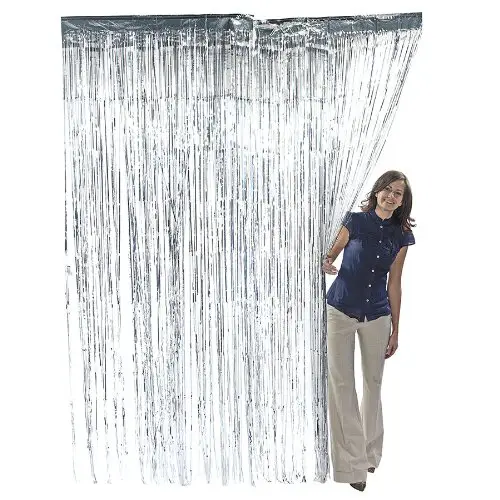 Metallic Silver Foil Fringe Curtains
Whichever wedding photobooth props you choose to use, you are guaranteed a crazy night with hilarious photos. People love props and enjoy letting loose in the photobooth which will give you photos to remember and enjoy forever!