If you are creating balloon garlands and arches you need to get the NuLink Electric Balloon Pump.
Nulink Electric Balloon Pump Review Video
NuLink Electric Balloon Pump Features
This portable electric balloon pump is essential for creating balloon arches, garlands, and displays.
The automatic and semi-auto air makes blowing up balloons so fast!
Key product features:
Portable external design that is lightweight and perfect for any occasion
Fast inflation rate that saves time blowing up balloons
Two patterns – continuous and touch – and a smart double pump design with push-down and automatic continuous modes
Voltage of 110V-120V, frequency of 50HZ, motor power of 600W, pressure of 1300pa, noise level of <95dB, and product dimensions of 8.2″x5.6″x6.4″ (LxWxH) and weight of 1.2lbs
Comes with a 1-year warranty and guarantee defect-free quality
The color it comes in is called "Rose Red" but it's a hot pink color with blue nozzles.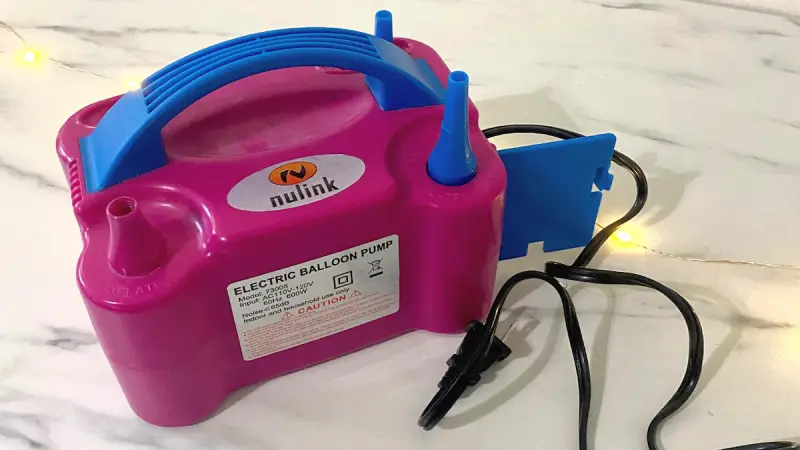 View all the details on Amazon.
NuLink Electric Balloon Pump Review
The NuLink Electric Portable Dual Nozzle Balloon Blower Pump is a time-saving and efficient tool for parties and events that need balloons.
It features dual nozzles that allow for two balloons to be inflated simultaneously, making the process of inflating balloons faster and more efficient.
The motor provides sufficient power to inflate balloons quickly and efficiently. However, the pump is quite noisy when in use, so it might not be ideal for quiet environments.
If there is any flaw, it's definitely the loud nature of this pump.
The product is visually appealing with its rose red color, lightweight, and compact design. The balloon pump is durable and well-built, making it a great investment for party planners and decorators.
Overall, the product is highly recommended for anyone who frequently decorates with balloons.
Check out the NuLink electric balloon pump on Amazon (affiliate).
Watch a balloon arch timelapse Connor & Co created using this electric balloon pump.
Reasons To Use An Electric Balloon Pump
Why exactly should you buy this balloon pump? Why does anyone need to use an electric balloon pump?
Here are some reasons you should use an electric balloon pump:
Saves Time: One of the most significant benefits of using a balloon pump is that it can save you a lot of time. Blowing up balloons by mouth can be time-consuming and tiring, especially if you have a lot of balloons to inflate.
Reduces Stress: Inflating balloons can be a stressful task, particularly if you're doing it for an event like a birthday party or wedding. A balloon pump can help reduce that stress and make the process more enjoyable.
Prevents Dizziness and Fatigue: Blowing up balloons by mouth can cause dizziness and fatigue, which can be uncomfortable and even dangerous in some cases. A balloon pump eliminates this risk, allowing you to inflate balloons without any physical strain.
Increases Precision: A balloon pump provides more precision than inflating balloons by mouth. You can control the amount of air that goes into each balloon, ensuring that they're all the same size and shape.
Better for the Environment: Inflating balloons by mouth requires a lot of breath, which means you're releasing carbon dioxide into the environment. Using a balloon pump is a more environmentally friendly option, as it reduces the amount of CO2 emissions.
Overall, using a balloon pump can save you time, reduce stress, prevent dizziness and fatigue, increase precision, and be better for the environment.
These benefits make it an excellent investment for anyone who needs to inflate a lot of balloons for events like weddings, rehearsals, or bridal showers.
If you host parties or weddings or just have kids that love balloons like me, then you need this balloon pump.